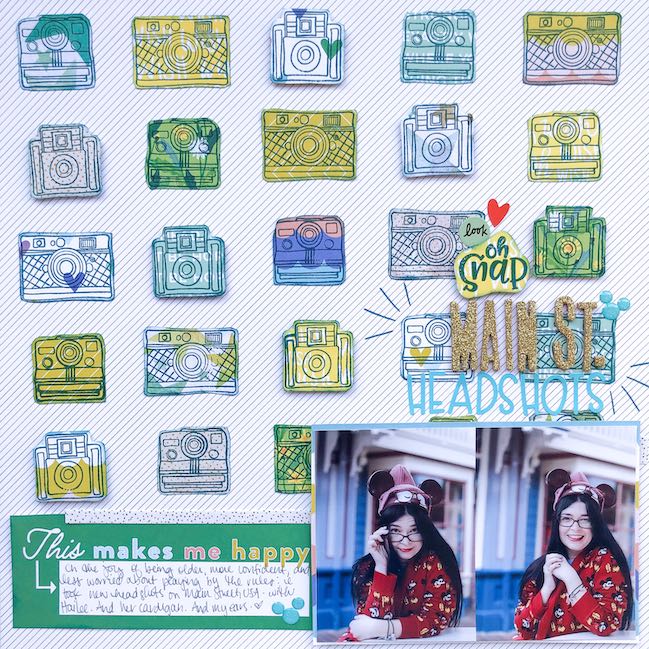 I promised YouTube videos as well as Facebook Live – especially for those of you who don't do chit-chat and would much rather have something direct and on topic – and here we are! No chit-chat outside scrapbooking. With one exception: there is a lot of backtalk from the local crow population. I don't know – you try your best to be professional, and a bunch of really clever, really loud birds just have other ideas.
Today's YouTube video is all about using the stamp set in the August kit, stamping on a variety of patterned papers and cutting out the shapes to create a uniquely patterned background. You can use any stamp motif you like for this technique, but it makes things easier if you choose a shape that will be easy to cut out with scissors or you could use a stamp set along with a matching set of dies. As the stamping only requires a small space, this technique is great for scraps of papers you love and want to use to the very last inch.
For the supplies and indeed all about this first month of Best of Both Worlds scrapbooking kits – including how you are totally welcome to play along with the supplies you already have in your stash – please check out this post.
If you make a page inspired by this project and share it online, please tag me @shimelle and add the hashtag #shimelleBOBW so we can all share ideas together!

Read more about: best-of-both-worlds-kit scrapbooking-videos
08 August 2020

Next post: Happy Marshmallow Day! Let's scrapbook with die-cut paper.
Previous post: A Simple Inky Background