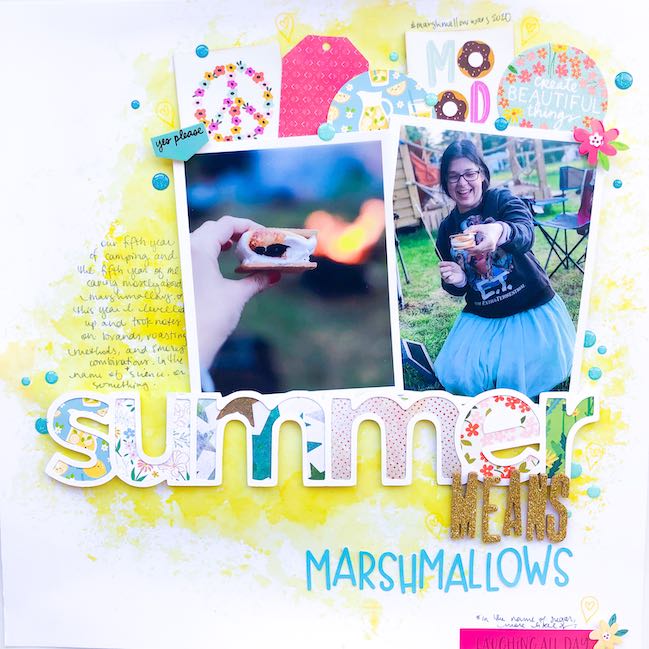 The next scrapbook page from the August 2020 Best of Both Worlds kit started with a discover of what did NOT work! I love this really simple mixed media technique of applying a mix of dye ink and water to a relatively plain background with either a paintbrush, an acrylic block, or a scrap of something textured, like cling film (plastic wrap, for some of you). With most dye inks, you can stamp the ink pad directly onto a resistant surface, like a craft mat, a plate, or an acrylic block, then add some water, and you'll have a mix similar to watercolour. Using ink comes with the bonus that you can later stamp on the layout with an exact colour match. I've been stamping with a variety of the Scrapbook.com Hybrid Inks and somehow had never noticed they do not mix with water at all – I just ended up with water with specks of pigment, instead of a pool of colour!
Live and learn – I swapped to another (non-hybrid) dye ink in my stash and it worked just fine. I used an old Jenni Bowlin ink, but Distress Inks and lots of other inks would work for this too. You can also use plain old watercolours (even a children's set) for this technique, if you're not bothered about stamping to match.
The cut file for this page is a free download from the Summer 2020 issue of Scrapbook and Cards Today magazine, and I cut it at the size it opened – about 10 inches wide – from plain white cardstock. (If you don't have a cutting machine and these page ideas give you a headache, I have a video coming next week with ideas and techniques for how you can adapt the ideas to a cutting-machine-free craft table!)
For the supplies and indeed all about this first month of Best of Both Worlds scrapbooking kits – including how you are totally welcome to play along with the supplies you already have in your stash – please check out this post.
If you make a page inspired by this project and share it online, please tag me @shimelle and add the hashtag #shimelleBOBW so we can all share ideas together!

Read more about: best-of-both-worlds-kit friday-live
08 August 2020

Next post: Scrapbook Stamping: Stamp on Patterned Paper
Previous post: Scrapbooking with a Sketch and the Best of Both Worlds Kit