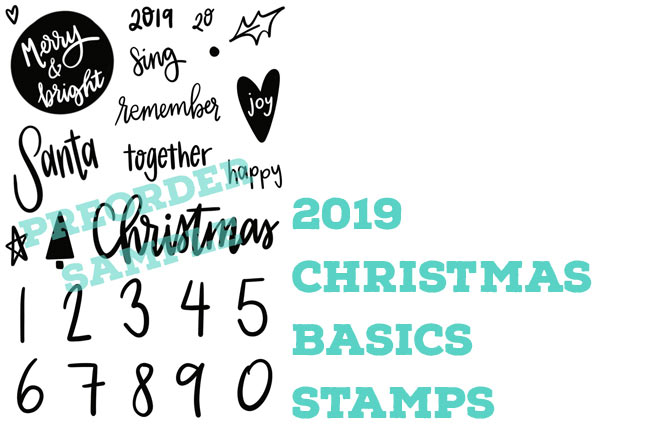 I know, I know, it's only October and it's most definitely Spook and Pumpkin Season, not Christmas Tree Season, but every year there is this one thing we need to talk here about before December hits us. Yes, I will be creating another Christmas journal! Yes, I will be teaching Journal your Christmas again (and yes, you can sign up any time, it doesn't matter that the sign up video says 2015)! And Yes, I have worked out the supplies I'll be using, and there is a way you can use them too.
First up is this year's stamp set. I found myself really wanting something that was very basic in style and easy to use throughout my journal, even when I was working with small spaces. I always want to have a set of numbers, so instead of two sets this year, one set with numbers and the simplest of things that I know I will be stamping almost every day throughout my album. (They also mix very well with the letter stickers I'm using this year, so some of these words can be made into longer phrases by mixing those up!)
These are high quality photo-polymer stamps made here in the UK and packaged and shipped from me in London. International postage is included, and I will post anywhere in the world – $14 or £11. You can pre-order now! Pre-order is open for one week only, and will close on Saturday 12th October. Stamps will ship in early November, likely around the 8th.
Use this first button to order in US Dollars: $14 includes postage.
Use this second button to order in UK Pounds: £11 includes postage.
Last year, the vast majority of pre-order customers opted to pay in full from the beginning, so the stamps would ship as soon as possible and there wouldn't be a need to pay a balance later, so I'm just offering the total price here now. BUT if paying half now and half when they are ready to ship is far preferable to you, please just send me an email and we can work that out too.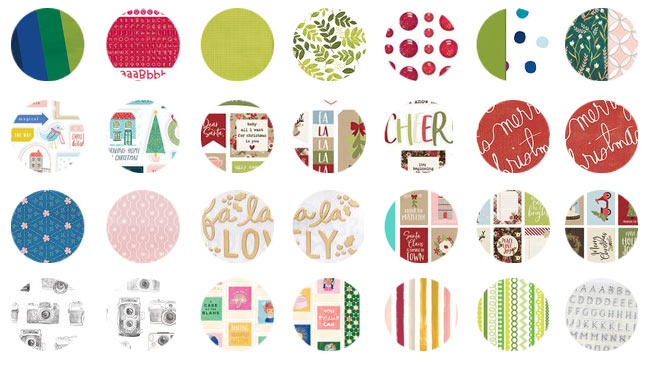 And on we go to the second half of what I use: the kit!
The kit itself will work a little differently this year, in order to ensure the kit suits you and arrives in time for you to get crafting! In fact, you can go ahead and shop right now and your order will be on its way – no extra waiting. I've assembled everything I'm using (aside from stamps, inks, and some smooth white cardstock) in a shopping list at scrapbook.com. You can use this shopping list in a few ways:
*Click through this affiliate link and add one of everything to your shopping cart, check out, and scrapbook.com will pack and ship your order immediately. They ship worldwide, so it is an option to order from them if you're not in the states, though postage costs may be an issue.
*Click through and use the list simply as a reference to shop elsewhere. Want to support your local store? Please do! Want to shop somewhere in your own country? That makes total sense. There is no obligation to shop through scrapbook.com, but the list will give you all the product names and details so you can pick up these products at the store of your choice. No problem!
*Click through and use the list as a guideline. If you see something you love and would use more, add more than one. (I ordered two sheets of vellum and one of everything else on the list.) If you see something you know you will not use, don't add it. If you see something you already have (either exactly or close enough), don't add it and just pull it from your stash. You are in control here so you can make it fit your budget, big or small. You might want to add snow themes if you have a very wintry Christmas, or something to fit the theme of a particular tradition that is meaningful to your family. You could also add inks in colours you'll want to stamp. Totally up to you.
*Click through and use the list to shop your stash for things that are close enough. If you have Christmas stash a-plenty, there is no reason not to use it. This can be a good guideline for how much 'stuff' you need! I find it's absolutely key to not be overwhelmed with All The Christmas Things so I can stay on track and get daily entries done, but daily entries are definitely not a requirement! Adjust to suit your needs, always.
And yes, for clarity: it's an affiliate link, so the products cost the same to you, but scrapbook.com gives me a small commission for directing you there. Thanks for supporting me that way! Here's the link to the list, one last time!
As always, there is a mix of things that are specifically Christmas and things that are not, but have good colours to work with Christmas. I aim to give you a kit that will continue to work outside Christmas if you have leftover supplies after your journal.
Crate Paper has a new wintry collection coming out in a week or so, and I may be adding a sheet or two from that to my Christmas kit. You can see it in the coming soon section if winter accents are something you'd like to add.
And lastly, the album.
I love the 6×8 size for this project and have used that size for several years. I still have a couple empty 6×8 Studio Calico Handbook albums, and I have plenty of those page protectors, so that's what I will be using again. I use a mix of page pocket sizes, with some full 6×8 pages, some divided into 3×4 and/or 4×6 pockets, and some with an assortment of other sizes. I also add in some elements with no page protectors at all by just punching holes.
There are plenty of 6×8 albums available from a range of manufacturers, and page protectors to match. Pick something you like!
Or follow along with absolutely any album format that suits you. Some like the traveler's notebook set up for Journal your Christmas, and that can work well if you like working with smaller spaces and no page protectors. Some prefer to keep everything 8.5×11 or 12×12 and just do pages on the days they most feel like it rather than trying to tackle an entry every day. My favourites have been the 6×8 and 6×12 albums, both with pockets, though pocket pages are not something I work with throughout the rest of the year usually. I think this is my perfect balance!
Okay! That's all about Christmas for now, and we'll talk more about Christmas when we get to November! Thanks so much.

Read more about:
04 October 2019

Next post: My first page with Paige Evans' Bloom Street collection
Previous post: Level Up: A New Online Scrapbooking Class