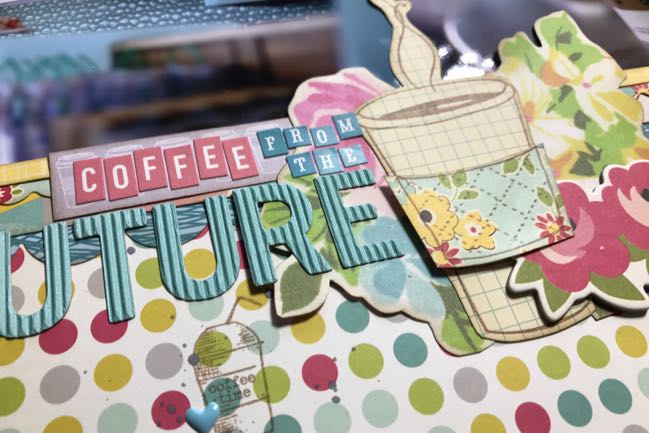 I try to use my stamps when I scrapbook, but I find I'm just using something faded into the background and then maybe a small design scattered here and there. I would love to make my favourite stamps more of a feature on my pages, but I'm not sure how to compose the rest of the page. Glitter Girl, can you help?
Of course she can. Try a simple composition of two photos and one stamp that you can put right in the centre!
Unfortunately the Hero Arts coffee cup stamp I used is quite old and I haven't found it online with a quick search. There are many coffee stamps currently available though, from Hero and other manufacturers, like this selection. The papers are all old too, I'm afraid! Cosmo Cricket, October Afternoon, and Sassafras, though the grey coffee cup paper is still available in the True Stories 6×6 pad. You might find you have these older items in your stash, but if not, don't fret: it's easy to substitute the types of patterns that are there: find a dot, a small and a large floral, and some single colour patterns like a check or swirl design, and they will go together in exactly the same way.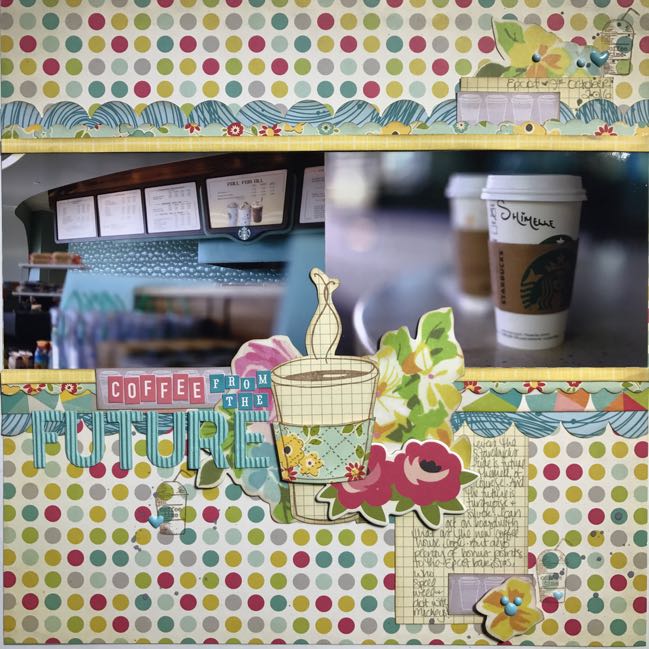 Read more about: adventures-of-glitter-girl scrapbooking-videos
15 March 2017

Next post: Scrapbooking a few more hot beverages
Previous post: A little old, a little new, and a bit of Harry Potter for good measure