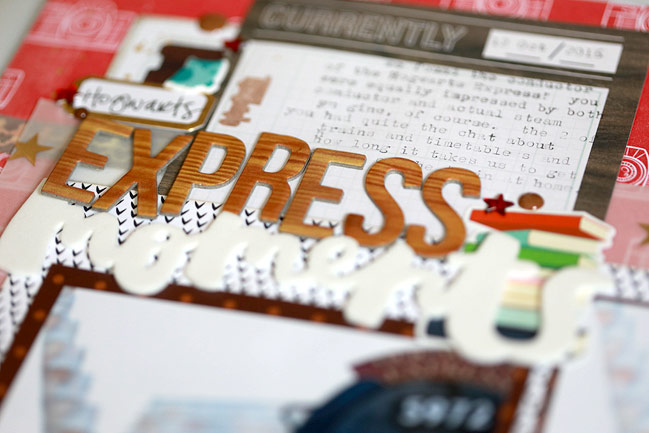 I should have planned this post for World Book Day last week if I'd thought ahead, but of course I didn't. There's never a bad day for Harry Potter scrapbooking, is there? I have an entire album of layouts from one day at the studio tour, so I better make a start on the photos from our trip to the Wizarding World of Harry Potter!
I will admit upfront that we visited Universal Studios entirely for the Harry Potter element. Universal doesn't cater for the super young in the same way that Disney does. Their target audience is older and even the Dr Seuss and Minion rides have height requirements. We managed the Dr Seuss carousel, but the rides here are more fabulous if you love the twists and turns of serious roller coasters, and well… that is not my jam. But I wanted to see all the details of Hogsmeade and Diagon Alley, brought to life in a way you could just be fully immersed. And it is pretty amazing.
But the youngest member of the party was most excited by the train. Of course.
Some of the supplies on this page are far, far too old to be in stores (like that 2009 paper!) but you can find the newer stuff, I promise. Red camera paper and white foam Thickers by Amy Tangerine, train stamp from Go Now Go, stickers and patterned paper from Little by Little, star vellum from Christmas Magic, die cuts by Pink Paislee, enamel dots by Doodlebug, and Typecast journaling paper by WeR Memory Keepers. And seriously, someone needs to make those star-shaped rhinestones like Jenni Bowlin did back in the day. They are so lovely! The woodgrain Thickers were a Studio Calico exclusive about five years ago. I may have rationed them.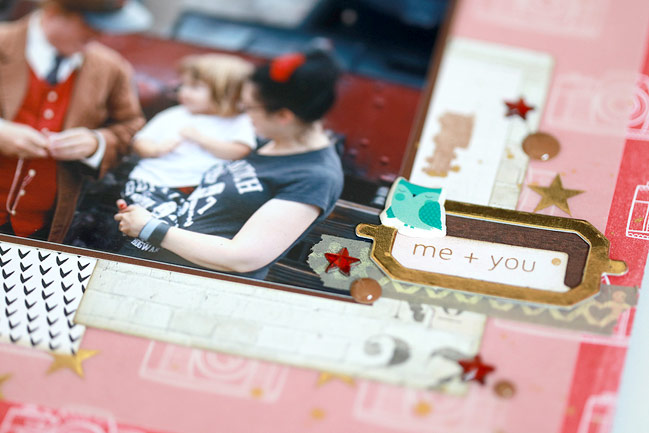 If anyone sees steam train washi tape, please let me know. For today I went with this grey Amy Tangerine tape from her first collection for its colour and cuteness. But I have a lot of steam train photos and I don't see this obsession ending any time soon. So steam train washi: it needs to happen.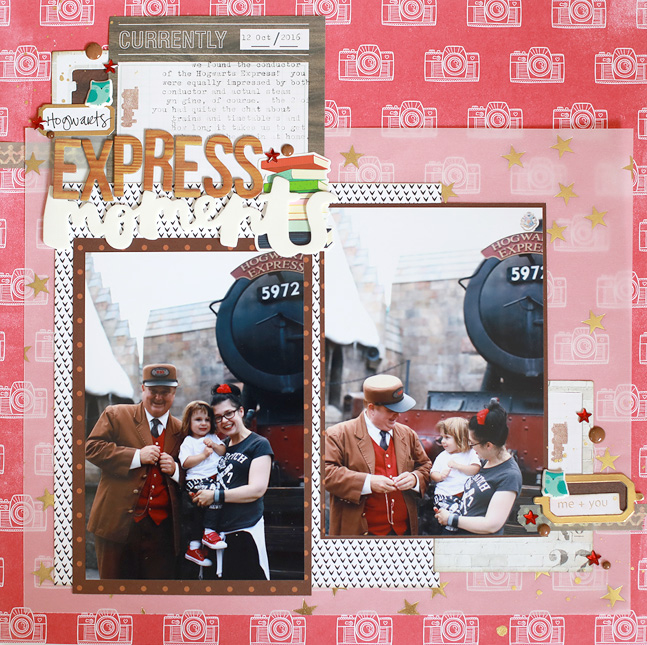 Thanks for taking a look! And not rolling your eyes too much at the sheer number of Harry Potter scrapbook pages I have made over the years.

Read more about: american-crafts scrapbooking-videos
07 March 2017

Next post: Glitter Girl Adventure 150: Stamped in the Centre
Previous post: Glitter Girl Adventure 149: A 6x6 Solution