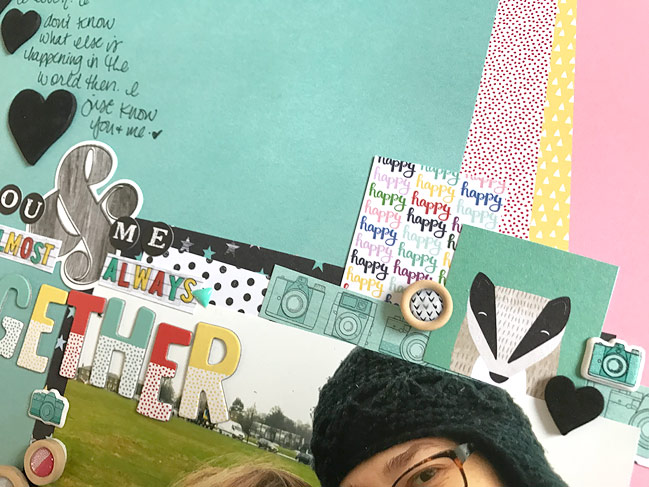 B-side papers are something I think about throughout a collection but they are actually the very last thing we finalise. Sometimes we have everything laid out, ready to go, and it can only then become obvious that there isn't enough of this colour or a smaller version of that motif. But some of my favourites are the b-sides designed to be a super quick way to a beautiful layout.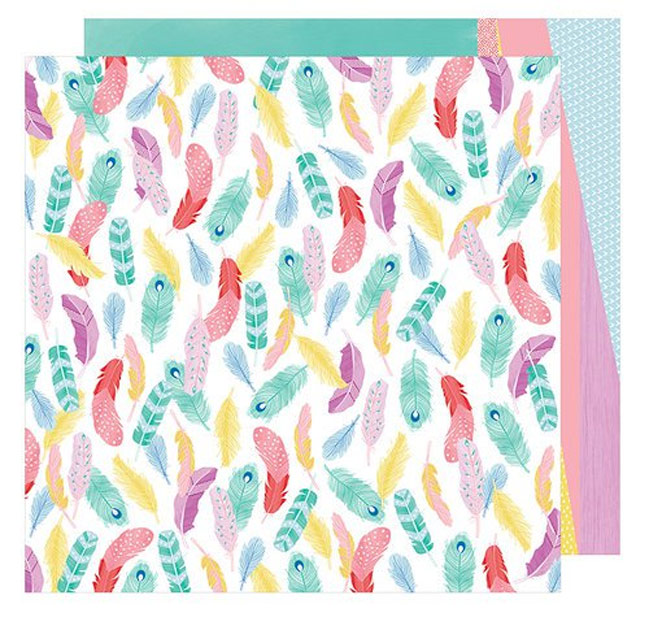 Okay, I love the multicoloured feathers but I admit it is perhaps not the most universal patterned paper ever designed in the history of the world. That's okay. But the b-side to this paper (called Delightful Journey) is one of those pages made with speed and ease in mind. The pastel shades of the colour palette are included in a geometric pattern that all revolves around one quarter of the page. I love working with thirds and quarters on the 12×12 page because it works so beautifully no matter what you add to the composition. Just start on that line and build. It will work!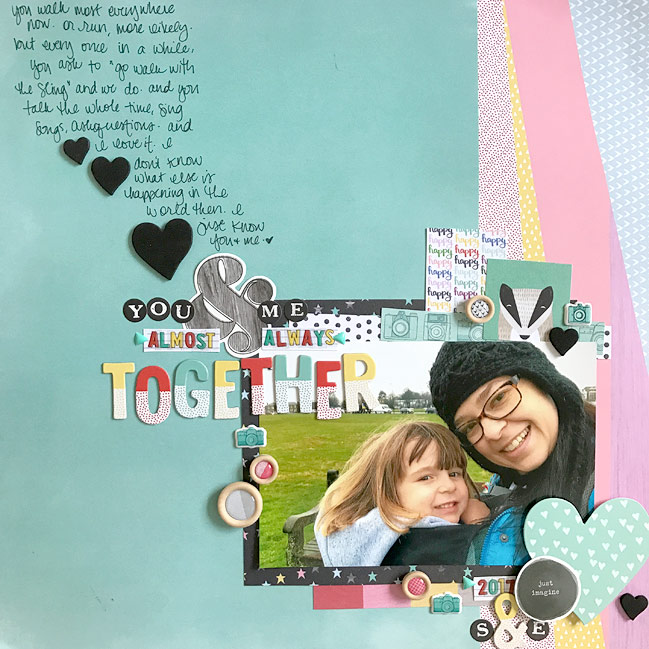 You can turn this paper in any direction and start adding somewhere on that line that separates the colourful section from the solid aqua background. I love a layered stack of papers, stickers, and die-cuts to surround the photo on that quarter line. And in this case, I used that old favourite – the loose diagonal line of embellishment – but included my journaling and title as part of the diagonal line. Completed page in such a short amount of time!
All the supplies here are from Little by Little, including both sets of Thickers, the sticker book, the 6×12 sticker sheet, 6×6 paper pad, wood buttons, embossed die-cuts, and puffy stickers. But of course the patterned paper works with the embellishments you love and have to hand as well.
I hope you enjoy using this paper too and would love to see what it inspires you to make!

Read more about: american-crafts
05 February 2017

Next post: Happy Valentine's Day!
Previous post: Exploding Heart Scrapbook Pages with Little by Little