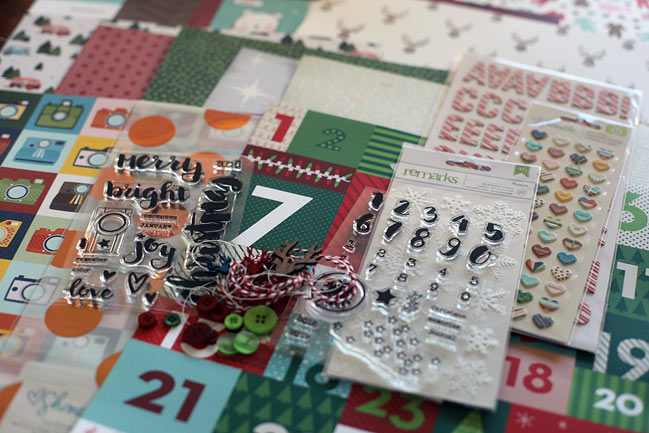 It's nearly time to start keeping a Christmas journal for many of us, and the annual Christmas in a Box is boxed up and ready to help you with all your December projects! After keeping a similar format for the last several years, this year's kit is just slightly different. I've heard from so many of you that your box of Christmas embellishments is positively overflowing, but of course we all love a bit of new Christmas fun to make our albums an inspiring project. I've combined that feedback with my love of patterned paper and created a kit that will complement a running theme of Journal your Christmas this year: making the best with our old and new. Christmas in a Box (or just the stamps!) can be your 'new' element to mix with your existing stash of supplies as the 'old'. It also means this year's kit is less expensive!
Christmas in a Box includes:
18 12×12 patterned papers (all double-sided, 2016 releases)
1 12×12 metallic vellum paper
1 set of red and white Christmas striped Thickers letter stickers
1 pack of puffy heart stickers
1 pack of textured snowflake stickers
2 sets of 4×6 limited edition clear stamps: Christmas words and Christmas numbers
and a few tiny little things (just a small sampling of buttons, wood veneer, and thread) that coordinate specifically with one of the JYC videos)
PLUS a handmade gift from me made just for each of you, which is a little surprise.
Christmas in a Box (including stamps) is £32 including UK postage. Postage to other countries is available, but costs a little more.
The stamps are also available as a pair on their own, which may be helpful if you want to order from overseas but would prefer a lighter shipping bill. Stamps on their own are £18 GBP (or about $23 USD) including shipping to anywhere in the world.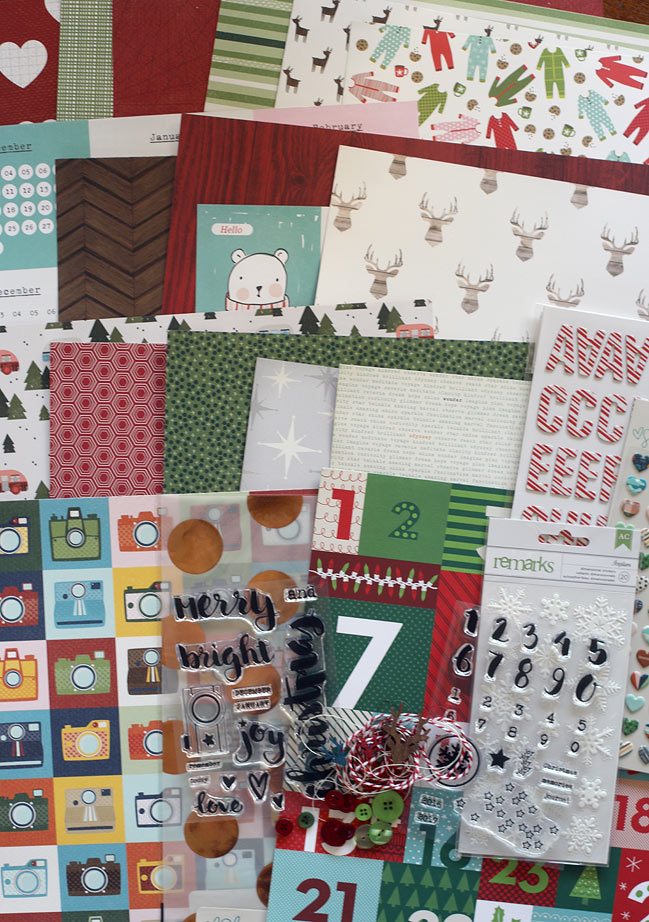 To order Christmas in a Box as a full kit:

If your Christmas in a Box kit should be shipped outside the UK, you will receive a second invoice for shipping and have the chance to change your mind if the shipping is prohibitive.
If you would like to order the same items from a US-based shop, you can find the papers and stickers on this scrapbook.com shopping list. Most everything on the list is also available at Blue Moon Scrapbooking, also based in the US.
To order just the stamps:

Stamps can be shipped anywhere in the world at no extra charge.

Read more about:
28 November 2016

Next post: Online Scrapbooking Classes - Sign up any time!
Previous post: Using diagonal lines in scrapbook page design