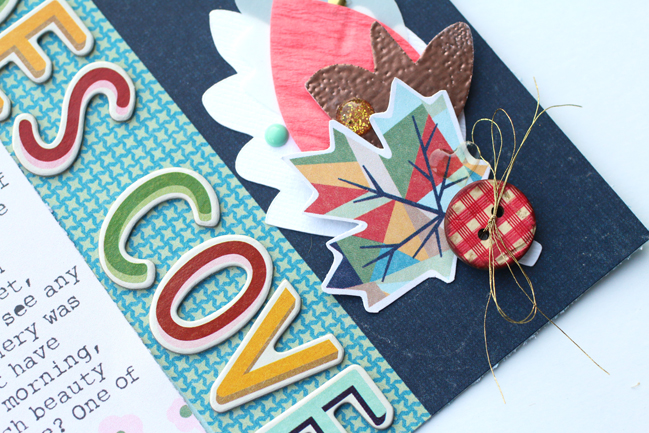 With autumn in a colourful force in our neighbourhood this year, it's with a big smile that I share a beautiful Go Now Go autumn layout today, by contributing designer Meghann Andrew. Enjoy! And jump in some leaves if you can.
Autumn layouts are my most favorite to create. Sadly, I have to travel a few hours north to get photos of autumnal colors, but luckily, I did just that a few weeks ago, and I had a day to document using the Go Now Go collection.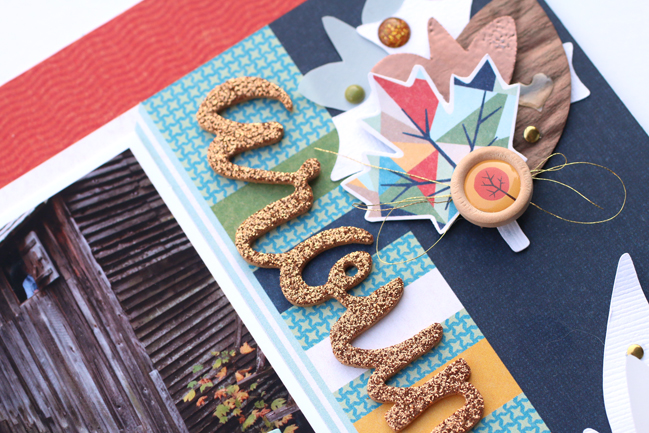 The design of this layout came together quickly using the "World" patterned paper. The delineated lines on the "B" side told me exactly where to place my photos and title, then the dark blue vertical section became a playground of sorts for some fun embellishment. I find that autumnal layouts almost require layers upon layers of leaves and pretty things, almost like a pile of leaves.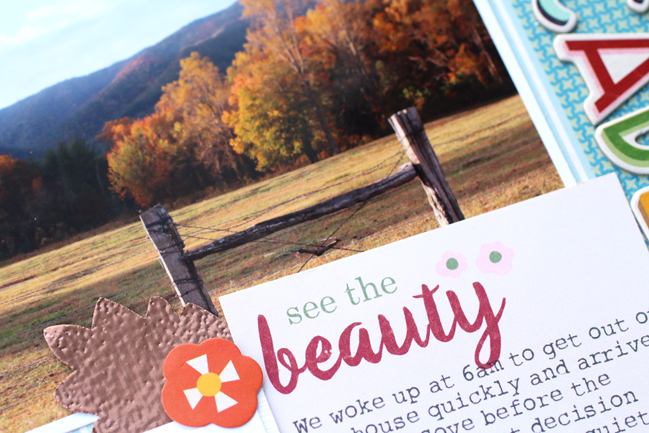 I gathered plain white and vellum die-cut leaves, colored paper leaves, as well as fussy-cut leaves and trees from the "Live" and "Park" patterned papers, and layered them, using dimensional adhesive, buttons and string. I wanted to match the copper color of the beautiful glittered Thickers in my piles, but I didn't have any copper metallic paper. So, I grabbed white die-cut leaves, and pressed them into a Versamark pad, then covered them with copper embossing powder. After heat-setting, they were beautiful and shimmery, and the perfect metallic accent on the right side of the page. For additional texture, I added small enamel dots.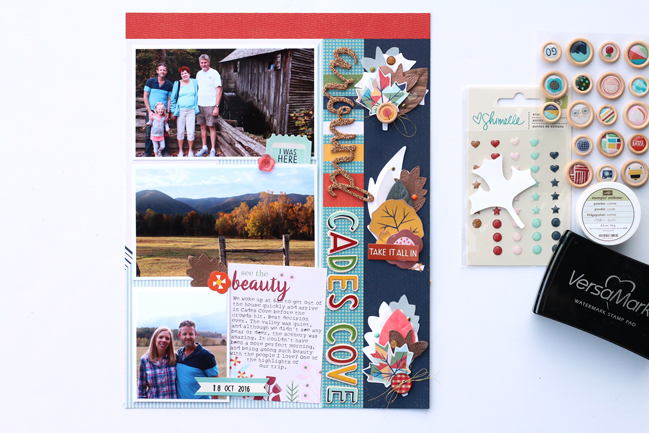 The "see the beauty" journaling tag from the "Run" patterned paper couldn't have been more perfect for this layout about a beautiful valley that we visited, and I typed and printed my journaling onto the tag to get the most out of the space I had. I love that this layout feels like fall on a page!
PS: Don't forget the challenges from last weekend remain open for this weekend too. We'd love to see what you're making!

Read more about: american-crafts
04 November 2016

Next post: Weekly Challenge :: Go Big with Red!
Previous post: Design Decisions: A New Online Scrapbooking Class!