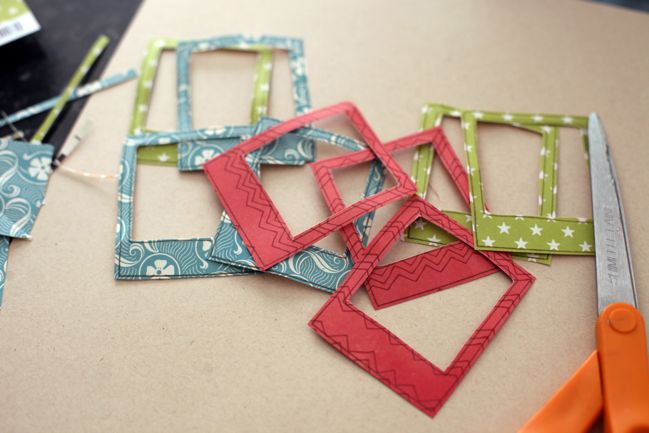 Thank you so, so much for all your kind responses to Go Now Go. You can watch this first look video if you'd like to see more. It will be shipping very soon, so be sure to ask your favourite scrapbooking retailer to order it if you fancy! But for now, let's use the stash we have on hand to make way for some favourites from all the summer releases coming out right about now. I know I have a stack of papers and stamps I really, really want to use but I just haven't got there yet. This week seems like a great time to do that.
And now, on to the challenge! This week I challenge you this week to hand cut the design elements on your next scrapbook page. That might mean cutting lettering for your title, stamping something and cutting out the design, or detail cutting motifs from patterned paper instead of turning to stickers and other pre made embellishments. Everything else is completely up to you, so you can take your inspiration in any direction you like, just get those scissors or craft knives to the ready! You might find this chunky title or this delicate lettering useful from our archived tutorials, but to get you started on this week's challenge, take a look at these examples from contributing designer Nicole Nowosad and guest artist Jen Campbell.
I love the idea of hand cut items on my projects because it adds a fun bit of whimsy. I decided to hand cut some letters for the title on my page. Instead of using the positive letters, I trimmed blocks of patterned paper and used the negative shape of the letters to create my title. To create the letters I flipped the paper to the backside and then drew out good old bubble letters in reverse. I cut them out with a craft knife and some scissors.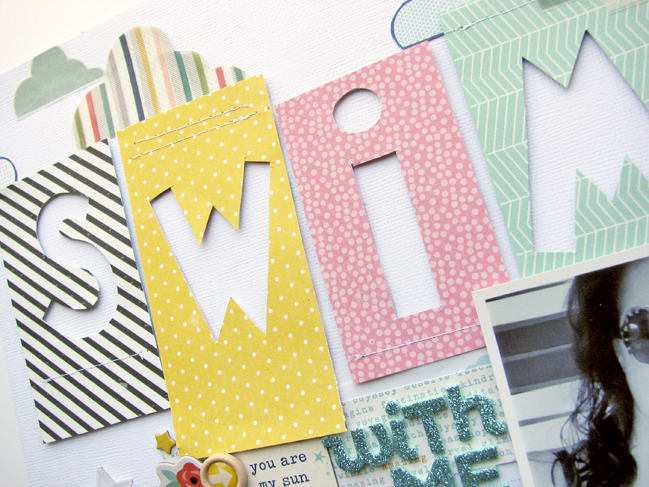 Once the letters were all cut, I adhered them with foam adhesive for some dimension. They are a great (and easy!) embellishment on the page and a great focal point too.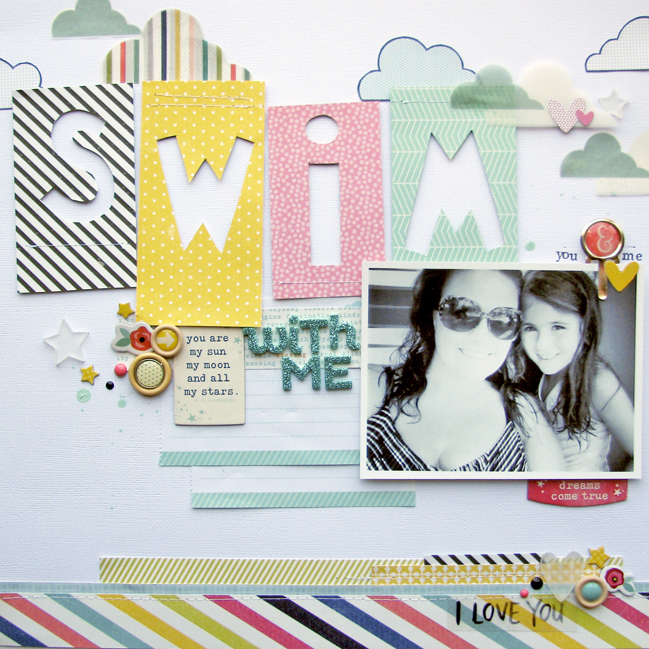 I hope you are inspired to add a little whimsy to your projects and create your own hand cut items for your projects! The possibilities are endless.
- Nicole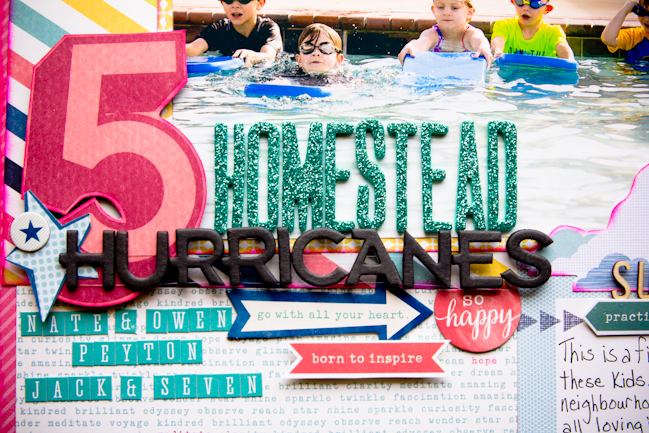 As always, I started my page with photos that I love and a story to tell. These bright shots from swim team practice with all the neighbourhood kids were prefect to use with the cheerful paper and embellishments from Shimelle's Starshine collection. I knew immediately that I wanted to use the large number five in the title of my page. I used that as a jumping off point for my colour scheme and quickly decided the stars and clouds as well as the word flags from True Stories made fantastic choices for hand-cut embellishment clusters.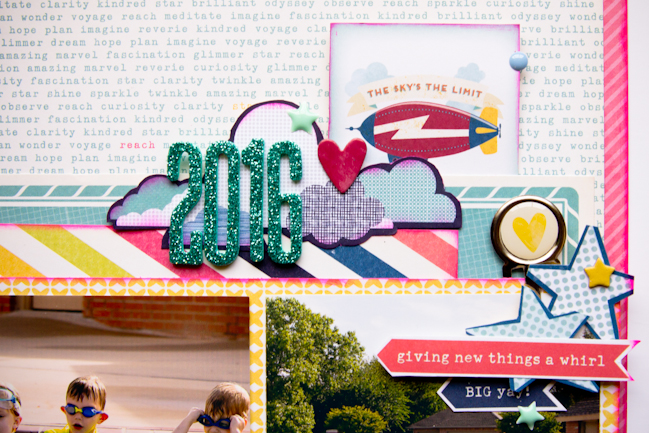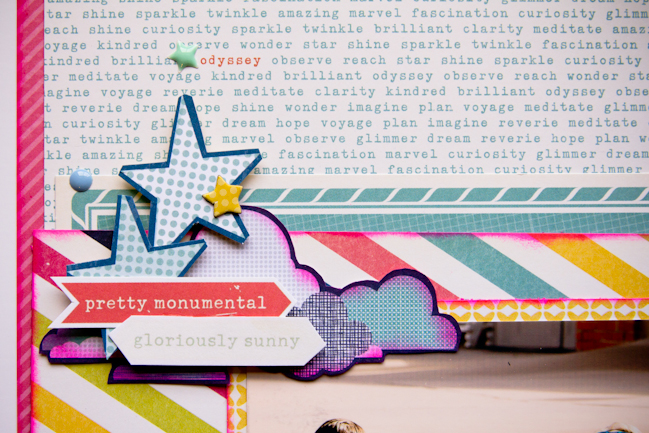 I stared by cutting stars, clouds, and word phrases and setting them aside to add as I built the page. Then I layered some paper horizontally to fit behind the pictures. Although I initially planned to just use the neutral word paper as my background, once I got going I realized I needed a bolder colour to ground the page, so I matted the whole thing with a quarter-inch border of the hot pink and then inked the edges of some of the paper and embellishments to tie everything together. I finished my building two embellishment clusters along the top and building a horizontal line of embellishments below the title and pictures and around the journalling box. Final touches to the embellishment included chipboard star and hearts as well as enamel dots and stars.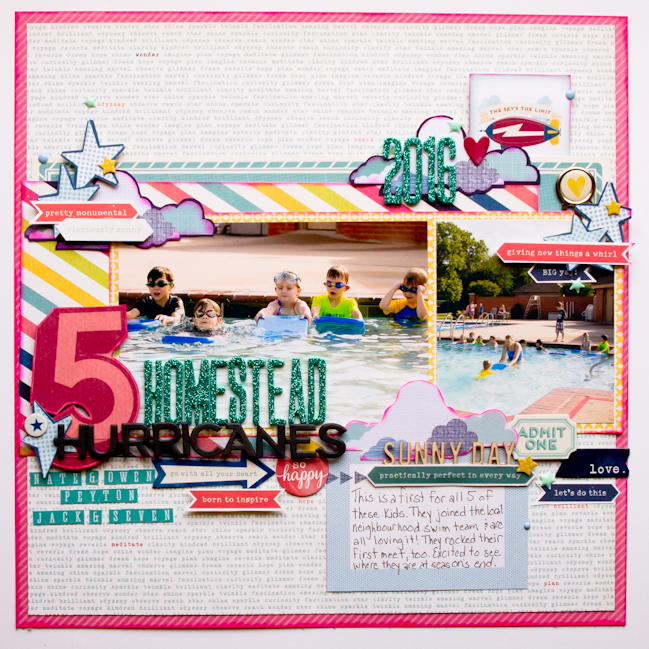 My go-to title technique: I cut a thin strip of plastic packaging from some scrapbook embellishments and adhered the black chipboard letters to that. Then I used foam 3D adhesive cut into thin strips on the back of the packaging to help me layer the word "hurricanes" over the top of the "5" and overlapping the bottom edge of the "homestead" in glitter Thickers. I like how this technique helps build a cohesive title grouping while keeping all the chipboard letters at the same level.
- Jen
You have a week to complete the challenge and share a link – but of course you're welcome to set your own time schedule. Whatever keeps you happy and creative!
Today's Guest Artist: Jen Campbell loves coffee, summer days near the water, and everyday adventures with her three boys. You can find more from Jen on Instagram.

Read more about: scrapbooking-challenges
11 July 2016

Next post: Disney Scrapbooking Ideas
Previous post: Using the Silhouette to stitch a scrapbook title