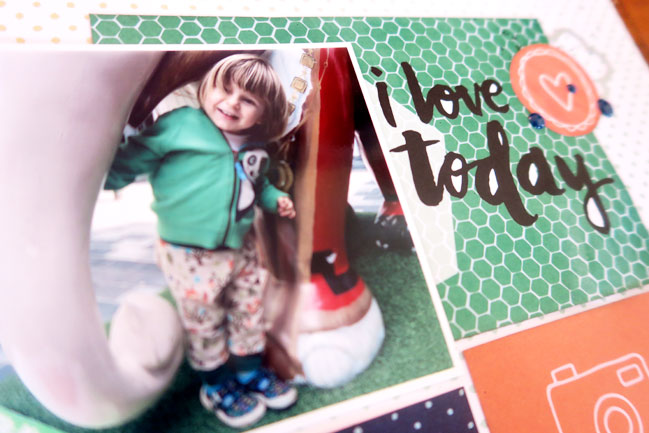 Thank you so much for your sunny enthusiasm with The 20 Project. I can't wait to share the results in class so soon. But not to worry: we still have a challenge for you this week!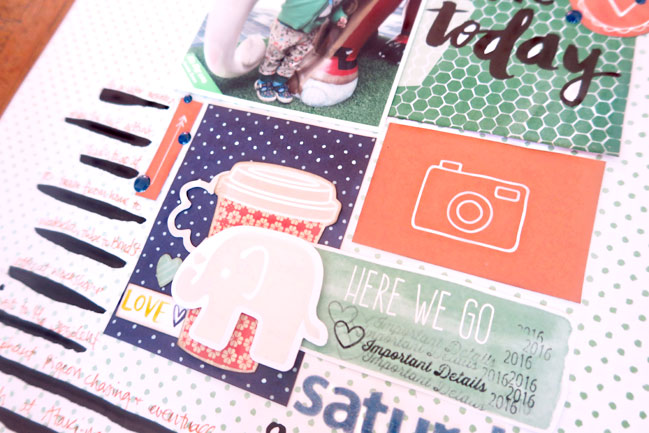 I know some of you are reading from places where the school holidays started weeks or months ago, but here it's pretty common for this to be the last week of classes. Yet my inbox is filled with advertising for back to school items! I'm torn: it's definitely time to enjoy the summer, but I do love a good bit of back to school shopping. I'm always up for new themed stationery, of course.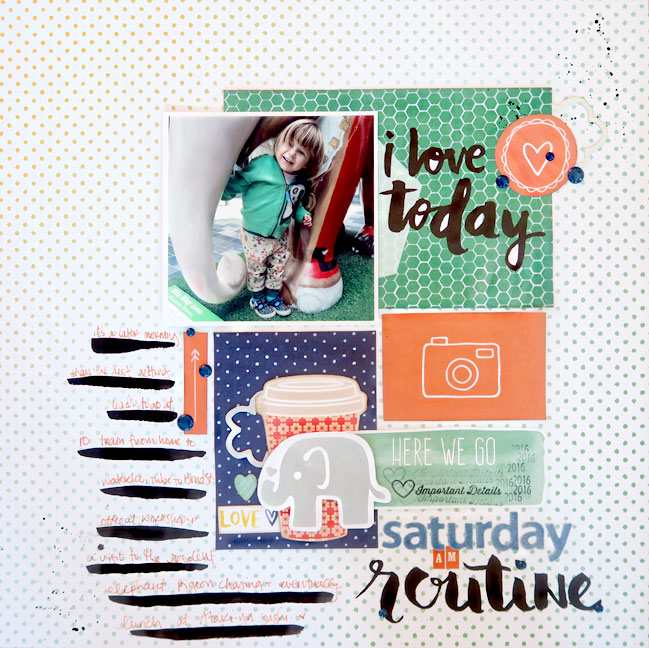 This week, I challenge you this week to take your scrapbooking inspiration from planners. Where that very broad concept may take you is a totally open road! I started by thinking I would work in boxes with relatively even spaces between them to mimic the grid you might find on a calendar or scheduling sheet. Then added in broad brushstroke lines to write on in the style of a to-do list. But I still wanted to keep it in line with the way I would embellish most of my pages, so there's a big embellishment cluster toward the middle of the page and a smaller one in line with the title to coordinate. Even the subject matter is quite planner-inspired: we've got to a point where we have a little routine we follow almost every Saturday for the morning up to lunch, so that seemed like a good way to give some context to the photo, because looking cute climbing under an elephant is not really the sort of journaling that makes me tick.
How you interpret the challenge is completely up to you, so you can take your inspiration in any direction you like! Contributing designer Meghann Andrew also gave this challenge a go to give you some more ideas! We've both followed a routine and timing sort of theme, but that's definitely just one way to take the challenge this week.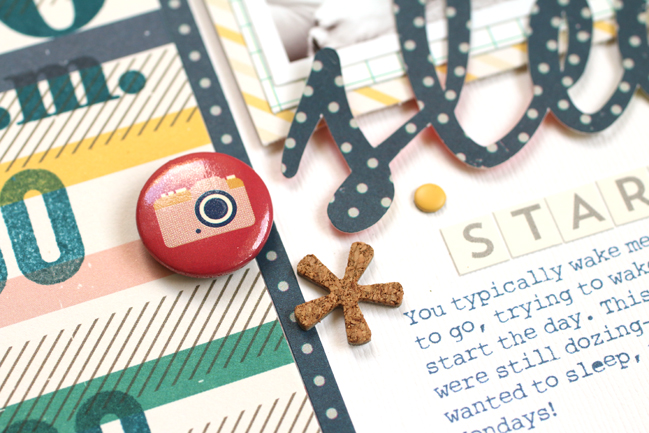 My planner and I are pretty close, so when Shimelle challenged me to use my planner as inspiration for my next layout, I grabbed my Get to Work Book and took the challenge!
I love vertical columns in my planner to list my appointments and "to-dos" for the day, so a vertical column was the first thing to go on my 8-1/2" x 11" background cardstock. I used the colorful lines on the Americano pattern from True Stories to stamp the time along the column, making the 9am time, an unusually late wake up for our household, a different size and font. At the top, I added the day of the week in cork Thickers, and at the bottom, the date using a date stamp.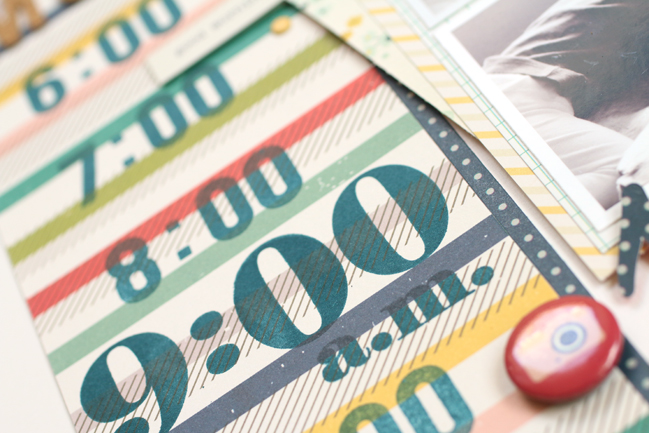 The right side of my layout was treated more in my typical, layered fashion, with patterned paper topped with two black and white photos of my daughter and dog, who clearly just didn't want to get out of bed that day.
Having such a colorful left side meant that I kept the embellishment simple, adding cork Thickers shapes from the Shimelle collection, a die-cut title from the True Stories Grey Floral pattern, and a flair badge from Starshine.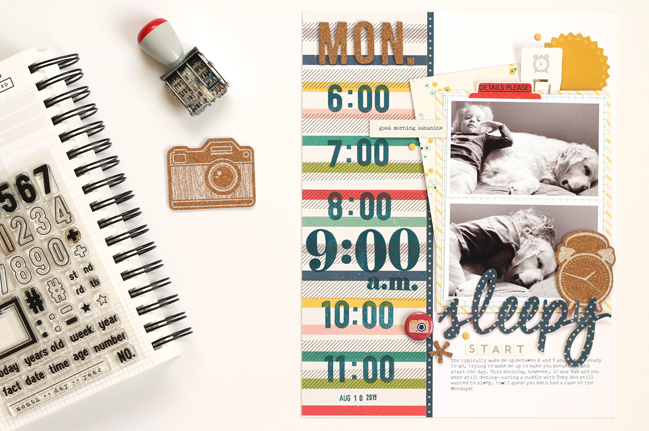 I love the idea to use time to document a memory, and I'm excited to try it in a different way again- maybe next time to document different moments in a single day!
- Meghann
You have a week to complete the challenge and share a link – but of course you're welcome to set your own time schedule. Whatever keeps you happy and creative!

Read more about: scrapbooking-challenges
19 July 2016

Next post: Weekly Challenge :: Take Inspiration from an Autumnal Page
Previous post: A New Online Scrapbooking Class: The 20 Project