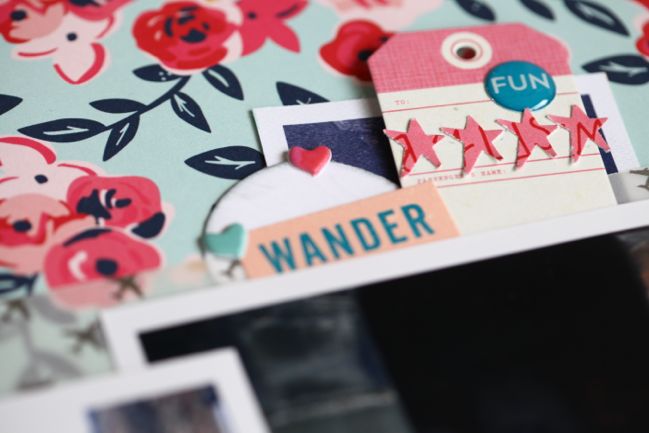 There may be no fireworks in my part of the world right now, but we can all embrace a bit of starstruck love. There is no such thing as too many stars in your stash, right? This week, I challenge you this week to go overboard with stars. Start with one, add a few more, and then let the stars just take over! Everything in your design is completely up to you, so you can take your inspiration in any direction you like! To get you started on this week's challenge, take a look at these examples from contributing designer Leigh Ann Odynski and guest artist Sherry Coogan.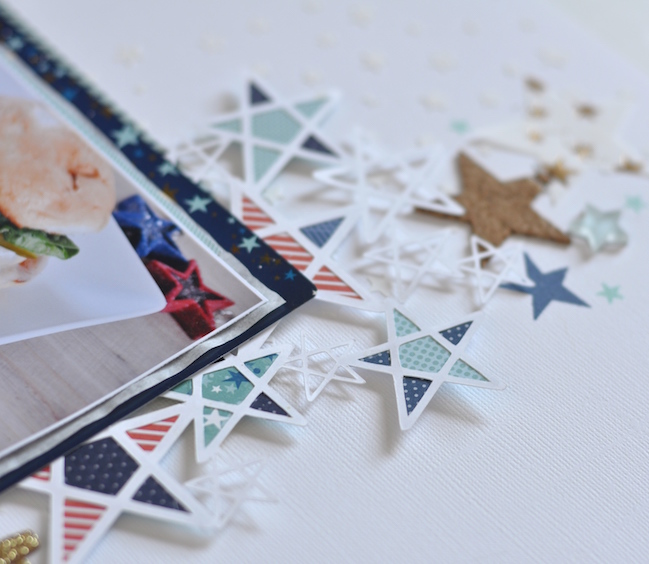 I had so much fun seeing how many stars I could get on the page for this week's "Go Overboard with Stars" challenge.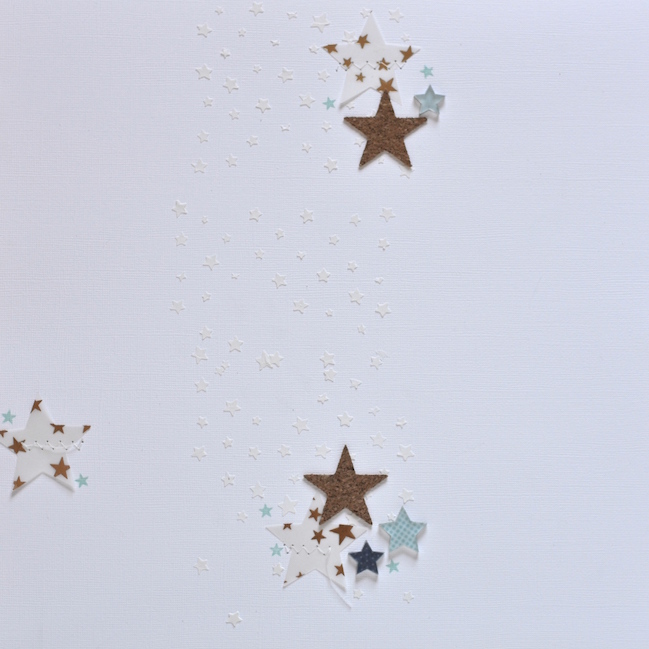 For the first layer of stars, I used Whipped Spackle texture paste, and a Silhouette cut file to create a star stencil.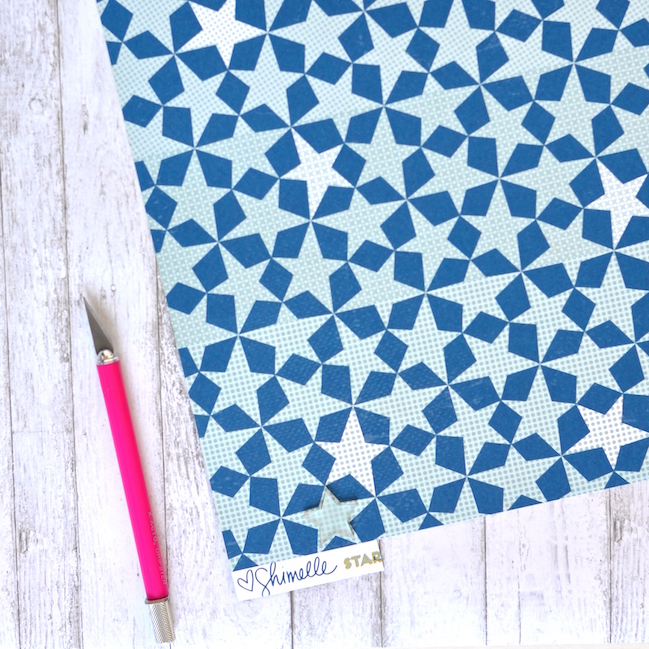 Then I layered several other textures in star shapes as shown. When you look through your own stash, think about vellum, patterned paper, stamps, stickers, and embellishments like the acrylic stars. In the photo above I used an X-acto knife to trim around the acrylic star, and don't you love how it is adhesive backed like a sticker? I do!
Next, I wanted to create more dimension, so I used the Counting Stars cut file from the Cut Shoppe, and backed it with True Stories and Starshine papers. Make sure to leave some of the stars open to add another layer of interest.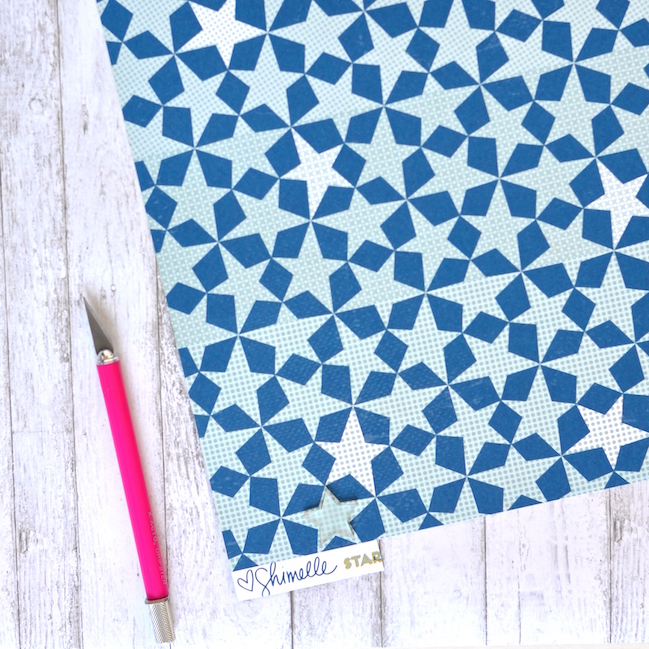 Using the Minc Machine to add gold foil to the Starshine cards created more texture on the page and repeats the star shape. Going for lots of repetition here!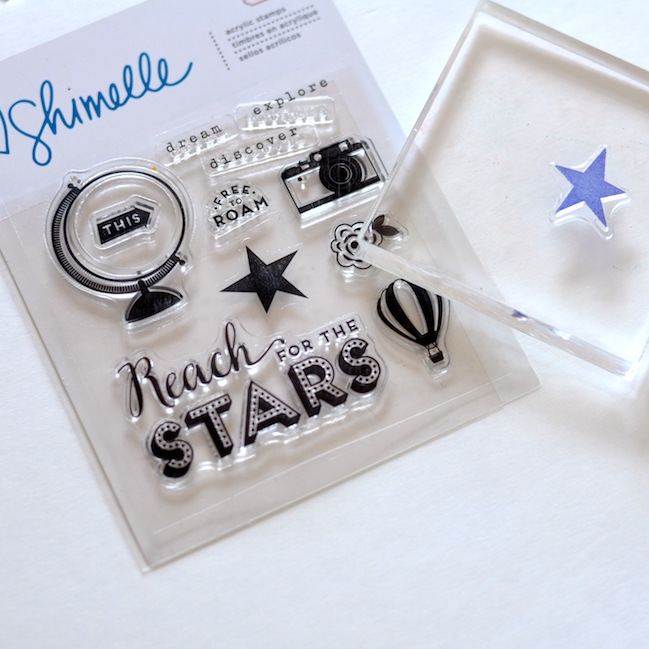 Next some stamping near the three embellishment clusters around the page in navy and aqua for another layer of stars!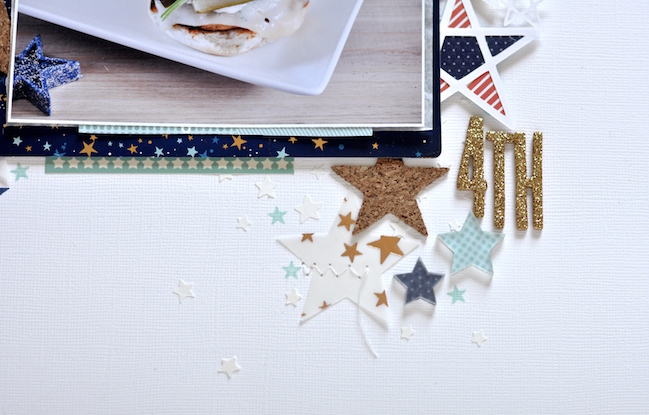 Here you can see a close up of the title and photo layers. The Fitzgerald Thickers are a favorite font of mine. Stitching down the vellum stars with a zig zag stitch, and adding the punched cork stars, gave lots of interest to the page with a variety of textures.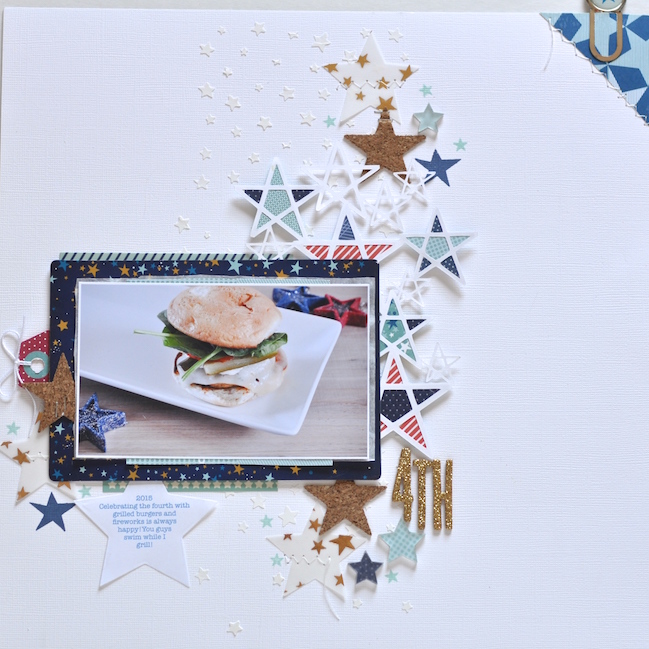 Choosing to add the stars in different textures around the page was a lot of fun! How many different layers of this repeating shape can you get on your layout? I can't wait to see what you all have to share, and your take on this challenge!
Have fun!
- Leigh Ann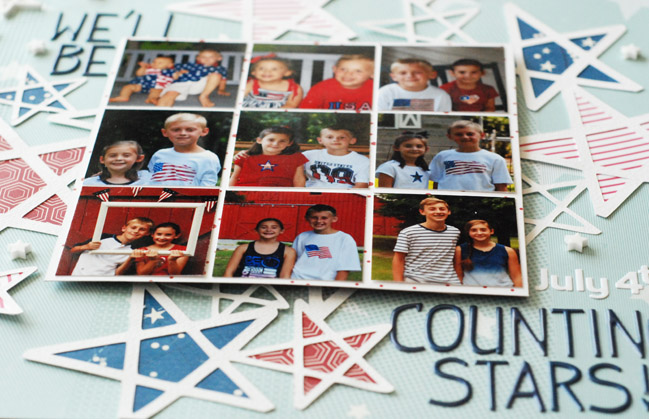 Stars are one of my favorite design elements, in scrapbooking, and a July 4th layout is the perfect opportunity to use them. Shimelle's Starshine collection was the starting point for this layout, along with a cut file from The Cut Shoppe. to make the background.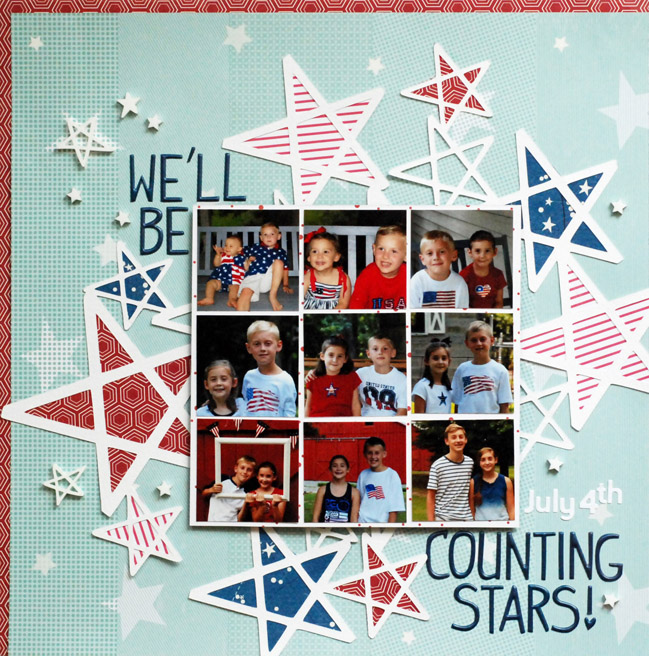 I backed the die cut background with a fun mix of patterned papers and popped up the collage of photos to let the photos shine. A few acrylic stars were scattered across the layout. I used puffy letter stickers for the title. I love this layout for many reasons; especially seeing the changes in my children throughout the years.
- Sherry
You have a week to complete the challenge and share a link – but of course you're welcome to set your own time schedule. Whatever keeps you happy and creative!
Today's Guest Artist: Sherry Coogan loves creating, pretty paper, and paint. You can find more from Sherry on Instagram, YouTube, and her blog.

Read more about: scrapbooking-challenges
04 July 2016

Next post: Go Now Go: my new collection with American Crafts
Previous post: Quick Weekend Crafting for the Fourth of July