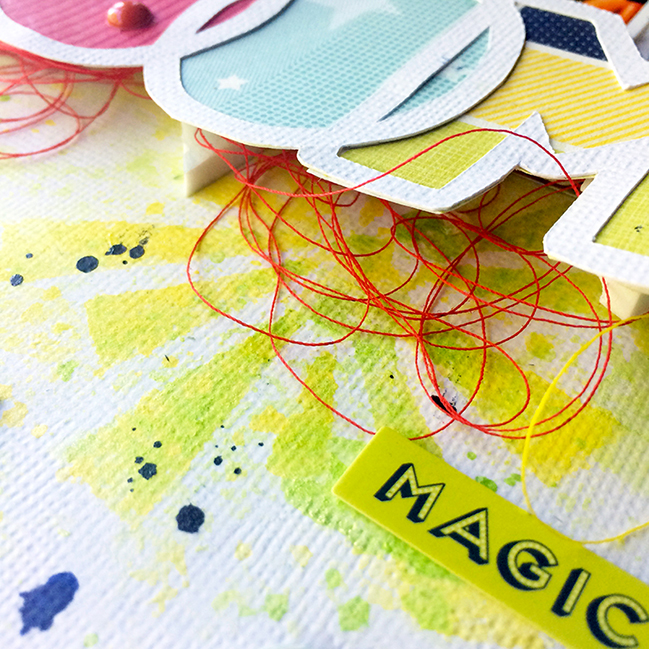 Today I'm joined by a certain lady named Orange who has me thinking I really need to get my head thinking more creatively about die-cutting! I use my Silhouette most often when I need to make dozens of the same item, like party invitations, and there is a wealth of beauty in creating unique pieces with the Silhouette rather than my assembly line approach. I hope Orange inspires you as much as she has me, and I also hope you enjoy something to get you started or to help build your cut file library.
I've been looking for the perfect way to document this photograph of my daughter watching the fireworks nearly two years ago. I struggle when it comes to being a "themey" scrapper — I'm just not good at it — I mostly focus on those everyday moments, but I really wanted to scrap this photo!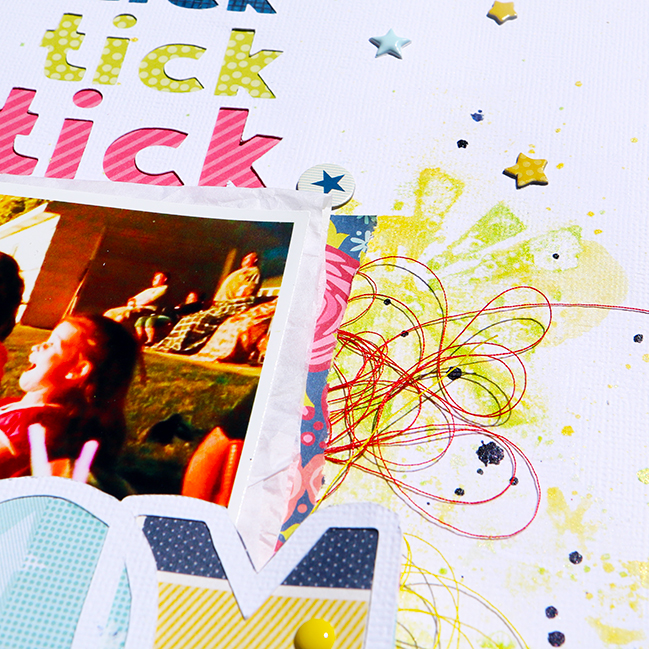 The fireworks that we were watching were set to music and so one day, it just popped into my head to use the title "Tick Tick Tick Boom!" from the song by The Hives (which also happens to be one of the songs from that night).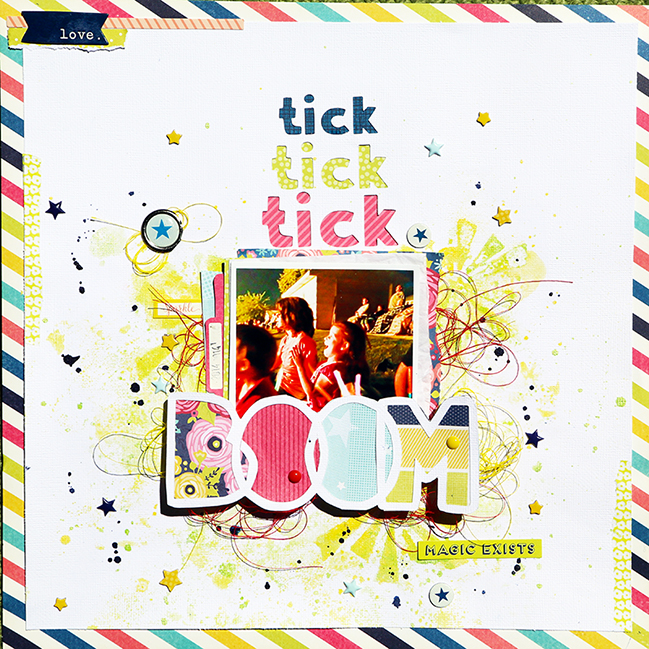 Shimelle's Starshine collection fit perfectly because there was the navy blue and red, traditional "Fourth of July" colors, but balanced by the less "themey" yellow and bright green! I created three different cut files for this layout — two for the title and one that looks like fireworks to use as a mask.
Now I realise I'm definitely one guilty of letting my Silhouette gather dust, then having a flash of cutting inspiration and firing it up to cut as much paper as I can find. (Well, maybe not all the paper I can find. I can find a great deal of paper.) Recently that included cutting the days of the week in giant size for some big photo scrapping. Those penned words were a kit from the Two Peas digital store years ago, but now I'm delighted to share them with you here, in case you might find them useful to cut the days of the week or months of the year. They can also be added digitally to a photo if that's more your style!
Click here to download the Penned Dates digital kit.
If you need help cutting PNG files on your Silhouette, this video tutorial will probably help! It's quite a simple process once you know which buttons you need to click.
Happy scrapping!
Today's Guest Artist: Orange Gearle loves music, wine, and spending time with family. You can find more from Orange on Instagram, Twitter, YouTube, and her blog.

Read more about: scrapbooking-videos american-crafts
27 July 2016

Next post: Scrapping Night Time Photos
Previous post: Weekly Challenge :: Take Inspiration from an Autumnal Page