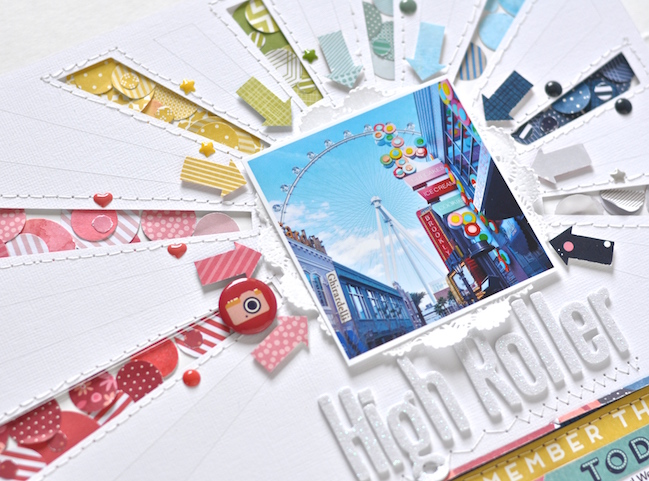 Happy Friday! It's nearly time for us to kick off a weekend of scrapbooking fun for NSD, but first one more look at arrows! Contributing designer Leigh Ann Odynski has a beautiful page to share, along with a brilliant technique for combining clean cutting with an etched shape in the cardstock, using the Silhouette cutter. Let's get to all those points!
For the Arrow Challenge this week, I wanted to use a photo of our local landmark the High Roller. Looking at the photo, I knew I wanted to try circles as a design element to highlight all the circles in my photo. I found the sunburst background cut file at the Silhouette Design Store and thought the rays mimicked the cables on the wheel. So now, before I even started the page, I had a direction for the layout.
When I cut the pattern on my Silhouette, I forgot to change the depth, and it didn't cut all the way through my paper. It was a happy accident though, because it led me to use an Exacto knife to cut out every other ray on the design. The other rays are subtly etched into the cardstock for a unique detail. This arrangement gave me fewer rays to fill with punched circles and worked out better as far as how many colors I wanted to showcase. You can use 5 different sized circle punches to punch out different Shimelle Starshine and True Stories papers. It was so fun to pick from the large variety of patterns you get in each color. Arrange them behind each ray and adhere. I used quick dry glue to adhere just a part of each circle and lifted up the edges for added dimension.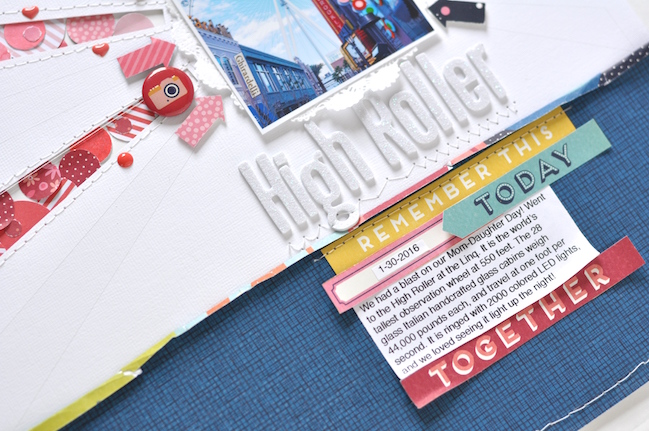 I stitched around each sun ray that was backed with circles, and around the edge of the Starshine Mariner paper. Fold down the top portion of the blue patterned paper and pick cut apart strips to add around your journaling block. The title in white glitter Thickers makes sure that the colors on the layout stand out and adds another texture and sparkle!
Did I forget about the arrows? No, I added arrows to point to the photo on the sun rays without the circles. You can add enamel shapes or any Starshine Embellishments you like in between rays.
I added mine on the edges of the stitching to give more texture and interest to the layout.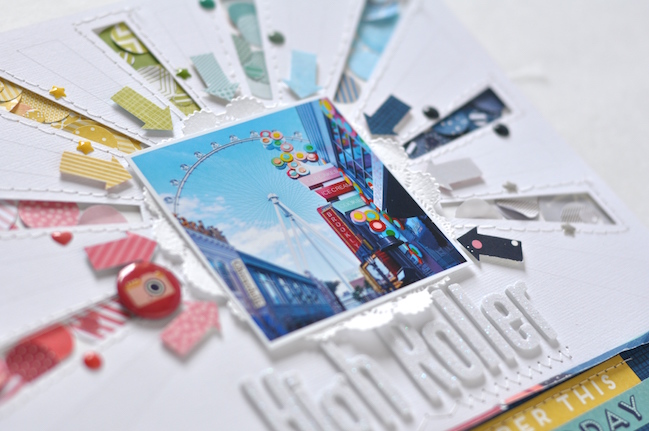 Add a doily or other circular paper behind your photo and pop it up on dimensional foam. Then stitch underneath the title, and you have a completed page.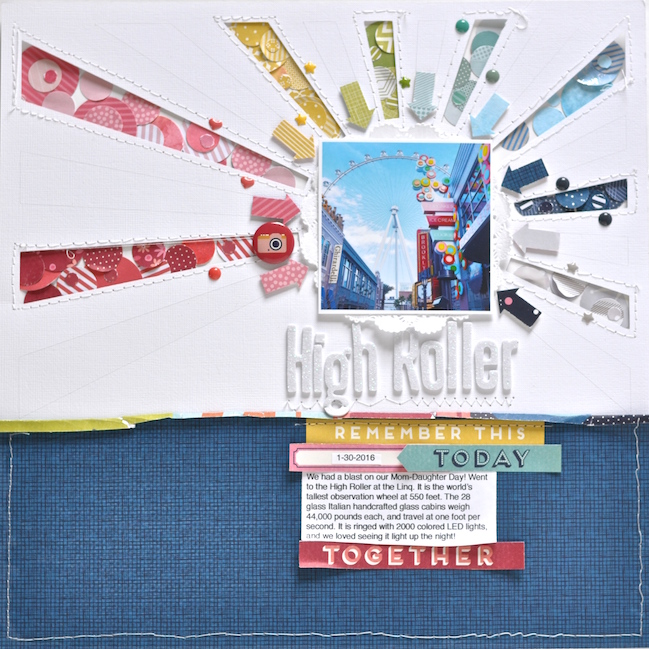 I like to try to think of new ways to use my supplies, and I hope you enjoyed this variation on the sunburst design. What ways can you think of to use cut files other than they were intended?
Happy crafting and I would love to see your pages shared below when you try this challenge out for yourself!

Read more about:
06 May 2016

Next post: Scrapbooking with fabric and lace
Previous post: Weekly Challenge :: Scrapbook with Arrows