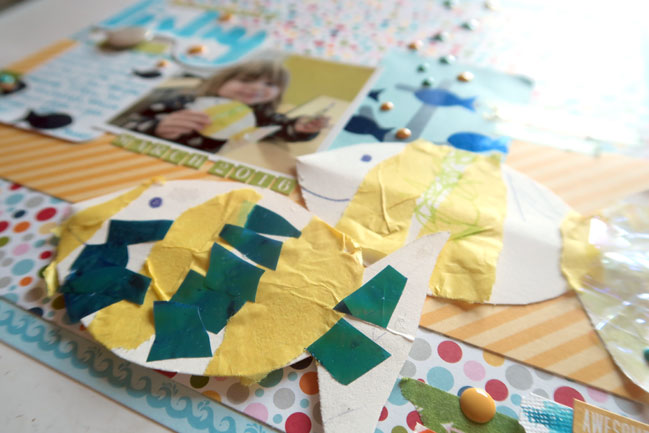 I recently purchased a Minc machine for metallic foiling and have used it easily enough for cards and gift tags, but I'm at a loss as to how to use it on my scrapbook pages. I have plenty of foil, so it seems only right to make this investment work for all my paper crafting, including my layouts! Glitter Girl, can you help?
Of course I can! This week, Glitter Girl takes on the challenge to use the Minc on her pages by customising 3×4 Project Life cards with metallic foiled fish to match some toddler artwork that needs a spot in the scrapbook.
I have the full size twelve inch Minc but the foiler is also available in a smaller six inch machine if that better suits your budget, your space, or your needs! This project would work perfectly fine with the smaller size, since the journaling cards are 3×4 inches. Do be sure you buy the Minc for your part of the world: as it plugs in and heats up, you'll need the version with the right plug. They are available!
Other supplies for this page include the Color Chaos collection and Sand & Surf papers from Bella Blvd, enamel dots from Doodlebug Designs, letter stickers by October Afternoon, word stickers by My Mind's Eye, flair badges by American Crafts, and a variety of washi tapes.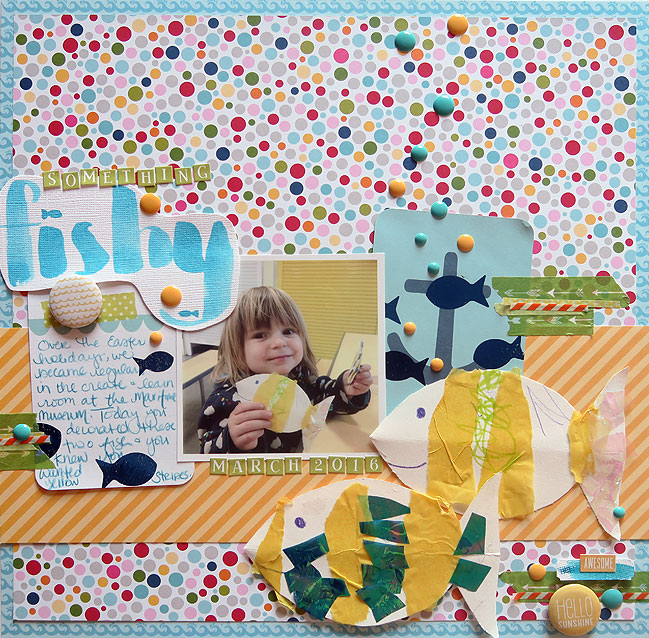 In terms of kids and artwork, I can already see why this becomes such a challenge over the years! He's only just turned two and of course I already have a significant stack of paint strokes, colouring sheets, and other creative projects! (Stickers are big here. Of course stickers are big here.) We have a big art-student-style book with plain pages to paste things in and leave a little label with any relevant notes, but I'd like to include just a sprinkling of the actual pieces in our chronological family albums, and it struck me that it will work perfectly to include things that are a) the right size for a 12×12 page and b) have a corresponding photo that helps tell the story. Aside from letting him doodle on a card in my Christmas journal, I'm pretty sure this is the first page where his artwork appears right in the album. It was a delight to show the page to him when it was in the album and he clapped! That's probably the biggest accolade I've ever had for scrapping, so I'm flying high now!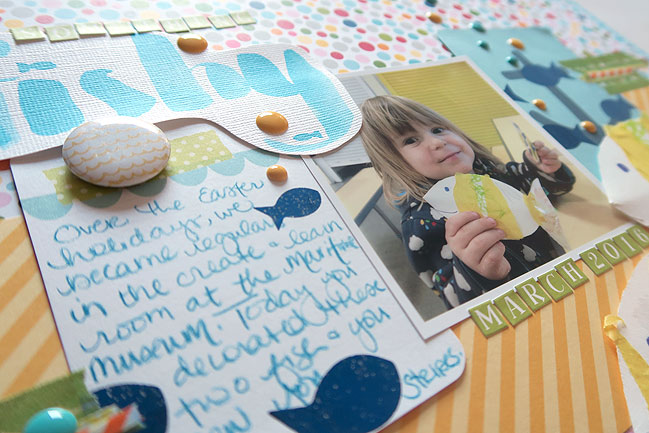 I've long had the Paislee Press Mini Masterpieces project in my bookmarks, thinking that big student portfolio may become unwieldy over the years to come and thinking a Photo Book would be a lovely way to keep the evidence without the complication. I'd love to see other ways you've kept child art, be it in your scrapbooks or another system of saving things. If it's something you've shared online, by all means leave us a link in the comments. Or feel free to just share a thought of what has worked for you. I'm sure many of us go through this stage of wanting to find some sort of guidelines for which pieces we keep and which ones go from the fridge to the recycling bin!
And of course, links to your projects with the Minc are also welcome! If you have the Minc, do you find you use it more for small format projects like cards and gifts or is foil becoming a definite design theme in your scrapbooks?
Disclosure: Product links in this post are affiliate links. All are supplies I use and enjoy! Affiliate commissions on shimelle.com blog posts pay the guest artists who share their work here. Thank you for your support.

Read more about: adventures-of-glitter-girl scrapbooking-videos
27 April 2016

Next post: Teaching craft by encouragement
Previous post: How to incorporate books into your crafting