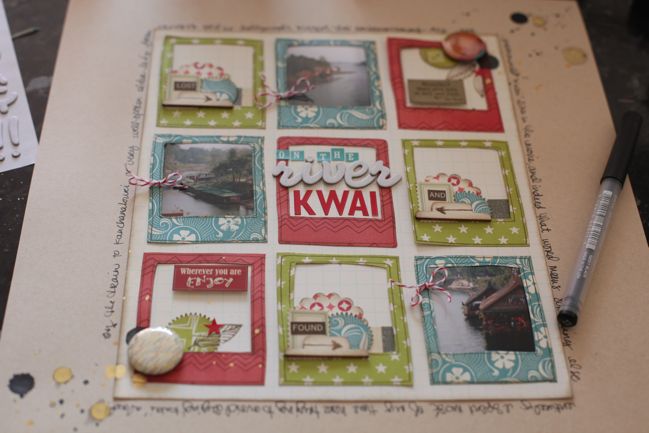 Happy Monday! We have a new challenge for your scrapbooking this week! But first tell us: do you use stamps or do you just… collect stamps? This week, we definitely want to put your collection to use!
I challenge you this week to stamp a frame. It can be something quite literal like a frame-shaped stamp or it can be any stamp design added to the page in a way that frames a photo, title, or journaling. Everything else is completely up to you, so you can take your inspiration in any direction you like! The stamped frames above have a full tutorial you can see in the archives, but to get you started on this week's challenge, take a look at these examples from contributing designer Meghann Andrew and guest artist Anastasia Muratova.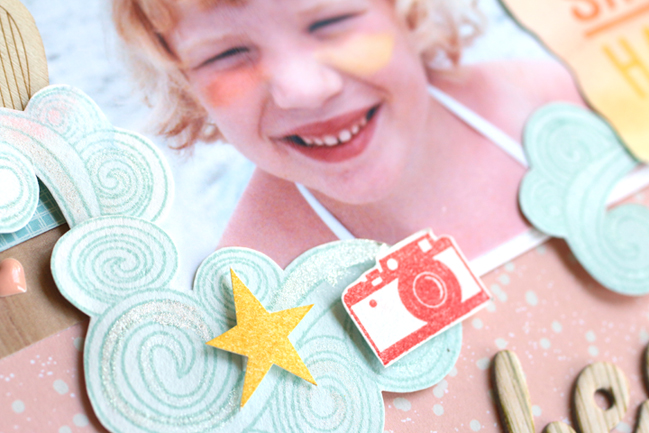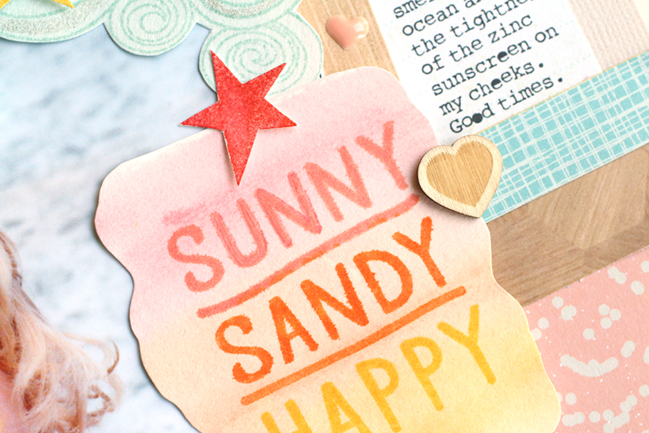 Stamping is a staple technique that I use on every layout, but typically for words, phrases or titles. On this layout, I used watercolored and stamped wave images to emphasize the importance of this photo of me as a child on the beach, by creating a frame.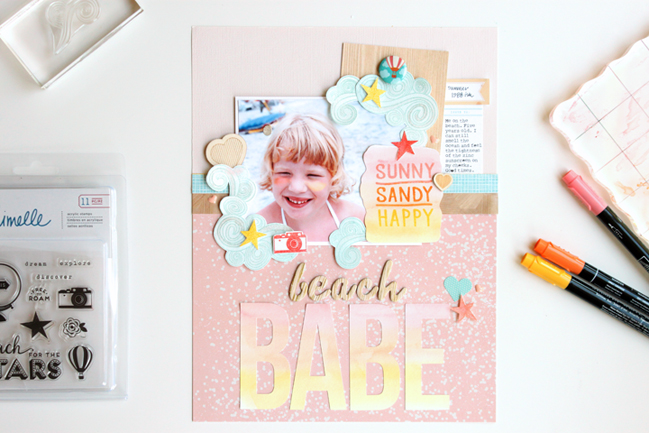 To keep the "beachy" feel of the layout, I stuck with pink, orange, yellow and blue tones, and used watercolor paper to create the soft background for my stamped images. To keep the emphasis on my framed photo, I left the embellishment simple, using a few stamped stars, wood veneer, stickers and enamel hearts. The "sunny, sandy, happy" stamp was inked in three colors, stamped onto a watercolored background, cut out and placed on top of the negative space on the right side of my photo.
- Meghann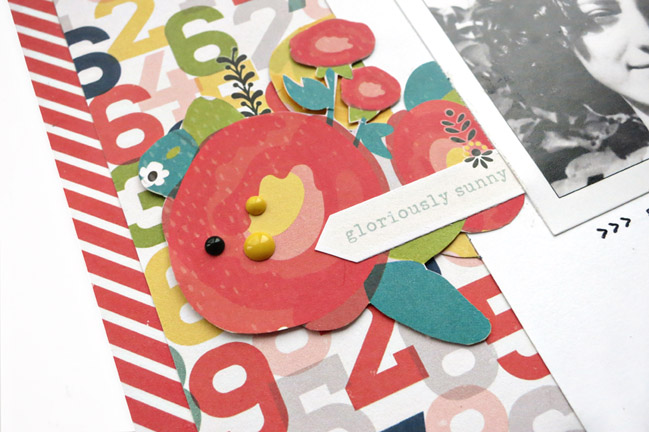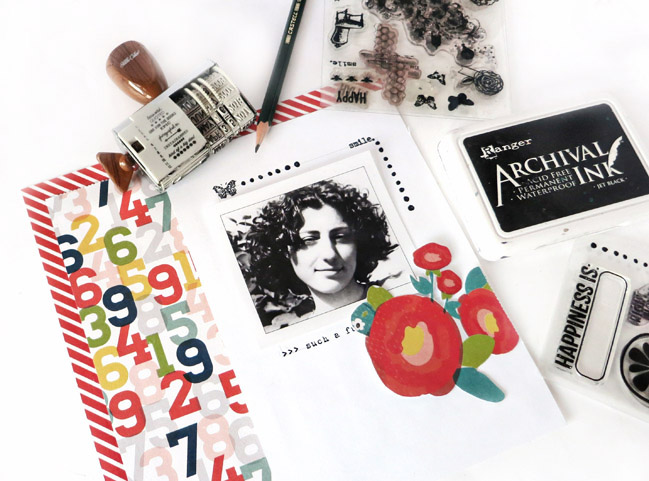 Once upon a time many years ago we used film to take photos. And then we took it to photolabs to be developed and printed. A friend of mine was learning photography and she needed a model for a photoshoot. So one (very) sunny day we set off to explore the city and chase shadows. She used black and white film and then she developed and printed the photos herself. Some of those photos turned out to be of my all time favourites, like this one.
When I saw True Stories collection I knew it would work perfecty with this photo. The colours are bright, but also a bit muted by memory and time, with numbers and cameras and text strips to cut out. I used number paper because it reminded of years passing so quickly. It also made me think of Goethe's famous quote: "Stay a while! You are so lovely!" – and I added it as a title.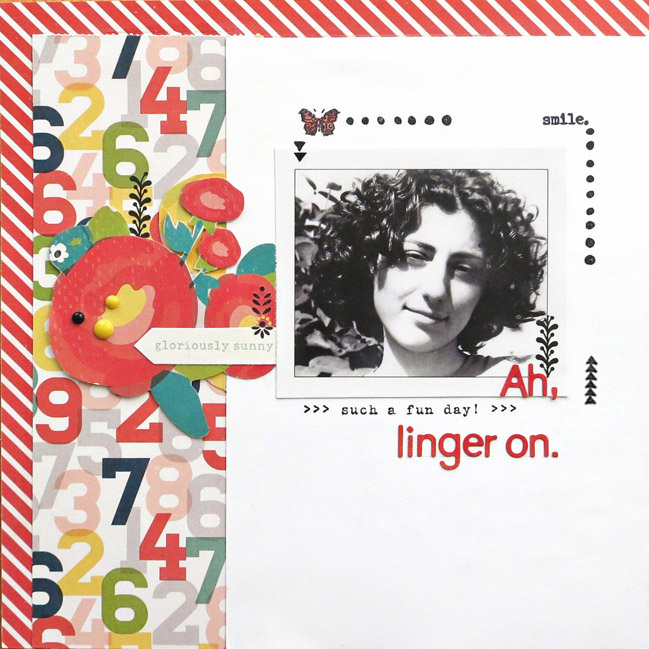 But the challenge task was to make a stamped frame for my photo. I lightly marked the frame with a pencil and then stamped words and dots and arrows along the lines. In the end I coloured the butterfly with watercolour pencils. To finish the page I added flowers I cut out from another True Stories paper and rub-ons and enamel dots from my stash. I love the end result and I love that I could use so much red, because it's balanced with black and white.
- Anastasia
You have a week to complete the challenge and share a link – but of course you're welcome to set your own time schedule. Whatever keeps you happy and creative!
Today's Guest Artist: Anastasia Muratova loves summer, books and all shades of blue. You can find more from Anastasia on her blog.

Read more about: scrapbooking-challenges
23 May 2016

Next post: A clever trick for hidden words on your scrapbook page
Previous post: Special treatment for scrapbooking a special photo