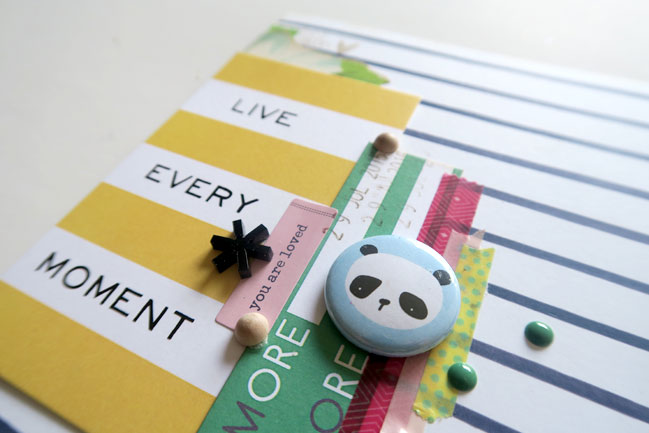 This week, Glitter Girl's quest comes from a mother and grandmother of all girls who is expecting her very first grandson any time now. What's a scrapper to do with years of feminine stash accumulated and a new challenge of how to make it work with boy photos? Embrace a bit of pink and floral with all things baby boy, I think. Unless you purely want an excuse to go shopping for new stash, and that's perfectly acceptable too!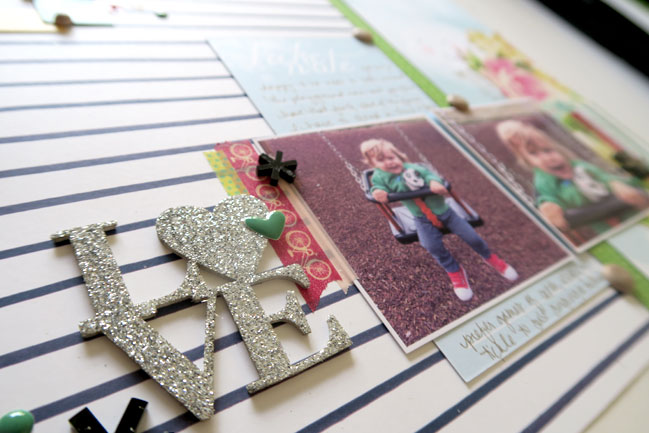 I haven't really changed my buying habits on adding a boy to the family and this adventure made me stop and think about why that is the case. I think it's largely down to not tending to buy themed papers, so I have stacks of dots and stripes and chevrons but very little in the realm of princesses or tractors. Of course there are some themed papers that capture my eye and I will still pick up, but as a rule of thumb, I go with patterns I know will be versatile no matter what photos I feel like scrapbooking on any given day.
Of course, if you're going to challenge me to use some florals, I'm not going to waste an opportunity to pull out those Sassafras floral papers that remind me of the soft sheets on the guest bed whenever we visited someone as a child. I think large florals with a more organic shape like this (be they truer to an actual flower or quite abstract like a watercolour) are easier to work with on a boy page than something very graphic, orderly, or closer to a cartoon style, but you may find otherwise.
I also wanted to try a different composition on this page as I've been in a bit of a repeat mode lately with my boxes of paper. I love my boxes, but it is so refreshing to change it up now and then, so I wanted to work from the edges of the paper into the middle rather than the other way around. I really enjoyed this composition and the next page I picked up, I went straight to an edge without thinking about it, so soon you may need to remind me to work some other way again.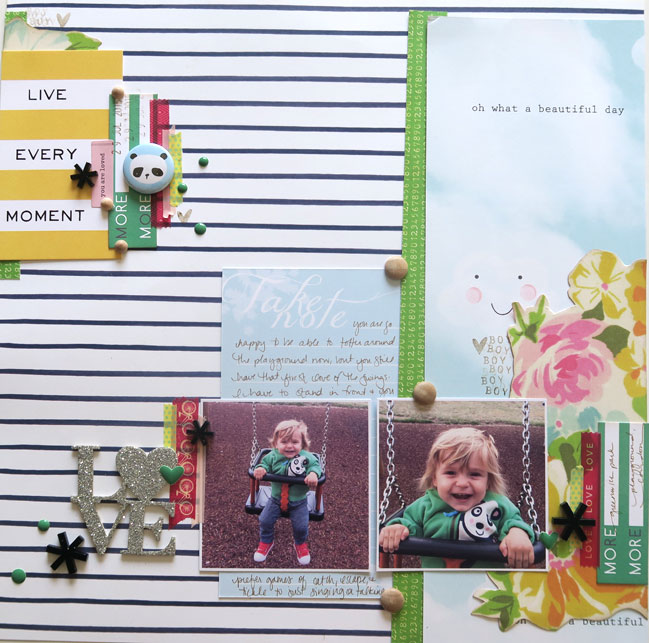 Jessica at Scraptastic spotted my love of pandas on Instagram and sent me their February kit that includes the adorable panda flair. I really liked how the cards had square corners and the cardstock is nice and thick! (It was a lovely gift and there was no obligation for me to use it, share it, or review it, but I was very impressed with the quality and the designs. I'm going to try it in Wonder Boy's baby book next, I think.)
My last thought on this whole idea of 'girl' or 'boy' papers and supplies: it is totally up to you. Personally I have no problem using pink or florals or whatever on a page for the boys of my life, but that's me. I also feel okay with it being a way to show that my pages are something I made and florals and pink are very me, so that's okay. But if the boys of your life would be offended or it doesn't feel right to you, then do what does work! Obviously! I enjoyed the challenge though, and you could always try it once and make your decision going forward for what does and doesn't work for your albums. Happy scrapping either way!

Read more about: adventures-of-glitter-girl
16 March 2016

Next post: Weekly Challenge :: Scrapbook your Black and White Photos
Previous post: Weekly Challenge :: Scrapbook with Lots of Letters