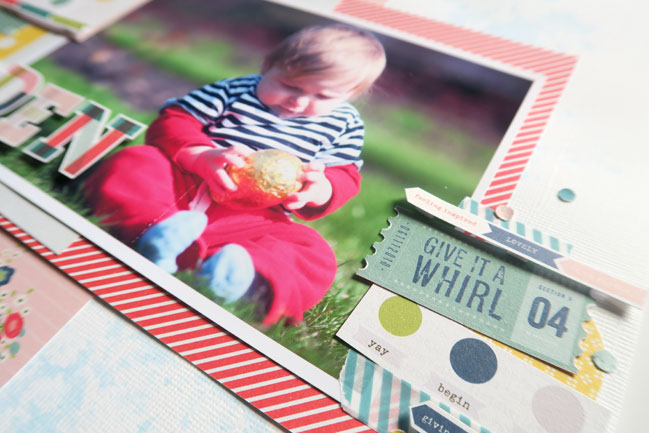 Glitter Girl has been avoiding one particular question for a while. It came from so many different people. Students with zero scrapping budget. Overseas scrappers crying from the cost of shipping and import tax. Scrappers with no space for stash or no cash for stash. And a scrapbooker who just turned her craft room into a nursery for twins balancing the emotion of probably not having time to scrapbook much for a while while also having an innate need to create in order to feel just right.
That challenge was to scrapbook without much in the way of supplies. No stickers. No purchased embellishments. No big stack of patterned paper and drawer of punches.
One sheet of white cardstock and whatever is left in a 6×6 paper pad that has done a fair bit already. Nothing else.
This is the most intimidating challenge Glitter Girl has ever taken on, I do believe!
And she cheated. That washi tape and the hole punch are totally cheating. Disappointing, really.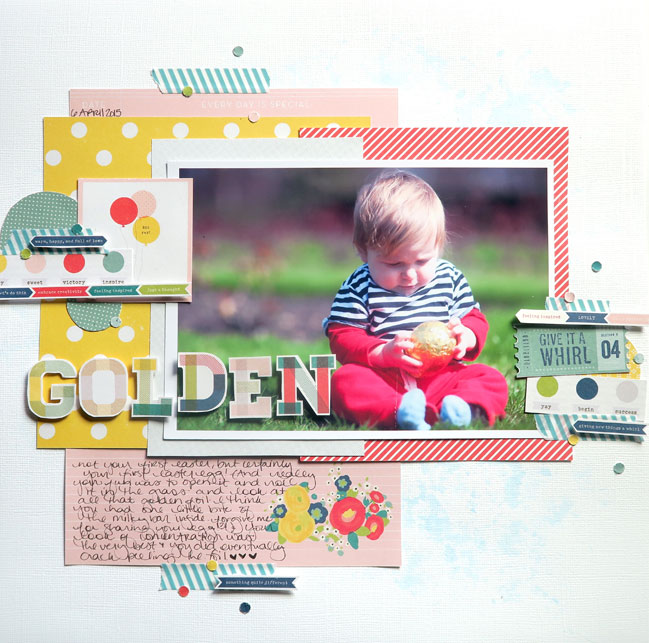 That toddler painting technique is something that needs to appear more in my albums, but it was only after I finished the page that I realised it needs to involve an actual toddler. I'm going to pull out some cardstock the next time he is painting and see if anything might make a nice background. I might as well put him to work, right?
But truthfully: this challenge has made me look like a deer in the headlights every time it has been asked in any wording, and yet I am so, so glad I tried it. You can too: grab a 6×6 paper pad and one sheet of cardstock for your background and go. If you end up needing to cheat a smidge, so be it, but the victory of getting to the end and realising the whole page was basically made with leftovers from a 6×6 paper pad? That feeling is pretty fabulous indeed!
I hope you enjoy watching this adventure!

Read more about: adventures-of-glitter-girl scrapbooking-videos
23 March 2016

Next post: Easter Scrapbooking with Starshine and some clever cutting
Previous post: Scrapbooking on a black cardstock background