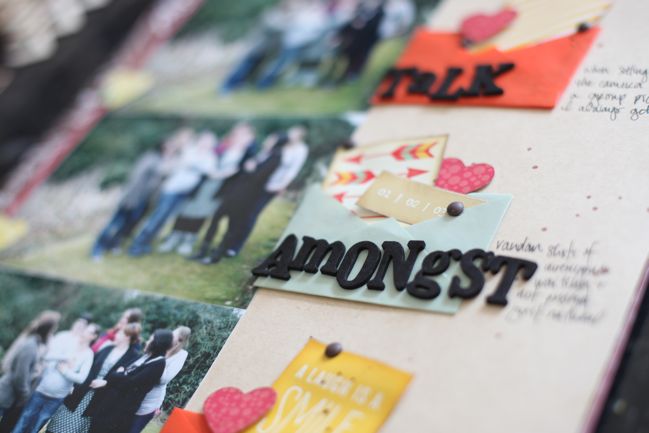 I'm not sure if ten challenges is enough for you, so why don't we go ahead and have our regularly scheduled weekly scrapbooking challenge too! (Don't worry, there is still time to enter the challenges from the past weekend – they don't close until the end of this coming weekend, and there might be some little tokens of appreciation coming your way if you share your work!) Challenge weekends always make me think about what has changed in the time I've been scrapping, and this week we're looking at something that has definitely changed behind the photos. When I started scrapping, we were all shooting film, usually in quite big and clunky cameras, and part of our scrapbooking process was that wait to develop the film and the surprise when you picked up a pack of prints to see what you had snapped! Now we wait less than a second to see what we've shot, and we don't even need to carry a separate camera if we don't want to. This week, we're taking a look at all the things we now do with photos taken on our phones!
And now, on to the challenge! This week, make a little progress with a never-ending stack of photos. I challenge you this week to simply scrap three photos on one page. Everything else is completely up to you, so you can take your inspiration in any direction you like! A few years ago, I posted a sketch and video for the layout above, and it's still a design I find practical on my pages. To get you started on this week's challenge, take a look at these examples from contributing designer May Flaum and guest artist Lisa Hausman.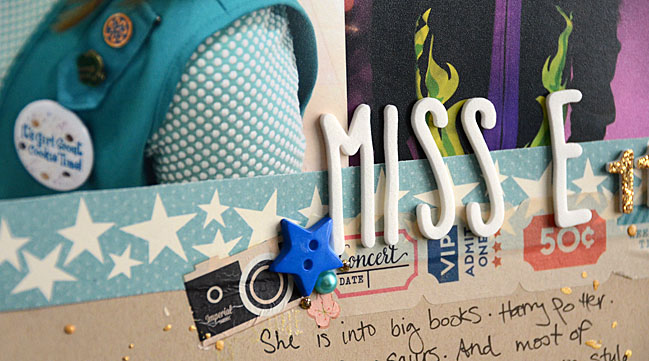 Memory keeping has changed a lot with smart phones. Having a camera everywhere from school drop off to grocery store runs means that I almost always have a way to capture a moment. The best part? The quality of those cameras keeps getting better and now I print out my regular camera photos alongside my iPhone camera photos and often use them together in layouts as I have here today. Which brings me to my favorite number when creating a single page scrapbook layout: three. It's so easy to work with three pictures on a single page design, and it lets me get a few more shots onto a page while still having plenty of room for embellishing fun.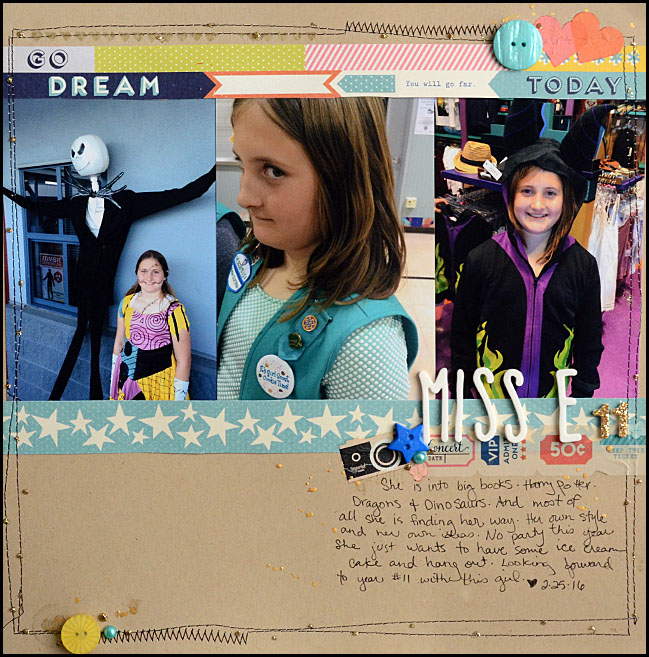 On this layout I have three very random pictures that capture my daughter as she is right now as she turns 11. I love documenting what my kids are into right now every year or two. Looking back it has changed so much, and yet there are things that remain. Those differences and similarities are favorites, and these kinds of pages are family favorites. A favorite tip of mine when working with three 4×6 photos is to use thin strips of patterned paper at the top and bottom (or sides, depending on photo orientation) of your pictures. Use scraps, or patterned paper like this that is designed in thin strips!
- May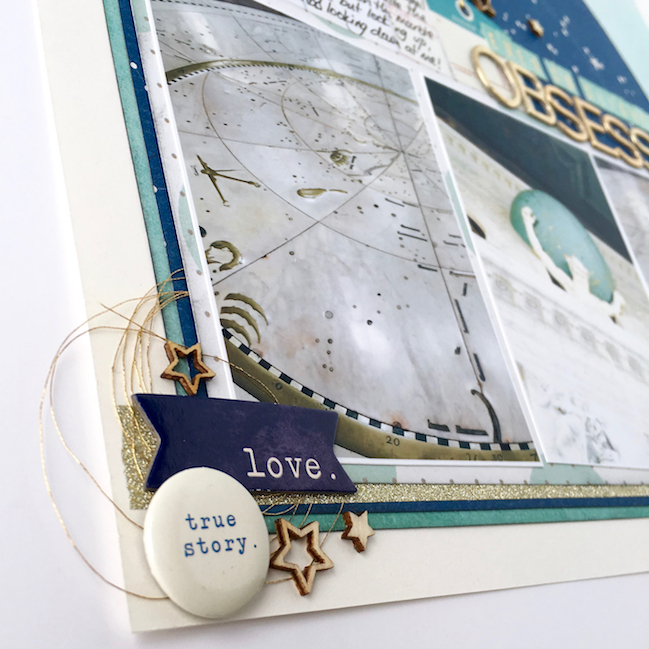 I have to admit that most of the photos I take these days are with my phone, so it was no problem to find three that I wanted to use and as soon as I saw the Shimelle Starshine collection with this amazing constellation paper, I knew that these three photos from Amsterdam would be perfect. Printing the photos at 3×4 ensured that I could fit three onto a single page and still leave myself plenty of room to showcase the pretty products on my page. This smaller size also helps when the photos are not great quality, which can often be the case with phone photos taken inside – or using the front camera.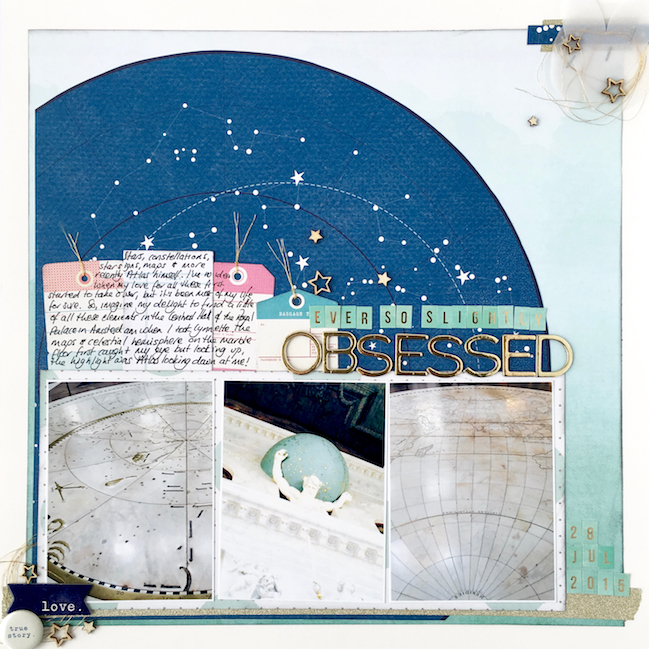 I added in some new Simple Stories paper from the Heart collection to really bring out the colours in the globe that Atlas is carrying, and some gold elements along with veneer stars and a couple of items from the Starshine seemed the perfect additions to support my star theme and the fact that I'm recording something I love. In this way, the story is less about the event of visiting the Royal Palace and more about me, telling another little snippet of my story.
- Lisa
You have a week to complete the challenge and share a link – but of course you're welcome to set your own time schedule. Whatever keeps you happy and creative!
I'll see you tomorrow to share how I took on this challenge!
Today's Guest Artist: Lisa Hausmann loves all things gold, messy clusters, and stars – obviously! You can find more from Lisa on Instagram, Pinterest, and her blog.

Read more about: scrapbooking-challenges
06 March 2016

Next post: Scrapbooking photos edited with a phone app
Previous post: One more challenge for the weekend, but I need your help!