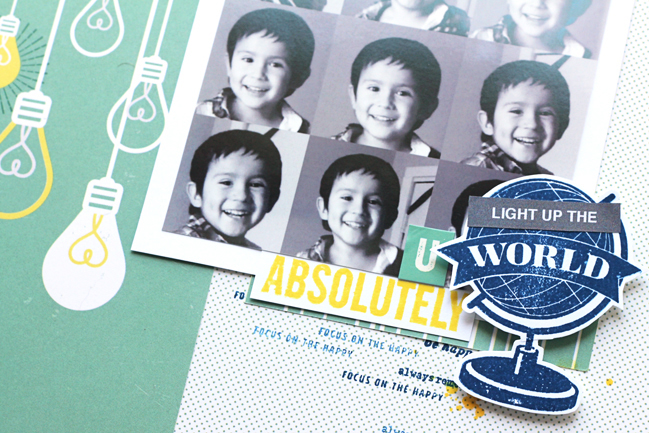 Today, please welcome Jamie Leija, a fellow scrapbooker in love with seeing the world and scrapbooking it with a globe motif or two. But of course it's best when we can get even more from our supplies and not need to book a holiday just to have an excuse to use a new stamp (though I won't blame you if you do!) so I'm delighted that Jamie has come up with five new projects to share that all use globes and aren't about travel at all. Stay right where you are and be justified in that globe stamp anyway! Take it away, Jamie.
I'm a traveller. Therefore, I'm addicted to travel motifs. My favourites are geotags, compasses and lately globes. The Shimelle collection features some really great globes. But I didn't want to use them on only my travel pages. Instead, I want to show you how versatile they can be! From your everyday and ordinary, to the most special people in your life, globes are a great alternative to the stars, hearts and geometrics of this world (pun intended).
I turned to my love of quotes and sentiments to act as starting points for these projects. I found quotes about the world, earth and even distance to use as my inspiration for each project.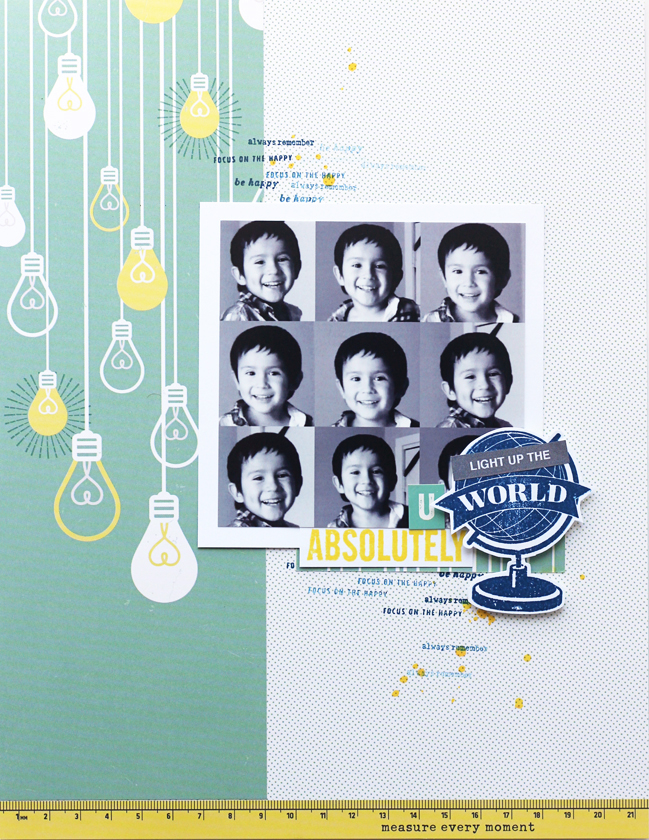 Light up the World
I love this sentiment. Just about everyone you love can light up your world. My nephew definitely lights up mine. Pairing the globe stamp and this fantastic Lemon & Ginger
(lightbulb) patterned paper was a no brainer once I settled on this title. Also, the stamp itself reads See the World but it was simple to print a bit of text and paste over top of the "See the…" portion of the sentiment.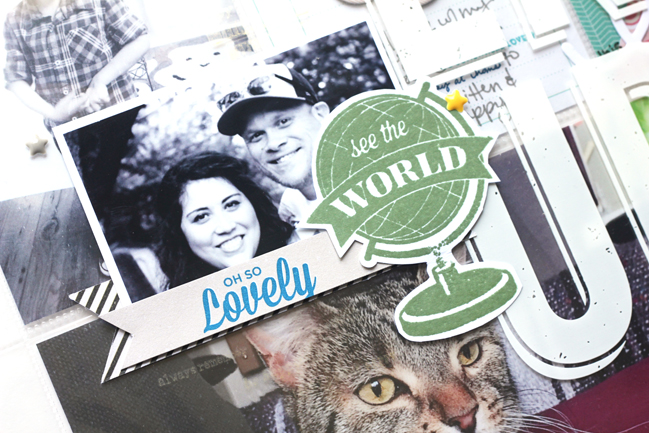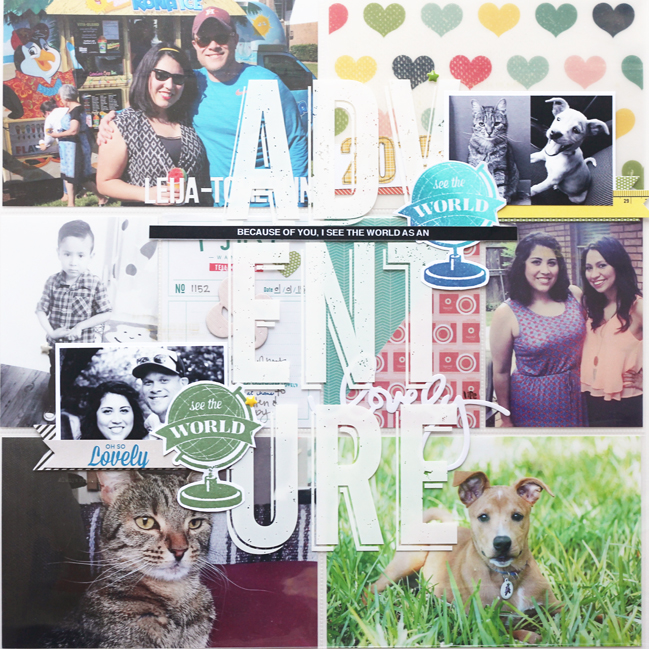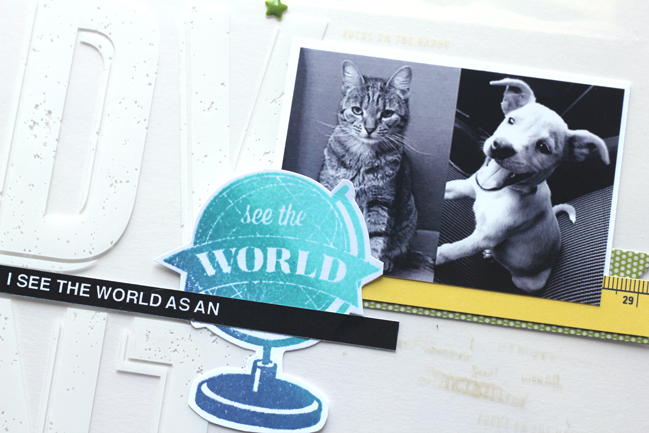 See the World as an Adventure
Inherently, I think globes imply adventure and the unknown. Isn't life itself a grand adventure with a myriad of unknowns. I can't think of a better icon to help convey that message. Also, here's a killer combo to consider: Shimelle's stamps paired with Hero Arts Ombre ink pads! I love love love how the stamped globe turned out.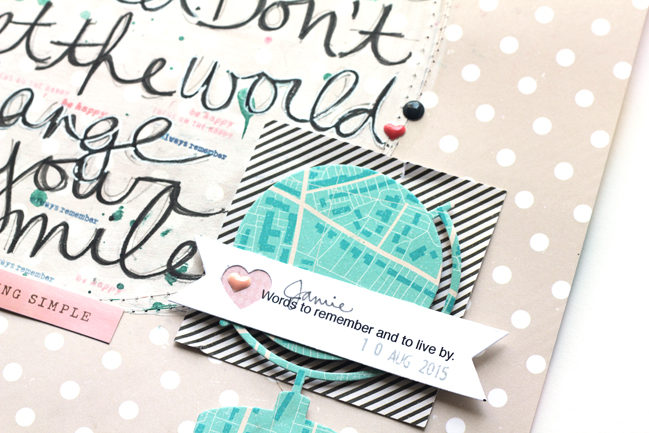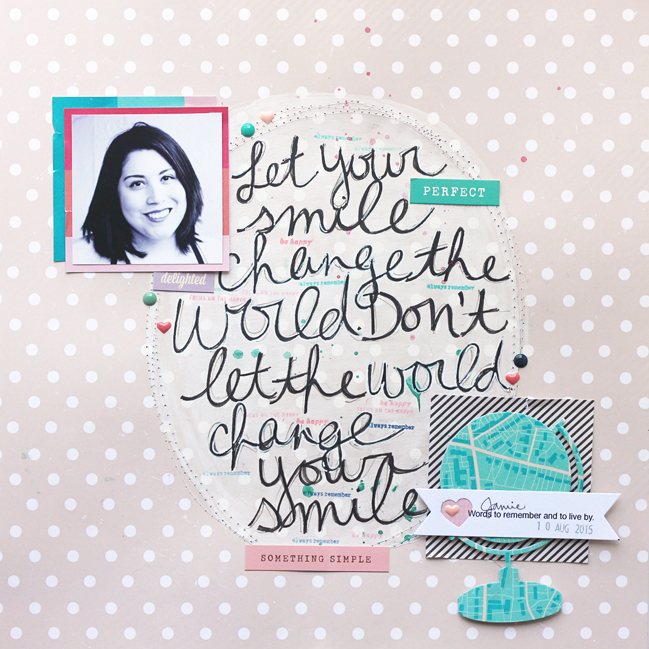 Change the World
The world is a tough place. And I personally need reminders that you can't let it get you down. This quote completely resonated with me when I found it. It's a great one to use for a simple picture of a lovely smile. An equally awesome quote to consider: "be the change you want to see in the world". Pair a globe with that sentiment and you're golden!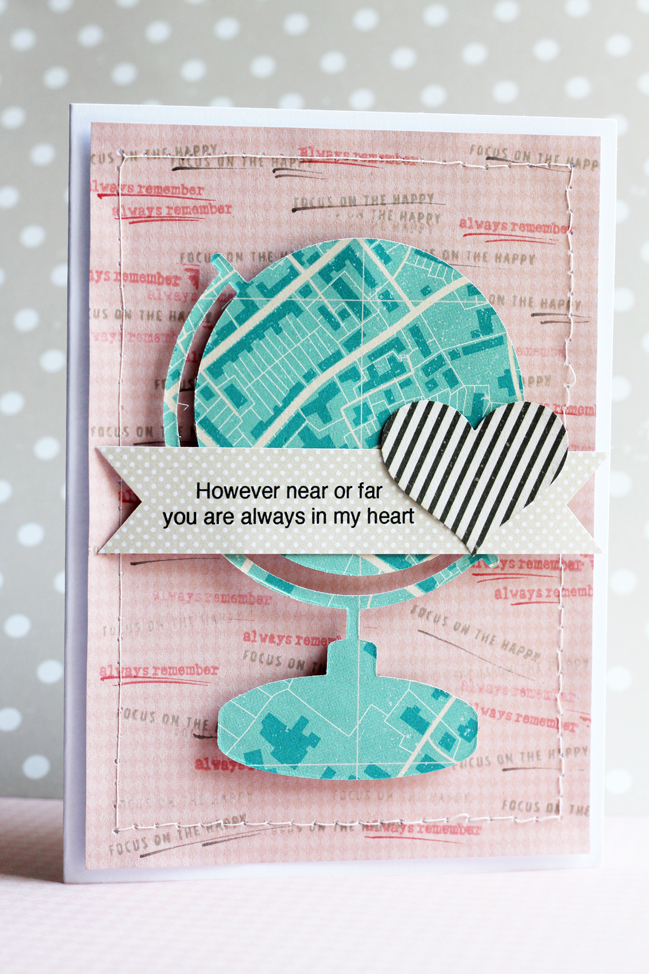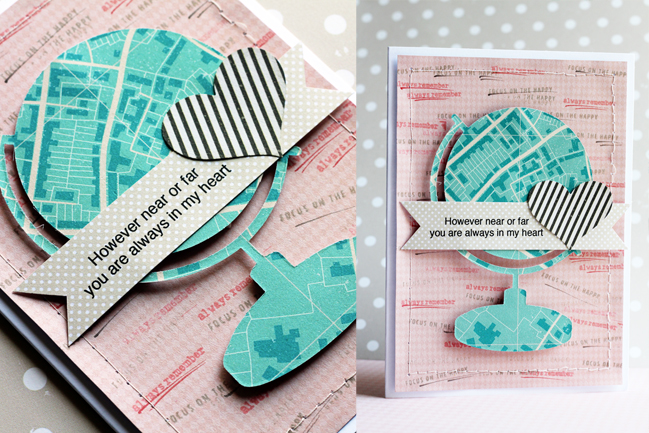 However Near or Far
The great thing about the globe metal die from Shimelle's first collection is that it's the perfect size for your standard A2 card. I think globes are a perfectly lovely icon to include in a card to a friend far away. And sending notes to friends is one of my favorite pastimes. This one is zooming off to NYC as this is posted.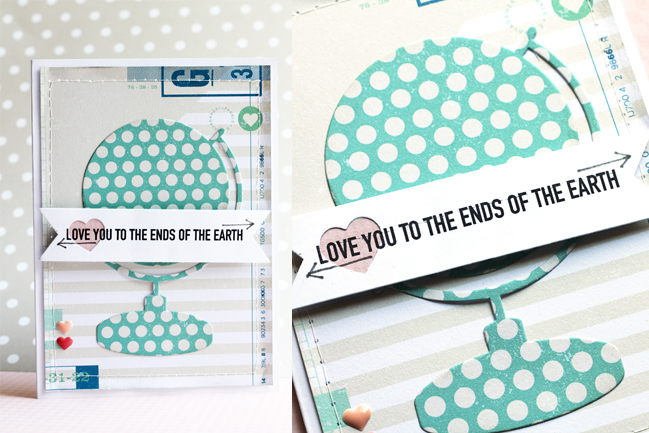 Ends of the Earth
Have you ever spread your arms as far apart as they go and told someone "this is how much I love you?" A globe paired with the sentiment "I love you to the ends of the earth" is the greeting card equivalent. For this card, I had fun making my own patterned background using the phrase stamp, some ink and Shimelle's pens..
I had so many more ideas for projects with globes, all using a quote or sentiment as a starting point. Here are a five others you could consider for your next globe project:
"You colour my world" – Awesome for a person, a pet, or even a thing
"The world is brighter because of you" – Make this tongue in cheek and feature a non-living item or stick with the traditional a document someone you love
"It's me and you against the world" – Easily used for a page about a relationship, romantic or platonic, I think it would still apply
"Embrace your journey" – Not all journey's are travel related, so focus on the what and the how that got you to where you are today
"Watch with glittering eyes, the whole world around you" – I love this Roald Dahl quote. I think it would be completely awesome for a baby page!
I hope you'll look at globes with eyes anew, and consider them for more than just your travel pages.



Jamie Leija (said Lay-ha) is a native Texan who loves to travel and scrapbook. She's lived in London, Thailand, and Spain and has travelled to so many other places. In Jamie's mind, traveling and scrapbooking go hand in hand. She loves that one hobby supports the other and that scrapbooking also lets her relive and share all of those fabulous travel moments. Jamie has been scrapbooking for the past seventeen years and has been published in Scrapbook Inspirations Idea Book, Scrapbook Trends,

CARDS

, and Create publications. She is currently on the creative teams for Scrapbook Circle and Simple Scrapper.. You can see more of her work on her blog, Instagram or YouTube.




Read more about:
11 September 2015

Next post: Introducing Christmas Magic... my new collection with American Crafts
Previous post: Scrapbooking just a teeny, tiny photo: Mind the Scrap + the Polaroid Zink