Many months ago, I shared my original plan for keeping a baby's first year album in the Project Life format. Time for a bit of a reality check, I think.
So far, this album has four printed 4×6 landscape images for every week up to three weeks ago (I order prints roughly monthly, so that makes sense), all placed in the correct pockets, with each week's page protectors labelled with a post-it note for the date. All of those weeks in 2014 also have the additional photos printed (at a smaller size) and just stored in one of the pockets for that week, uncropped and not planned for placement for most of the weeks. There are notes for each week in one of three places, which seems disorganised but worked well for me, as depending on my location it would be easiest to jot something down in either my planner, a small notebook I keep in my bag, or my phone. They are all small enough and organised enough within themselves that it's no problem to have all three with me when I go to scrapbook a week.
That's a fair amount I was able to keep up with as we went through the year, but completed pretty pages are pretty lacking. There are about ten complete weeks and an additional six that have the photos and supplies picked out and in the album, ready to put together. It does make it all come together relatively quickly for me if I'm not interrupted but it's also possible to do bits and pieces in two or three minutes here or there. So that seems pretty balanced and practical to life as I now know it.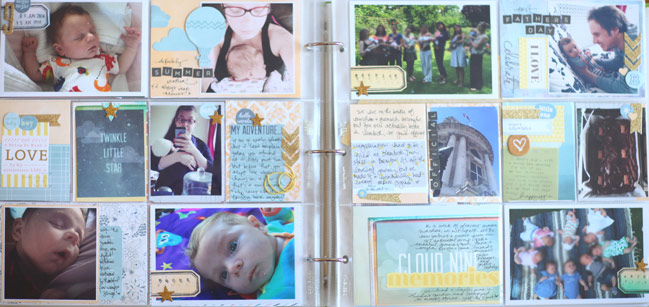 I've kept the ideas of choosing two colours for each week, using white borders on the 4×6 cards, mixing my handwriting with the old typewriter, and the label stamp with text on the four larger photos. The second 3×4 slot from the far left is always an accent card, but the other cards mix and match from accents, photos, and journaling. Supplies for this particular week include Sassafras Sunshine Broadcast, Carta Bella Hello Again, a WRMK 3×4 tablet, glitter stickers from Pebbles' Jen Hadfield collection, my grey letter tile stickers, some Studio Calico chipboard, twine, and stickers, and the sticker book from Dear Lizzy 5th and Frolic, so it's safe to say I am embracing quite a few old favourites in this album! I'm finding that quite refreshing.
I love seeing this book come together, but I feel most of the emotion in it will come when the writing is in place for far more weeks! I'm not particularly concerned about finishing it all by any certain date, as I really just don't work well on those sorts of personal project deadlines, but I'm still glad I had a plan from the beginning and so happy that including all those landscape shots has reminded me to use my proper camera rather than just relying on my phone, as all my favourite shots from Wonder Boy's first year are those lushly lit, better composed photos I capture on my DSLR – though I am still glad I have snapped so many pictures by having my phone to hand. Hurrah for modern technology.
I'm not sure any of that is a revelation, but it seemed worth sharing. Thank you so much for the warm welcome back this week, whether you are reading and watching quietly or saying hello or sharing something yourself. It still feels quietly odd, but it is lovely to craft and talk about craft again!

Read more about:
13 March 2015

Next post: On deciding what goes in which scrapbook
Previous post: As it Happens :: An Autumn Scrapbook Page