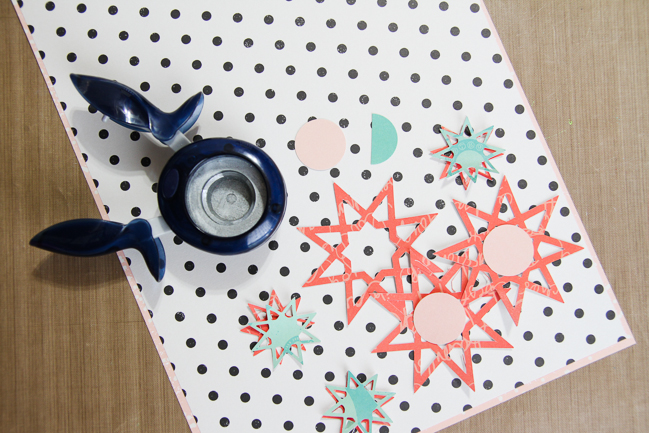 When I opened my American Crafts box with the new Shimelle line, I couldn't stop looking through each and every product. So many possibilities with great colors, patterns and embellishments. But I kept going back to the circle alphabet letters. They are just simply gorgeous. I wanted to use them in a unique way.
I picked the orange, pink/orange, and green colors from the 12×12 pattern paper pad to cut the stars from the Silhouette, and the circles with a 1" circle punch. I cut enough circles to cut some of the them in half and adhere to a full circle. Then I embossed those with the Shimelle embossing folder.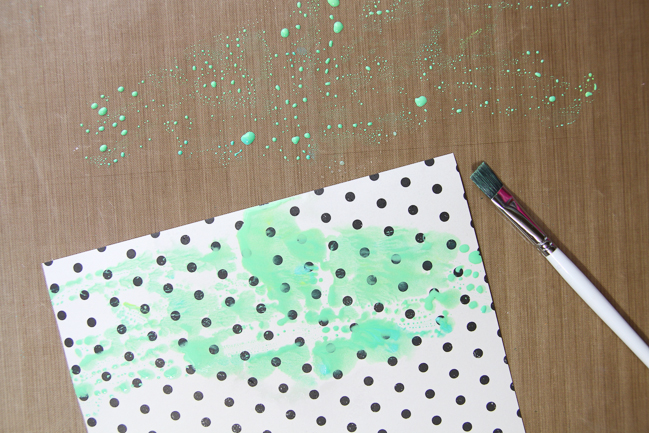 The black and white polka dots background pattern paper added both neutral colors and texture. I trimmed this piece to 8.25×10.75 and adhered to an 8.5×11 pink pattern paper. I wanted to bring in more of that green color, so I put paint on a non-stick mat, sprayed with water, and spread the length of my pattern paper background, then pressed it into the paint.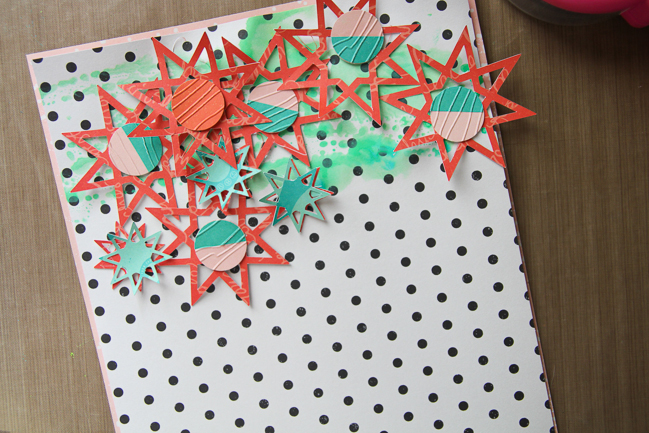 After the paint dried, I placed my die cuts, then added stitching to connect some of them to bring in a little more texture.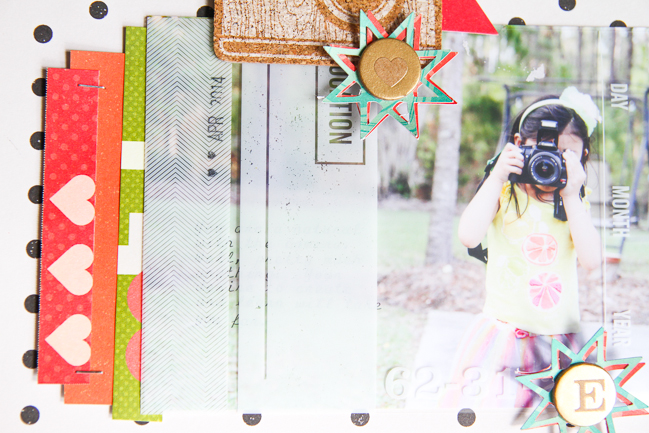 I decided on a large 4×6 photo with a lot of white space. I added my journaling directly to the photo using a typewriter, and then layered a transparent frame over it (I can easily lift this piece to see the journaling).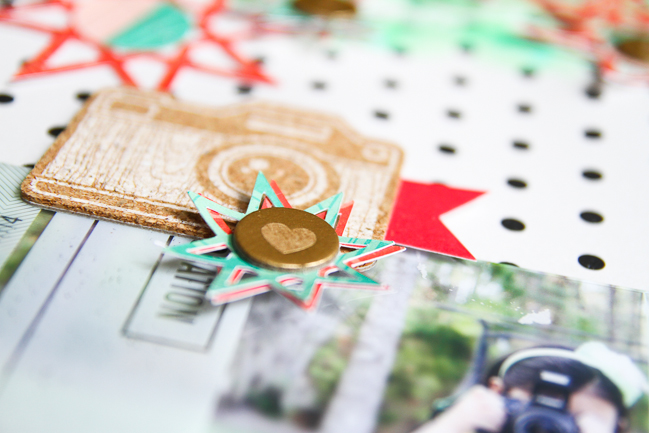 Using the Shimelle die cuts, I layered a cork camera over the die cut banner. To bring balance and repetition to the layout, I brought down another layered star with a heart circle from the same alphabets, and continued that repetition down to the bottom of the photo with my daughter's initial.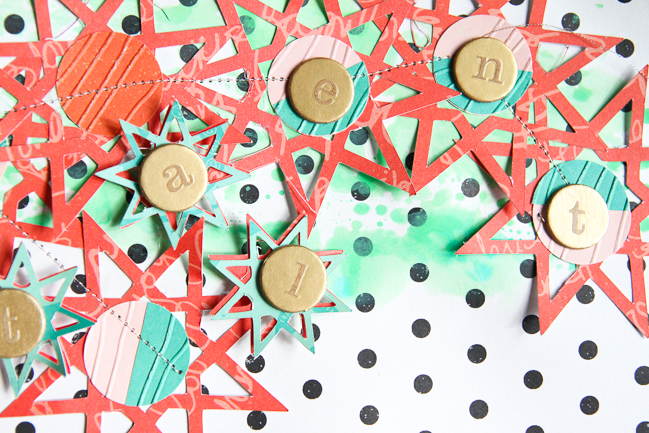 Once I had my photo and theme, I decided the title "talent" would fit my journaling and how I felt about my daughter's photography skills, and layered these over the die cuts at the top.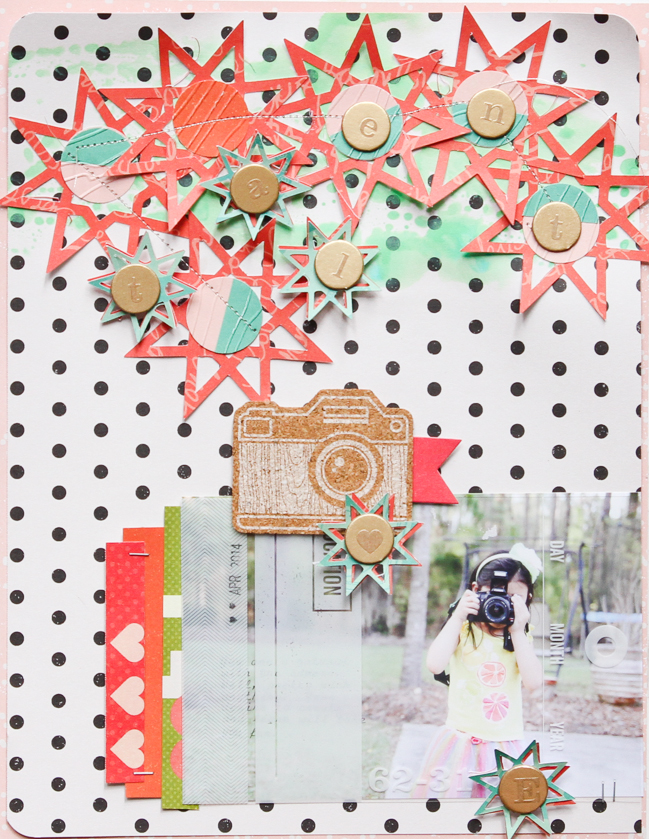 To bring in more of the colors from the top of the layout, I layered pieces of pattern papers to the left of the photo (tip: don't throw out those pattern paper ends, they work great for layering). Last, but not least, I used the Shimelle date stamp.
As I worked on this layout, I could see how this would work so well for the holidays. This is a collection that truly works year round and in any season. Thank you so much, Shimelle, for having me!
| | | |
| --- | --- | --- |
| Patricia Roebuck lives in Mandeville, LA, about 30-45 minutes from New Orleans. Patricia lives with her husband of 24 years, her six-year daughter, and her nineteen year-old cat. She discovered her addiction to scrapbooking while waiting to adopt her daughter from China. Patricia has been published in Scrapbook Trends, Creating Keepsakes, Scrapbook & Cards Today, Scrapbooks, Etc., Scrapwerk, and Paperhaus. She is currently designing for Pink Paislee, Elle's Studio, October Afternoon, and Cocoa Daisy Kit Club. She blogs at www.patriciaroebuck.com and is frequently on Instagram and Facebook to connect with friends and family. | | |

Read more about:
18 December 2014

Next post: Custom Pocket Pages Tutorial with Carrie Elias
Previous post: Five Ideas for Scrapbooking with Shimelle's Collection by Lilith Eeckels