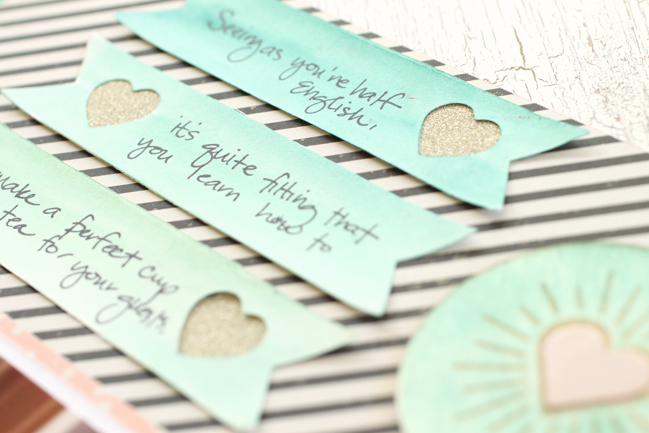 I hate to admit it, but no matter how many amazing electronic die-cutting machines I own, I still love reaching for my manual die-cutting tool and my wafer-thin dies. Maybe it's the fact that I don't often feel like turning to my computer in the middle of creating a layout, or that turning the crank on my manual machine is therapeutic and allows me to continue creating with my hands. Whatever the reason, I love thin dies, and the Shimelle collection dies are a perfect accent to any card, layout or mini album. Today I would like to show you five different ways to use them on your next project.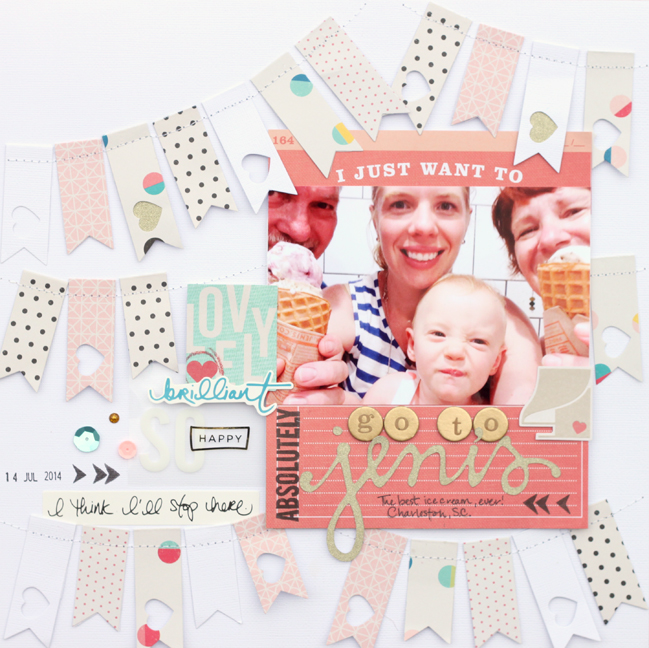 Cover a background
One easy technique using dies is creating a custom background by covering cardstock with the shapes cut from a die. On this layout, I cut 25 banners from the Shimelle 6×6 paper pad and folded the banners into pennants. I then adhered the pennants to my layout and machine stitched through the tops. To keep the layout simple with so much going on in the background, I just added my photo on a contrasting mat and a small cluster of embellishment to finish it off.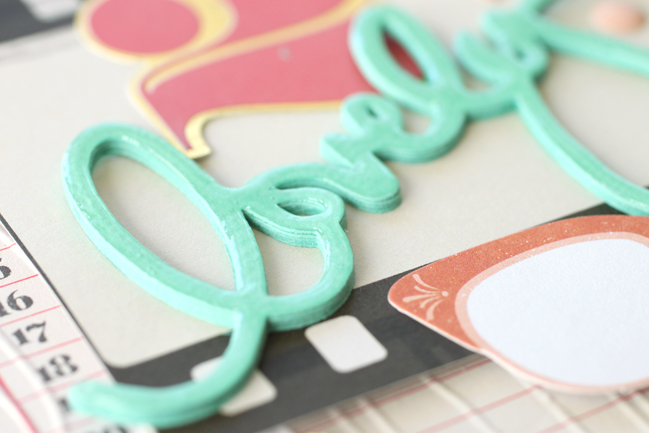 Layer your cuts
I love creating dimension on a project, and one way to achieve this is to layer your die-cuts. In this example, I used the 'lovely' die to cut cardstock six times and then adhered each of the layers together with a glue pen. To make the word look more like an embellishment, I topped the layers with a glossy medium and allowed it to dry thoroughly before layering it on my card with other Shimelle embellishment.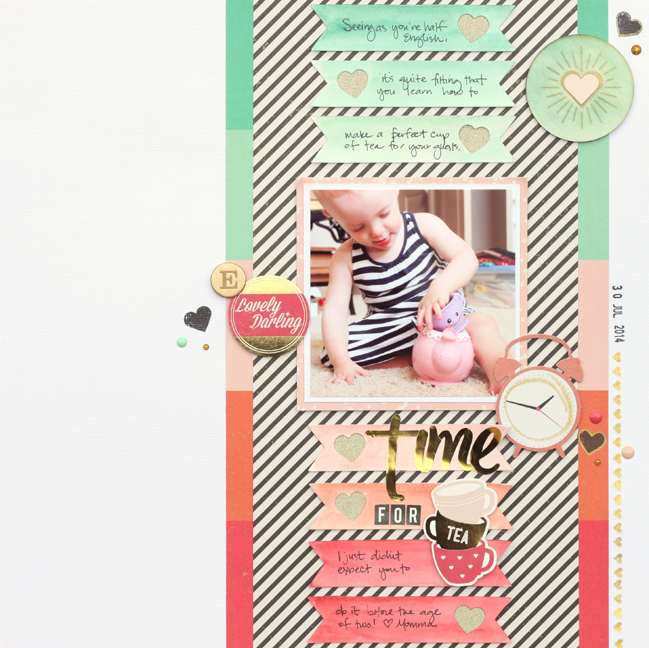 Paint with watercolor
I love using watercolors on my projects in small doses & pairing the dies with watercolor paper is the perfect way to get 'artsy' on your next project. To see my non-messy way to achieve this look, check out my watercolor tutorial video.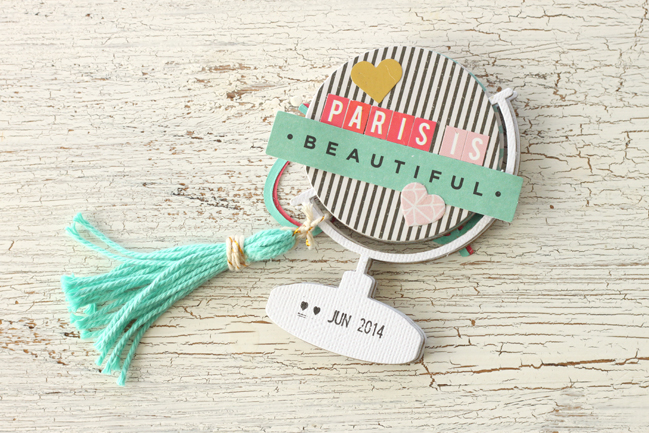 Create a mini album
The Shimelle die globe is the perfect size for creating a tiny mini album with 2" round photos. This would also be a perfect addition to finish off a wrapped gift for someone special. To make the individual pages sturdier, I layered two pieces of cardstock on the outside of thin chipboard, all of which were cut with the die.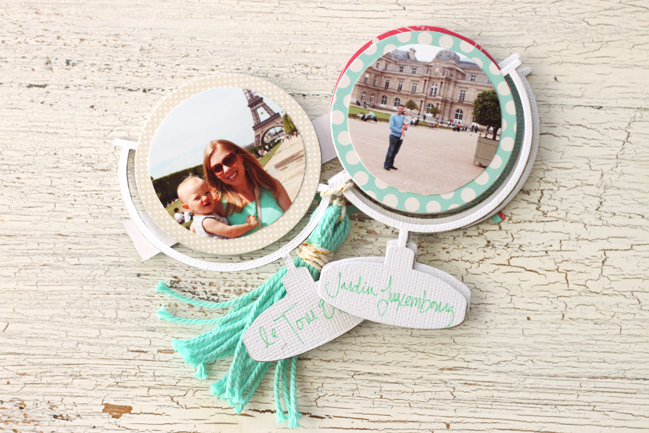 To attach the pages together, I created a tassel with thick baker's twine.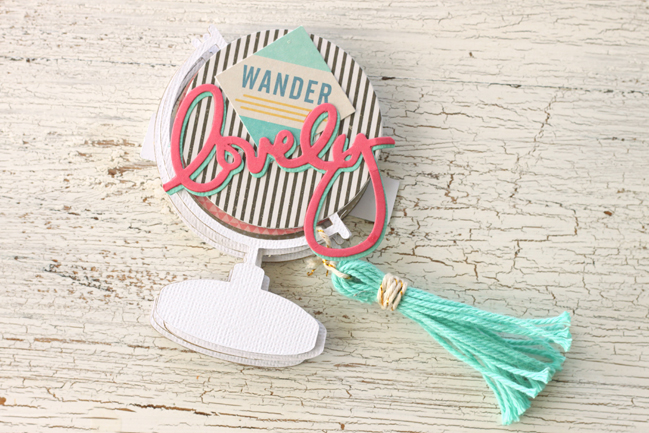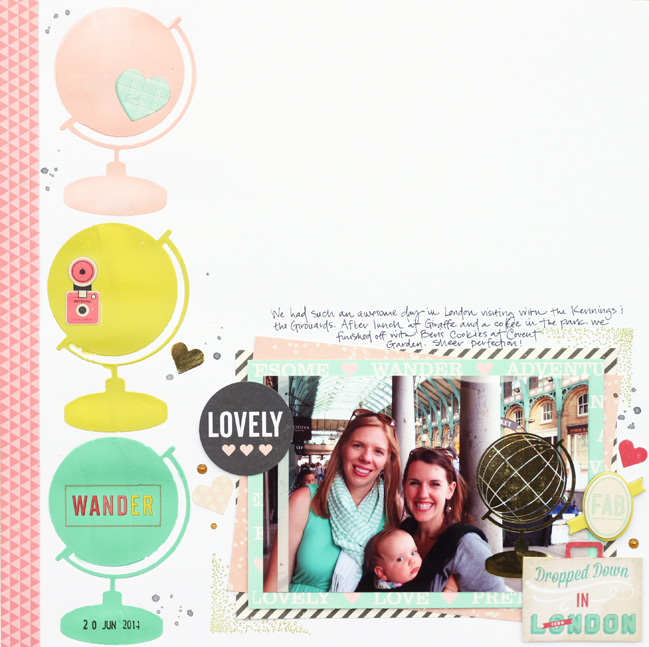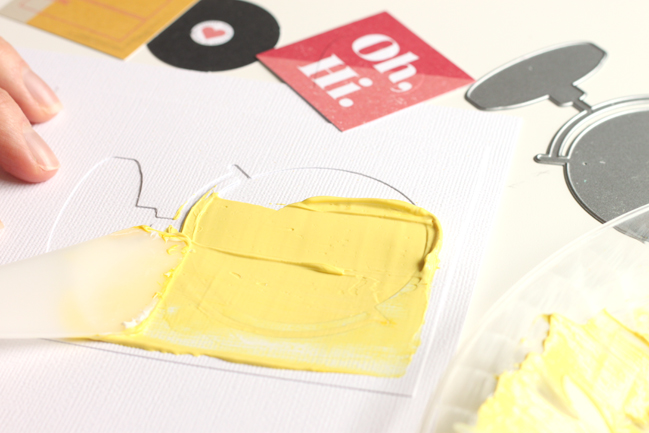 Use dies to make a stencil
The negative from a die-cut can also be put to good use to create a stencil of your die-cut shape. On this layout, I made stencils using the globe die with a single piece of cardstock and filled the space in with colored embossing paste using a palette knife.
I hope these ideas have given you the inspiration to try a new technique using your dies!



Meghann Andrew is a former interior designer turned stay-at-home-mom to her toddler daughter and wife to her Brit husband, living in Texas. After scrapbooking for close to 6 years, she has been fortunate enough to have her work featured in several publications. She is also honored to represent Elle's Studio, Chickaniddy Crafts, Scraptastic Kit Club and in 2015, Jot magazine. She writes about her projects, food and life at her blog and shares her everyday photos on her Instagram feed.

If you've been inspired to make layouts today, you're going to need an album in which to house them! Meghann would like to give away the gorgeous gold glitter album from the Shimelle collection. Just stop by her blog and leave a comment for a chance to win!





Read more about:
08 December 2014

Next post: Five Ideas for Scrapbooking with Shimelle's Collection by Lilith Eeckels
Previous post: Five Idea with Photo overlays by Angie Gutshall