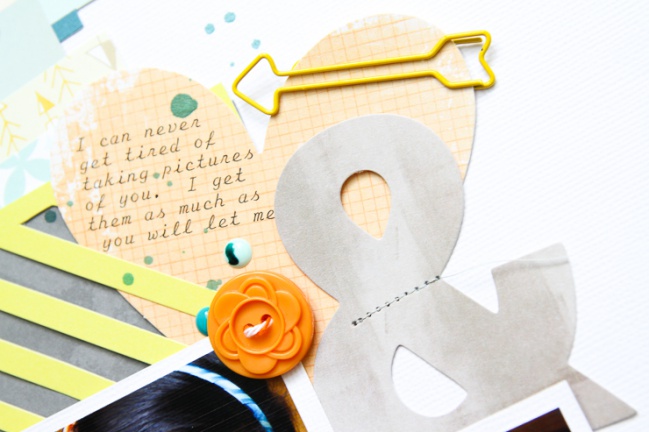 Just getting back to the teensiest amount of time at my craft desk this week, making a single scrapbook page with a napping Wonder Boy all wrapped up in the sling. I need longer arms to reach around him to the desk really, but at least I was already used to scrapbooking standing up. Now if I can just get used to blogging with one hand when he naps on my lap, I'll be onto something, just now and then. Anyway: that page I was able to finish this week relied on a pack of beautiful die-cuts, so I've asked three lovely scrapbookers to join me today to share a variety of ideas for scrapbooking with die-cuts. I hope you find something useful for your inspiration file!
Let's start with Patricia Roebuck.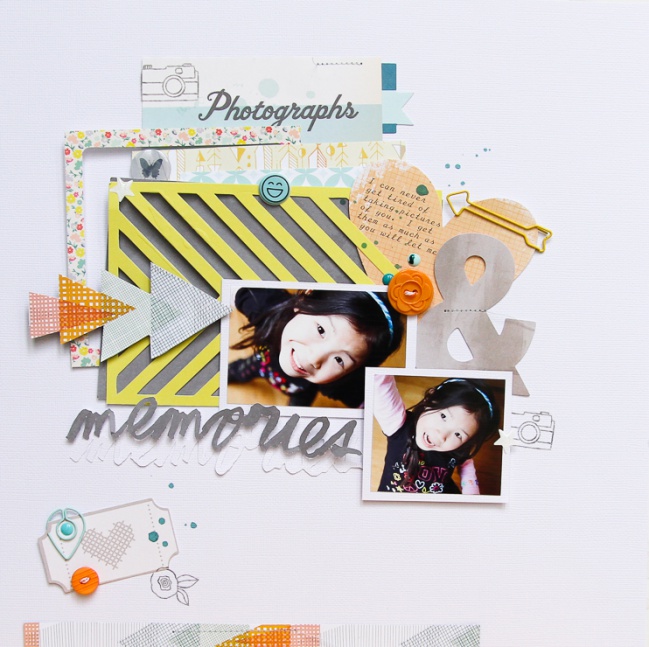 I went through Dear Lizzy and Amy Tangerine American Crafts die cuts and pulled out several that caught my eye. I decided the yellow chevron die cut card would be the main element to highlight my two photos. To make the yellow pop more, I backed it with grey pattern paper. Cutting up a few more sheets of pattern paper, especially the sheet with "Photographs" on it, gave me the idea for the title. The pre-made die cuts, the title I cut with my Silhouette, and the fussy cutting of pattern paper made this layout come together quickly.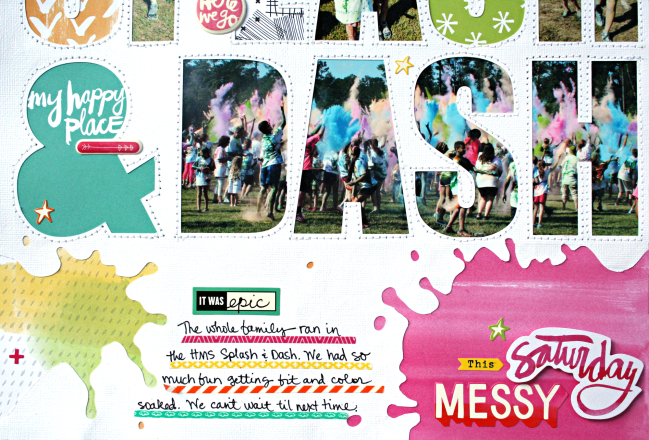 Then a focus on bold lettering from Heather Leopard.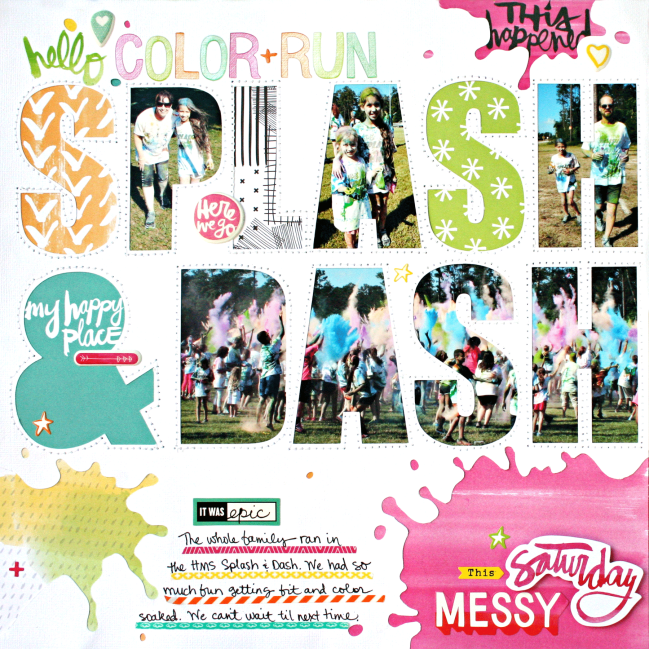 I love using die-cuts to make a big impact on my layouts. For this one, I wanted to relive the feel of the fun run experience when we look back at this page. I also wanted to include lots of photos. The best way for me to do this was to blend the photos into the title. I created my title "SPLASH & DASH" by super sizing the letters in my Silhouette software. I then downloaded ink splatters and added them around the page. Once I liked the design, I cut it out, chose my favorite photos from the run and then matched them up to the letters that best fit. I used one large photo for the word "DASH". I then filled in the rest of the words and ink splatters with patterned papers and embellished with traditional paper die-cuts and embellishments that came with the Plus One collection.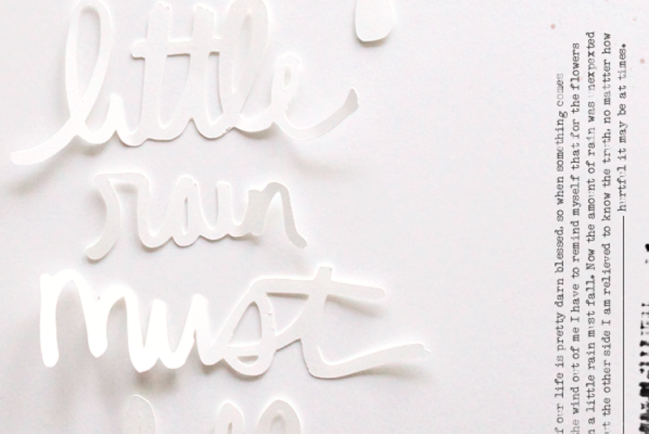 and thirdly, Shanna Noel shares a fresh layout.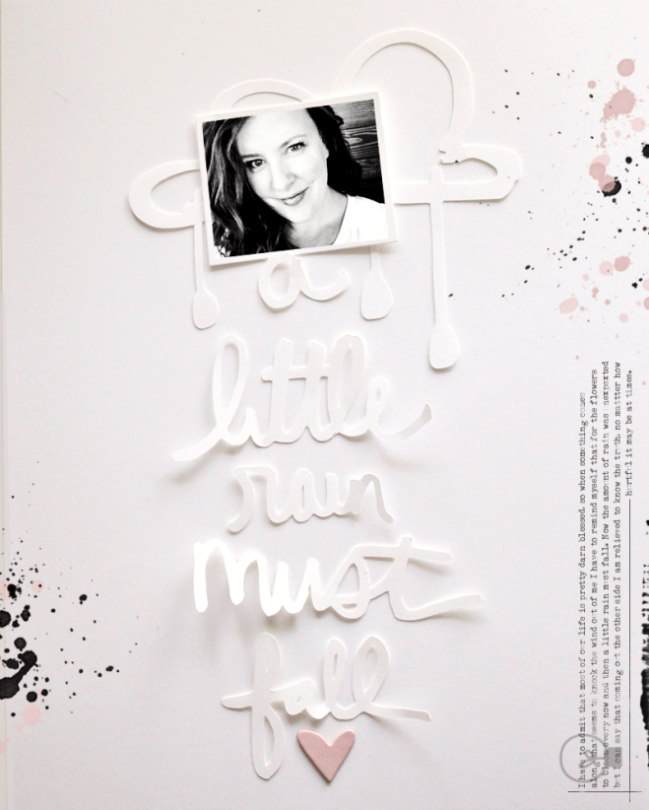 I love my digital die-cut machine and every single time I use it I am thankful I have it! Whenever I get a new cut file I cut it out right away on white cardstock and keep them all in a special box. This is one of my items that I reach for the most. If I need to color them with some watercolor or mist, it is super easy to do so, and if I need a certain cut out of pattern paper it is always easy to go back and do that as well. With those white cardstock cuts I just find myself always grabbing for them. One of my favorite looks is tone on tone and I thought this cut that I designed for Studio Calico was perfect for just that. I thought the die-cut on its own really made enough of a statement and didn't need much added to it. I added a little heart at the bottom just because everything is better with a little love, and some splatters. The journaling on the side is something I have never done before but I love how it turned out.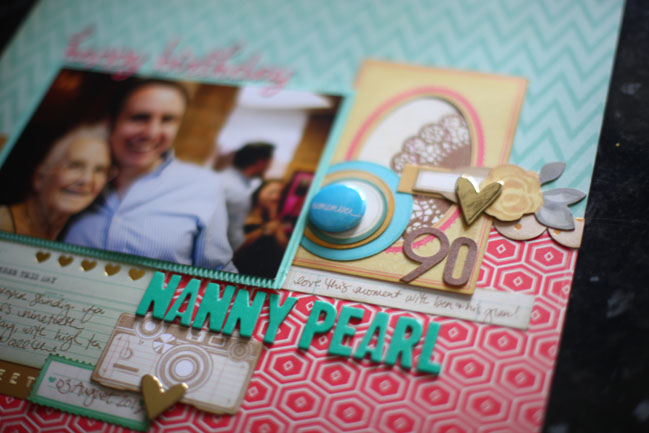 And I've Glitter Girl has actually been up to some die-cut play as well!

This week's mini adventure is all about dressing up the page with printed die-cuts. They make for lovely layered embellishment in a hurry. This pack is from the Maggie Holmes Styleboard collection.

You can find the supplies for this page here, including that handwritten 'remember' flair badge, while supplies last.
What do you use more often: printed die-cuts purchased ready to go or custom cut pieces from a digital gadget like the Silhouette or Cricut? Or are you happy to live in a crafty world that includes both? We'd love to see your favourite pages with die-cuts, so link us up in the comments! Happy Scrapping!
| | |
| --- | --- |
| Patricia Roebuck lives in Mandeville, LA, about 30-45 minutes from New Orleans. Patricia lives with her husband of 23 years, her five-year daughter, and her nineteen year-old cat. She discovered her addiction to scrapbooking while waiting to adopt her daughter from China. Patricia has been published in Scrapbook Trends, Creating Keepsakes, Scrapbook & Cards Today, Scrapbooks, Etc., Scrapwerk, and Paperhaus. She is currently designing for American Crafts, Pink Paislee, Elle's Studio, and Cocoa Daisy Kit Club. She blogs at Patricia Roebuck. She is frequently on Instagram and Facebook to connect with friends and family. | |
| | |
| --- | --- |
| Heather enjoys capturing and documenting memories for her family of 5. She currently designs for American Crafts, Simple Stories and Gossamer Blue kit club, while managing social media for Scrapbook Circle kit club. She lives in Cypress, TX with her husband, two daughters and her bonus son. You can keep up with her on her blog, The Spotted Leopard, and Instagram. | |
| | |
| --- | --- |
| Shanna Noel lives in Northern California with her high school sweetheart and husband of 14 years. They are loving having a house full of laughter that includes their two children Jaden (11) and Addison (6). She discovered digital scrapbooking when she was pregnant with Addison and just loved capturing her families memories in such a creative way. In June 2011 she ordered her first paper kit, and never looked back! You can now find her work in the gallery at Studio Calico as well as a peek into her daily life on her blog and Instagram. | |

Read more about:
30 May 2014

Next post: Scrapbooking your Wedding Photos
Previous post: Combining Techniques:: A Scrapbook Tutorial by Amy Tangerine