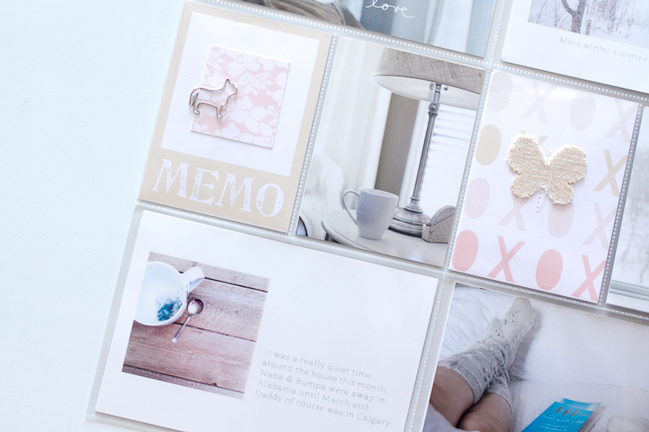 Aside from the look of the pages in the scrapbook, the philosophy behind the documentation might be the biggest difference between Project Life and more traditional full page scrapping. When I started scrapbooking, there was so much emphasis in capturing the biggest events, and many people found the hobby by way of a wedding, baby, or travel adventure. Of course, those were pre-digital days and the film costs of capturing one's morning coffee would usually be deemed quite a silly expense. Today we can take twenty shots and not worry about the price! And so enters Project Life, with the idea of keeping a record of the normal little things of life, but surely to maintain an accurate record, these albums should include the big events too. Today I've invited three scrapbookers to share their ideas for including the major moments right alongside the everyday details.
First up: Carly Robertson.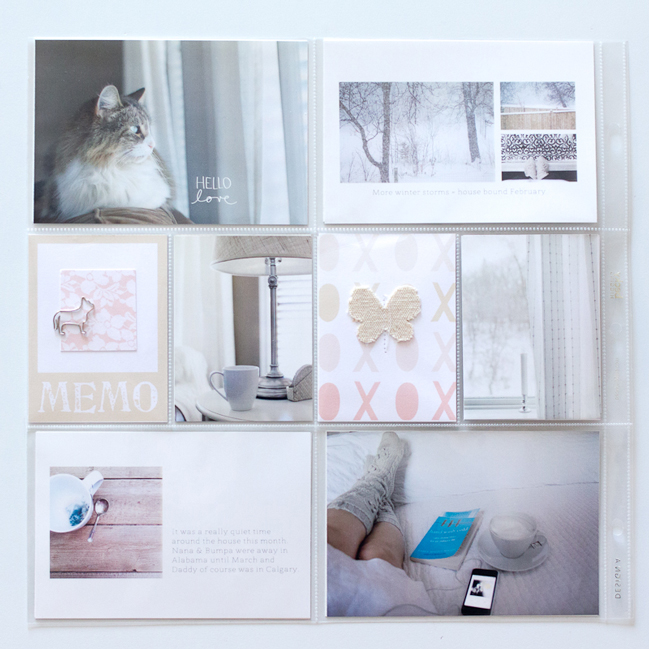 I have been doing Project Life for about two years now and my approach is to document what I can, when I can, over each month to create my pages. I like to keep my layouts pretty simple so that the process is as quick and easy as possible. This year I have made one small change to my documenting and it is to take my PL photos with more purpose. Last year I just took snaps here and there with really not a lot of thought behind what I was photography. This year I've decided to take at least one photo a day of something I am grateful for. I think the big thing to remember when it comes to documenting is that there is no right or wrong way to do it. You just have to find a way that works best for you and that is easy to stick to.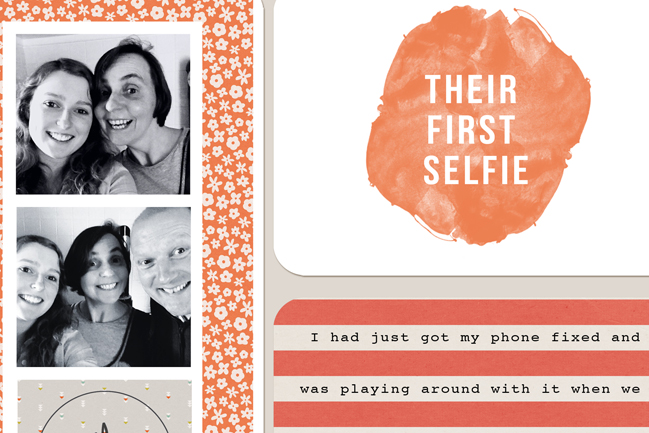 And some insight from digital Project Life scrapper Abigail Beach.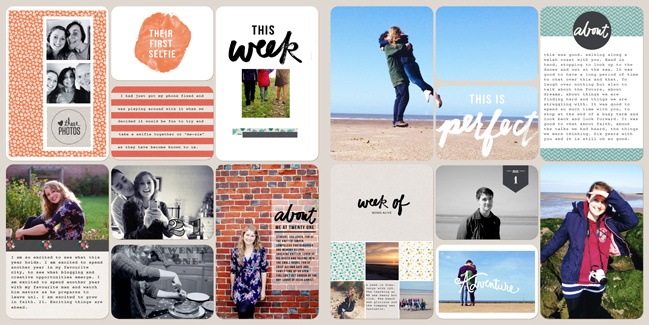 For me, one of the joys of project life is that the small moments and the big moments sit side by side. Milestones come in between the everyday photos and together they shape our year. Small triumphs and large events are worth recording. It is wonderful to have a record of everyday life and also what things stand out in our days. I hope these have given you a few ideas of how you can include milestones both big, small and silly in your albums.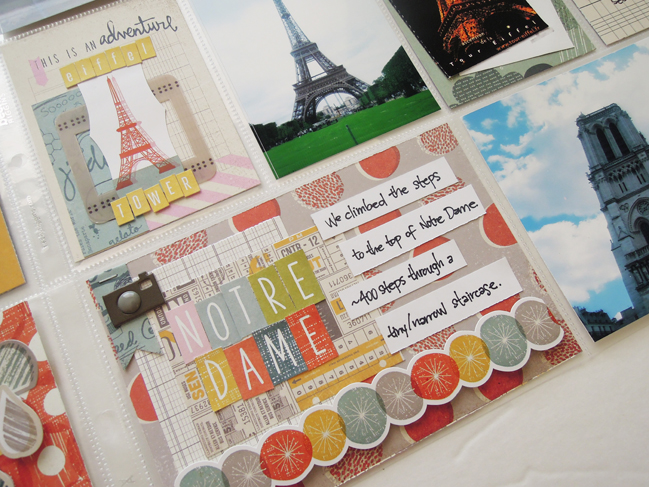 Then one more look from April Joy.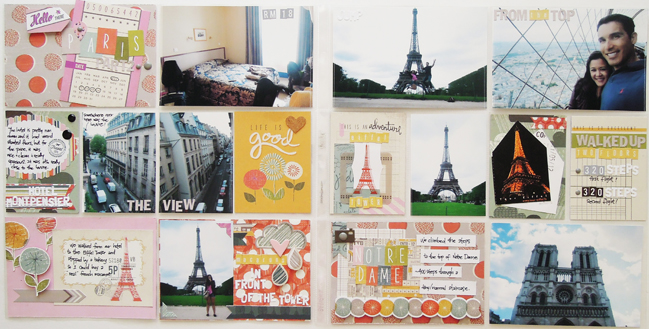 Milestones are the best reason for documenting using Project Life. But when I think "milestones", I always think babies and the new things they accomplish. Since I don't have any babies of my own (yet), I chose to document a part of my husband's and my life that was a big thing to us and something we can consider a milestone in our marriage: going on our honeymoon. In this spread, I included a part of our trip that we were in Paris using Kelly Purkey's Mon Ami line for BasicGrey.
From the archives, Glitter Girl shares her process of documenting a rather important milestone made from a mix of sad and happy moments. This double page layout includes one Project Life divided page and one full 12×12 page, a format that continues throughout the album, alternating sides as the pages are turned. (Further details from this adventure can be found here.)
What techniques do you use to include the bigger moments in your Project Life album of everyday memories? Do you add inserts between two larger pages? Print photos larger than usual? Add folded elements to provide more space for photos or writing? Share your favourite tricks and examples!
| | |
| --- | --- |
| Carly is a stay-at-home mom to the sweetest twin girls, wife to her best friend and cat wrangler of two crazy, but much loved cats. She absolutely loves to take pictures and document her family's story through project life. Carly's other passions include decorating, cooking and creating anything handmade. You can always visit Carly's blog, The Simple Things, her Instagram or see what she has been pinning on Pinterest. | |
| | |
| --- | --- |
| Abi Beach is a student studying at Durham University. She used to be a paper scrapbooker but with the demands of a student life and budget she has turned to digital memory keeping. She loves documenting the everyday, rejoicing in the ordinary and trying out all sorts of crafts. She writes about this at Creating Paper Dreams. You can also find her on Instagram as @abibeach. | |
| | |
| --- | --- |
| April Joy lives in San Diego, CA with her husband of 2.5 years. April is an engineer by day, but paper crafter at heart. She is primarily a Project Life style scrapbooker and loves to treat each pocket as an individual layout, so she tends to include lots of layers, embellishments, and other fun details. April's style is typically eclectic yet always coordinated. You can find her blogging here. | |

Read more about:
16 May 2014

Next post: Embellishing Baby Scrapbook Pages
Previous post: Creating Dimension using Paint:: A Scrapbooking Tutorial by Stephanie Bryan