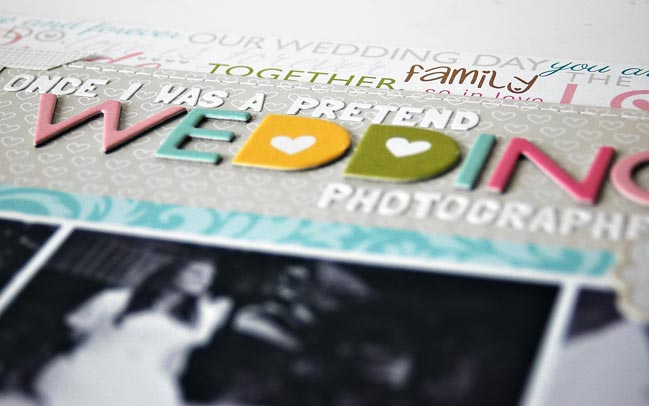 With a beautiful weekend ahead, what are your crafty plans? If you're looking for the right project, why not dive in with some of your most special photos? Have you scrapbooked wedding pictures lately – either from your own wedding or as a guest? If it's a project you've been putting off, perhaps now is the time to embrace it before those memories fade any further. I've been adding to my wedding albums for more than five years now and I love how the 'when the mood strikes' approach has removed all the stress from the intimidation of making a wedding scrapbook. Today I've asked three scrapbookers to join me in sharing their wedding page ideas. I hope you enjoy!
Wendy Sue Anderson gets us started: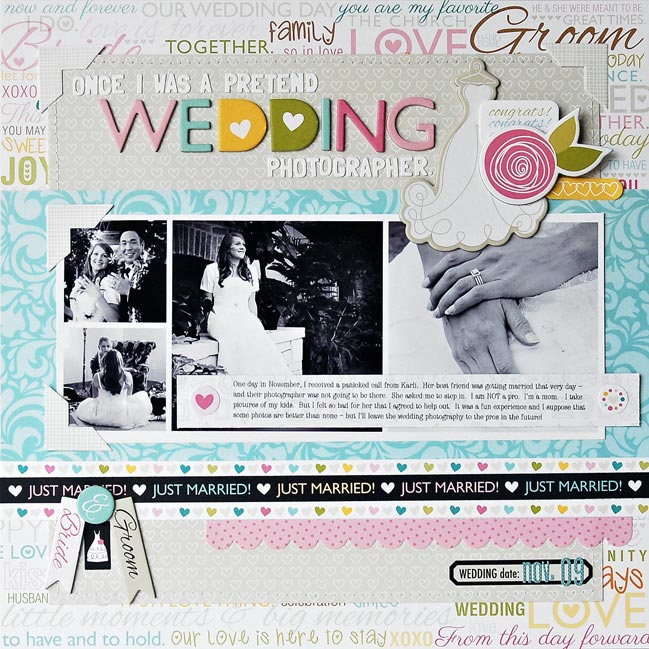 A few years ago my sister-in-law called me in a panic – her best friend was getting married and their wedding photographer was not going to make it to the wedding. I hesitantly stepped in to help out, figuring that even the amateur photos I could take were better than none at all… and that was the day I was a pretend wedding photographer. I wanted to document this event in my scrapbooks but didn't love the red and black colour scheme from the wedding. I simply printed a few photos in black and white, then chose a fun, bright colour palette for my layout.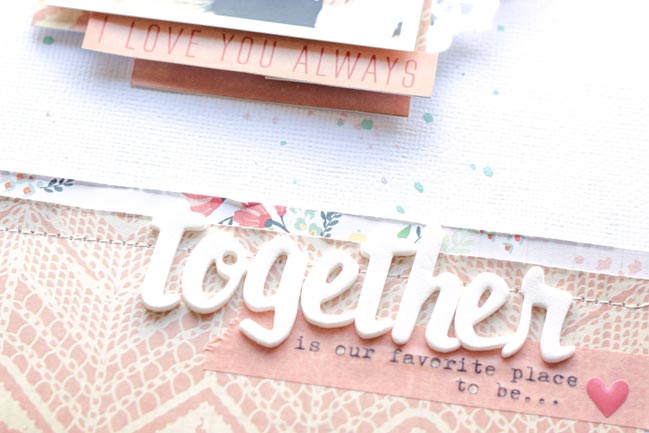 A touch of vintage, courtesy of Veera Saarivo.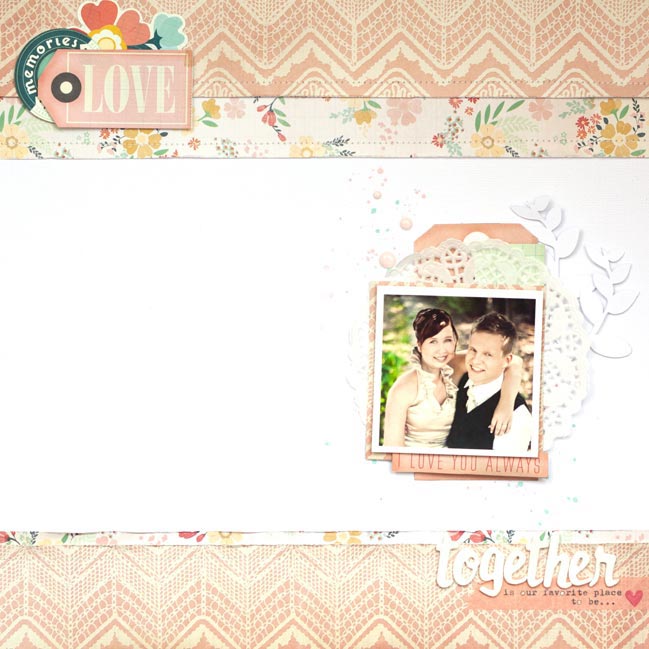 I love using white space on my layouts as I think it draws focus to the picture. I have used three main elements to create a flow to my layout starting from the top left corner through the picture to the title/journaling. This whole layout tries to capture the feel and atmosphere of our wedding day: warm, happy and full of love.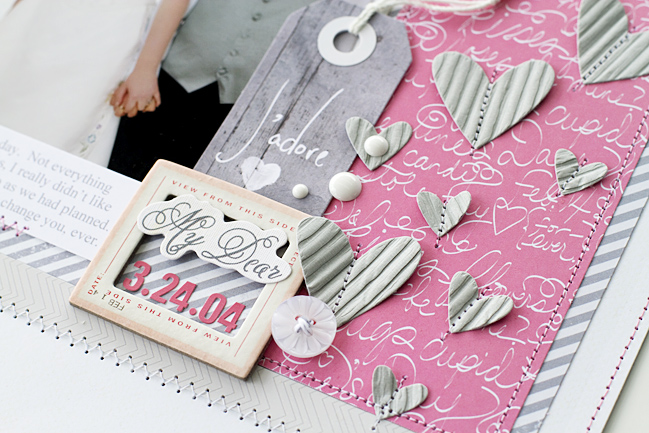 And bright happiness from Laura Craigie.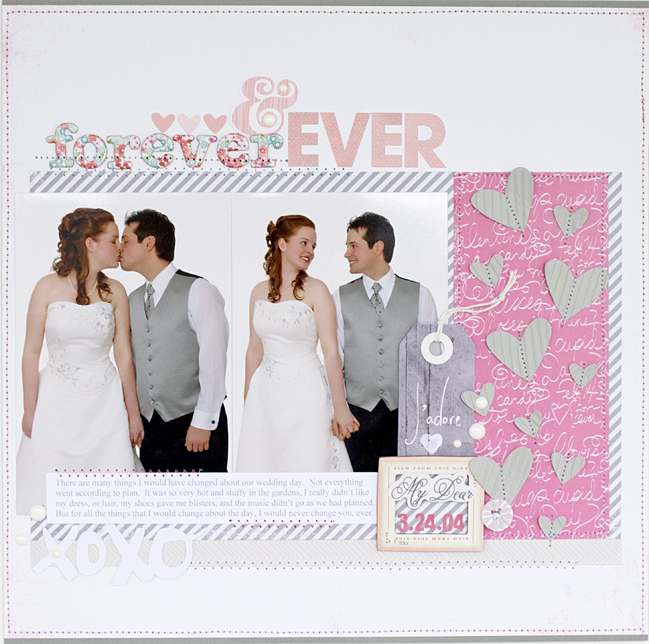 I started this page by selecting two pictures from our wedding day, and pulled out papers and embellishments to match the pinks and greys in the pictures. One of my favourite parts of this page are the floating hearts on the side which I die cut from corrugated paper by Fancy Pants, and adhered them by sewing down the middle of them individually.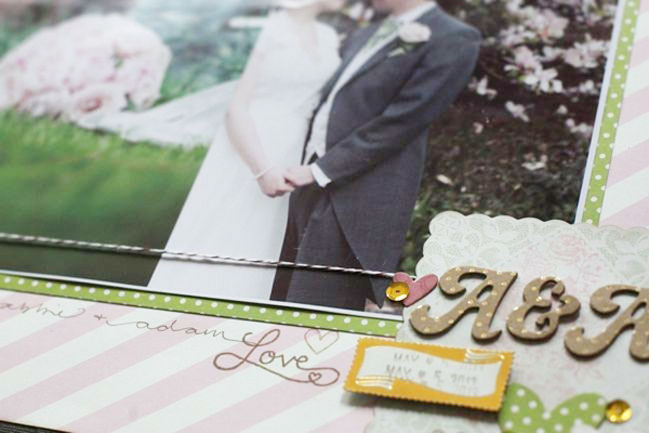 Glitter Girl actually has a pretty big collection of wedding pages in her archives, covering her own wedding and being a guest. But if you're setting out to make a wedding album rather than just a page or two, there is one video that might be most helpful:

In truth, these steps apply to any time I start an album as a complete project rather than a chronological collection of random memories, so it doesn't have to be a wedding album in question, but there is something special about a wedding book that just makes me enjoy this part of the process a little more. The couple in these photos celebrated their first anniversary earlier this month and I still have days when I dip into that collection of supplies and add another page to the album.
Most of the supplies in this video are still available and can be found here.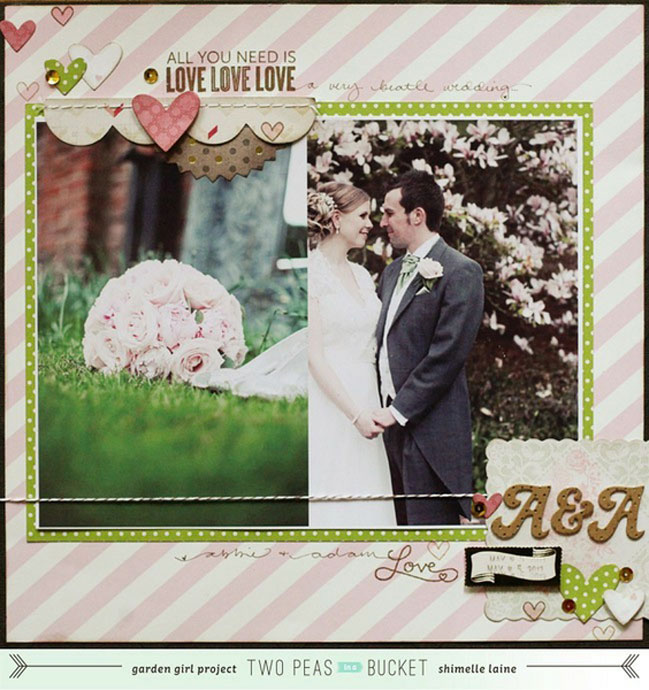 (Also, I realise it's not really normal to have whole albums for weddings that are not your own. I have two volumes for my own wedding, one album for a friend's wedding, this album of my brother- and sister-in-laws' wedding, then a heap of cases that fall in between, like six to eight 12×12 pages per wedding in my chronological albums. I just really like the pictures and I find I come home from a wedding with plenty of stories to remember, so the result can be a big stack of new scrapbook pages!)
| | |
| --- | --- |
| Wendy Sue Anderson loves scrapbooking and paper-crafting and has been working in the industry for almost 15 years! She lives in Utah with her handsome husband Brad, her two teenagers, Meagan and Josh, and her two little boys, Seth and Zach. Wendy feels lucky to be able to design for some of her favorite manufacturers in the scrapbook industry – stop by her blog to get to know her and to see more of her work. | |



Veera Saarivo lives in Finland with her husband who is her high school sweetheart. She is as an HR professional by day and scrapbooker by night. Veera fell in love with scrapbooking about a year ago and currently designs for

CSI

: Colors, Stories, Inspiration and Paperilla Magazine. You can follow Veera on her blog, Instagram and Facebook.



| | |
| --- | --- |
| Laura Craigie lives with her husband and three busy boys on the west coast of Canada. She started scrapbooking in 2004 while pregnant with her first son, the rest as they say is history. Laura is proud to design for Pebbles, October Afternoon, and work as a Garden Girl at Two Peas in a Bucket. | |

Read more about:
31 May 2014

Next post: Best of Both Worlds: My Scrapbooking Product Picks for June 2014
Previous post: Scrapbooking with Die Cuts