Today I'm delighted to welcome our March guest artist who has been busily crafting away with the Best of Both Worlds scrapbooking kit: Paige Evans. She has five gorgeous layouts to share with you! And if you fancy a little shopping, much of the March 2014 kit is still in stock, but at a bargain price, as there is a huge storewide sale at Two Peas just through this weekend – 20% off all physical supplies (digital and workshops are not included) plus further discounts like 25% off all stamps and albums and extra discounts on items that were already on sale (so the stamps and tape in the kit are currently 50% off). No codes are needed for the storewide sale, and the shipping discount code is currently TQTBEX if you really feel like treating yourself! Anyway, enough blathering about that: behold! Paige has made pretty things! Enjoy.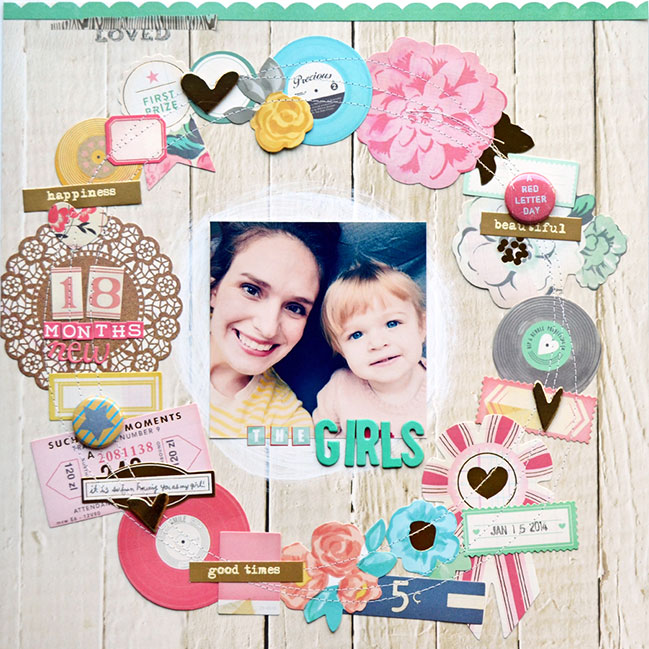 The Girls
When I first looked through the March Best of Both Worlds kit I immediately fell in love with the soft colors, gold accents, and the pack of Styleboard by Maggie Holmes/Crate Paper die cuts! I wanted to create a ring of die cuts around a central photo to draw attention to it so I placed the pieces in a circle on the woodgrain paper background and stitched them in place. I topped the ring with a few of the wonderful embellishments like gold chipboard hearts, a couple badges, and gold typewriter sentiments. I love when pages come together quickly!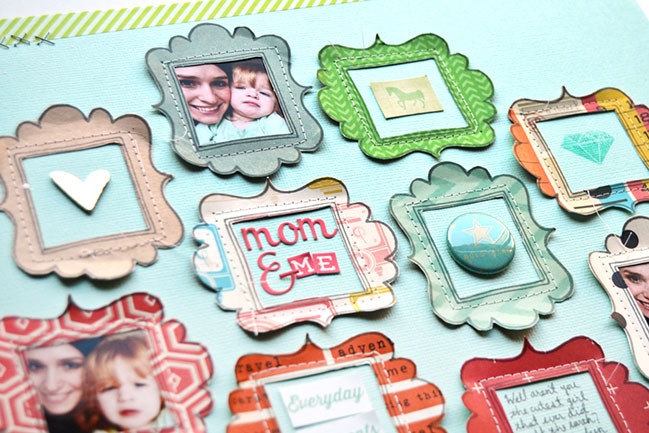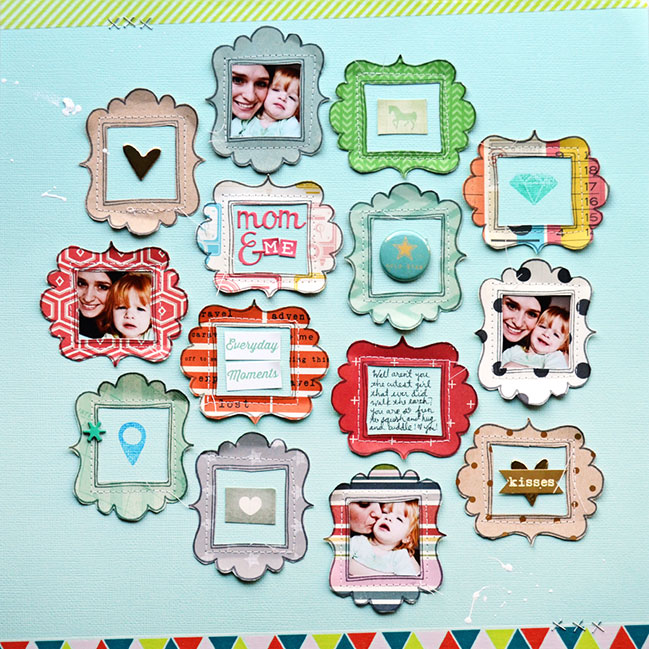 Mom & Me
I fell in love with the My Mind's Eye stamp set and the frame stamp jumped out at me just begging to be used with all of the lovely patterned papers in the kit! I stamped a frame on the front and back of each paper, fussy cut them out, then stitched them on a robin's egg blue cardstock layout. I filled each frame with a photo, embellishment, journaling, stamped image, letter stickers, etc. To finish it up I placed washi tape along the top and bottom edges.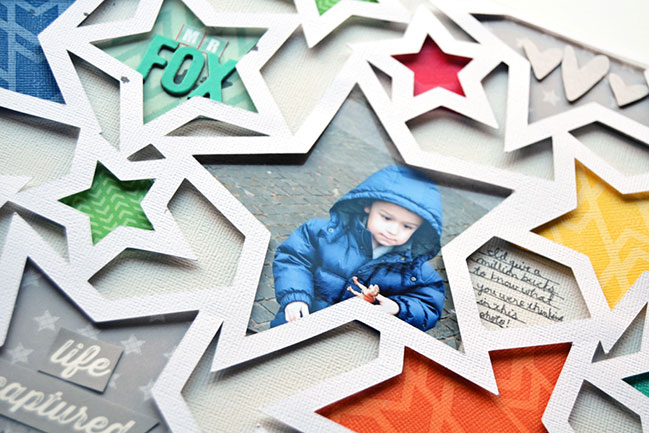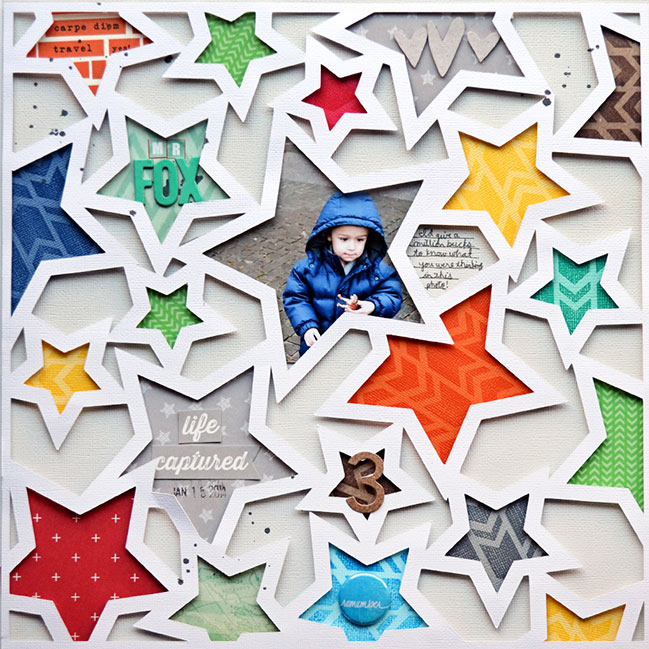 Mr Fox
I started by die cutting a star background from white cardstock using my Silhouette. I wanted more bold colors of patterned paper for this boyish layout, so I made my own! Using the chevron stamp in the My Mind's Eye set I used a tone-on-tone effect to create chevron patterned paper on a rainbow of colored cardstock. I backed the stars with my custom patterned paper as well as the papers included in the kit and a single photo. I adhered the star background on light grey cardstock then filled in a few of the stars with more elements like a title, "3" die cut (because that's how old Fox is in the photo), a badge, three gold chipboard hearts that I turned over to the plain chipboard side to match the grey stars paper, journaling, sentiments cut out from Elle's Studio die cuts, and more. I tied the layout together with some drops of dark grey spray mist.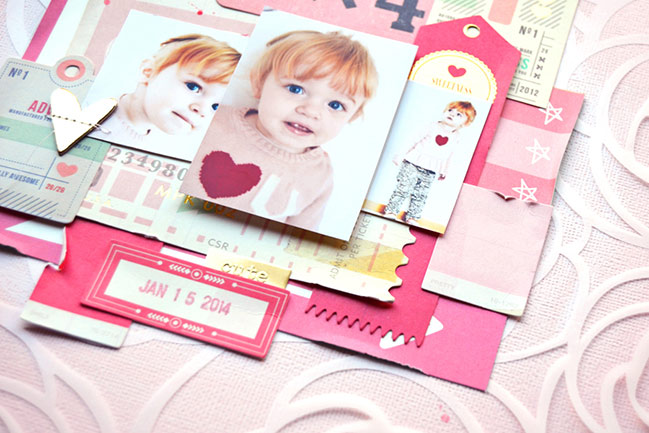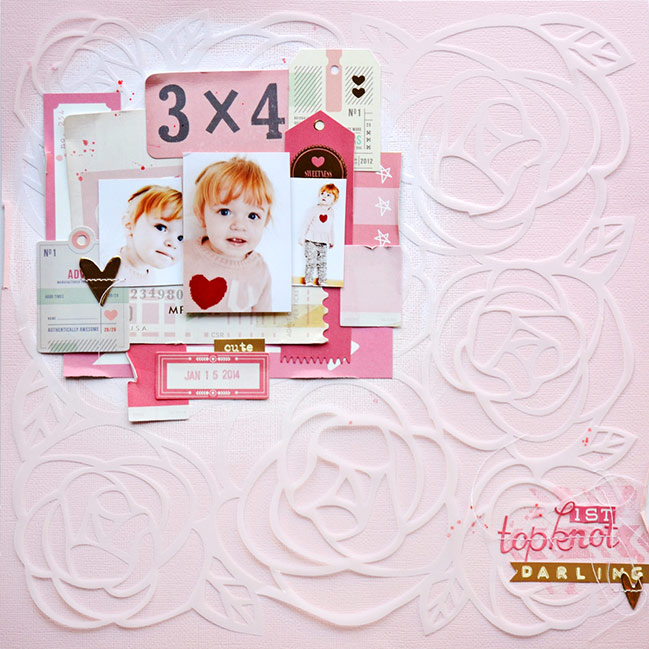 First Top Knot
I wanted to use all-things pink on this layout! First I die cut an intricate rose background from vellum, painted a white circle on a pink cardstock layout, then adhered the rose background on top. I placed a bunch of pink die cuts over the painted circle then added my photos on top. On the bottom right corner I stamped the chevrons from the My Mind's Eye set using pink ink then placed letter stickers and a gold typewriter sentiment on top. I stitched a couple gold hearts to accent and stitched over the title to make sure it stays in place permanently. I dropped pink spray mist across the layout to finish.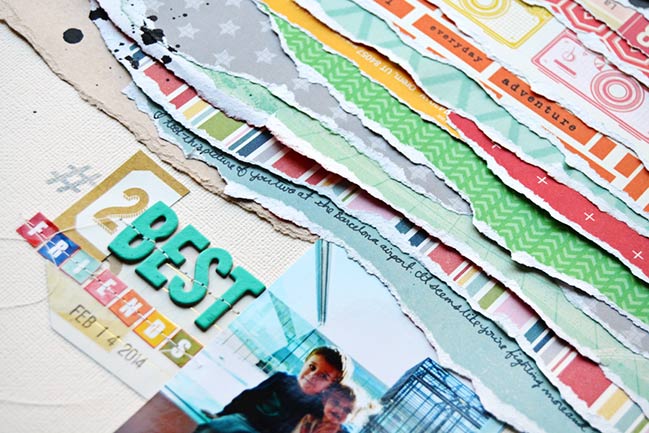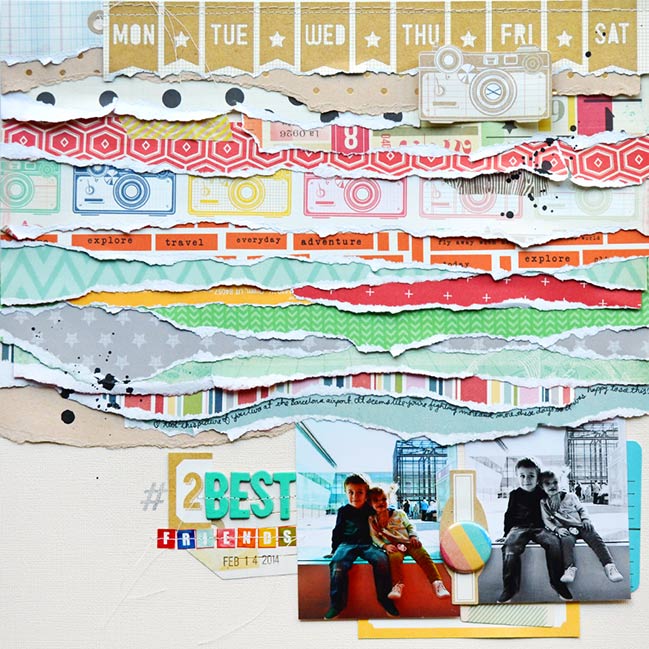 Two Best Friends
For my last layout I still had tons of supplies leftover! I love the torn paper look so I ripped a piece from the front and back side of each patterned paper in the kit and layered them down the top of a cream cardstock layout. I tucked two photos under the papers and added die cuts under the photos for a fun mat. I placed Thickers and mini alphabet stickers next to the photos for a title, stitched over them, then stamped a "#" before it. I journaled along the last paper following the curves. Between the photos I added a label die cut topped with a badge. I stapled a camera die cut on the top right corner then dropped India ink around the layout as a finishing touch.
As you can see this kit is very versatile! I was able to create both girl and boy-themed layouts based on colors and embellishments. And I still have lots of product leftover so you can create a whole bunch of layouts from this kit.



Paige Evans has been scrapbooking since she was 16 years old and worked at her first job at a local scrapbook store. The first time she put pictures and papers together it was a match made in heaven! She currently works from home for Northridge Publishing – the makers of Scrapbook Trends,

CARDS

, the Create series, Cricut Magazine, Cricut Idea Book, and Signature Series magazines. She is also the design team manager/blog hostess for American Crafts and is a Garden Girl at twopeasinabucket.com. While not scrapbooking she makes pacifier clips for her etsy shop. Paige is the mother of two adorable children – Fox age 3 and Jane age 1.5. She and her husband Chris have been married for 7.5 years and currently live in Grafenwoehr Germany where Chris is a dentist for the Army. You can check out more of her and her work on her blog, Instagram, Etsy shop, Pinterest, Twitter and 2Peas Gallery


Read more about: best-of-both-worlds-kit
21 March 2014

Next post: Watercolour Effect with Stabilo Pens:: A Scrapbooking Tutorial by Lilith Eeckels
Previous post: Crafting a Love Letter from Project Life Supplies:: A Scrapbooking Tutorial by Maria Lacuesta