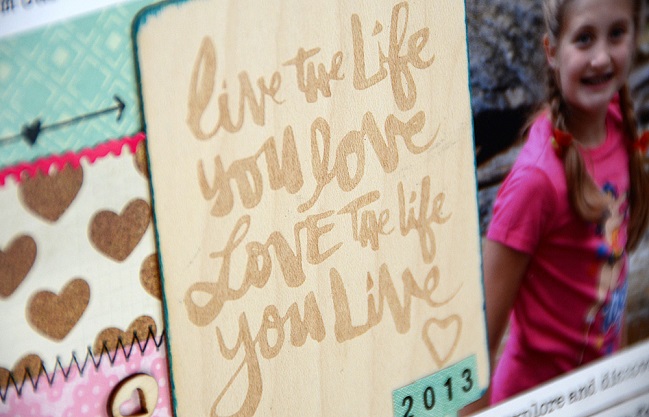 Hello! May Flaum here – excited to be working with this month's best of both worlds scrapbooking kit! When I pulled this kit out I saw so many lovely things and possibilities.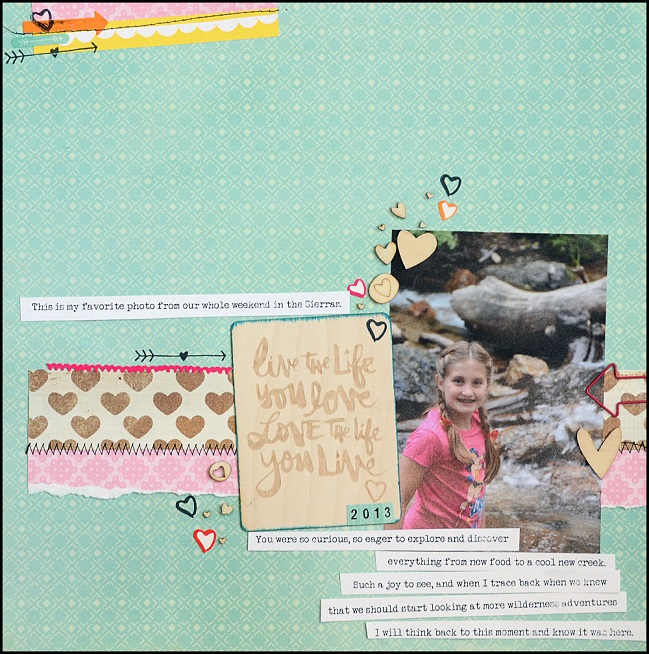 To start off with – I made this page with just the kit. I'm not usually a heavy patterned paper user – so it was a fun challenge to use nothing but patterned paper. I wanted to give it a bits & pieces kind of a look, so I used small strips, stitching, and stickers to bring it all together.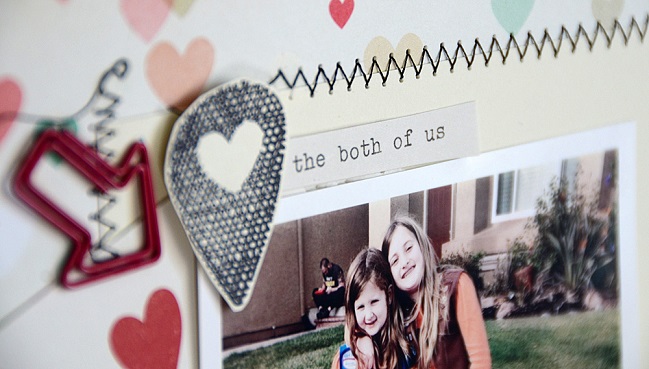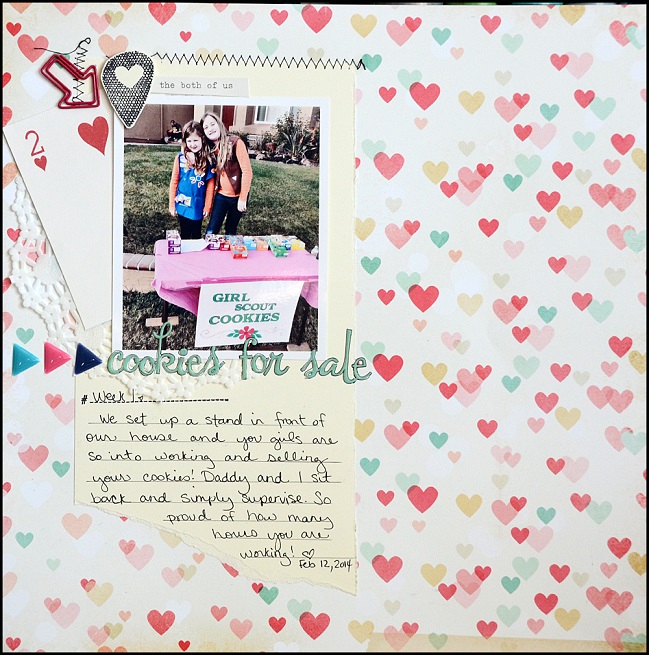 With the kit officially cut into (and isn't that the hardest part?!) and feeling warmed up I decided to scrapbook a story happening right now. It is Girl Scout cookie season, and I'm so in love with how hard my girls are working so I knew this kit with all the hearts and lovely details would be perfect to do a layout about our cookie selling booth.
After re-organizing all of my layouts (thirteen years worth!) what I have found is that I really like the pages about very specific 'right now' type events. Whether small like today we sold cookies at our house, or big like the details of a major holiday – I cherish the pages that feature facts and details that might be forgotten.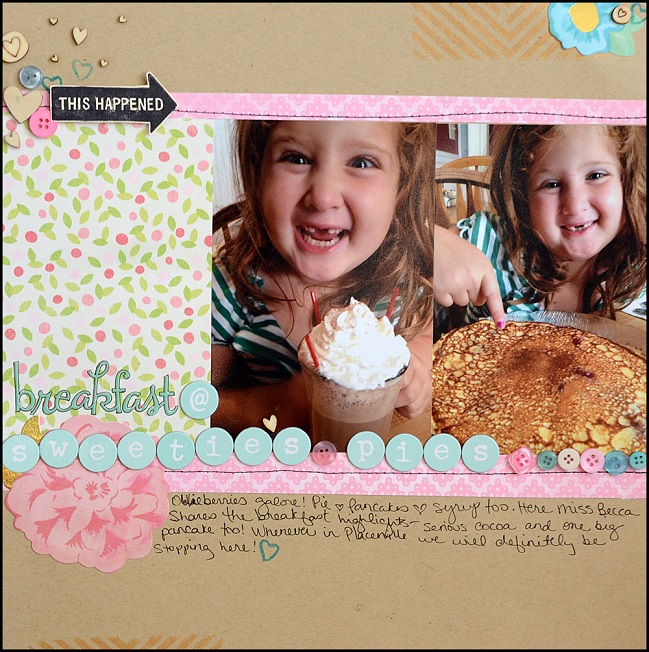 With this in mind, I happened to find some photos of a breakfast that was pretty darn epic – and our first time at what is sure to be many visits back to a little restaurant in a small town not too far from home. I added in some buttons for color and texture, as well as some Maggie Holmes die cuts that go so beautifully with this kit. The heart stamp in the kit is a favorite – I have already used it many times!
Looking around my stash of "scrap me now" photos and stories, I did not find another that I wanted to tell that worked really well with these kit papers at the moment. So, rather than do more layouts that would be 'because I'm Shimelle's guest' or try to make it happen, I used some scraps to make a few cards instead!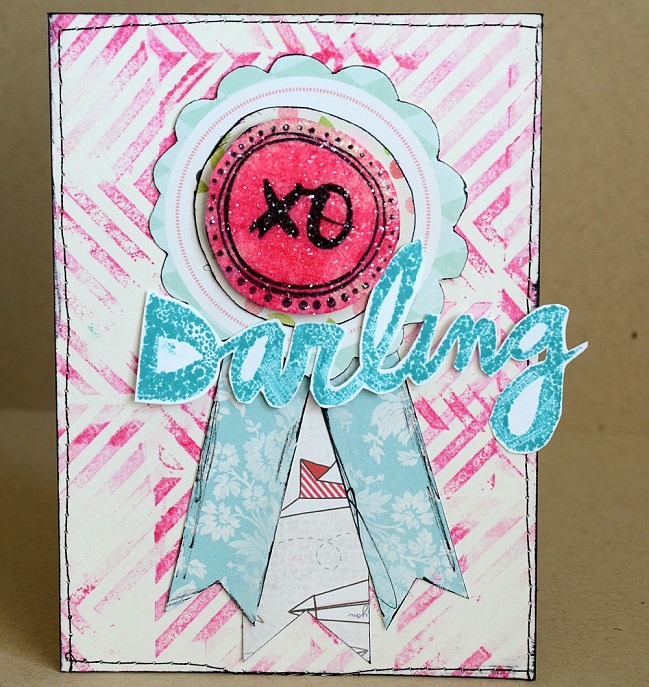 Inspired by the 'darling' stamp, I made myself a messy background and then inked (and cut out) the word darling. I also stamped and glittered (hooray for glittery things!) the round element in the center of my rosette. I love how messy and fun this card was to create.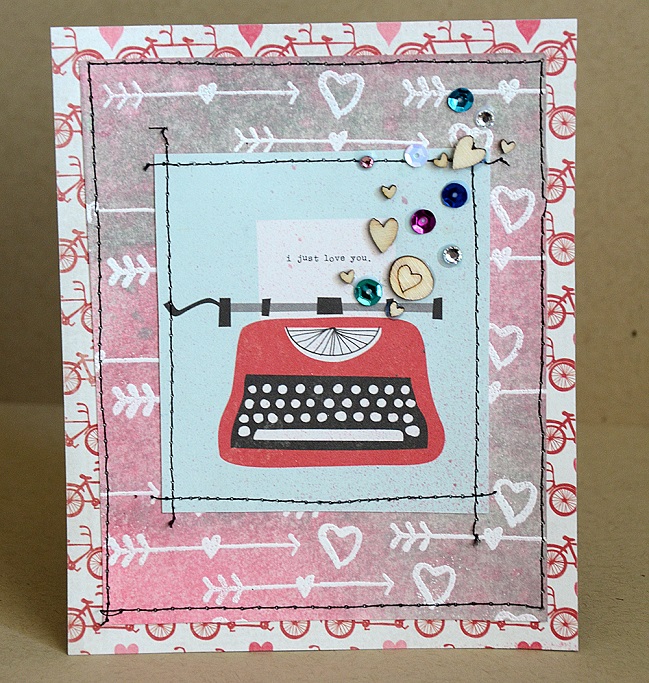 I love the typewriter graphic on one of the sheets of patterned paper – but I knew this would be a piece that would not make it onto a scrapbook layout. When I run into products or papers I know that I won't likely scrapbook with – I make cards! This makes me feel good about using up my stash, as well as making cards that I can have ready to mail at any time.
With five projects made, I still have quite a few pieces of this kit still to play with. My plan is to bag it up (in a clear bag) and keep it on my desk so that as I sit to scrapbook should a story pop up needing to be told that will go well with this kit – I'll be ready to go. I hope that you've enjoyed my projects – and that you get some creative time for yourself in the near future as well. If you'd like to check out my site, blog, or perhaps take an on-line class from me please feel free to come check out my website at Craft with May.
Happy Crafting!
| | |
| --- | --- |
| When it comes to crafting May Flaum has one rule: it's gotta make her happy. She's not afraid to get super grungy or work with bright colors, dabble in lace and doilies then make something more splattered and wild. If she's not in her studio (aka 'the bat cave') then she's probably out running around having fun with her family or cooking up a storm. May has been working in the Scrapbooking industry for a decade and currently blogs her crafty adventures, teaches online classes, and works with amazing companies sharing her projects and ideas. If she has one piece of advice to share, it's always to be true to your creative heart. | |

Read more about: best-of-both-worlds-kit
27 February 2014

Next post: Crafting with Alice:: Envelope Cushion Tutorial
Previous post: Mini Books:: A Scrapbook Tutorial by Lucia Barabas