Welcome to a new year of Best of Both Worlds – my humble version of a scrapbooking kit! If you're new to this idea, the name 'Best of Both Worlds' comes from the set up. If you want the ease of a kit, you can have it: on the first of the month, I share a list of supplies that I love together, and you can simply add one of each to your basket and check out your order – super simple. But a kit with a subscription doesn't work for everyone – maybe you would use or can afford a kit some months and not others, maybe you already have a few of the items in the kit or would prefer something different that makes paying for kit items you don't want less than ideal. If so, this can really help, because there is no subscription and you're free to use the shopping list as a guide, adding more of what you like and not bothering with the things that aren't your style. Hence the 'best of both worlds' moniker!
And with that, let's get on to the kit for January 2014! Right now is a great time to go shopping, as there is a massive 25% off sale in the shop for the next few days, so I've been able to pack more into the kit than usual. For January, I wanted to mix warm neutrals (like woodgrain, of course) with a rainbow of happy colours to brighten up the short winter days. There are products from October Afternoon, Simple Stories, Fancy Pants (yes, that fancy paper is die-cut in the centre), Studio Calico, Pebbles, American Crafts, and one new addition made just for the kits: new Best of Both Worlds flair badges made by Two Peas.
Click here to shop the January Best of Both Worlds product picks!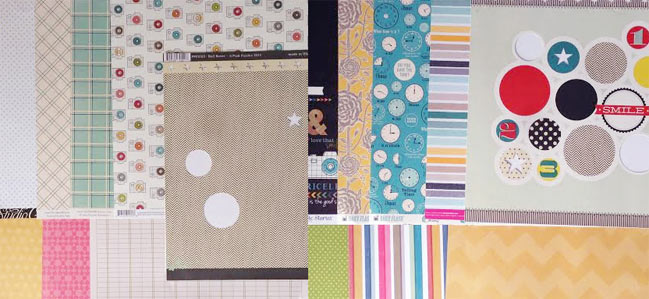 Paper a-sides and b-sides.
I am really enjoying texture on my pages at the moment and wanted to include a few different finishes in the embellishments. The pack of chipboard stickers from October Afternoon is literally one of the best scrapbooking products to hit my desk in months. The colours are rich, the pieces are a good size to add detail without overwhelming the photos, and the chipboard is great quality. The woodgrain chipboard letters are that same quality, and the flat green letter stickers actually include two small alphabets in the pack – one with individual script letters and then another in the same colour that is small blocks with the letters on each tile. The washi tape is a different texture and this design is one that could be used for so many things. Plus there are wood veneer and plastic pieces, so there is a real variety. I haven't added any gems or enamel dots to the kit this month, so if that's something that has become integral to your finished pages, you might consider a rainbow pack to match.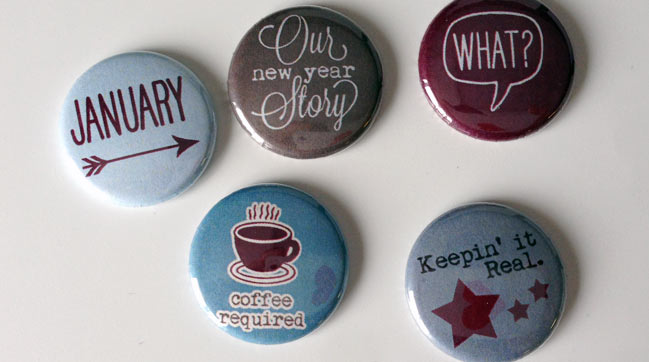 And then this new bit of fun! Some flair! These are all individual pieces like all the Two Peas flair, so you don't have to have them all and can just pick the ones that would work for you. (You can get them all though, of course! Go right ahead!) When you click through to the shopping list, you can see the individual pictures of them, so don't be alarmed by the reflections here in a quick little snapshot from the production line! (The plan is for the Best of Both Worlds badges to be a regular thing every month, but what with today's earlier announcement, I'm not making any promises about that, just in case!)
Click here to shop the January Best of Both Worlds product picks!
If you need to bring the price down, the stamp set is the most expensive item. It is 25% off its full price currently, but if you don't stamp, then of course the bargain doesn't matter!
The shipping discount code for January is 5SSYWX. That will give you a discount on shipping if you have $50 of physical product that is not on clearance ('phase out'). Most of the 25% off items are not on clearance, just on sale, so they count toward your $50 total.
Everything is first come first served – once it is in your shopping cart, it is not reserved and can disappear if the item sells out, I'm afraid. Two Peas has started restocking items in the kit when they sell out, but obviously when the sale ends, those restocked items would no longer be at the discounted price, so now is a good time if you're up for shopping!
One thing I mentioned briefly in today's earlier post was that there will be extra ideas for using the Best of Both Worlds kits this year: each month a guest designer will be joining us to share what she makes with the supplies. In that true good-idea-but-not-quick-enough style of mine, this month's guest's kit is currently making its way from Two Peas to her home! But I love what she makes so I have a feeling her projects with these supplies will be fabulously fun… and just a different look to what I'm making with mine! And for mine… yep! I'm scrapping with this too and will be sharing that here throughout the month. (Speaking of which, I've been on a huge video editing spree to catch up with all the things I haven't yet shared here. I think there have been enough blog posts here today so I'll just give you a sneaky link to one video here, and the corresponding blog post can be for tomorrow, yes? I've also been drafting up a big guide that has all the 2013 kits and all the pages I made from them in a nice, easy-to-see format, so I should have that ready to share with you shortly too. It's a lot of pages even before I got behind with sharing, so seeing it all together boggled my mind a little!)
I have my first page from this kit ready to share with you tomorrow, so do stop by!
And thank you so much, from the bottom of my heart, for all your sweet messages today. I have felt about a million feet tall reading them all, even if I'm most comfortable curled up on the sofa! I cannot say thank you enough.

Read more about: best-of-both-worlds-kit
01 January 2014

Next post: Sketch to Scrapbook Page :: Working with two smaller photos
Previous post: 2014: A Year of...