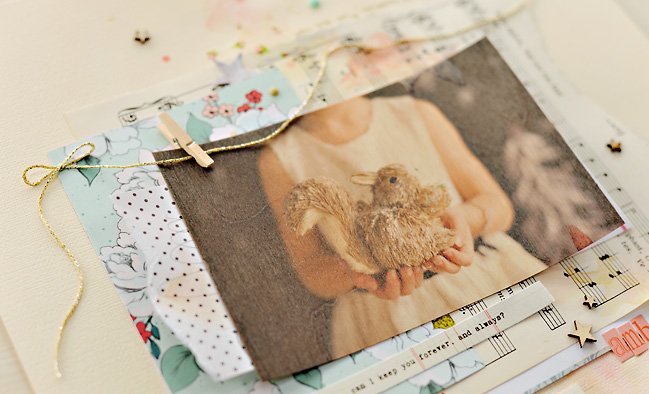 I don't know what I would ever do without my home printer(s)! I use them for so much more than just straight forward photo printing or even printing my journaling. Not only are home printers pretty convenient for when you are ready to scrap and need a photo, you can also experiment with the surfaces you print on for extra interest on your pages. I have two printers I use; a small HP Photosmart photo printer and a large Epson all-in-one office printer. Besides your basic home printer all you will need is some removable adhesive (washi tape works for this too) and a computer editing program, like Photoshop. Here are five of my favorite "outside the box" ways I use my home printer.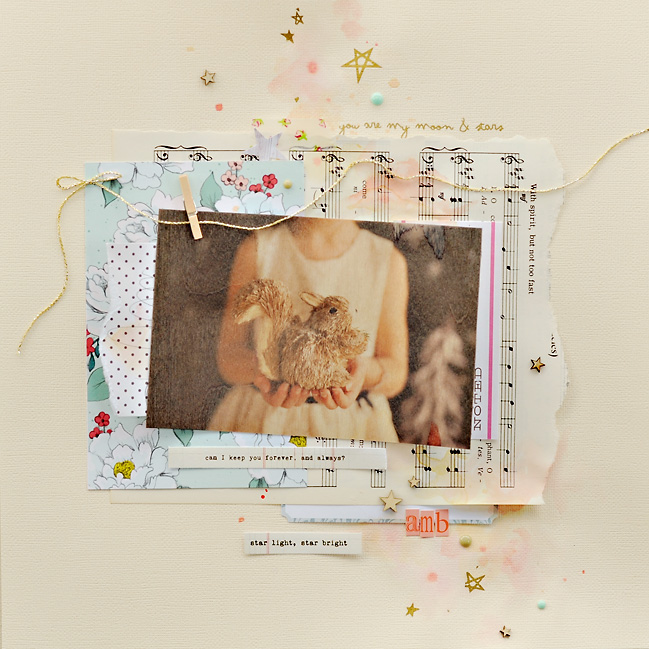 Print on Wood Veneer
I absolutely love wood veneer! I picked up these thin sheets of wood veneer from a paper goods store a few years ago and have been hoarding them ever since. They are great for printing on and slide right through the printer on their own. Here I printed a whole 4×6 photo on the wood. I chose this image because the tones and subject matter went well with the wood grain. I find that this technique works best with pictures that are less busy or more abstract like close ups or landscapes. You can even print your own wood veneer journal cards using text, digital brushes, and graphics.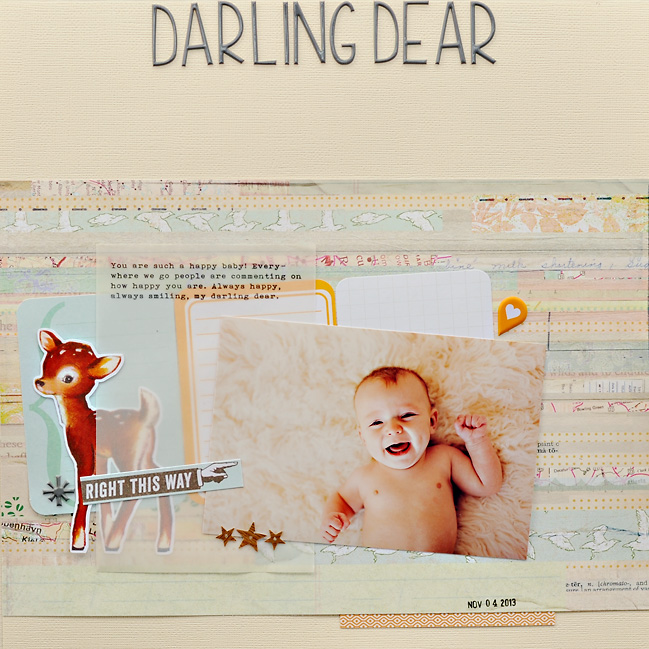 Print on Vellum
Vellum is great for layering, and when you print your journaling or photo on it, it is even better! You do have to be a bit cautious about smearing the ink since it doesn't soak in like regular paper; I just give things printed on vellum longer drying time. If you print a photo on vellum it is best to choose an image that has a lot of light tones, versus one that is dark or very saturated. To print on vellum I usually adhere it to plain white photo paper using a small strip of washi at the top and bottom to hold it in place.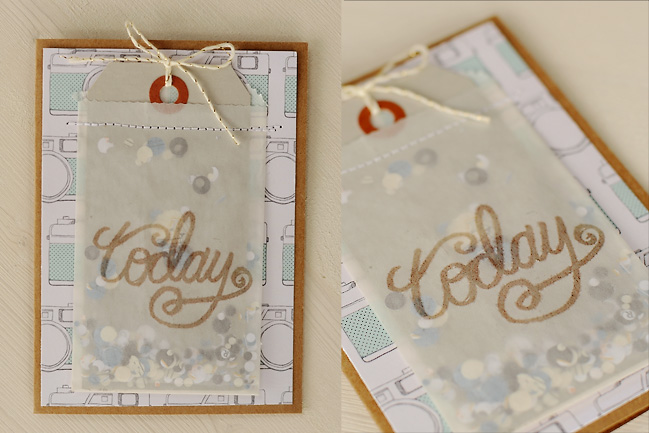 Print on a Glassine Bag
A great way to customize a glassine bag in by printing right on it. You can use a digital brush, like I did here, or use a pattern, graphic, or regular text. Printing on these baggies is just like printing on vellum, and the print will usually be a little imperfect which I don't mind. These custom bags are a clever way to add some interest to a pocket if you do any pocket style scrapbooking, and are also a great place to hide some private journaling on a tag. I popped some punched confetti in mine, sewed it up and made it into a card for my hubby.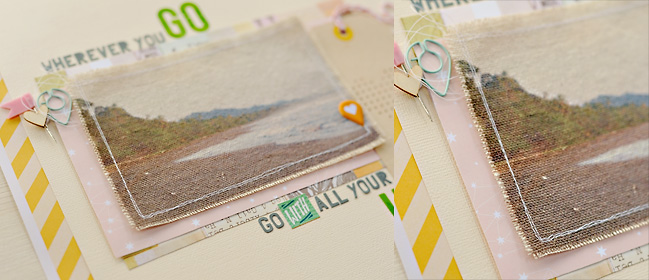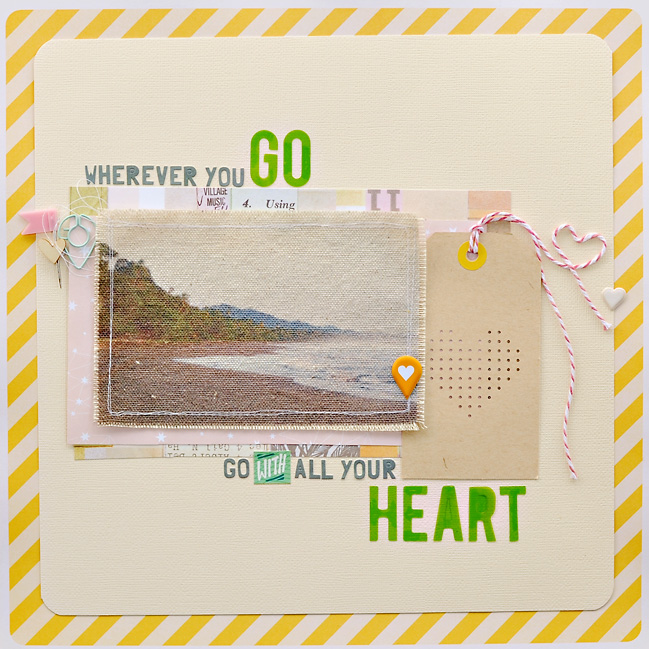 Print on Canvas
I have been getting canvas prints of my professional photography work for years; one day it dawned on me that I could incorporate this in to scrapbooking as well! I love love love the texture that canvas brings to a photograph especially. I think this look suits portraits, snapshots, landscapes, you name it. It is also really easy and cost effective to do at home: I purchased a 12×12 sheet of flat canvas from my local craft store for around $1 and cut it into (6) 4×6 pieces. I used a free template from Paislee Press to place my picture and then attached the canvas to my paper sheet using removable adhesive. After it printed I sewed around the canvas and frayed the edges for texture.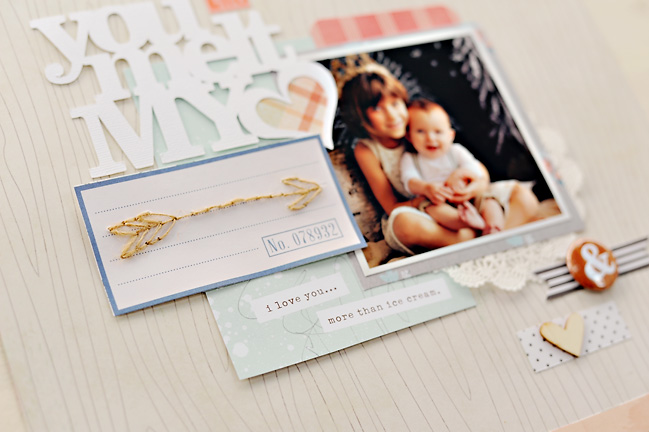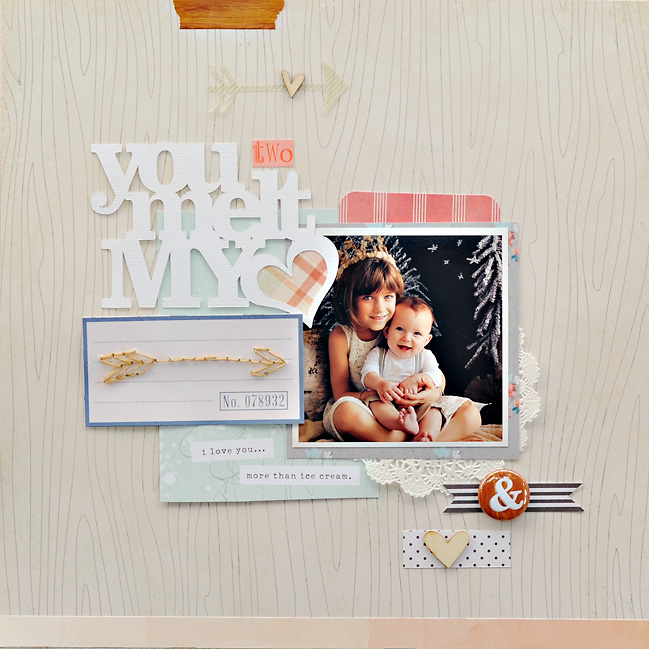 Print a Stitching Template
You can do this on just about any surface. For this project I chose to print my stitching guide, an arrow, on a journal card cut from a Dear Lizzy patterned paper. I used a digital brush from Studio Calico. I just resized it to the size I wanted in Photoshop and printed in a light grey so that you wouldn't notice the lines after it was stitched. I am not so great at stitching freehand, so this technique is perfect for me, not to mention with all the digital brushes, cut files, graphics etc. available the possibilities are endless.
All of these techniques are so versatile, you can use them for printing photos or journaling, for traditional layouts or cards or pocket pages. I myself have used several of these ideas for my December to Remember 2013 project and I love the extra touch it adds to my album. You can see my album and my home printer techniques in action here Studio Calico in my gallery at Studio Calico. I hope you have fun thinking outside the box and experimenting using your own home printer.



Tami Brundage is a dreamer. Besides being a professional photographer, she enjoys finding vintage treasures, cooking healthy local food, organic gardening, the smell of fresh cut grass, road trips, running bare foot, the beach, salted caramel anything, paper crafting, and sing-a-long music. If she had to pick a theme song to her life it would be "Wildflowers" by Tom Petty. She raises a small flock of backyard chickens in the suburbs of Washington state, but would love to live on a farm someday (soon!). In the meantime she enjoys finding ways to simplify her life with her husband and two children, Avery and Sawyer. Tami has been honored to be published in Scrapbook Trends magazine, design for Crate Paper, and be a class contributor for Studio Calico. You can see more of her photography on her blog or on her
facebook page




Read more about:
19 December 2013

Next post: Five Ideas on Layering by Lilith Eeckels
Previous post: Gold Foil Technique:: A Scrapbook Tutorial by Julie Campbell