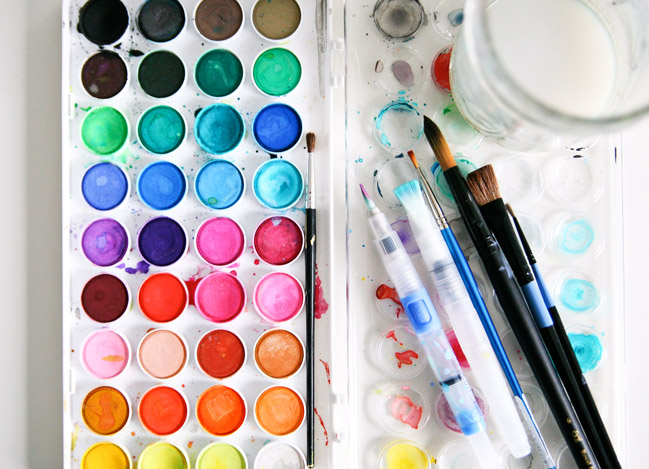 I have fallen madly in love with watercolors and using them on my projects. I will be showing you five ways to use watercolors on your creative projects using a simple watercolor palette. There is something perfectly imperfect about the way the color flows when working on a piece of paper. I find it to be a relaxing exercise of creativity and find myself losing all sense of time as I experiment with putting watercolor to paper. I find inspiration everywhere from images on Pinterest to stretching my creativity as I pore over Wilna Furstenburgs Art Class at Two Peas in a Bucket.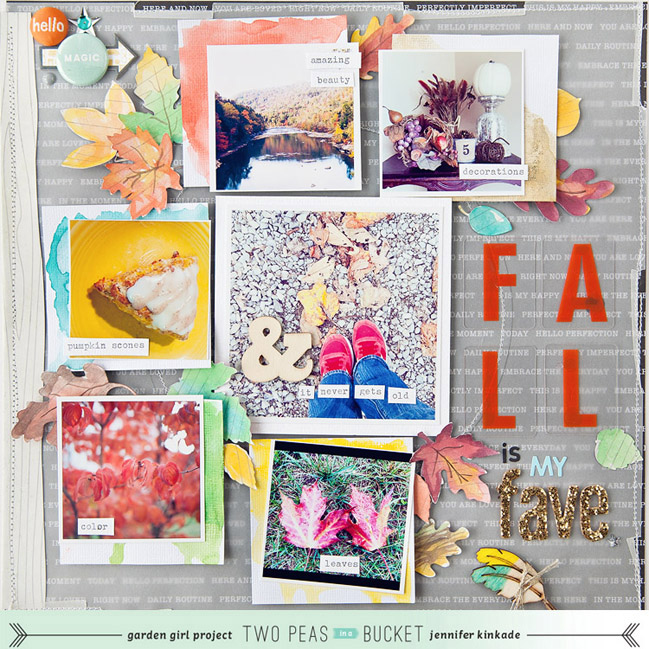 Color Plain Die Cuts
For a Fall inspired layout at Two Peas in a Bucket used watercolors to custom color leaves that I used to frame my project. I used various Fall inspired colors on each leaf, even including some veining of the leaves by using a smaller detail brush. For a complete supply list of items used on this layout, visit my Two Peas gallery.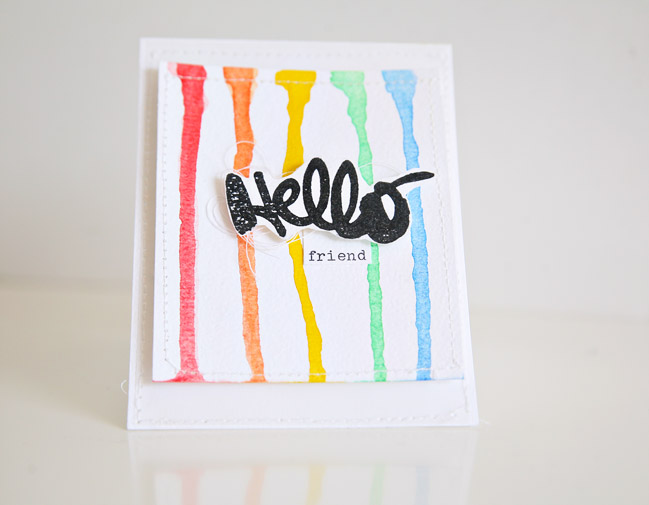 Create Drips
I created this simple 'Hello' card by loading my brush with each color and lots of water, then allowing the color to drip down the paper. I was able to create a fun rainbow effect with the colors. You may need to go back and add more color to each drip depending on how vibrant you want your colors to be. I added a stamped hello image, exclusive stamp by Studio Calico, and typed 'friend' underneath the image that made this card simple and quick to make.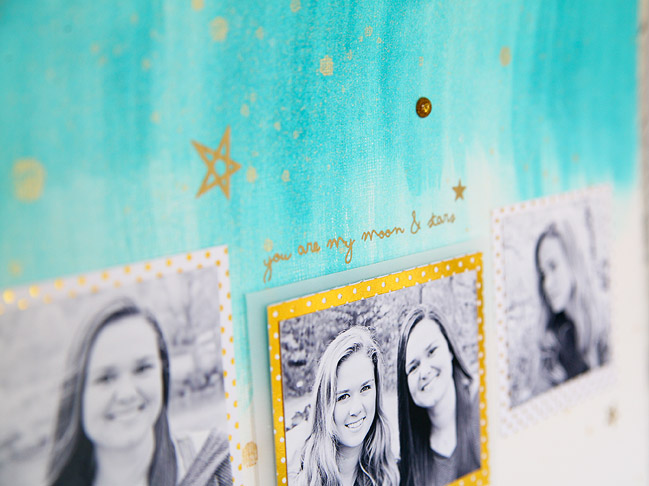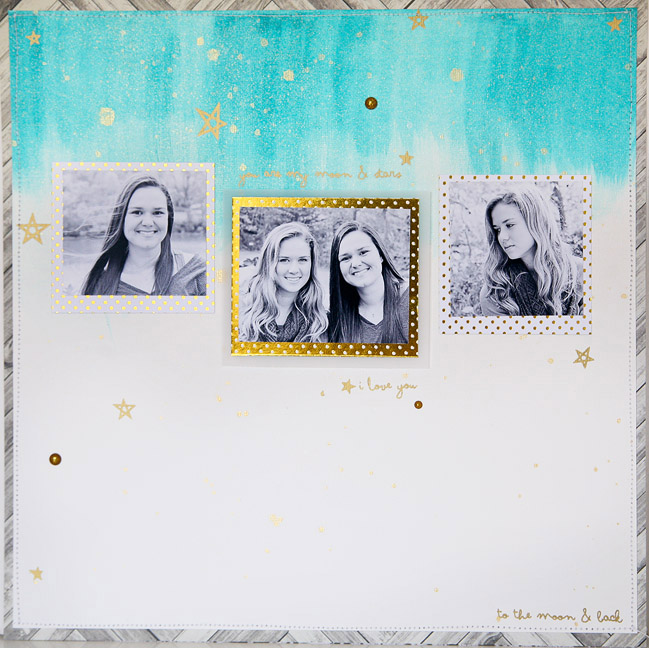 Create a Custom Background Paper
Creating a custom background paper has endless possibilities when it comes to using watercolors. On this layout I was able to achieve a bit of an ombre look by starting with my color at the top of the page and blending it down until I was happy with the overall look. You can choose to use a nice weight cardstock for this or you may want to invest in some watercolor paper or mixed media paper that can be found at your local craft supply store. Watercolor and mixed media papers are designed to withstand the use of water and liquids that will help reduce warping. I finished my layout with simple gold touches using Heidi Swapp Color Shine mist in gold lame and gold rub-ons from Studio Calico. I backed my layout with a woodgrain paper by Crate Paper and Maggie Holmes' Flea Market collection and machine sewed the pieces together.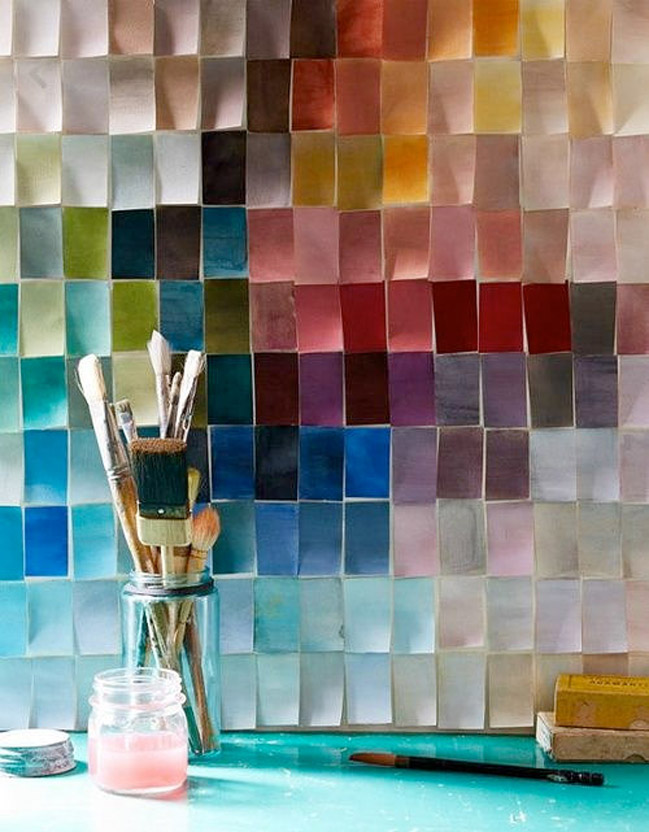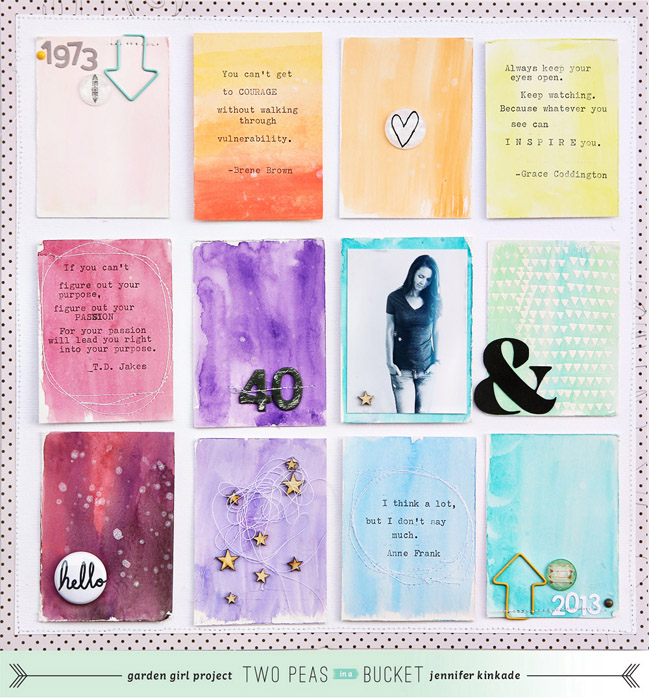 Color Cards/Create a Mosaic Effect
I was inspired by this image that I found on Pinterest for my next layout that I created for Two Peas in a Bucket
All About Me October theme.
I used this inspiration image as a springboard for my entire layout. I used watercolor artist trading cards that I found at my local craft store to help create the mosaic effect on this layout. I experimented with mixing different colors on my palette, then applied each custom color to my individual card. I finished the layout by adding small, light embellishments to keep the focus on the watercolor technique and feel that I wanted to achieve. For the full supply list on this layout, visit my
Two Peas gallery.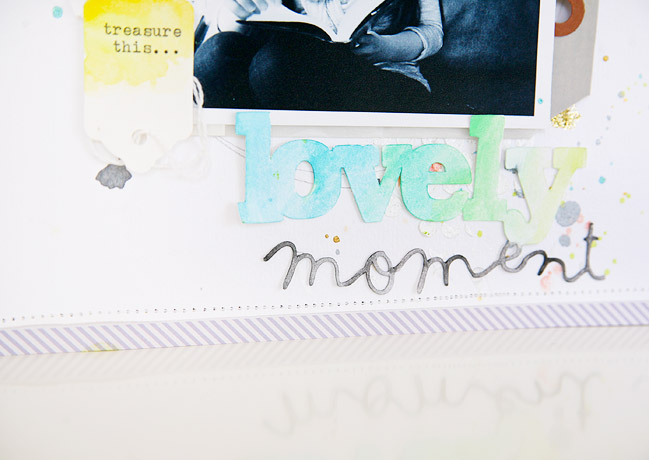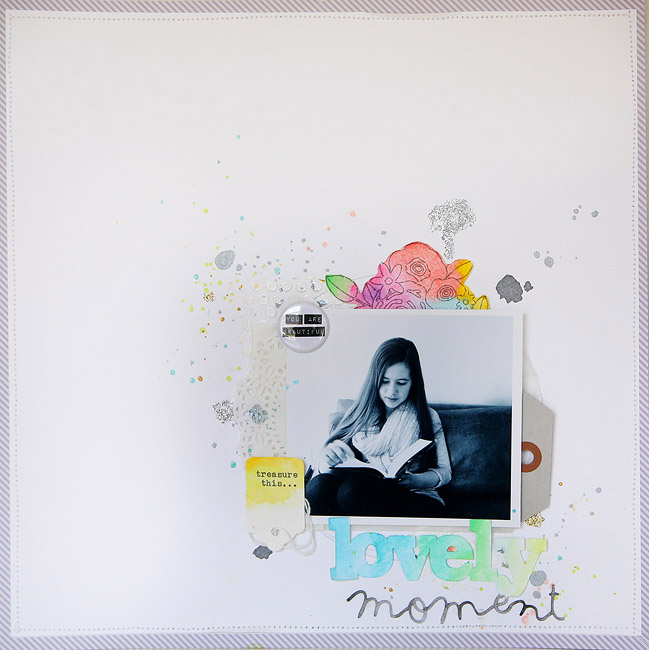 Custom Color Embellishments and Titles to Frame your Photo(s)
I used my Silhouette Cameo to create the title 'Lovely Moment' and cut it out of heavy white cardstock. I used a blue, green, yellow watercolor gradient color palette for the word "lovely" being careful as I worked, blotting with a paper towel as needed. Keeping a paper towel nearby is helpful when working with watercolors because you can easily fix a mistake, or make it less noticeable while it's wet. The 'Moment' portion of the title was colored with grey watercolor.
Next I wanted to custom color an embellishment using Amy Tan's Cut & Paste line pencil rub-ons. First, I applied the various watercolors to my white cardstock, being mindful of colors that I wanted to use. I allowed those to dry, then applied the rub-on.
Once the rub-on was applied I used my scissors to cut out the design and use it as additional framing for my photo. Lastly, I created a simple yellow ombre office supply tag, blending the color from darker to lighter, as another framing element to my photo.
The possibilities using watercolors are endless! You can even experiment with your handwriting using watercolors or painting your own custom drawn embellishments.
All you need is a simple watercolor palette, a brush of your choice, some water, and your creativity and imagination! Have fun experimenting with watercolors and adding them to your projects. I hope you find it as relaxing and inspiring as I do.



Jen is a wife, mom, maker of pretty stuff, lover of photographs, and keeper of her family's precious memories. Jen has been scrapping for over 15 years, since the birth of her second daughter, but it hasn't been until the last couple of years that she has found herself in the world of scrapbooking design. Jen is a Garden Girl at Two Peas in a Bucket and is also a designer for Basic Grey and Oh Deer Me kits for Freckled Fawn
You can visit Jen at her blog, on Pinterest and Instagram and Twitter: @jenkinkade




Read more about:
12 December 2013

Next post: Gold Foil Technique:: A Scrapbook Tutorial by Julie Campbell
Previous post: UK Readers: Grab a special scrapbooking Christmas offer today!