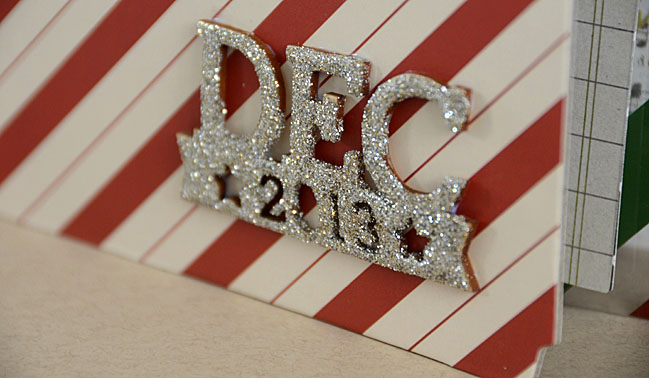 Hello there, May Flaum here, and I adore the holiday season. Everything is merry, bright, and I have loads of excuses to glitter everything up! As I am a huge fan of sparkles in general, this just adds to my love of the season. To celebrate, I've got five ways to add glitter into your holiday crafting!
Now if you're thinking you hate the mess of glitter I have a great surprise for you – four of my five ideas do not require actual loose glitter! That's right – I'm using all kinds of pre-glittered products to keep your hands clean and your workspace sparkle free. If you find yourself out doing errands and someone points out glitter on your face (ah stray glitter, you do get everywhere!) just smile because this time of year it's totally normal and even acceptable to be sparkly and glitterific out in public.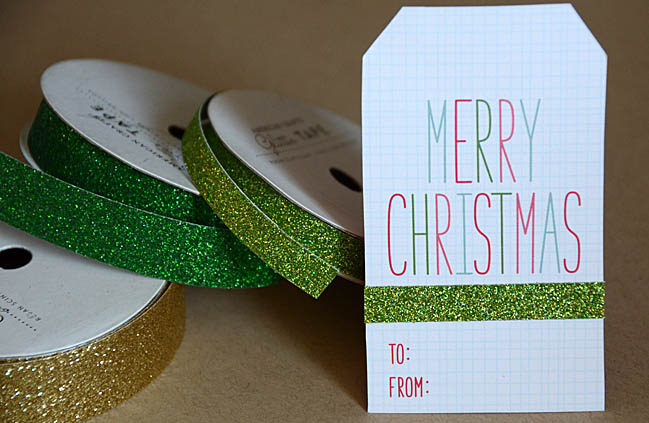 Trim with Glitter
I adore American Crafts glitter ribbons because they give me sparkle and controlled glitter instantly! No mess, no fuss, just add a bit of glitter ribbon to any tag, layout, or other project and it has instant pizazz. Here I've added some of the (adhesive backed!) ribbon to a Lawn Fawn tag that is now ready for gifting.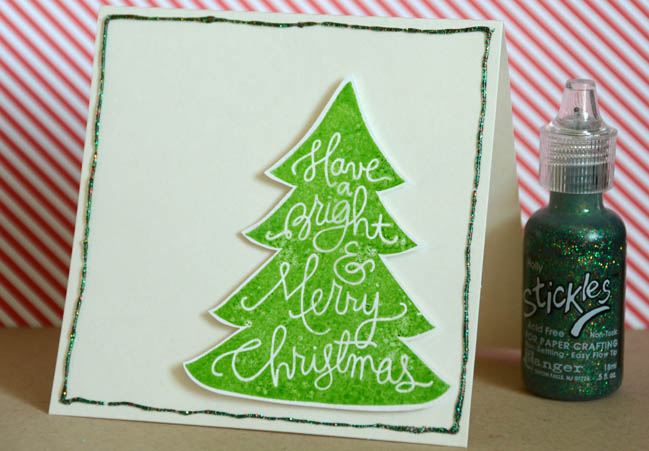 Edge a Card
Even if you don't make cards often, it can be as simple as stamping + cutting out an image, then edging with glitter! Here is pictured a personal favorite – holly stickles! I love that it has flecks of red, and that because it is glitter glue my hands can stay mess free.
Glitter your Gifts
For the love of glitter – this is double the fun. I used glittered alphabets and edged the hand cut heart with white glitter glue so that my brown paper package tied up with simple red ribbon becomes a gift to remember.
Glitz up the Table
Glitter paper + glittered letters = glam name cards in an instant! What I love about these products is that they will not flake off glitter onto your guests, or your food!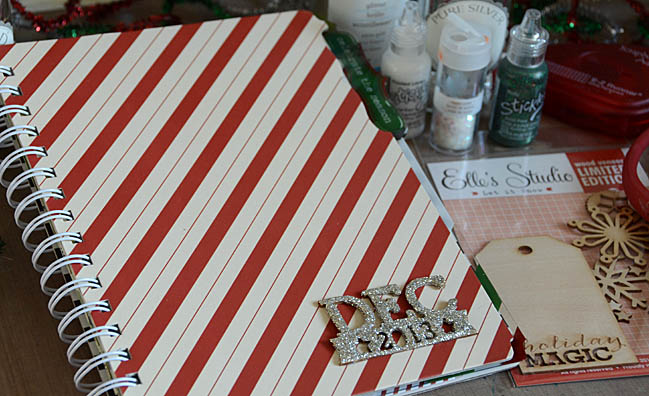 Glam up the Wooden Accents!
I adore the wooden accents that are all the rage now, but sometimes they are a bit plain. Never fear – just grab glitter and you've got a fancy accent in no time! My tip to you on this is that using a glossy medium such as glossy accents is a must. The shine of this product will make sure your glitter shines and it also holds down the glitter really well. Need extra hold? Just add an extra coating over the top after you apply your glitter.
I hope you've enjoyed my ideas here today, and if you'd like to learn more about my holiday crafting ideas I hope that you'll join me in my new holiday crafting class! I've even got a special just for Shimelle's fabulous readers – 20% off of a class (or two!) at my new website! Just use this link and the discount will automatically be added at check out.
| | |
| --- | --- |
| When it comes to crafting May Flaum has one rule: it's gotta make her happy. She's not afraid to get super grungy or work with bright colors, dabble in lace and doilies then make something more splattered and wild. If she's not in her studio (aka 'the bat cave') then she's probably out running around having fun with her family or cooking up a storm. May has been working in the Scrapbooking industry for a decade and currently blogs her crafty adventures, teaches online classes, and works with amazing companies sharing her projects and ideas. She just launched her own on-line craft class website where she's hard at work on her next fun idea. If she has one piece of advice to share, it's always to be true to your creative heart. | |

Read more about:
05 December 2013

Next post: Get Started with Gelatos:: A Scrapbook Tutorial by Loredana Bucaria
Previous post: Showcasing Patterned Paper:: A Scrapbooking Tutorial by Paige Evans