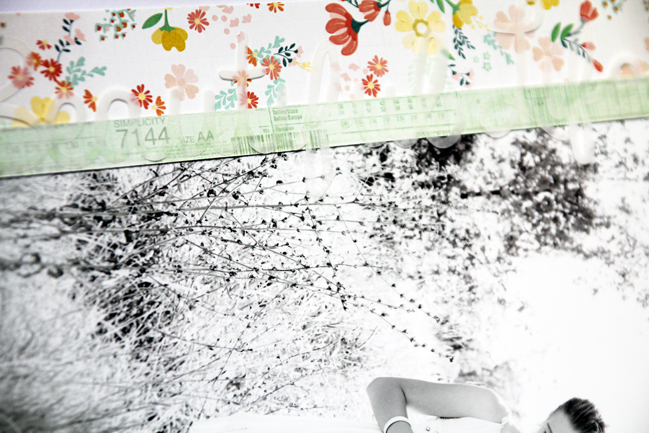 As much as I like pattern paper and embellishments, there's another must-have staple in my stash: vellum. I find myself reaching for it over and over again using it on almost everything I create. There are so many fun things to do with just a plain ol' sheet of vellum, but then you add the fabulous designer patterns on the market, and oh my goodness! The possibilities are endless. Today I'm going to share five of my favourite ways to use vellum.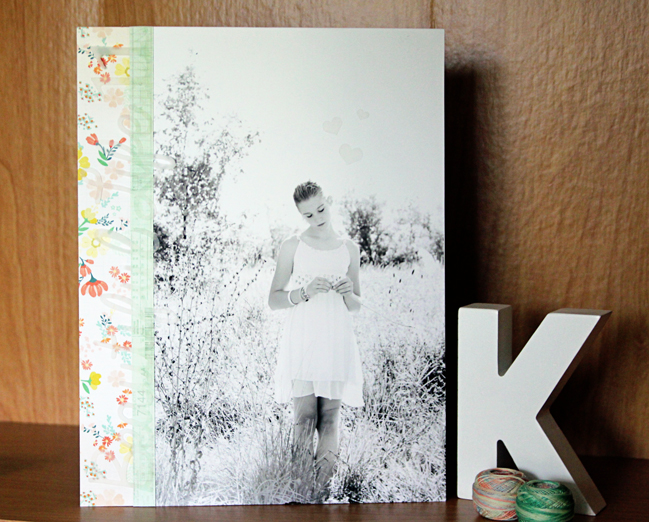 Vellum Titles
When I have an enlarged photo that I want to scrapbook, but I want to keep the layout very simple and focused on the photo, I'll use a vellum title. I love to use vellum titles cut with my Silhouette, but vellum titles can be hand-cut too. You could also emboss, paint, or freehand a title onto the vellum, then cut it out.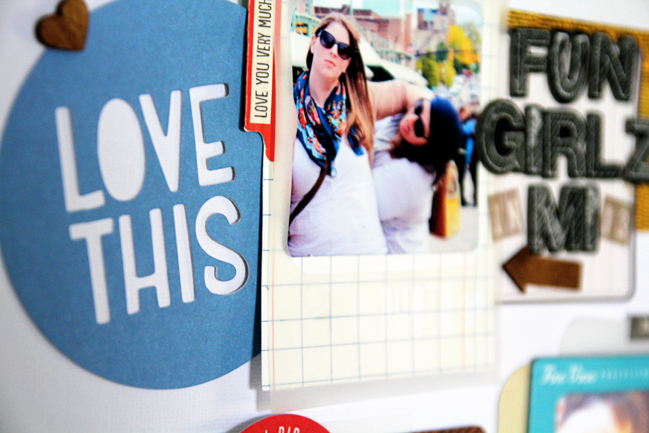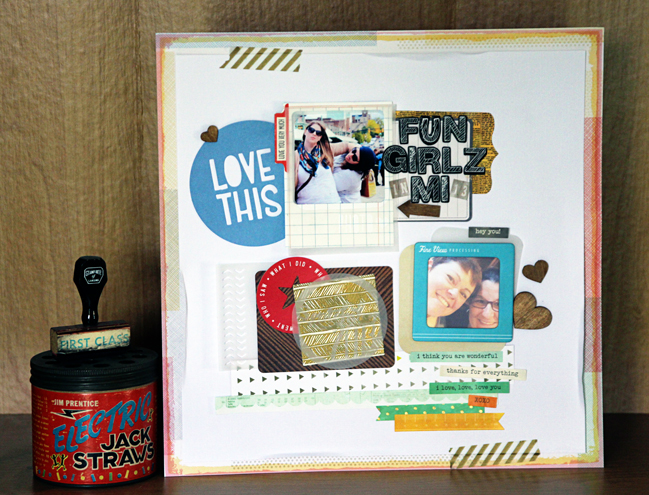 Layers with Vellum
I have to say one of my favourite ways to use vellum is layers and frames. I love vellum frames all layered up with pattern papers and die cuts. It gives that added dimension without a lot of weight on a layout.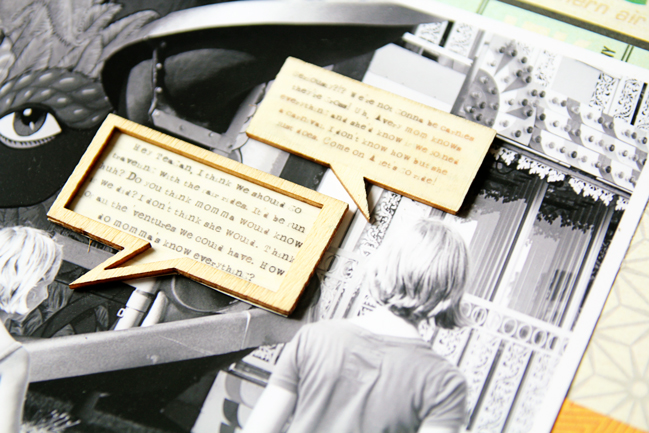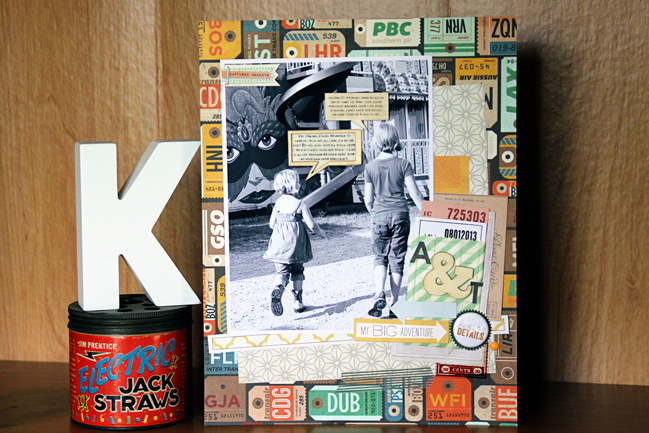 Journaling with Vellum
If you're anything like me you're not always a fan of your handwriting, so when it comes to journaling you'd rather type it than write it. Sometimes typing it isn't an option but then again writing it isn't either so what do you do? That was the case with the Basic Grey veneer bubbles. I knew ink would bleed into the wood and my journaling would look really bad so I decided to give the vellum a go and it worked out perfectly!
TIP: when adhering vellum, use a clear-drying adhesive like the Martha Stewart glue pen. After your journaling is adhered, it's a simple step to done. I use vellum a lot for journaling on a page, not just when using veneer.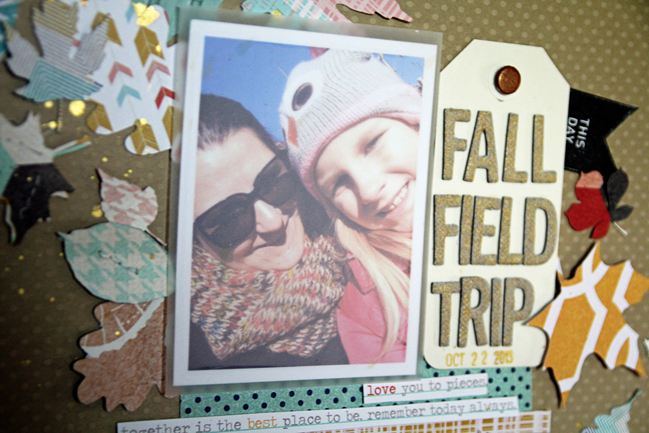 Vellum & Imperfect Photos
I learned this next tip the hard way, and I'm so glad I did. My printer has been giving me fits lately with lines in my photos and not the right quality print, so I have a small pile of prints I thought for sure would go into the trash. As I was scrapping, it hit me: I use the vellum to make backgrounds subtle, so why not try it like a filter on a photo? I did and I love it! Not only does it give me that cool Instagram-looking filter effect, it also turns out I don't need to throw those photos away. Simply cut a scrap piece of vellum slightly larger than your photo, adhere with clear adhesive, and use on your layout. Imperfect to perfection.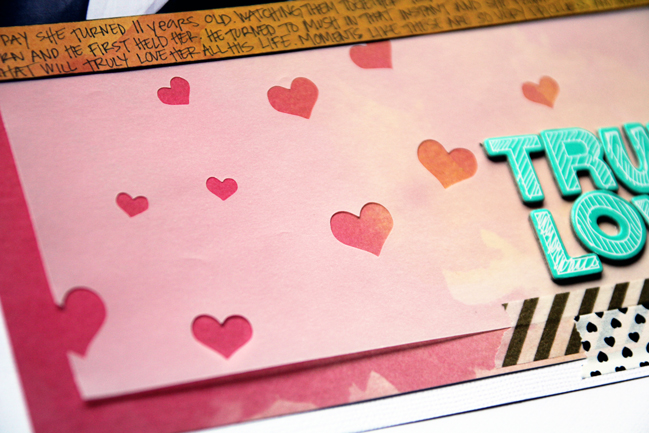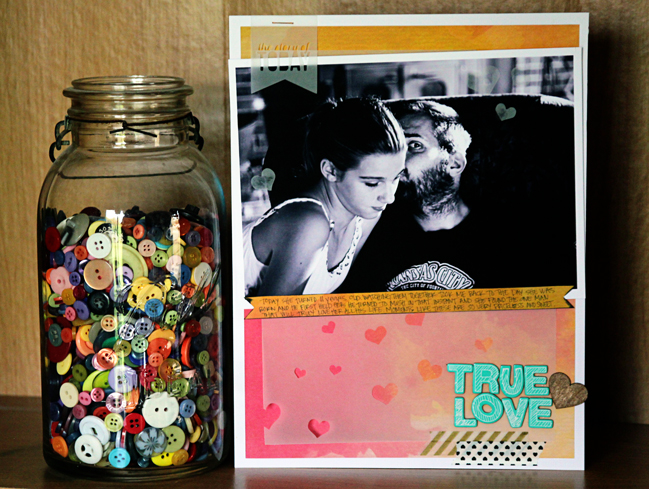 A Subtle Background with Vellum
We've all had those pattern papers we love, but when it comes to using them the pattern is just too loud so it gets shoved out of sight. This has happened to me often until one night while working on an assignment where I had to use that loud pattern I had no other choice I softened it up by adding a sheet of vellum to the top. Adding the vellum gives you a subtle look while still keeping the same paper and it's much easier to work with.
| | |
| --- | --- |
| Mandy Koeppen is a thirty something mom of three who juggles many job titles in her everyday life from chauffeuring family accountant to zoo-keeping therapist. She lives a small town, country girl life in Michigan with her Mr. K, raising their three children Teagan, Mavrick, and Avery. When she has time, Mandy loves to get creative with paper, browse her local antique shops, raise autism awareness for sweet Mav, and have fun with family & friends. Mandy's work has been published in Creating Keepsakes, Scrapbook Trends, Scrapbooks Etc, and Somerset Memories. Mandy currently designs for October Afternoon & Cocoa Daisy Kits. To see more of Mandy's work or to get to know her better you can visit her blog or follow her on Twitter or Instagram. | |

Read more about:
21 November 2013

Next post: Gardeners' Digest Scrapbooking Blog Hop (November 2013)
Previous post: Using Japanese Bookbinding to Create a Mini Album:: A Scrapbook Tutorial by Meghann Andrew