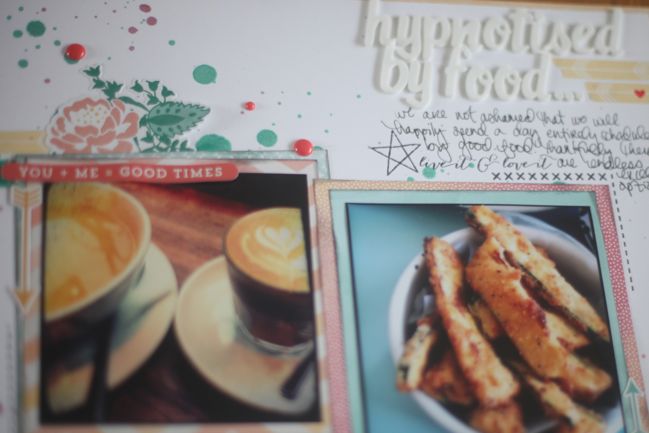 Today I'm very happy to be joining in with the Creative Movie Maker Blog Hop, brought to you by Echo Park and Carta Bella paper companies. Echo Park and Carta Bella are sister companies that release paper collections throughout the year, and they sent a few scrapbooking video makers one of their latest collections so we could give it a try, and also so we could all share a video with you today.
For my project, I used the Hello Again collection from Carta Bella, and set myself two challenges: create a page on a white background instead of my usual habit of patterned paper, and think of travelling light when it comes to supplies. I created my page in my usual space, but it's been about six months since I went away to scrapbook and I'm thinking I need a day scrapping with friends soon, and that requires getting in the mindset of packing light!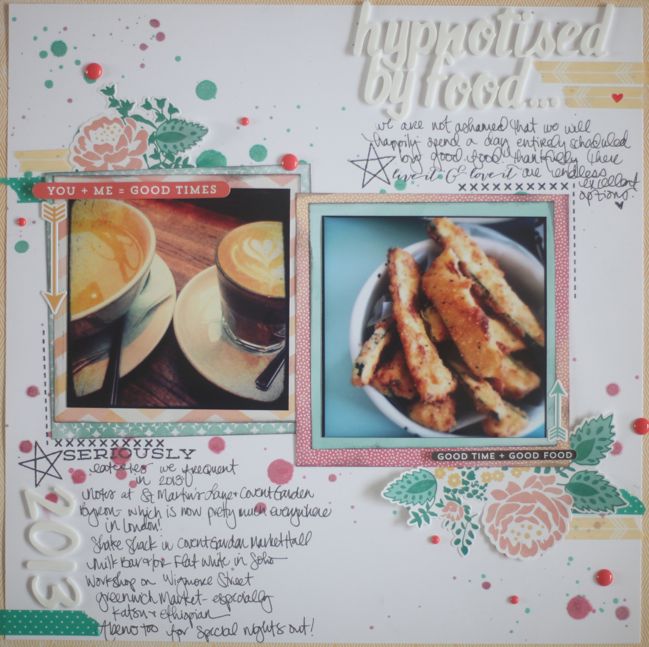 Does adding a patterned border around the edge of the white cardstock count for that first challenge of mine? And as far as the packing goes, I would have needed to pack a sheet of white cardstock, the 12×12 and 6×6 Hello Again paper packs (or have decided at home which 12×12 sheet I would use and just pack that one piece of paper plus the sticker sheet), two bottles of mist, one pack of stamps plus ink pad, block, and ink applicator for edges, one pack of Thickers, two rolls of tape, a sheet of enamel dots, and my usual to-go tool kit of scissors, adhesive roller, pop dots, black pen, and cloth for cleaning up ink. I don't usually take a paper trimmer to scrap elsewhere. Would that all qualify as travelling lightly? I'm not sure when you consider I used all that for just one page, but if I knew I had a few pages worth of photos that would work well with just those supplies, then I think it certainly makes the jump to being quite useful for scrapping elsewhere! If I'm going to spend the day cropping somewhere, I do tend to carry more than this, but as I don't take a car I am usually limited to one bag and it's always surprising just how quickly it's filled!

Now! The movie! Youtube is giving me minor fits today, but it looks like it should be ready to view shortly, fingers crossed! This is the perfect time to jump through the hop and take a look at the projects and videos posted, and by the time you make it back here, hopefully this notice will be replaced with the live video! I'm happy to report YouTube and I are finally back on speaking terms! Well, mostly. It has still decided to display ads on this video for the music, except I bought a license to play that particular jingle, so this is new! Please click the ad away and I'm working on getting rid of it for good.
I hope you find a few new channels you like, and please do subscribe to the YouTube channels of any of the participants that you enjoy! Take a visit to Jen Gallacher, Celine Navarro, Lilith Eeckels, Janna Werner, Marcy Penner, Wilna Furstenberg, and Laura Craigie. Laura's post will bring you back to here!
Many thanks to Echo Park and Carta Bella paper for this opportunity, and may YouTube smile on me in the next few minutes!

Read more about: scrapbooking-videos
21 October 2013

Next post: How to Hide a Story in Plain Sight:: A Scrapbook Tutorial by Kirsty Smith
Previous post: Five Ideas Using Product Packaging by Adrienne Alvis