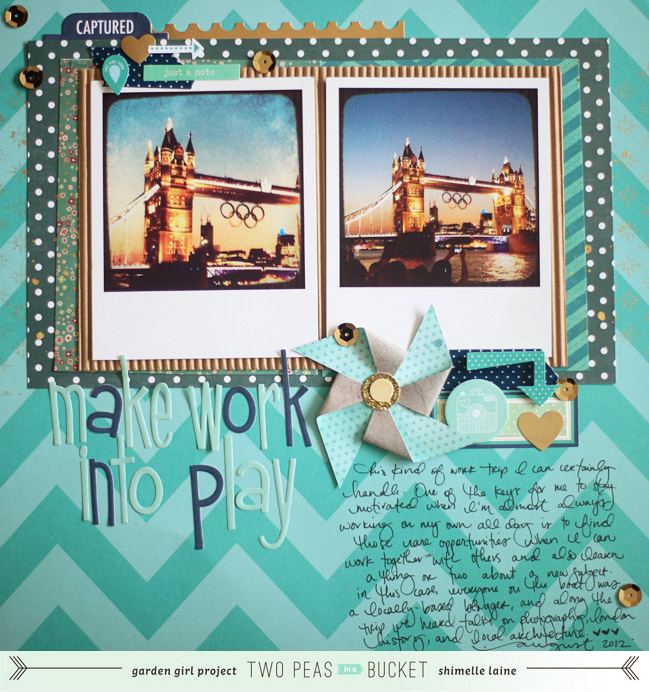 Welcome to the September Gardeners' Digest, with updates from the Garden Girls! So far this September, Glitter Girl has been on several new adventures, covering creating page designs with elements that feel they connect, mixing old papers with new embellishments, and a special episode designed for those who have taken a break from scrapping or are suffering from scrapper's block.

Here's that most recent episode, which you can follow step by step, but still create a layout that is very much unique, thanks to a bit of help from the beauty of Pinterest.

This project from Garden Girl Jen Kinkade is one of my favourites so far this September. I have plenty of tags sitting in my collection of supplies – time for me to take her advice, I do believe!
As far as shopping inspiration this month, you have a great choice of brand new or on sale, and in a few instances, even the brand new is on sale! Here's a quick summary of what's in the store today:
30% off all Teresa Collins products
25% off the Studio Calico Here and There collection, including Mister Huey sprays
25% off BasicGrey's Carte Postale collection, which I've been using so much lately
25% off over a hundred Echo Park products
50% off selected Freckled Fawn products, including wood veneer frame and many washi tape designs
Plus brand new collections include Amy Tangerine Cut & Paste, Dear Lizzy Polka Dot Party, lots from Bella Blvd, autumn and heritage collections from Echo Park, both everyday and Halloween collections from Pebbles, baby and travel collections from Studio Calico, Close Knit and Maggie Holmes Flea Market collections from Crate Paper, autumn and chalkboard themed releases from We R Memory Keepers, and a serious amount of gorgeous paper and embellishments from Webster's Pages.
So yes… should you fancy some nice new pretty paper, I think you're all set there! If your order qualifies, ZWPKWA is the shipping discount code for September 2013.
I'm the last stop on the hop today, so you can jump to Jen to find the beginning and follow right on through to see what the Garden Girls have to share with you! Enjoy! And you can find the full list of links on the Two Peas blog.
Now… there's no giveaway today, because we have some big, sparkly news tomorrow, and that will come with a giveaway, so I'm going to hold out till then, but you will need to check back Monday to see the news! Thanks for stopping by the hop today!


Gardeners' Digest is a monthly update from the Garden Girls, the design team at Two Peas in a Bucket. To keep up with the Garden Girls throughout the month, check out the garden gallery any time!

Read more about: two-peas-in-a-bucket
22 September 2013

Next post: A little something new is live right now!
Previous post: Five Clever Ways to use Clothespins by Angie Gutshall