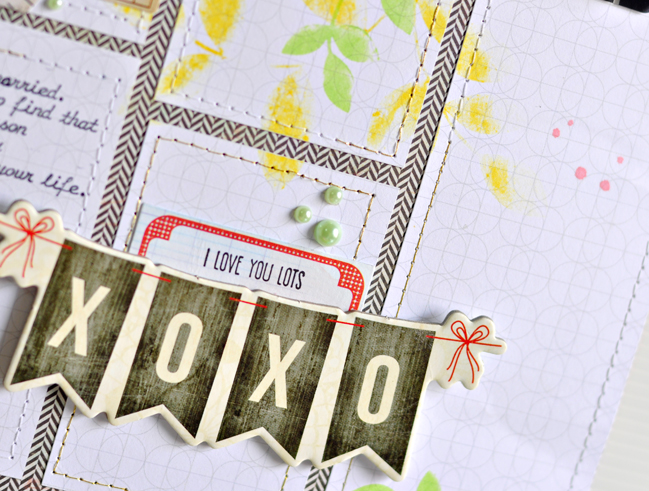 I love the look of stamped background on a scrapbook page. Stamping is such an easy way to customize your background as you're able to choose your own color and image from your stamp collection.
Today I'm sharing how I created the subtle and splotchy stamped background using Big Brush Pens. It looks pretty much like one tone watercolor stamping.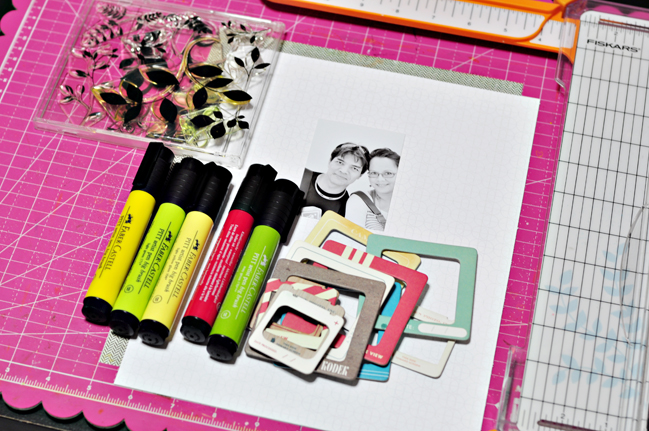 I gathered a few things I thought would use on my layout. In this case, I have my patterned papers, slide frames, stamp set and a few colors of Big Brush Pens.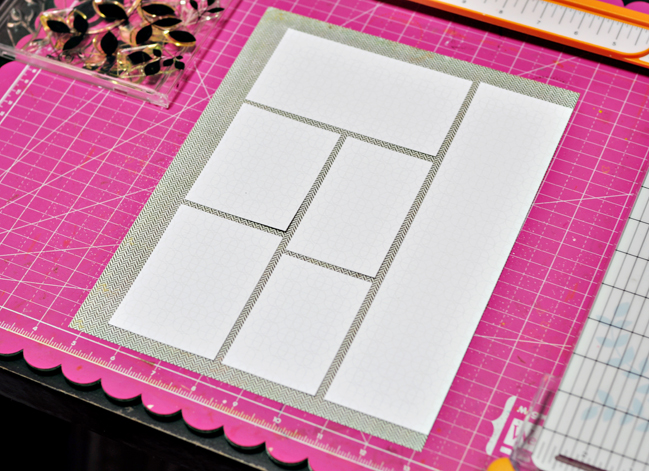 My favorite thing to do currently is to cut my papers into sections. This was done randomly, without measurement. Then I lay them onto my background patterned paper like so, to make sure I have space for each of them.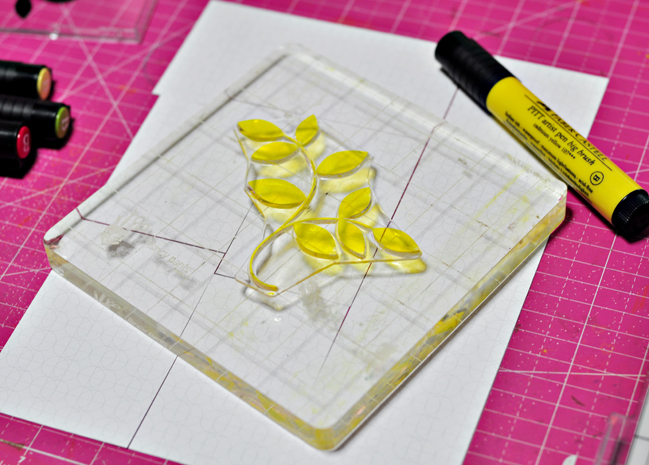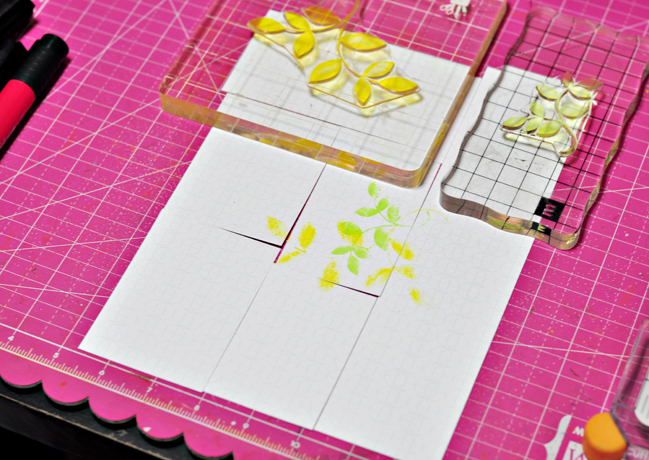 I chose the stamps and inked them with Big Brush Pens, in different colors. I'm going with green and yellow this time. After inking your stamps, breathe on them to moisten them up before you stamp onto your patterned paper. I find that solid stamps just like the ones I used produce best images. I tried this using outline stamps and you can't really see the abstract splotchy effect.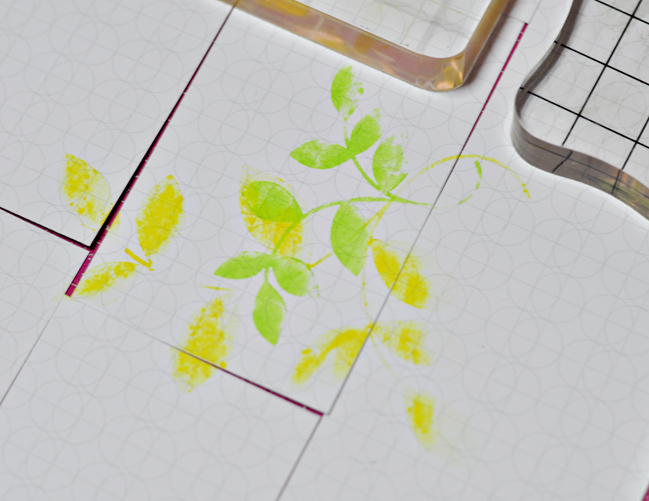 Here's a closer look of the stamped image. I also stamped green leaves on the top left and bottom right sections of the layout to create a 'path' for the eyes to move when looking at the finished piece.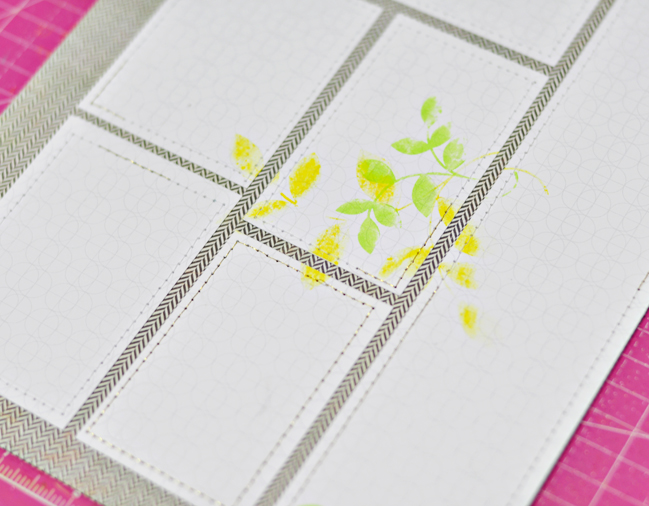 I rearrange my sections back and stitch them onto the background patterned paper with white and gold thread for added interest. I love adding a little shine to my pages and plan to add silver thread to my collection soon.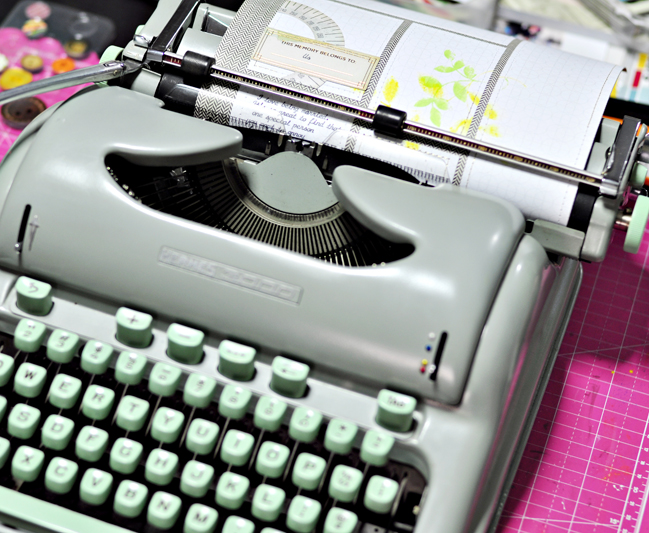 I play around with my layout, until I'm happy with how it looks, then I typed out my journaling with my typewriter. This is another of my favorite. I love journaling with my typewriter, it's just easier than trying to run a piece of stamped and stitched patterned paper through the printer.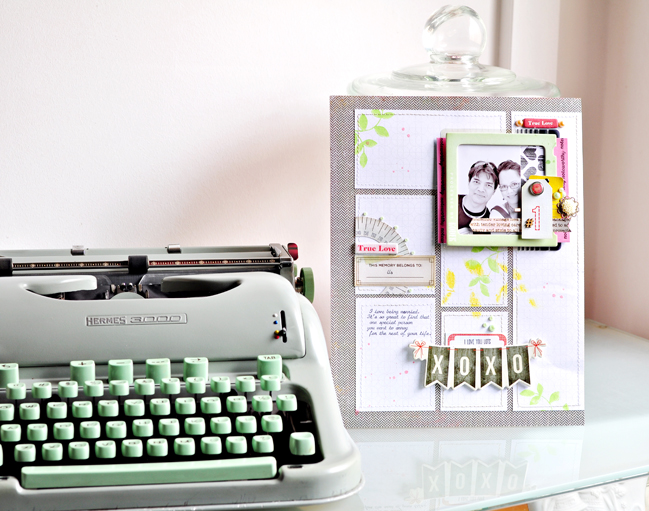 And here's my completed layout. I used the leaves stamps but the possibilities are really endless. Think hearts, triangles, circles and even solid ampersands. I really love the look of this simple technique and I hope you will give it a try!



Sasha lives 10 minutes walk from one of the beaches in Singapore with her supportive husband of 14 years and her two girls who are growing up too fast for her liking. She started this crazy wonderful, amazing, beautiful hobby in September 2006 and has since been swallowed whole. You can say she jumped in with both feet and not a day of regret ever since. She blogs at sashafarina.com and posts daily photos on Instagram at sashafarina. She is currently a design team member for Studio Calico and Crate Paper. Besides scrapbooking, she loves to travel with her family, with that
comes photography and good food. She scrapbooks for her self-enjoyment. The memory recording part is a bonus.




Read more about:
10 September 2013

Next post: A quick reference guide to Glitter Girl's scrapbooking adventures
Previous post: Best of Both Worlds :: My scrapbooking product picks for September 2013