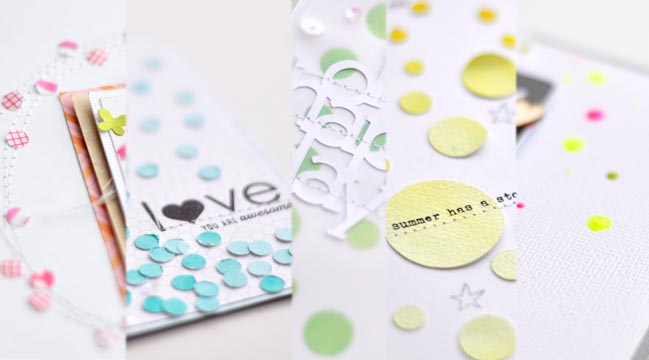 Confetti has been a huge trend and it doesn't seem like it is going to fade away. We can see it showing out on traditional layouts, on cards and even in pocket scrapbooking projects. I love it as it is such a great way to add some colour and happy detail to your projects but if you repeat it all the time the same way, it might get a bit boring and predictable. Today I would like to share with you Five simple ideas on customizing your confetti projects with some artsy techniques. Let's take out some paints, washi tapes and punchers and get creative with confetti!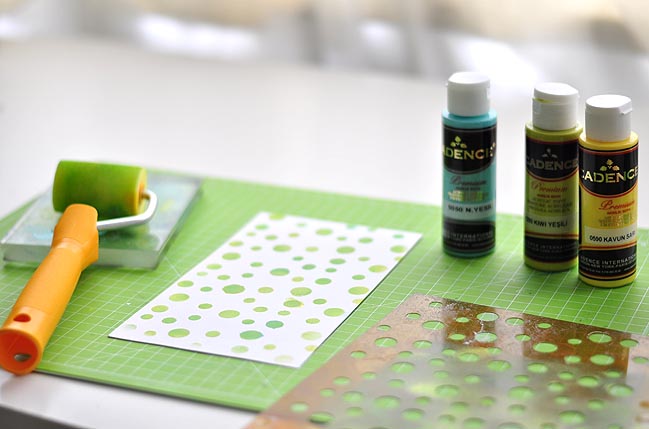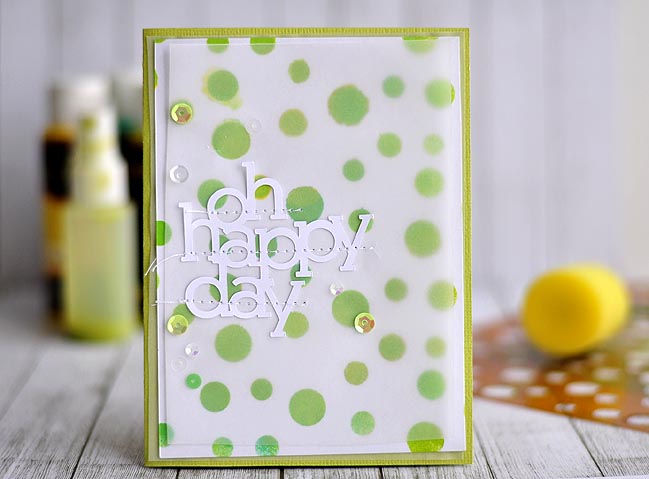 For the first project I used confetti mask and some paint. You will find similar masks with confetti inspired design among new products from Prima. Masks and stencils are great tool and a good investment as you can use them over and over again. To create a look of softly blended colours on my confetti, I used acrylic paints and a simple roller from DIY shop. I poured a tiny bit of paint of three different colours on my palette, rolled the roller in it and then rolled it on white cardstock over the mask. You could of course also use mists or ink to create your own confetti background.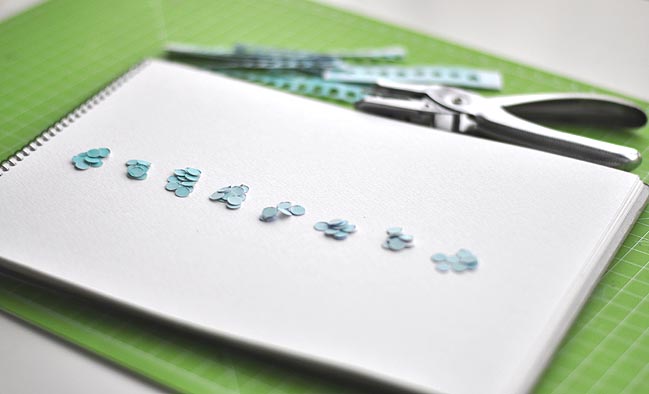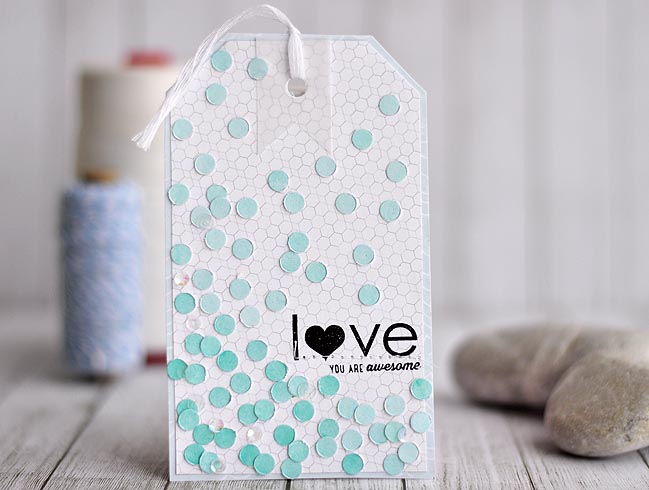 For the second project I wanted to combine confetti with the ombre look, I thought both trends worked together beautifully. To do that I first painted white cardstock with different shades of turquoise watercolour paint, I left it to dry and then punched a bunch of confetti with a simple single hole puncher. I tried not to mix the colours so when it came to placing confetti on my tag I could arrange them in the gradient order starting from the darkest shades in the bottom left corner going lighter towards the top.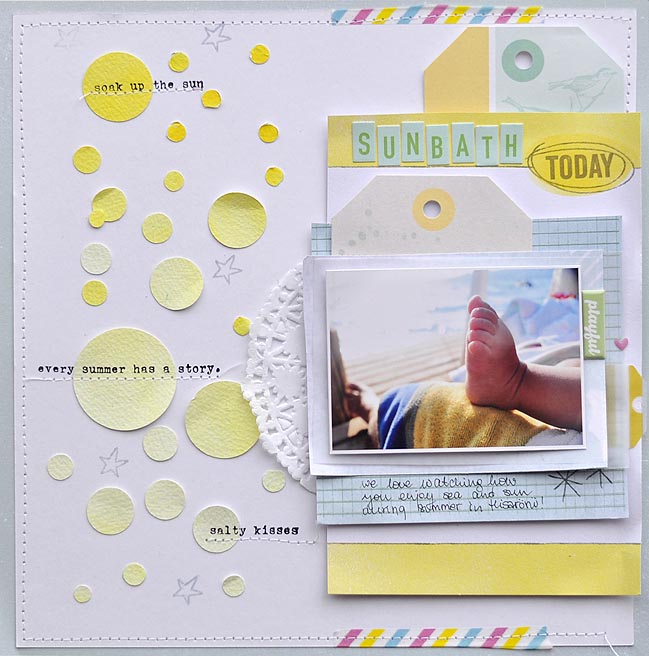 The third idea came inspired by the second one. I really liked the ombre look of my confetti so I wanted to play with it a bit more, this time on the layout. But all these tiny dots surrounding my picture didn't look appealing to me, so I decided to enlarge some of the confetti pieces. After all who said that confetti has to be small? You can play with sizes and experiment, few bigger confetti dots will definitely add interest and great dynamic to your project! The other idea is to play with shapes – don't feel limited to circles, you could make confetti hearts, stars or so trendy triangles!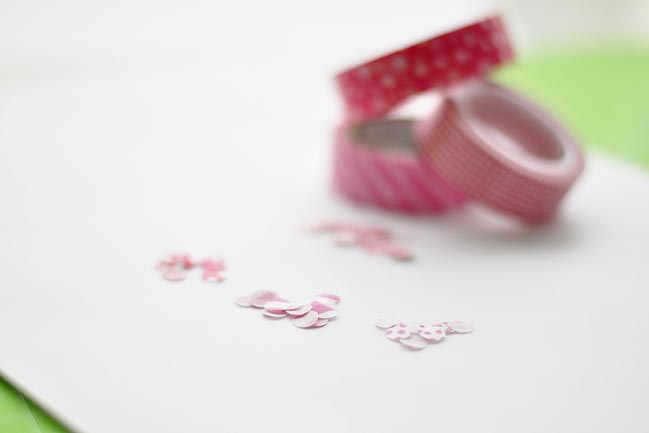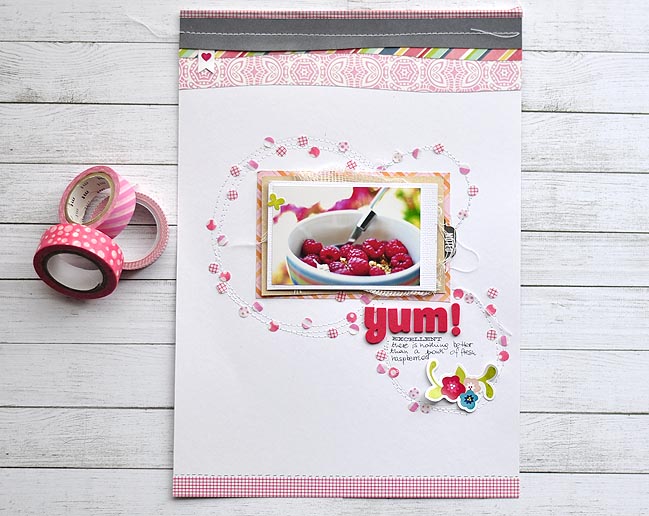 If you don't feel like getting messy with paint you can create unique confetti using some of your favourite washi tapes! I picked some colours of tape which were matching with the concept of my layout and placed the stripes on piece of vellum paper, then I punched confetti with my puncher. By using washi you create very light and airy confetti which I think worked great on this layout with lots of white space, the little pieces look like they are floating around the photograph. You could combine this washi confetti with previous ideas – make it ombre by mixing lots of tapes in different shades of one colour or enlarge it for some extra dynamic on your project!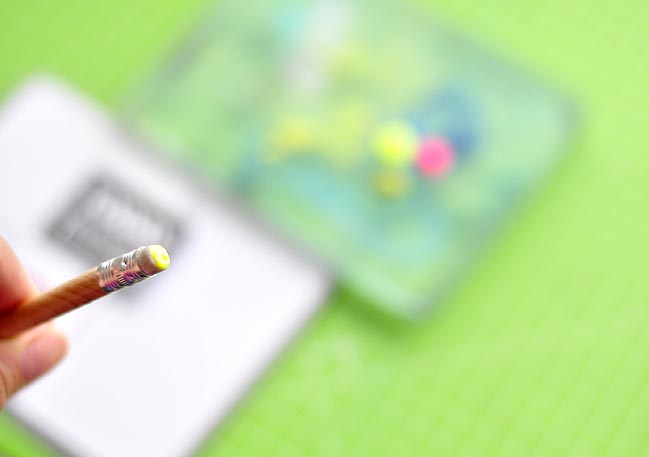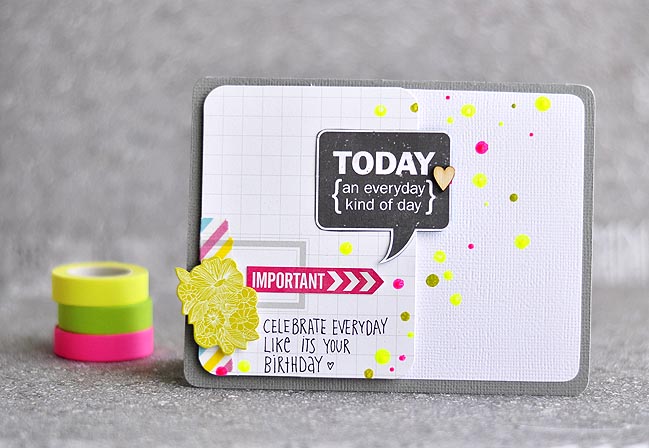 My last idea for artsy confetti is by far the simplest one. To achieve this look you will only need some thick acrylic paint and a pencil with eraser. Squeeze some paint, dip your pencil's eraser in it and use it as a stamp to add scattered confetti to your project. You can control the size of confetti pieces by pressing the eraser lighter or harder. Remember to clean it well with a baby wipe before using another colour of paint to prevent colours from blending.
As you can see there are many ways to play with confetti, you don't have to limit yourself to punching it from patterned paper only! If you think outside the box you can create your own confetti in limitless number of shapes, colours and patterns and make it match your project perfectly! Try to experiment with mixing different elements among your confetti- sequins, small wood veneer pieces, buttons, brads, enamel dots – they can add fun dimension to your projects and make your confetti designs stand out among the others!
| | |
| --- | --- |
| Kasia Tomaszewska is a scrapbooker from Poland who fell in love with paper and crafting 6 years ago. Since then she has been moving around and travelling between England and Turkey where she currently lives. She loves experimenting with papers, adding fun and artsy touches to her projects and playing with various layers. She mostly makes layouts and mini albums which help her to keep memories of everyday happenings together. She currently designs for Chic Tags, Prima Marketing, Lemon Owl, Scrap Around The World and she is also a Inspiration Girl for Citrus Twist Kit club. You can find her on her blog worqshop and stop by at her Facebook and Instagram . | |

Read more about:
16 August 2013

Next post: Two Tutorials :: No-Sew Collar and a Floral Scrapbook Page
Previous post: What You've Been Making!