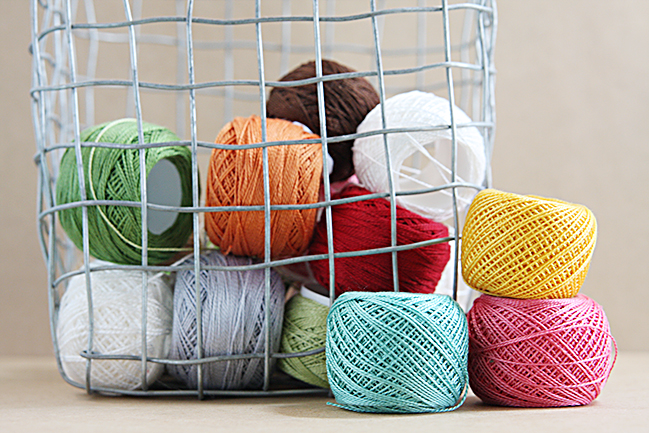 Hello everyone! I am excited to be here with you today to talk about one of my favorite scrapbooking must-have's – string! It may sound odd, but I have been using string in my scrapbooking since I started 11 years ago. It is colorful, thin, manipulative, and adds the perfect finishing touch to any project without taking the focus away from your project. I have been tying sting on my pages since the day I started and today, I want to share with you five easy ways to add it to your own projects.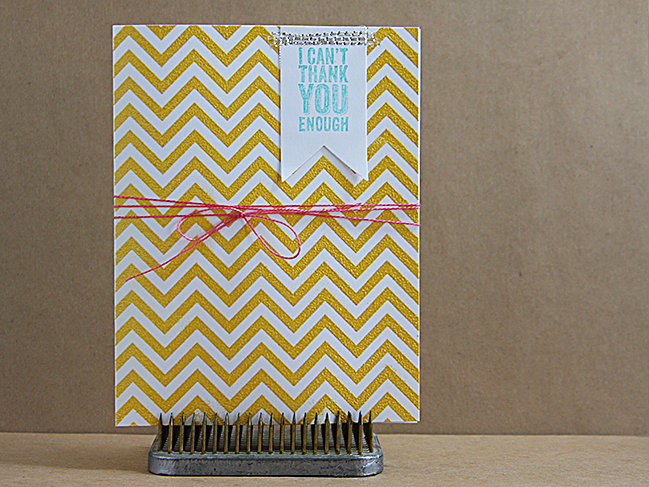 The first idea is pretty self explanatory – tie string around your project and into a pretty bow. One reason why I love using string, is because it is visually very lightweight and adds that little feminine touch without being as 'heavy' as ribbon can sometimes appear. On this simple card, I wrapped the pink string around the card two times and tied in a bow. The recipient will have fun untying the bow to get to the message inside.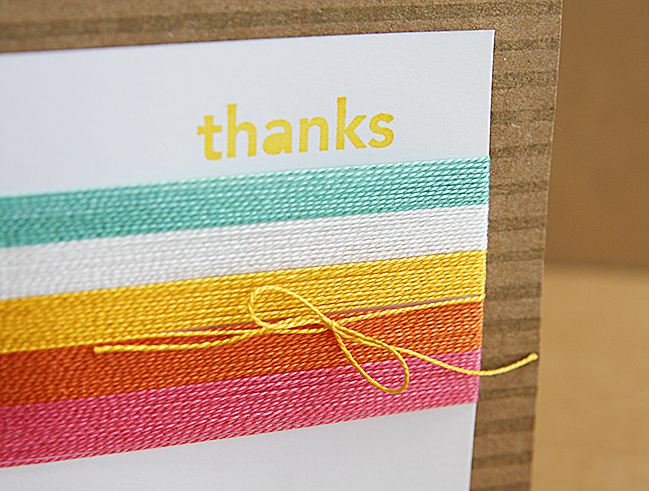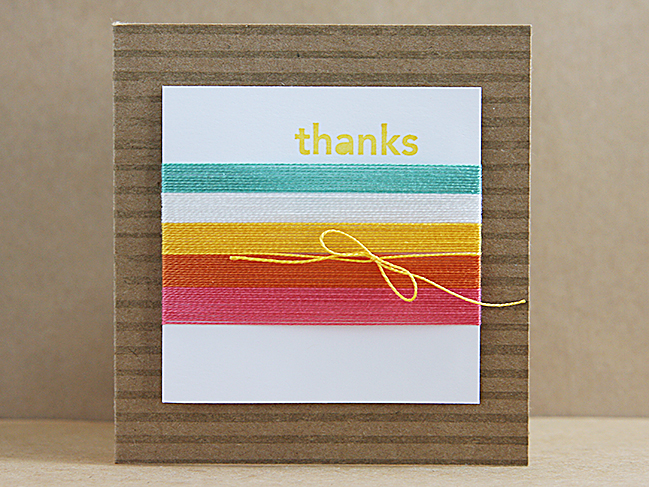 This card is simple, yet has great impact! I gathered 5 colors of string and wrapped them around a stamped card numerous times. I tied the yellow string in a bow on the front. The card is simple in design, but it has a lot of texture and color.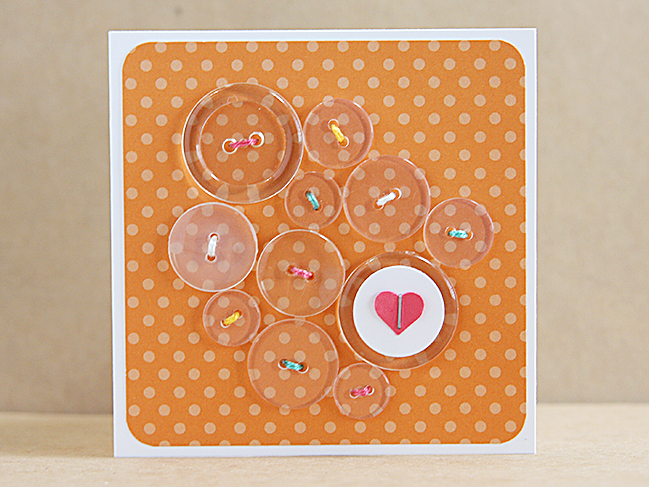 Whenever I attach buttons to a project, I have to add string through the holes! I always joke that a button is naked without string in the holes! On this card, I added a bunch of clear buttons and varied the colors of strings that I sewed them to the cardstock with. It is a fun surprise to see the colored thread and it finishes off the card perfectly. Simply place your buttons on the card in the design you want, pierce holes through the buttons, and then sew on the buttons with needle and thread. Simple, but it adds so much!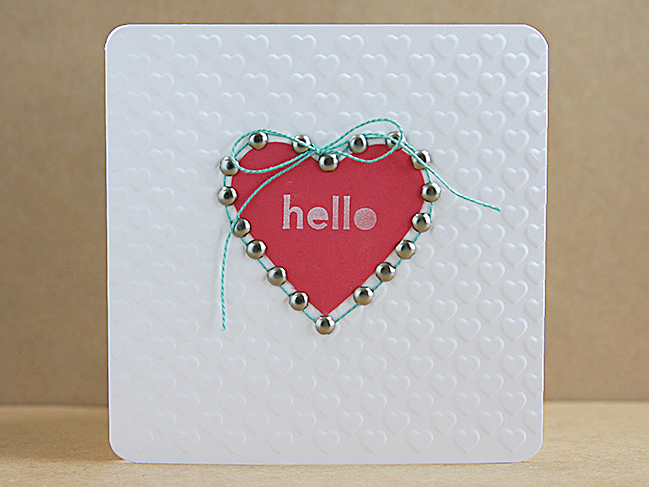 You may of seen all the fun artwork around the web and Pinterest where you use nails and string/yarn to create words or shapes. Such a fun idea! I wanted to use that same idea here, with my brads and string. I punched the heart shape, stamped on it and glued it to the heart embossed card base. I then pierced holes around the heart and added the silver brads. I took the aqua string and simply wrapped it around the brads on the outer edge and then tied in a bow at the top. It looks so fun to see that string looped around the brads! Give it a try!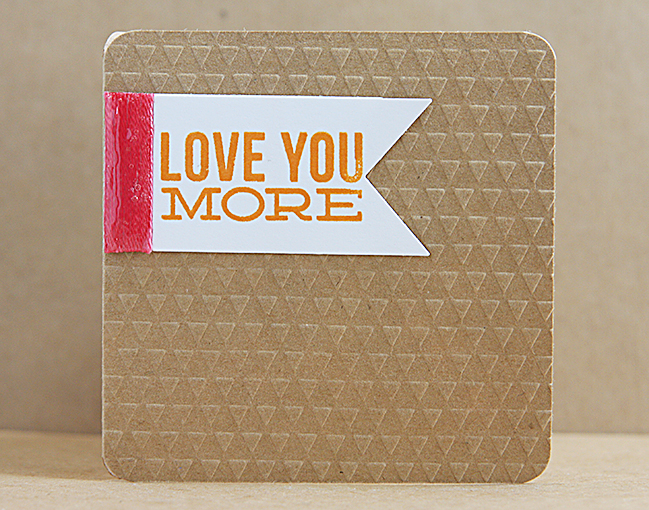 This card is super simple but I wanted to show another simple technique with string that can be fun for any project. I punched out the banner shape with white cardstock and added some glue runner to the top. I then laid down pink string, row after row, to create a border of the string. I then cut the edges so it was flush with the punched white shape. To help the string stay in place and not un-wind on the edges, I added some glossy accents glue to the top and let it dry. It looks like enamel once dry and yet you can still see the texture of the string underneath – such a fun look! Simple, yet dramatic.
I hope that you will give some of these fun techniques a try on your projects. Go to the craft or fabric store and grab some fun spools of string. They look darling in a cute box on your desk and they will add the perfect touch to any project!
Thanks for having me today!
Robyn Werlich



Ever since Robyn was a little girl, she has had a huge passion for art. A month before her first child was born, Robyn fell in love with scrapbooking and stamping. She has now been involved in the industry for over 11 years. She has had many wonderful opportunities being on Design Teams for Making Memories, Autumn Leaves, Hero Arts, a Garden Girl at Two Peas in a Bucket, 2008

BHG

Scrapbooks, etc. magazine Creative Team and more.

Robyn and her husband, Ryan, have three kids: Madisyn (11), Hudson (9) and Jaxon (5) and reside in Arizona. You can catch up with Robyn on her blog at BeCreative-Everday and on her Twitter & Instagram: RobynRW.





Read more about:
05 July 2013

Next post: What You've Been Making!
Previous post: DIY Embellishments:: A Scrapbook Tutorial by Ann Schneider