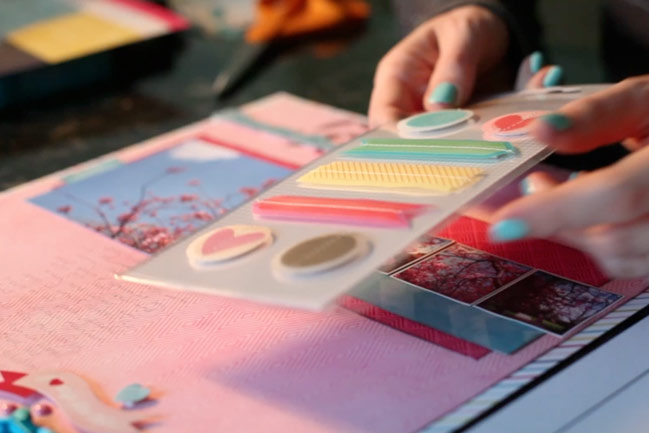 The next four scrapbooking sketches in this series all mix what I call 'proper' photos with phone photos – 4×6 prints and square prints – though really you can take 4×6 photos with your phone and you can crop photos from your 'proper' camera to a square, obviously. What I do know is that I often find myself with a mix of these sizes now, as I will use both my camera and my phone to take photos during the same day. I can't be the only one, so a few scrapbook page sketches dedicated just to that seems like something more useful than unpacking your craft shopping only to find that discount offer of 100 tiny sewing needles might have been because there was no seal on the packaging. Never in my life have I so regretted that I brought my own bag. I digress.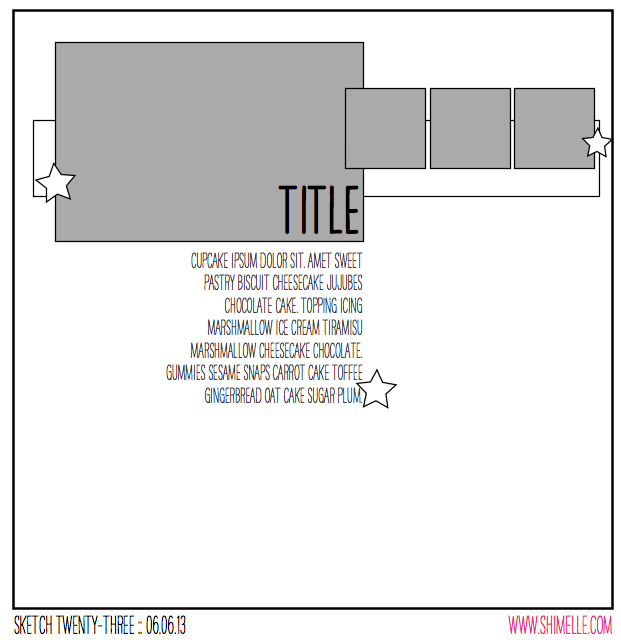 So yes: one 4×6 landscape photo, three small square photos! I printed mine at 1.5 inches square, and left a tiny white border on the smaller images.

Most of the supplies for this page come from the Echo Park Here & Now collection, plus a bit of paper and a stamp set by Kesi-Art, with embellishments by Crate Paper and American Crafts.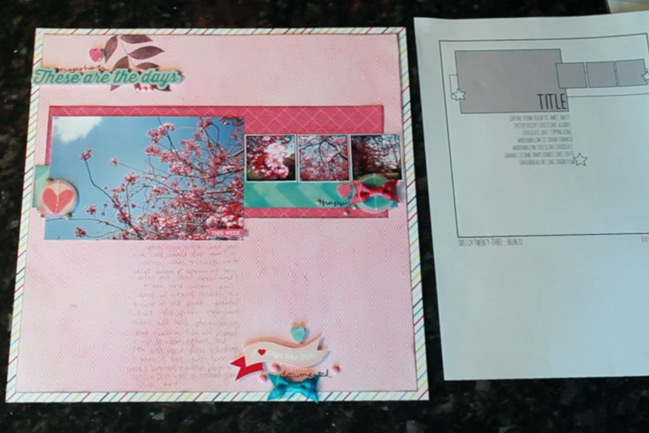 Here's a quick look at how that page looked by the end of the video. A bit more reserved than Glitter Girl's crazy embellishment last week!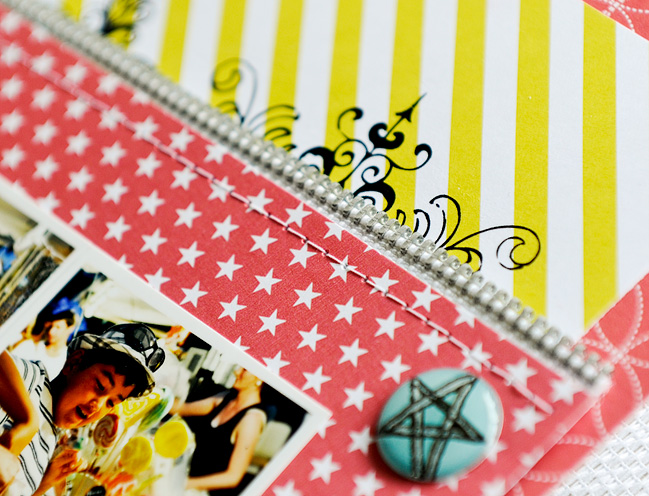 Please welcome today's guest, Anne Jo Lexander, who has a brilliant take on this one large + three small idea – place everything on an angle!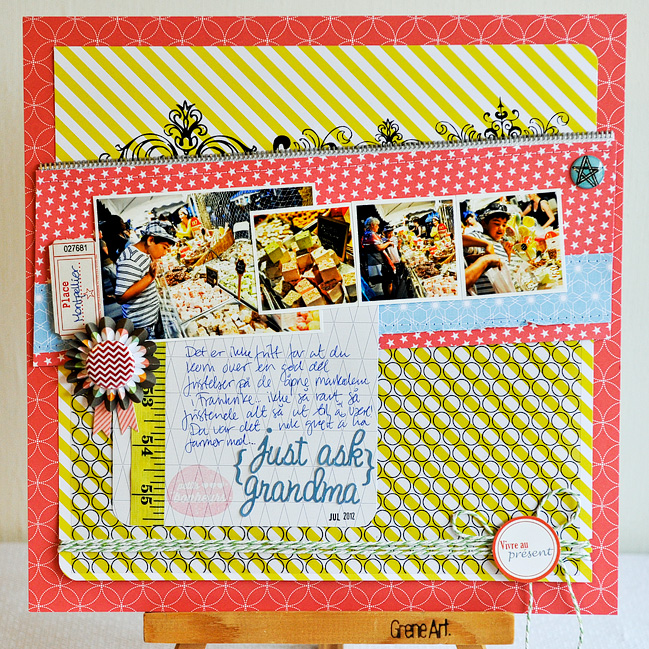 Personally I think that the more plain and simple a sketch is, the more inspiring it is. Why? It allows my brain to automatically start pondering about the possibilities, instead of locking myself in all the details that's supposed to be in a sketch. I'm fond of telling my brain: It's not like it's a technical blueprint! The purpose of a sketch is rather to be a kicker for your brain to start make it your own, but I can't help it – the more detailed, the more obligated I feel to stick to it somewhat.
Here's a tip for you if you feel like you struggle with a sketch: Study it for a little bit, then put it away and just think of the main lines you want to add to your project. If you really struggle – ask yourself why you do this to yourself – it's supposed to be fun, no? Ditch the sketch then!
I knew right away I wanted to do slanted elements with this particular sketch. While the ColorConspiracy-papers used here are fairly new, I'm particularly satisfied about incorporating three really "old" scrapbooking-products – the KI memory epoxy sticker from the Love, Elsie line, and the transparency, and rub-ons (it's funny how happy it makes you – finding out that old rub-ons still works) both from Hambly Screenprints. I'm fighting hoarding one small step at a time!



Living at an island right outside the west coast of Norway, Anne Jo Lexander alternates between telling other people's stories as a local newspaper journalist by day and telling her own story in the evenings through the use of fancy paper, embellishments and photos. She's quite fond of creating layouts, cards, and boxes, and having scrapbooked since 2005, she's definitely learned this one thing: You never tire of pretty paper and cute embellishments!

These days she is designing for Maya Road, Craft Origine and ColorConspiracy, and you'll find her at her blog , her resume blog , on instagram or TwoPeas gallery.





Read more about: sketch-of-the-week scrapbooking-videos
24 June 2013

Next post: 20 Minute Layout:: A Scrapbook Tutorial by Relly Annett-Baker
Previous post: Gardeners' Digest scrapbooking blog hop (June 2013)