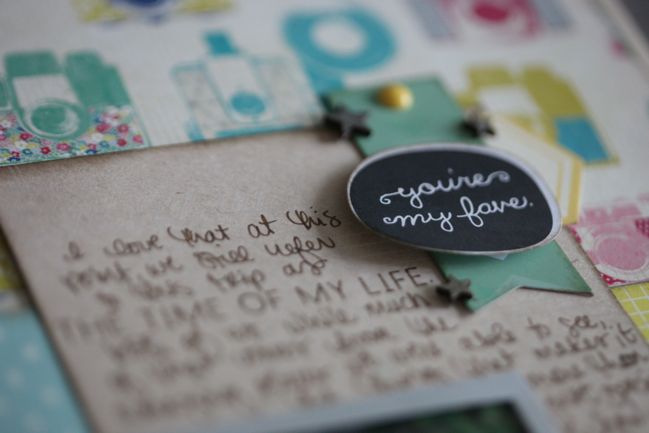 Having successfully managed the spelling of Hong Kong, I may have rediscovered a bit of creative energy and furthered this quest to get up to date with all my sketch and kit pages! Catching up feels pretty rad… as long as I only focus on the things where I'm making progress and don't turn around and realise there are eleventy other elements in life that need some catching up too. Right? Onward, at any speed.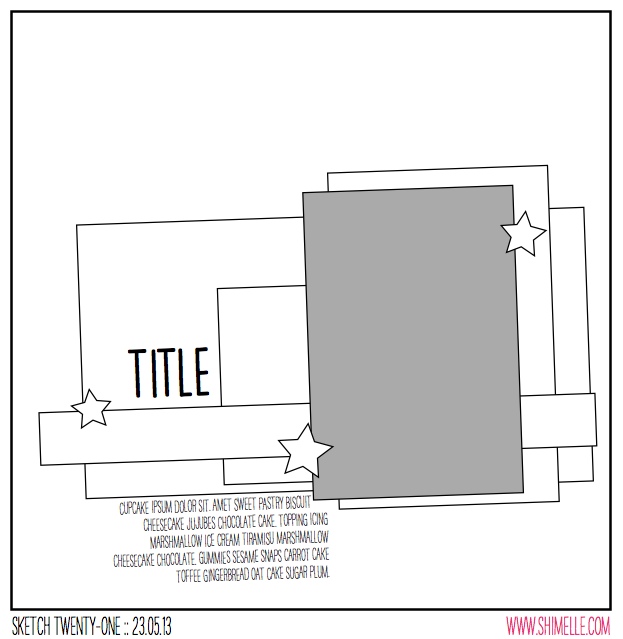 This sketch was designed for one portrait 4×6 photo, but I changed that slightly for my page. The idea here is to take a group of paper boxes that are layered in a nice and orderly fashion, then take the whole lot and angle it ever so slightly to create a different look. Easy enough, and perfect for the last 12×12 sheet I've been saving (that pretty camera print by Maggie Holmes for Crate Paper) and a stack of scraps cut down to nice box shapes instead of the random off-cuts they had become.

Again the products for this page are from my May Product Picks, and I think that makes for six layouts from the May kit so far. I'm now out of full sheets for the backgrounds, but I have paper scraps, letter stickers, and embellishments remaining, so I'll mix those with some additional papers to finish off the May kit. I've also done a few cards with this kit, as out of character as that may seem!

This is one of those pages where the journaling becomes more reflective – not trying to tell the story of what happened in that photo, but reflecting on that occasion from the present point of view. Recently The Boy and I were in a discussion and someone asked us about our backpacking adventure in the sort of way that implied it was one of those things you would be happy to have over and done with and not want to return to living from a library bag once we had reacclimatised to living in one place. That's really not our perspective at all and we both wish it was something we could do all the time, so please excuse the slightly mushy journaling!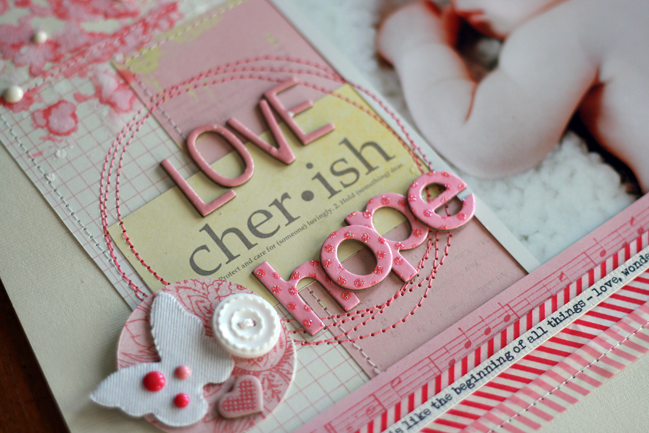 Today I'm humbled by the gorgeous page Lisa Dickinson has created from this sketch. Lisa's work is always beautiful, but this page has me in total awe! Lisa, can I scrapbook like you when I grow up?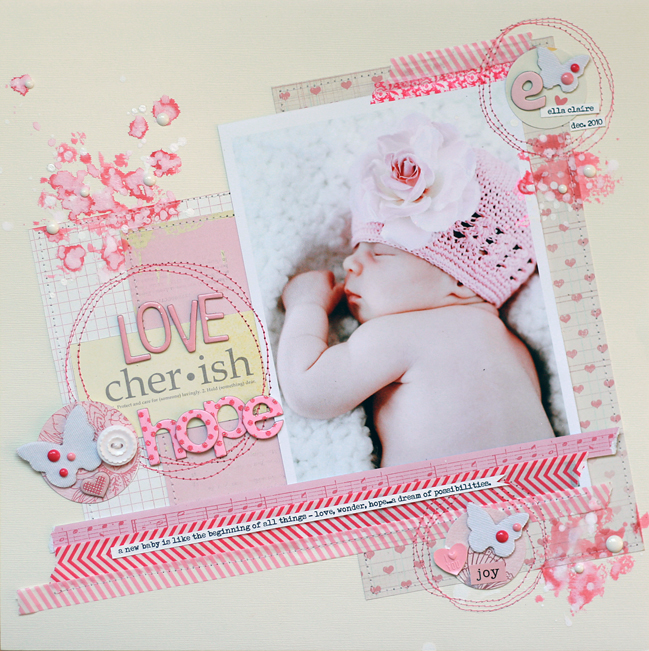 The large photo takes center stage in this sketch and knew it would be a great design to feature one of the many newborn portraits I had taken of my niece. I printed mine at 5×7 (slightly larger than the photo in the sketch) and then gathered lots of pink supplies, everything from soft pink to brighter fuchsia. I used larger blocks of paper behind my photo, layering strips of wash tape at the top and bottom of the tilted design. Three embellishment clusters form a visual triangle around my photo and I added circles of stitching to reinforce their groupings. Because there was some empty space above the title, I splattered on pink and white inks. I added additional, smaller ink splatters to form another triangle. Once the ink dried, a few white enamel dots add dimension to these accents. Rather than block my journaling below the design, I incorporated it into a journaling strip that I adhered atop the washi tape.
| | |
| --- | --- |
| Lisa Dickinson is a graphic designer living in Colorado with her husband, Mike, and children, Hayden and Riely. She started scrapbooking in 1998 and it grew from a part-time hobby to a full-time job. Her scrapbook pages have been published in various magazines and she is the author of the ebook Design Workshop from Ella Publishing. In addition to being a Garden Girl at Two Peas in a Bucket, Lisa also designs for Jenni Bowlin, Basic Grey, and Lily Bee Design. You can catch up with her at Gettin' By, where she blogs about scrapbooking, motherhood, running, and her deep-seated hatred for the Comic Sans font. . | |

Read more about: sketch-of-the-week best-of-both-worlds-kit
17 June 2013

Next post: Sketch to Scrapbook Page :: A Corner Gathering
Previous post: Sketch to Scrapbook Page :: A Twist on Patterned Paper Quadrants