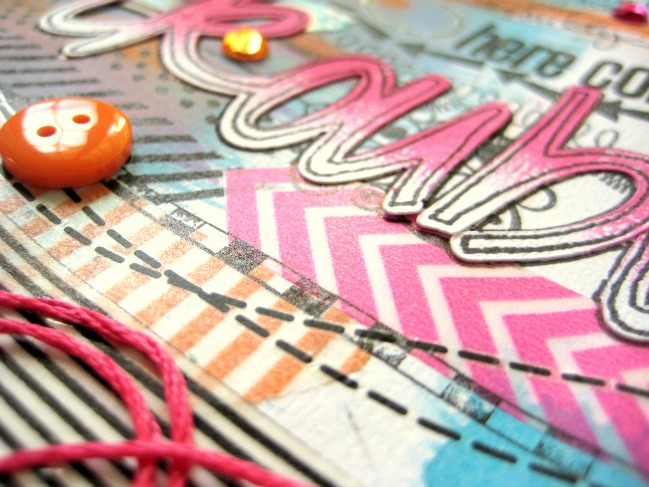 Do you sometimes print out your photos and you just don't know which papers to use or where to begin? I feel like that a lot. I tend to go through "scrappy moods" and sometimes I just don't feel like using patterned papers. So I like to create a page completely from scratch, which means I get to dig through all of my old stash. I have so many random scrappy items that don't get used because it's either in a drawer or in a stack somewhere. I like to get out my paints, brushes, stamps, washi tape and random stickers, bling, twine and buttons and just start creating.
I started this page with a piece of plain white cardstock and my paints. I printed my photos in black & white, so I was free to choose my own color scheme. I chose blue, pink and orange and went from there. If you have color photos, you can totally choose paints that match exactly. Sometimes that's hard for me to do with patterned papers. For this page, I didn't use a sketch or have any 'real' plan. I just started by brushing paint onto the cardstock. I love this technique because it's totally unique, and it feels liberating to be so messy and random and yet still create something worthy of going into my scrapbook albums. And the best part is that you can't tell when you make a mistake!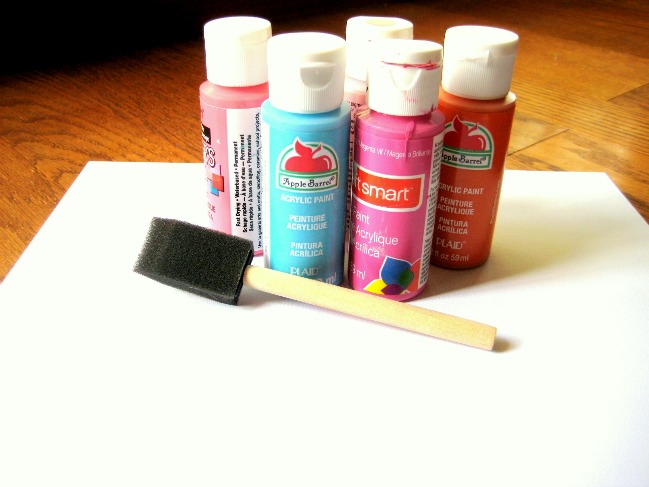 Start off with a piece of plain white cardstock, your choice of paint colors and a foam brush.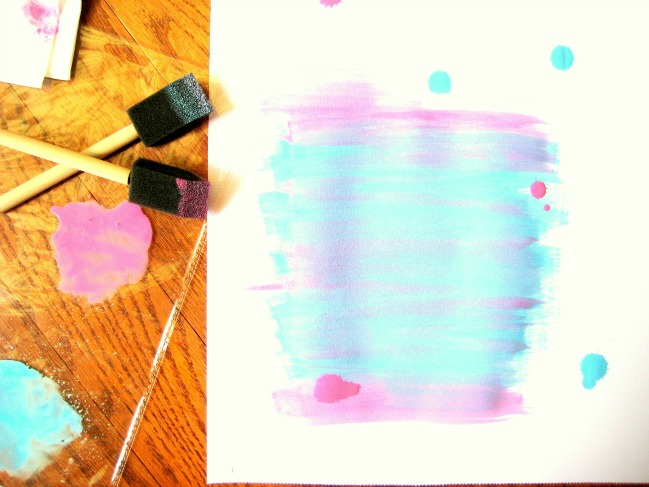 I like to water my paints down a bit, so I use old plastic packaging from paper collections or stickers. I squirt some down and spritz it with water to give it a watercolor-like consistency. Then I just start brushing. I also hold the brush up high above the paper and use my fingers to squeeze the foam to create big splatters.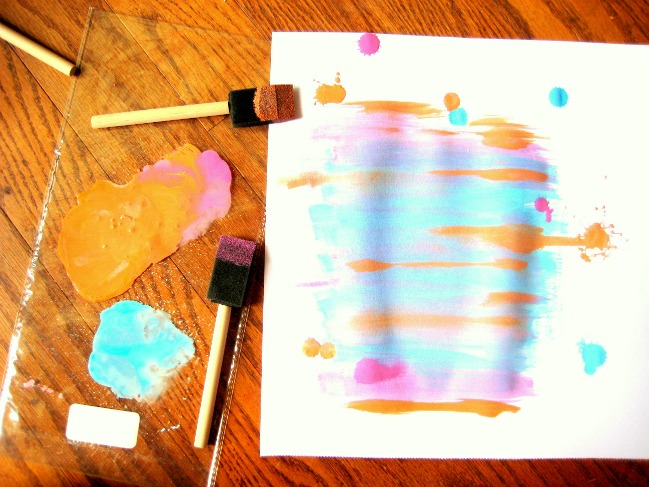 I like the blue and pink, but I wanted a third color in the mix, so I added some orange. Again, you have endless color options.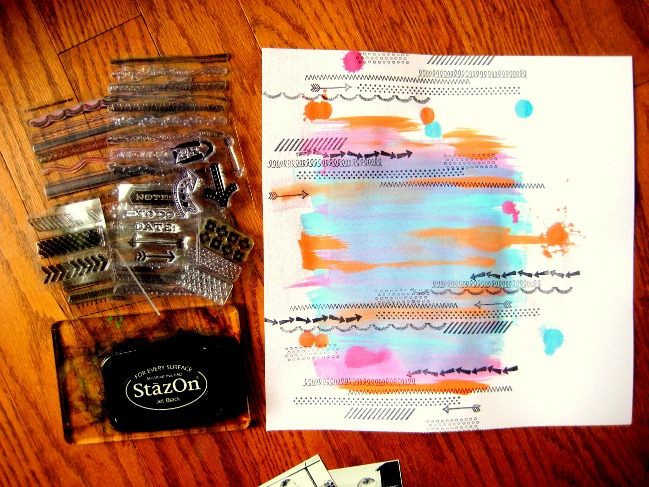 The hardest part is waiting for it all to dry. Once it dries, I start stamping. I like to use border stamps, but you can use whatever kind of stamps you like. There is no right or wrong place to stamp. Just add some here and there and use a variety to give it some interest.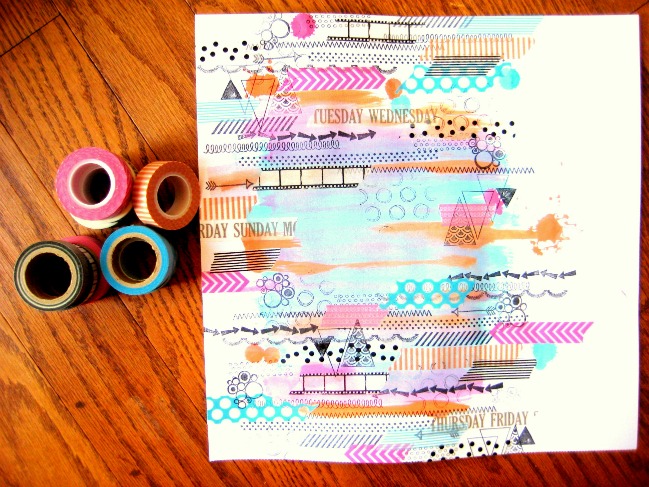 Next comes the washi tape… my favorite! Again, you can choose colors that go with your color scheme. I always like to add in black because it contrasts against the bright colors. Just like the stamping, just stick it where you see fit. I like to make sure my three base colors are evenly spread out, so that helped me figure out where to put which color tape.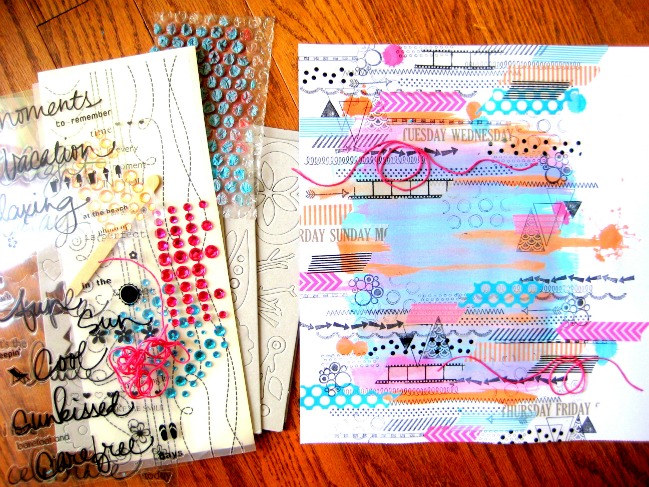 Lastly, I went through my stash. I found pink floss/twine, rub-ons, rhinestones, stickers, some old bubble wrap and chipboard that I wanted to somehow add to the layout. I simply glued down some of the twine in a few places and added some of the bling. I only used a few rub-ons. I found a cute little girl in my chipboard shapes that I painted blue. I stamped a little bit on the dress and added some twine for some texture. I also tore up some bubble wrap that I used as a stamp on another project.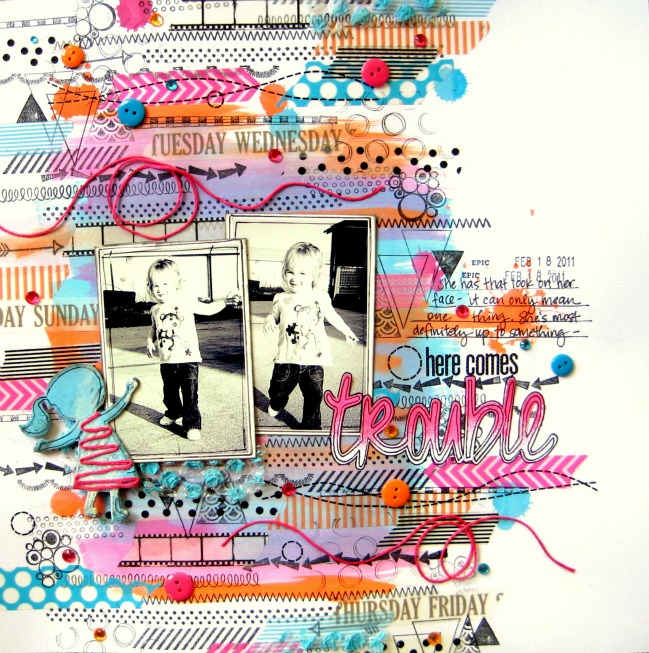 I hope this inspires you to set aside your patterned paper for a minute and try creating something from scratch. It's a great way to use up some of your older stash, and it's actually a fast type of layout once you have all of your goodies ready to go. Plus, it's fun to get messy!
| | |
| --- | --- |
| Missy Whidden lives with her family in a small town in Florida. She and her husband both grew up there and went to high school together. They began dating in college in 1994 and got married in 2000. They have two beautiful daughters, Reese and Paige. She is a former high school English teacher turned fitness instructor. She loves all things crafty, reading and working out. She fell in love with scrapbooking in 2006 when her mother-in-law asked her to help her create a baby book for her son. She was instantly hooked and has been a scrapbooking fan ever since. She has been on several design teams and kit clubs. She currently serves on teams at My Scraps and More , My Creative Scrapbook , Challenge Me Happy and Love My Tapes . She loves inspiring others to create, and believes that being creative is a wonderful form of therapy. | |

Read more about:
18 June 2013

Next post: Five Fun Ways to Stitch on your Layout by Marie-Pierre Capistran
Previous post: Sketch to Scrapbook Page :: A Corner Gathering