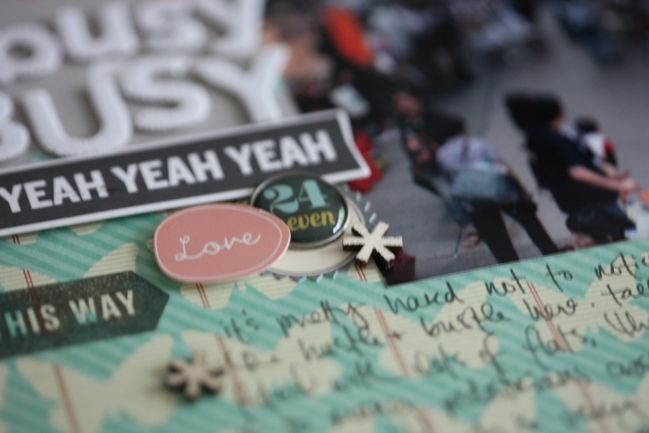 Trying another travel page, and this time with a location I may have a better chance of spelling correctly. One can hope. (I've fixed the Rotorua layout and issued an apology to all of New Zealand on Twitter and Facebook, if it helps. I need to take a new picture and edit the post. Darned spelling upside down!)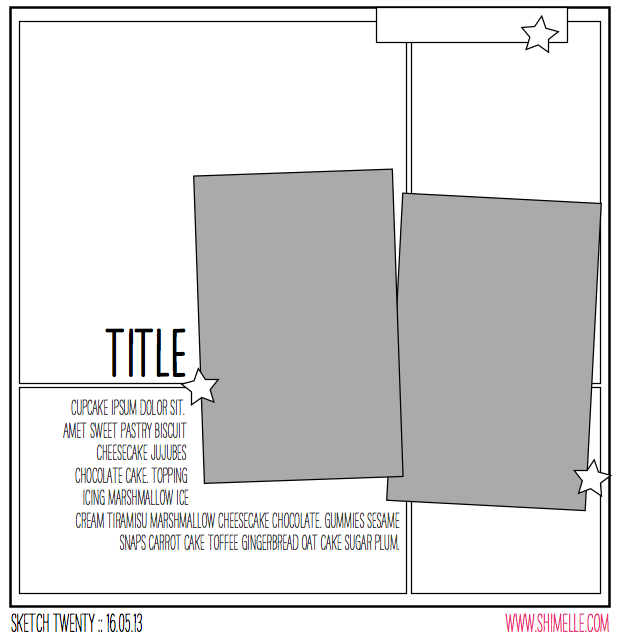 This sketch is a twist on quadrant design: instead of dividing the page into four equal quadrants, it's divided into four boxes that are different sizes, with the join of the papers covered by two portrait photographs. I used standard 4×6 prints.

The supplies are all from my May product picks with the exception of the Simple Stories brads I added right at the end to finish the embellishment, and a sheet of white cardstock for the background.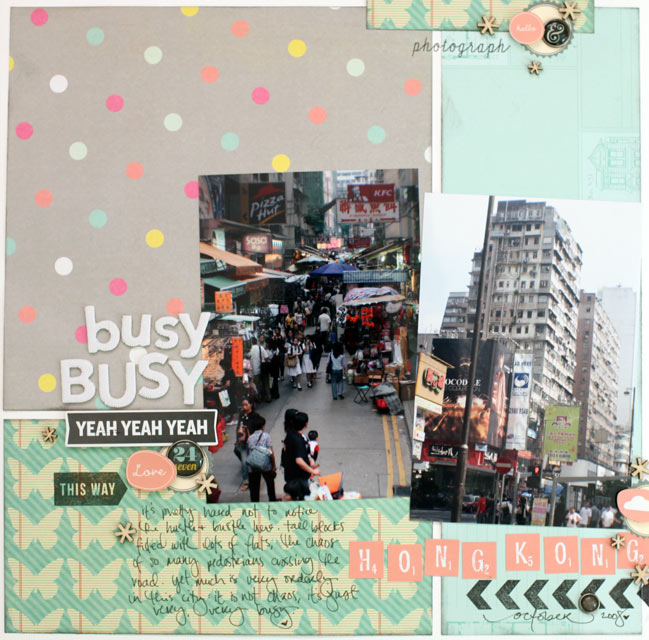 I'm hoping some of you will try this sketch with a similar look but adding mats to the photos. I like pictures both matted and unmatted, but I am in such a habit of two portrait photos side by side sharing one photo mat that I felt I needed to change it up a bit, so that's what I added to the sketch and this layout. The photos are from 2008, on a short stay in Hong Kong. (It's not from the backpacking trip so no need for the kraft cardstock in the background. The album for this trip started well before I thought of such simple ideas as having a colour in common throughout the entire book!)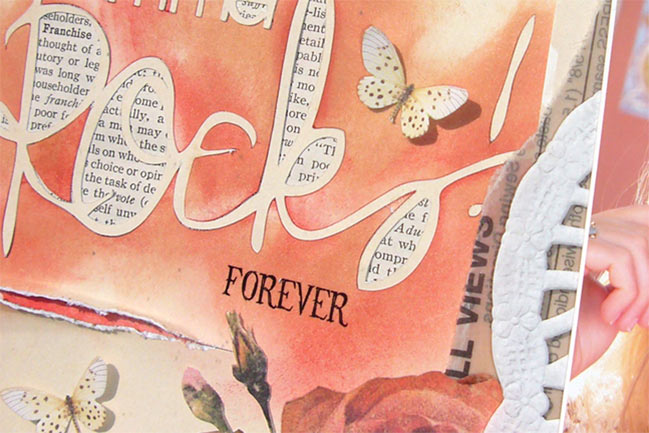 Today I'm delighted to welcome UK Scrapper Sam Ball to share her interpretation of the sketch. And don't you know that in the video I say you could use this design with two, three, or four patterned papers in the background… and Sam made it work beautifully with one! The thought never even entered my mind. Now you know why I invite guests!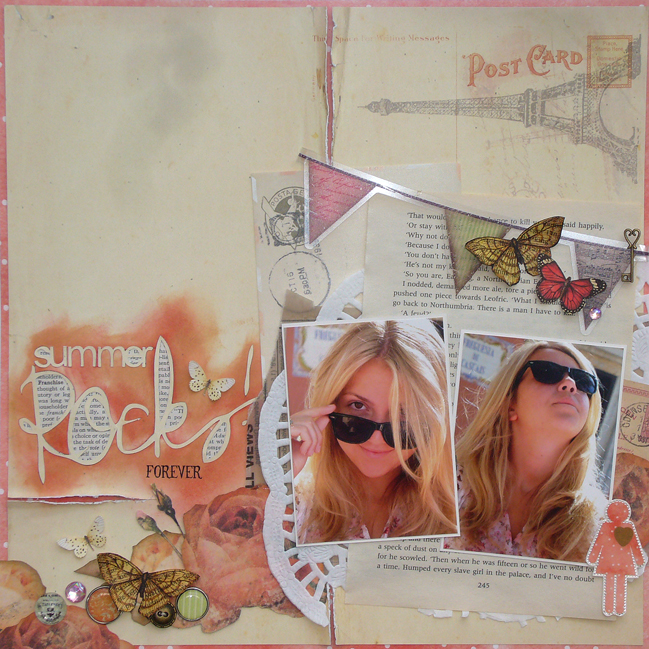 Staying fairly true to the sketch, I was keen to repeat the grid background element. But as a scrapper whose style is more eclectic than graphic, I distressed cut lines to reveal slithers of the dotty paper from Glitz, along with other papers and embellishments from Prima, Websters and My Mind's Eye.
Guilty of always leaving the title until last, I've recently invested in a Silhouette Cameo. Now my title is committed to from the start and the layout evolves around it rather than me finishing a layout and wondering where best to site it!
The photos, taken last year on holiday are of my middle stepdaughter as we enjoyed one of the last days of our Mediterranean cruise.



Having tried her hand at many other crafty hobbies, including stained glass, pottery and needlecraft, Sam Ball discovered scrapbooking in 2007 and has never looked back! "Nothing has gripped me as much as scrapbooking has" says Sam "and over the years I've made many, many friends, who like me share this passion for paper." Her style could be described as arty eclectic and Sam loves nothing more than taking a piece of paper and cutting out the intricate elements to layer in pages.
Over the years she has had her work published by magazines in the UK and has been a DT member of both the successful scrapbooking kit company ScrapaGoGo, the Pencillines sketch team and Scrapbook Inspirations. She currently teaches at the popular GoGoGetaway.
For more of Sam's work, be sure to check out her blog.




Read more about: best-of-both-worlds-kit sketch-of-the-week
15 June 2013

Next post: Sketch to Scrapbook Page :: Adding an angle
Previous post: Five Ways to Show off those Special Moments by Naomi Atkins