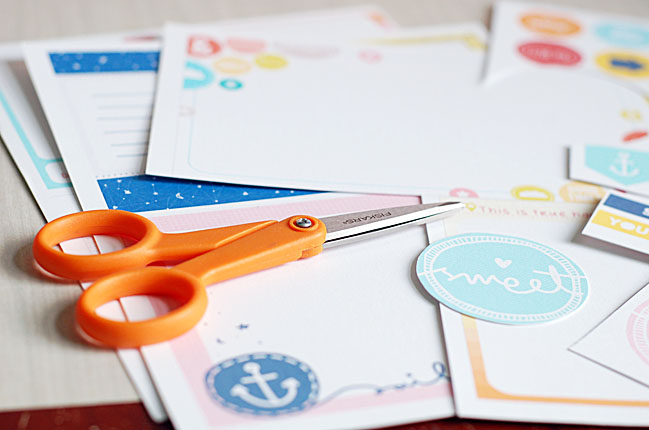 In 2009 I went to an accelerated photography school from June through October. When I say accelerated, I mean I had days where I went to class from 8am to 10pm. I was immersed in photography for 5 months, and it was AMAZING. During that time, I put scrapbooking on the back burner because I really had time to do nothing but go to school/shoot. When I finished and looked at all the humongous albums full of scrapbooking pages… I knew that I needed to find a different method for memory keeping. I realized I was never going to have room for these large albums if they continued multiplying. Not to mention, photography school completely changed my outlook on photos & how I wanted to share them with others.
I learned a lot about Photoshop while in school, so the idea of digital scrapbooking was exciting to me! But at the time, all the product available looked… well, digital. I wanted to be able to create pages that seemed like they could still be paper layouts. So, I put all scrapbooking aside for awhile, and focused just on card making. But then, manufacturers like Glitz Design, Echo Park & Pink Paislee started putting out digital kits that looked just like their physical products. Digital Scrapbooking companies started
creating products that looked 'real'… far less digital than before. Some companies, like Studio Calico & Two Peas, started creating digital Printable files that can be used both digitally and physically. And not to
mention… those amazing cut files that can be used with your Silhouette can also be used as a clipping mask on digital layouts. I finally feel like I can create digital layouts in a style that I love, while keeping up with the same trends as paper scrapbookers.
What I want to share with you today is that digital product doesn't have to be used only in digital form. Like I said above, some companies are selling digital printables that are super easy to print on an 8.5 × 11 sheet of cardstock & cut out!!
Tip: When I purchase a new Printable file, I make sure I print it right away! That way I have it readily available when I sit down at my craft desk to "traditionally" create (ie: with paper).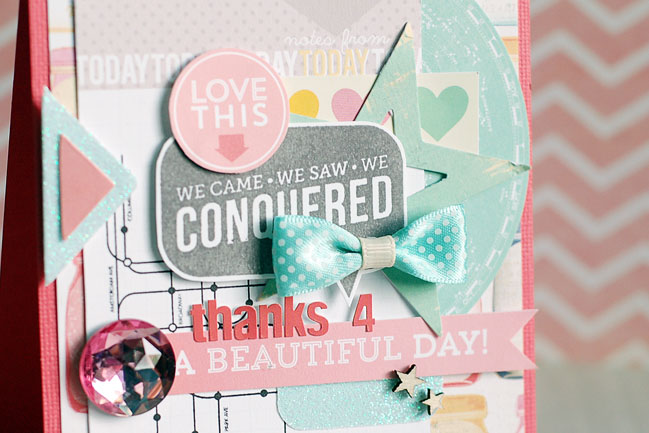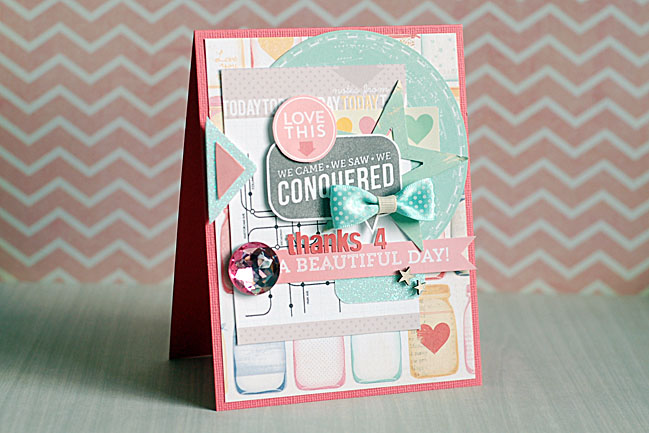 I created a card using a few elements from one of my Sundrifter Printable sheets by Studio Calico, and then just mixed them in with all the other paper product that I wanted to use. Just because I choose to keep my memories in digital format, doesn't mean that I still don't have a love affair with paper product! I just make sure to purchase in smaller quantities, like 6×6 paper pads & such, as I only create cards with physical product these days. Here is the card I created using traditional product & some digital Print files.
If you happen upon a digital kit of elements that you really love, but they don't come in a Printable file, like a PDF… never fear. Just create an 8.5 × 11 file in Photoshop with a white background, then copy & paste all the elements you want on to it. At this point you can print them out normally, just don't forget to turn your print quality to high. If you don't own Photoshop, you can even do this in Microsoft Word. Just add each of the elements into a document & then print it same as above! Very easy!
If you have had any of the same thoughts as I had about paper scrapbooking, and have been thinking about the possibility of digital scrapbooking… I just want to share with you how much my digital pages look like a traditional page. You can digitally do all the same things that are trendy right now in traditional scrapbooking like misting, distressing, adding texture, stitching…& the plus side- it's dry immediately.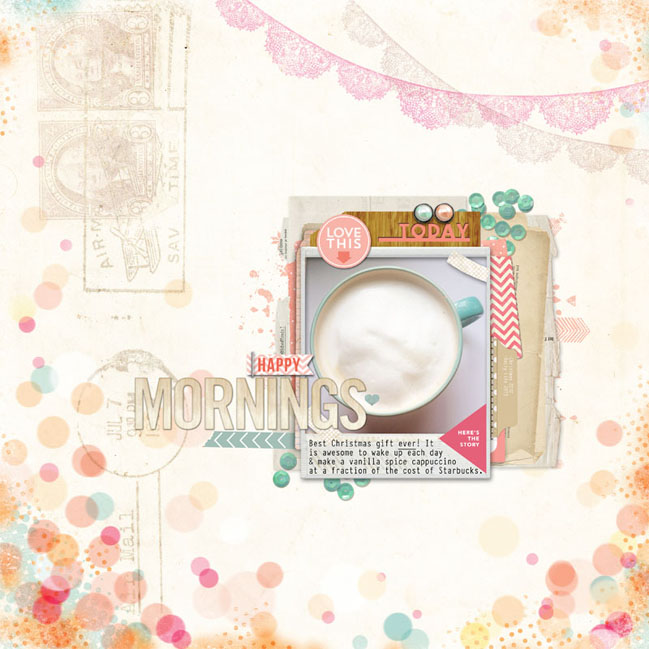 For this digital layout I used Glitz Design's 'Hello Friend' full digital kit, one of the same Studio Calico digital elements from my card above, & an element from one of Two Pea's digital Printable kits as well! And the woodgrain tag tucked into my photo cluster? It is a Studio Calico cut file that I turned into a clipping mask (which is essentially the same thing as using it as a cut file traditionally.)
I know that digital scrapbooking isn't for everyone, but I also wanted to make sure that as a paper scrapbooker… you weren't just passing over all the amazing digital product that companies are coming out with these days! They provide more amazing options for you to add to your current stash of product,
and the best part… you can keep them forever if you'd like!!
| | |
| --- | --- |
| Lea Lawson lives in Montana with her husband of 11 years & two dogs. She has been a part of the online paper crafting industry since 2004, although she started creating long before that. She has served on various manufacturer design teams, won various contests, and been published in numerous editions of paper magazines. Lea's photography business is quickly growing in an area saturated with photographers. Her main photography focus is weddings, but also loves to shoot fashion oriented senior images, and will throw her hat in on some families & babies if asked to. You can find her blogging several times per week, and on Instagram as well! | |

Read more about:
11 June 2013

Next post: Sketch to Scrapbook Page :: A design for photo booth strips
Previous post: Sketch to Scrapbook Page :: Adding a Sunburst to your page