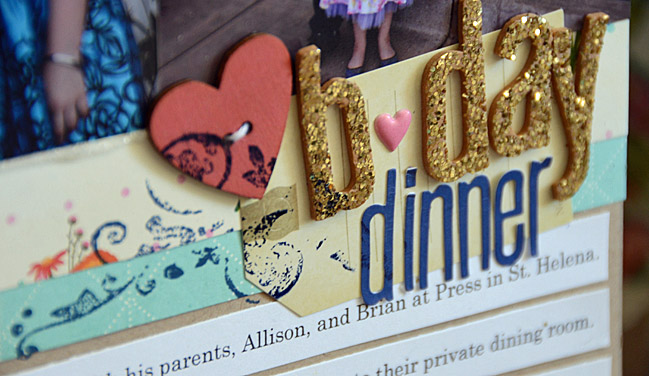 I am often asked about my creative process, about the how and why of the things I do, about where my wild ideas come from. The funny thing is, I actually have a very simple, very story-centric process when it all gets broken down. I took the opportunity to sit down and really look at, make notes, and think about my process and I found that I actually do have a very specific set of step that I follow. That might sound funny considering how I'm known as this no-rules and carefree scrapbooker but it is true.
The steps are really more of guidelines, and what you might notice is that I put embellishing dead last. My perspective is that the pretty stuff is there to support the story and the photos, and so it has to work with my story. Often as I get started on a project I will have a creative idea, and sometimes I alter the scope of my layout to allow for it if needed. Oh but I could really rattle on all day about this! Here is a layout I created just for this article: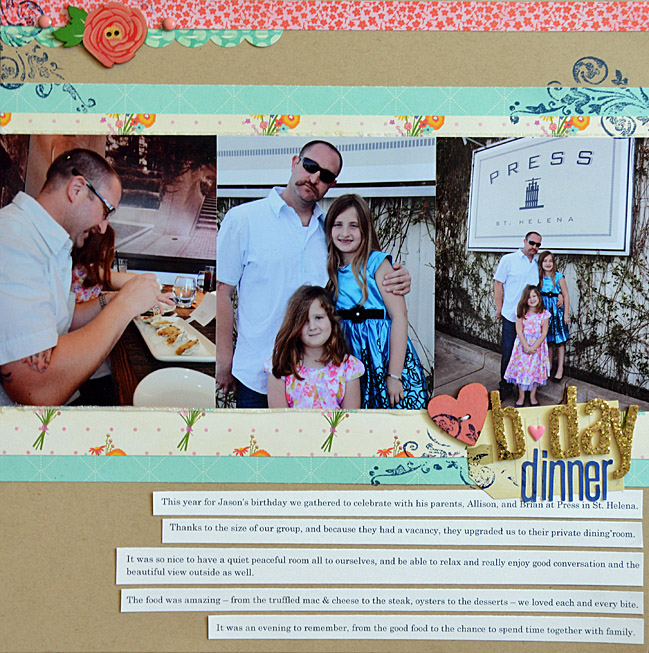 You probably wouldn't guess to look at it, but this is actually a two page layout (other page not shown). I broke down the creative process as I went along for this page, and I share a few creative thoughts as well in this video. Things got a bit long – more than twenty minutes – but that's normal here in Shimelle's world, right? I hope you enjoy – and if you have any questions please feel free to let me know I'd be happy to clarify further.
I encourage you to explore your own past and present scrapbooking, and make some notes on your process, strengths, and weaknesses too. Where are you happy? What are you doing well? Often noting those things can help you elevate areas you aren't as happy with or are struggling with. I wish you some very happy crafting – thanks for joining me today!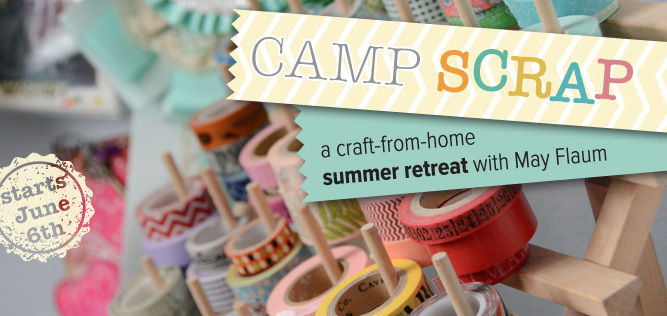 To celebrate May's upcoming online class, we have a class pass to give away. This giveaway is open to Twitter users, and to enter, just send this tweet:
Hey @glittershim, I want to spend my summer scrapbooking with @mayf! http://ow.ly/ldOB1
Copy and paste that tweet and post on your Twitter account - the link at the end comes back to this post to share May's tutorial. (Feel free to try it so you can see we're not sending you anywhere else!) May will select a winner next Monday, and class starts on the sixth of June!
A note about this Twitter giveaway: we realise not everyone has a Twitter account, but we just wanted to change it up a little to try something a little different to just leaving comments here. You're welcome to open an account, tweet just that message, and delete your account next week if you really want to enter but don't have a need for Twitter! No worries!
| | |
| --- | --- |
| When it comes to crafting May Flaum has one rule: it's gotta make her happy. She's not afraid to get super grungy or work with bright colors, dabble in lace and doilies then make something more splattered and wild. If she's not in her studio (aka 'the bat cave') then she's probably out running around having fun with her family or cooking up a storm. May has been working in the scrapbooking industry for a decade and currently blogs her crafty adventures, teaches on-line classes, and works with amazing companies sharing her projects and ideas. If she has one piece of advice to share, it's always to be true to your creative heart. May is currently finishing details on her newest on-line scrapbooking class Camp Scrap – where you can come and play, create, and enjoy more than a dozen videos and over fifty new exclusive projects as well. For more information or to register for Camp Scrap visit Big Picture classes here. | |

Read more about:
21 May 2013

Next post: Gardeners' Digest scrapbooking blog hop (May 2013)
Previous post: Five Things to do with Wood Veneer by Wilna Furstenberg