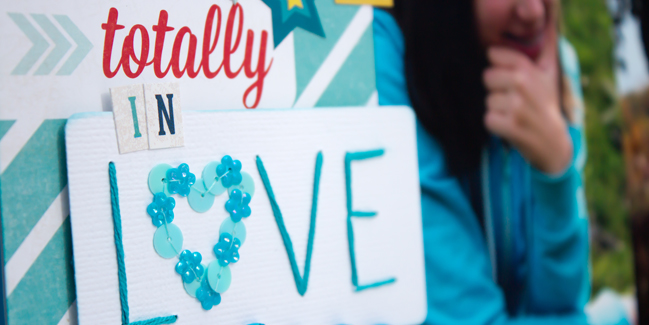 What do you associate with sequins? Fancy dresses? Glittery tops? Sparkly high-heels? Glamorous bags? Well, yes – all of the above. But there is more about sequins! For quite a while now already you can spot them on scrapbooking projects, on cards or home decorations. Scrapbooking manufactures follow the trend and produce the shiny, disk-shaped beads to match their products, kit clubs include little bags of these sparkly goodness and the local haberdashery stores run out of plain or multiple facets paillets.
And there are even more creative ways to use them on your projects and not just sticking them onto your paper as they are! Today I am going to share five layouts with you, all of them showing different ways to use sequins on your scrapbooking pages.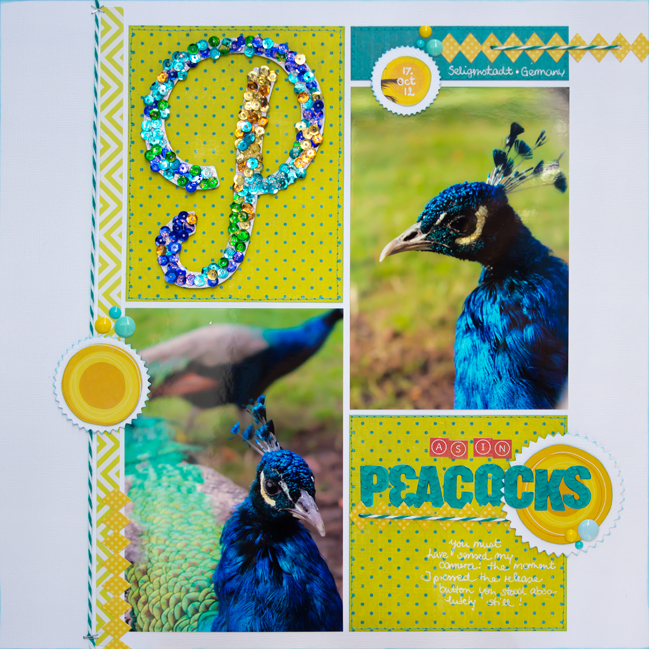 Stick them down with Glossy Accents:
The easiest way to stick down sequins is with Glossy Accents by Ranger: you need only a very tiny drop and it bonds the shiny circle to the paper. It even dries clear – what more do you want? For my Peacocks layout I cut out the letter P from plain white cardstock. Then I just took my bottle of Glossy Accents and covered a small part with it (the glue can dry very quickly!). And now the only thing you have to do is: get your fingertips into your bags of sequins and scatter them randomly over the prepared area on your element. After I finished the whole letter I went back to the edges and added some sequins here and there. On top of everything I used Crystal Stickles to make it look even more sparkly. But that is up to you if you want to use it. Make sure your sequins shape has dried completely before adding it to your project.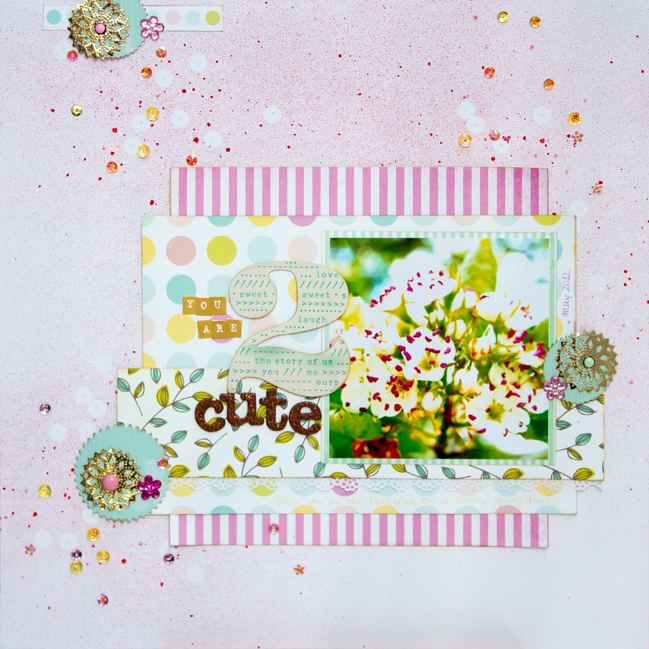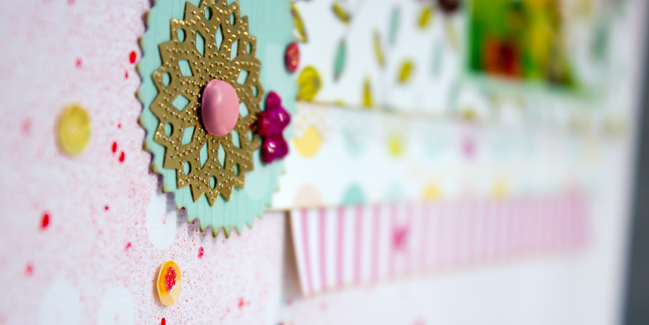 Use them as a mask with mists:
This is quite effective and might remind you of your childhood days when using leaves or other objects to project their shape onto paper with spraying paint around them. So, why not do the same with sequins? Lots of us have lovely colour spray bottles at home! I started with scattering some of my smooth sequins by Knorr Prandell onto my cardstock and carefully (you don't want to blow them off the page, right?) sprayed some Mister Huey's Color Mist over it. Make sure you stay about 10 to 15 inches above the paper and just let the mist 'fall' down. I also added some bigger sploshes with tipping onto the unscrewed nozzle. Now, leave the page until the paint is dry. Then carefully let the sequins slide off your page. The background is now ready to go for the rest of your layout!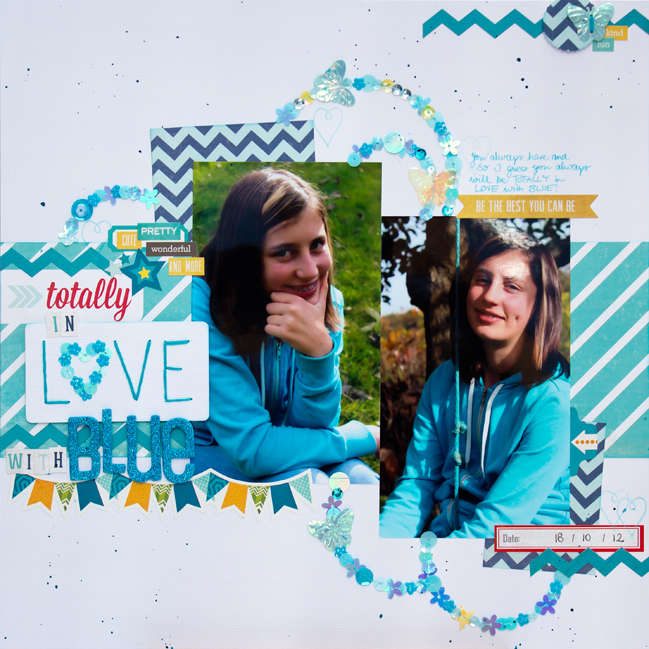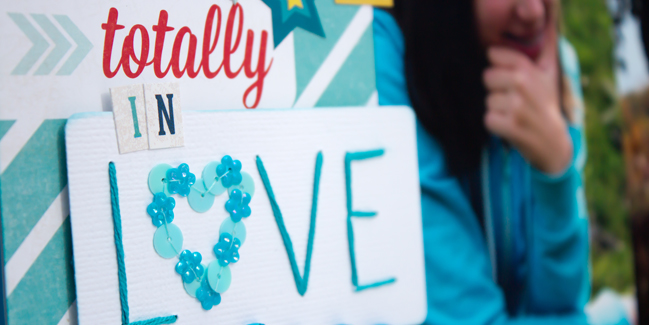 Sew them down with needle and thread:
You also can fix the sequins on your layout the 'old fashioned' way: by sewing! So grab your needle and a thin sewing thread and get started! It will be easier if you poke the holes through the paper first, though. I drew the heart and the circles with a pencil, poked the holes and rubbed out the lines afterwards. You either can sew on the sequins with a running stitch (this way, every second sequin will be sewed down in the first direction and the holes will be filled on your way back), or with a back stitch (where the sequins are directly sewn together in one go).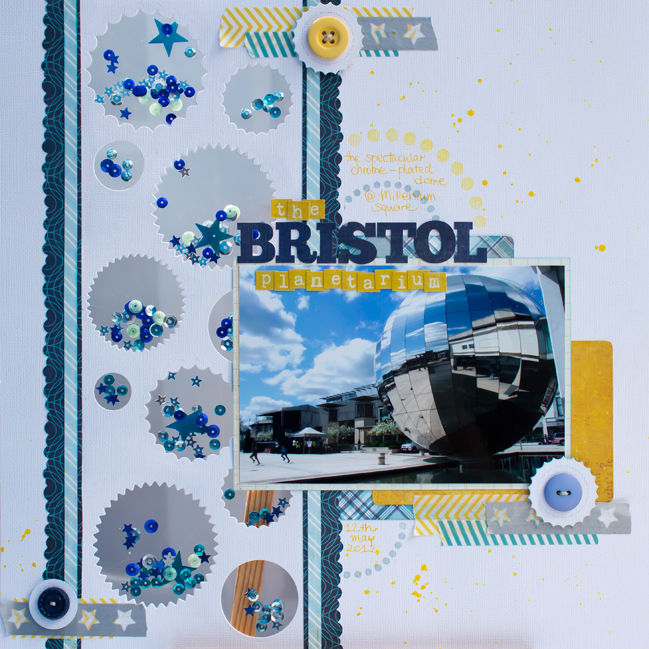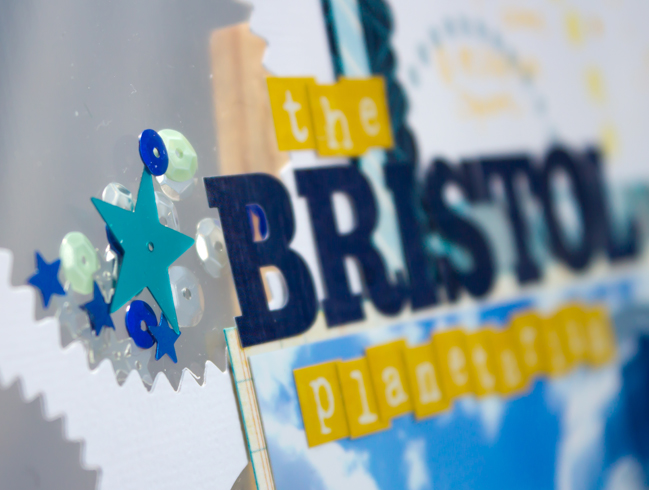 Put them in a pocket: This kind of using sequins is probably not entirely new to you. You might have seen it on Project Life pages (where they used divided page protectors with small pockets); or so-called 'shaker cards' with a clear window to the front and some space where the sequins can mix together. My version is similar – but also different! As I do not have an electronic die cutting machine I had to come up with a creative solution for my idea: The trick was to cut the 12×12 paper at 1 1/2 inches and at 7 inches, so what had left was a 3 1/2 inches wide and 12 inches long strip of cardstock, which now perfectly would run through my Big Shot! I then cut various sizes and shapes of circles. On the back of this strip I used some double sided tape to adhere a cut-to-size page protector. And finally – the filling! I sprinkled the sequins randomly between the sheets and used more double sided tape around the circles to fix them to their window. When this was done I taped the to strips, I cut off the 12×12 page in the first place, back on, coverd the cuts with some nice borders and no one can see I cheated a bit. Let's keep it a secret between you and me, ok?!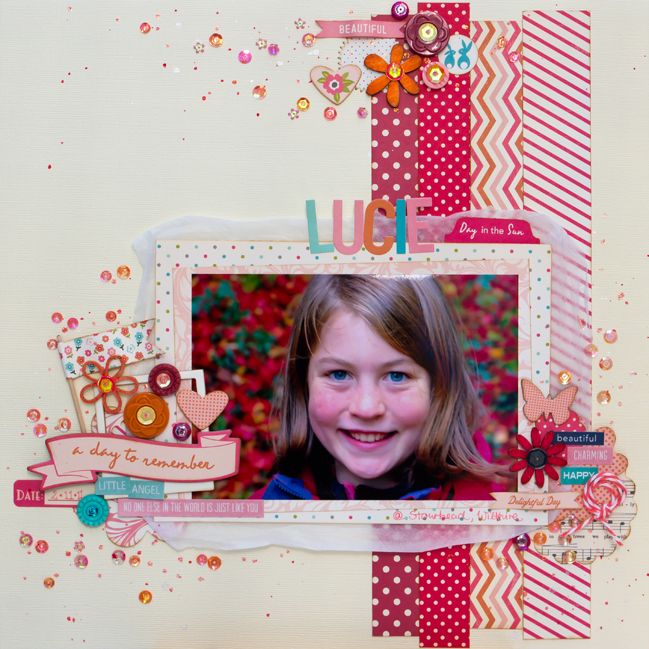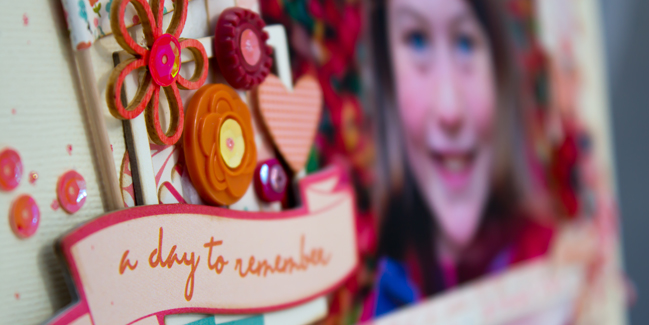 Pimp up your embellishments: Are you an embellishment horder like me? I have a few drawers full of wood veneers, buttons, brads, die cuts, clips… they all look pretty on their own, but why not pimp them up a bit to fit your project even better? I wanted more sparkling on my niece's layout so I took some wood veneer flowers and buttons, and glued down some sequins (again, with Glossy Accents). Brads are also a good choice for the facette sequins, because of their shape: they fit perfectly on the brad's head!
And now: hands on! Get your sequins out of their bags and onto your projects! They are really fun to use and I bet you come up with even more ideas on how to include them on your scrapbooking layouts, cards or other projects!



Daphne Wünn-Rihm (aka dapfnie) is a German girl living a laid-back, rural village life in Dorset. After she moved to England in 2010 with her husband and two silly cats, she was busy unpacking countless boxes and organising her new craft room. Having made cards and mini books before, she was not entirly new to the paper crafting business. Shimelle's online class "Something from almost nothing" was the turning point in her life, and since then she cannot let go of pretty paper and scissors anymore!
She now captures moments of her daily life with husband and cats, the picturesque countryside of their county and documents her efforts walking the South West Coast Path.
Daphne has been published in Scrap365 and other papercrafting magazines from England and Germany. She currently is happily designing for Scrapbook Werkstatt, a German scrapbooking shop. And she is never shy of a good challenge over at The Studio Challenges, where she contributes to scrapbooking adventures bi-monthly.
You can find out more about Daphne on her blog dapfnie.design , on Pinterest , Instagram and on Twitter .




Read more about:
10 May 2013

Next post: NSD 2013 :: How I Used My NSD Sale Scrapbooking Kit
Previous post: Scrapbooking the milestones of life