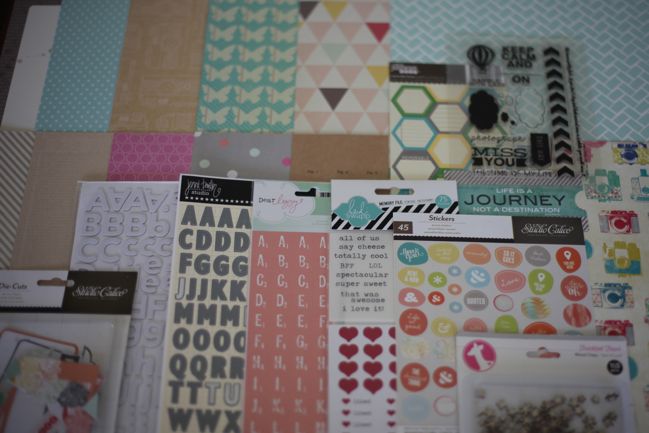 And just like that, it is May already! I'm finishing up my projects with my April kit, and ready to dive into a new set of goodies for the month ahead. You're welcome to join me, and customise the kit to suit you!
Click here to shop the May 2013 Best of Both Worlds scrapbooking kit!
This month the colour scheme has a few bright and obvious colours – plenty of turquoise, pink, and yellow that mix and match well together – but also two specific neutrals in the mix. I'm looking forward to sharing a few notes on why I love kraft and grey as neutral colours for projects that can still have plenty of energetic colour too.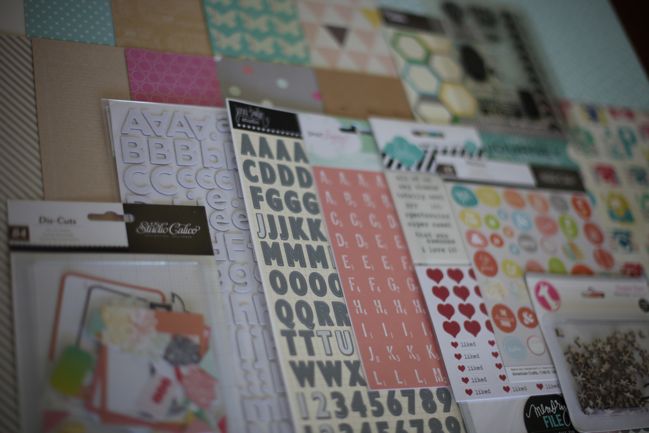 As always, there is total freedom to pick and choose what you would like from the kit or substitute different items – from the store or your existing collection of supplies – but I have a few suggestions to make sense of the list. First, I can't believe I'm saying this, but… the Thickers are optional. (Okay, everything is optional, obviously! But still.) I started with the pink and grey combination of smaller and larger letter stickers, but they are both flat. For a long time I thought maybe I could do a whole month without Thickers. And then I realised I have these mistable Thickers that I need to use! I think I tend to push them to the side because it's quicker and easier to go to a colour that matches, but if you already have a few mists (and I may have more than a few!) then really these Thickers can be any colour. So… I wondered if anyone else out there was in the same boat – either already having the Thickers and needing a push to use them, or having plenty of mists that could do with another use! If either of those describe you, then consider the Thickers! If that doesn't sound up your street at all, give it a miss.
There are a few different options for the Instaframes from Heidi Swapp. I actually prefer the brightly coloured set, but I have the more neutral set here. They are used exactly the same way, so you can pick! There is also a new patterned set and a mini-sized set if you tend to use smaller photos.
This month I've picked one set of clear stamps, this set, which is currently 50% off. If you don't stamp, then that's something to leave out straight away. But if you really love stamps, this set was my second choice, and it's also on sale at the moment.
There is a cut-apart sheet this month – it's a white print on kraft cardstock from Amy Tangerine. The cut-apart boxes are 4×6, great for journaling, and there's an all-over print on the back too, also in white ink. So it's subtle and not really obvious on the screen, but lovely and delicate in person.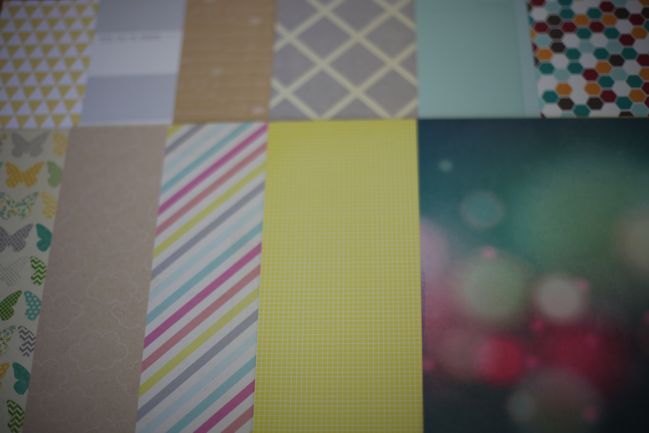 A look at the b-sides of the patterned papers.
I know in the last two months especially, there has been some frustration when items sell out quickly. I've been working with Two Peas over the past month to come up with some solutions and those will go into action for next month's June kit. That's happy news, I hope! It is to me, anyway!
Of course, this Saturday is a rather special day in the scrapbooking world – it's NSD! Or ISD, I suppose? National or International Scrapbooking Day. A day just for scrapbooking – hurrah. There is quite a lot set to go on right here, and one of those elements includes a special project I've put together just from items on sale. It may be that you have plenty of those items already in your stash, or it might be a great chance to treat yourself to some bargains. I'll be sharing that list a little later today, so I just wanted to give you that little bit of info in case you would want to look at both lists before finalising your order. That shopping list is now available here. I don't want to give the whole idea away, but every single thing on that list is currently in the sale section, and I'll be seeing just how far I can stretch that purchase of about $25 while staying true to my own style. The rest you'll have to wait for Saturday to see!
Thanks so much for all your support, and not to worry if you still have supplies left from your April kit – I have more finished pages to share with you, including ideas for those chipboard pieces we haven't discussed yet!
Click here to shop the May 2013 Best of Both Worlds scrapbooking kit!

Read more about: best-of-both-worlds-kit
01 May 2013

Next post: 5 Ways to Finish Raw Chipboard by Michelle Hernandez
Previous post: Simple Sunburst:: A Scrapbook Tutorial by Michelle Deleon