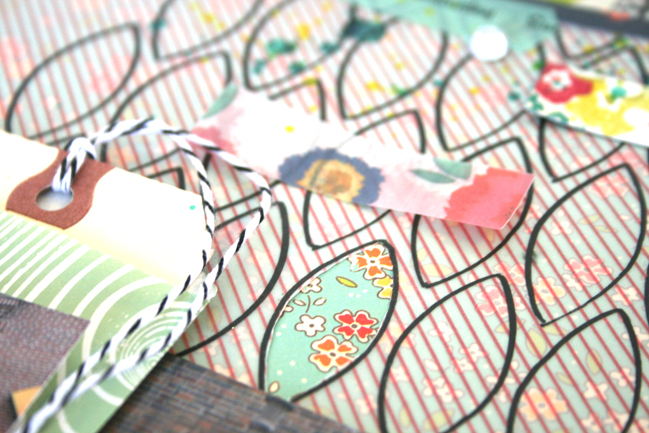 Ahh, the pen. A simple tool with endless possibilities. I just love that with one simple stroke, an outline here, or a doodle there… a project can be completely transformed! Oh yes, and personalized too. There is something so unique about your own mark. It can't be replicated or duplicated. It is yours and yours alone. What a great way to add something extra to your memory keeping! One of the best things about incorporating pens into your crafting is how familiar they already are. Chances are that if you have scrapbooked or made cards, you have used pens to write your date, journal your story, or compose a heartfelt sentiment. Today, I am going to share with you five ways, other than the tried and true journaling, to incorporate pen work into your scrapbooking. Here we go!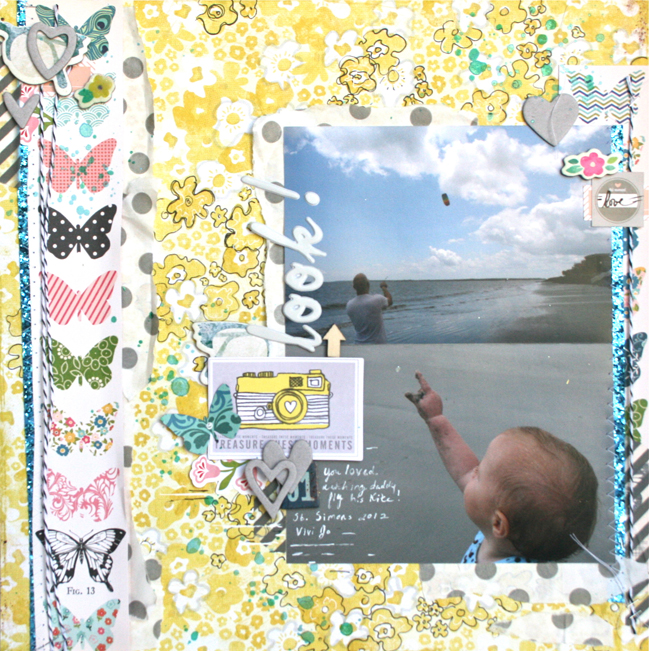 Enhance an already existing pattern
In addition to my beloved pens, another one of my must-have scrapbooking supplies is patterned paper. Most of my layouts start with a patterned base. A fun and simple way to personalize a gorgeous pattern, is to simply outline various parts. For the layout above, I used a fine tip black pen to loosely outline various flowers within the yellow background paper. I love the handmade look and playful texture this lends to the layout! You can find a few more examples of this here , here , and here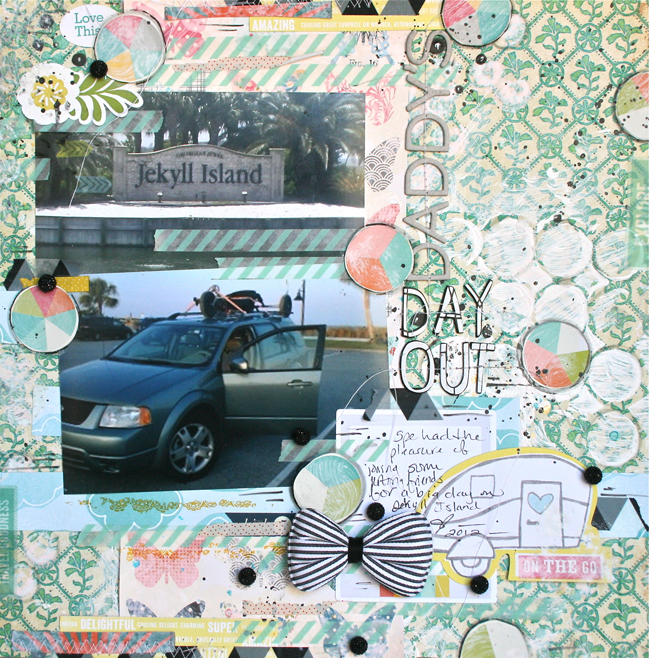 Add a Subtle Shadow to Make an Element Pop
Sometimes an area of embellishment could use a little more emphasis. But, perhaps you don't want to add too much else to your layout? A little bit of gray shading might be just the thing! In this layout, I had lots of fun with stencils and white paint. Oh yeah – and pie charts too! When I had all of my elements in place, I felt like the pie charts and some of my stenciled circles needed something a little extra…
To add the subtle gray outline, I just drew around the elements I wanted to enhance with the larger tip on my Platinum Zig Pen. I went around a couple of extra times in certain spots for a darker gray. This is so easy to customize and is virtually fool proof! In fact I use this technique almost every time I use paint. A simply gray outline really does make it pop! You can take a look at some examples of that here and here .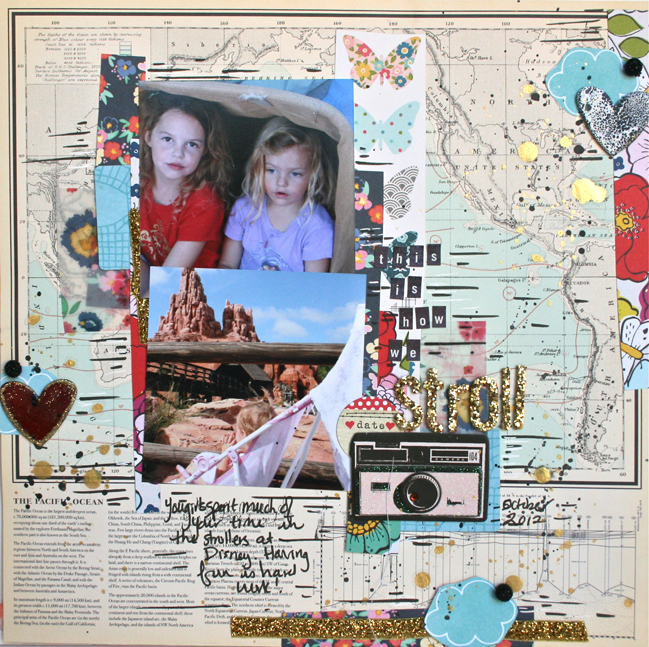 Fill in that "White" Space
If you are familiar with my style, you have certainly seen this before! I use this technique on almost everything I make . I suppose it is a bit of a signature for me. But, I will let you in on a little secret… it's because I am lazy! Yep, that's right. Every scrapper knows about that dreaded "white" space. Those awkward areas in a layout that leave you rummaging through your stash to find the perfect little bit to fill it. Well, I just grab my pens and go to town making lines all throughout those spaces! Not only does this solve that "white" space dilemma, but it also adds some lovely visual interest and can help lead the eye throughout the page.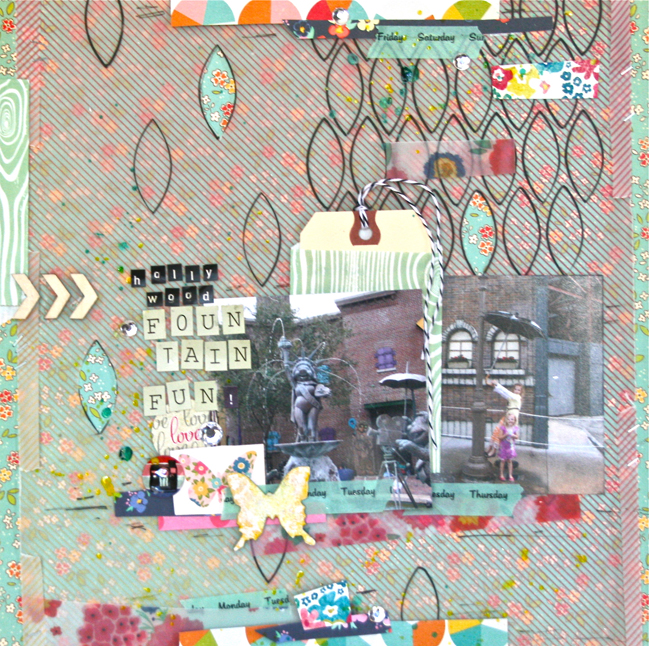 Use Your Stencils in a New Way
Instead of using mist, paint, or paste in your stencils, try outlining the shapes with your pens. On this layout I have used a Balzer Designs stencil to trace on a pattern. For added interest, I cut out some of the shapes to let the background peek through. Another fun and favorite combination to try is white on Kraft.
The combinations and possibilites with this technique are endless!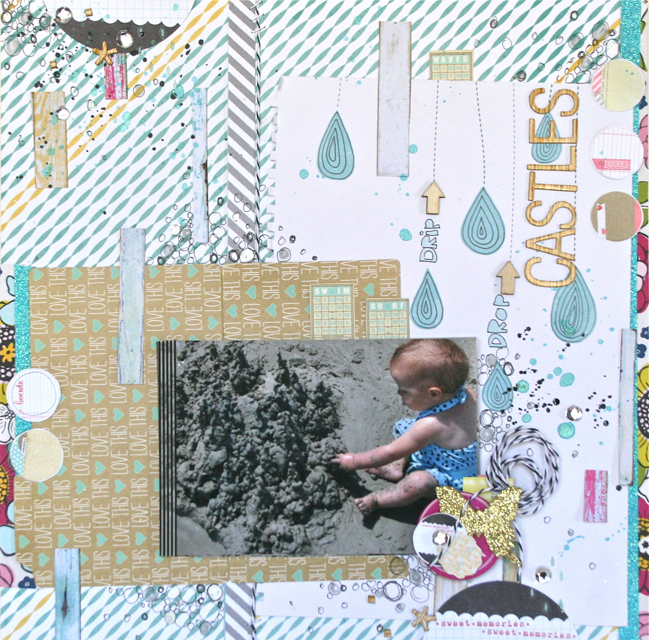 Doodling
Yep, good ole' fashioned doodling! This could be as simple as the kind of doodling you do while on the phone to a more elaborate, art-journal style of pen work. I usually opt for the former, creating lots of circle clusters, squigly lines, or random shapes. My favorite way to add this into a layout, and the one I find to be most successful is to start my cluster of doodles near an already existing area of embellishment. In the layout below, I also incorporated an already doodled SMASH page. This allowed me to add to this look and easily create cohesion with the rest of my page. For a few more examples of doodling on layouts, take a look here , here , and here
Hooray for the mighty pen! I hope this has given you many fun and easy ideas for getting the most out of your pens. Any pen will do, but my go-to stand bys are: Faber Castell Pitt Pens in all sizes, Copic Multiliner 1.0, Signo Uni-ball White, and Zig Platinum. So, on your next layout, I encourage you to pick one of the above techniques and play with your pens. You might be surprised how fun it is and what a personalized look it will give to your scrapbook page!


Ashli Oliver (aka soapHOUSEmama) is a recovering graphic designer, a homeschooling mother, wife, daughter, coffee addict, knitter and gardener with an extreme passion for mixed media paper crafting and memory keeping. Ashli finds great joy in both the creative process and the final piece. Most of her craft time is found in the wee hours of the evening when all of her kiddos are in dream land. Although, Ashli never misses an opportunity to grab a snippet of time during the day to shuffle some paper around.

Ashli has been an artist her entire life. She followed her dreams and attended art college. While Ashli mostly wanted to play with paint and glue, she chose a more sensible major of Digital Multi-Media and Photography. After working in that industry on and off, Ashli put her computer and brushes aside to start her family. Never in a million years did she think that scrapbooking and the paper craft industry would re-awaken her inner artist that she had put away so many years ago. Thanks to a good friend who showed her the ropes just a little more than a year ago, Ashli has jumped into a pile of pretty paper and is never looking back!

When Ashli is not blogging, you can also find her on Pinterest , Instagram , and Twitter





Read more about:
26 April 2013

Next post: Simple Sunburst:: A Scrapbook Tutorial by Michelle Deleon
Previous post: Working with Watercolour:: A Scrapbook Tutorial by Lilith Eeckels