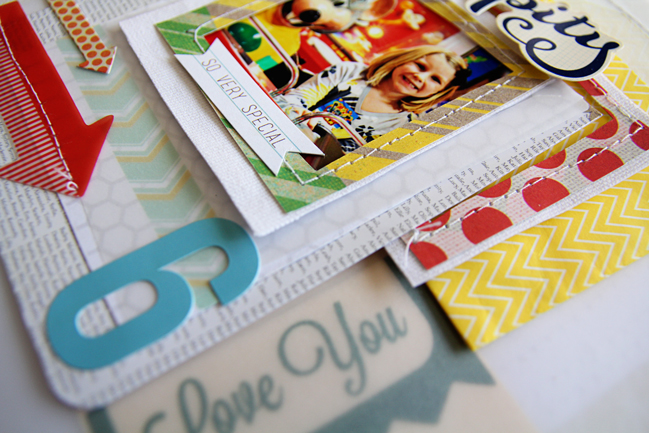 Three is the magic number, right? And that's why I wanted to share this tutorial from Mandy Koeppen with you today – to present a third look at this entire idea of Polaroid-inspired frames. (Then we'll move on to something else, I promise – and there is something else coming right up later today.) Not only do I like the different look Mandy created with her perspective on something that both Kirsty and I have had on the brain – I also like this deeper idea of just how infinitely you can take one idea and pull it apart and put it back together again to make all sorts of different things for your scrapbook pages. There's a little deep thought for your morning!
I don't consider myself a real 'techniquey' scrapbooker because usually techniques involve time and mess. Don't get me wrong: I love the crazy, cool, messy look, but it's just not my style and I'm a bit impatient. When I create, I need that instant gratification., I can't wait overnight for mist or paint to dry, so I look for other fast creative ways to incorporate fun new things on my projects. That's where my love for frames has come in. I love frames in all shapes and sizes. I hunt my local vintage shops for cool frames for home décor, I scribble little frames in my journals, and lately I've been using frames a lot on my scrapbook layouts.
Today I'm going to share a fun, simple, and fast way to create your own one of a kind embellished frames that will give your paper projects a unique look.
To create theses frames you will need:
Adhesive backed canvas, a craft knife, patterned paper, small embellishments like stickers and brads, sewing machine, adhesive, and your scissors.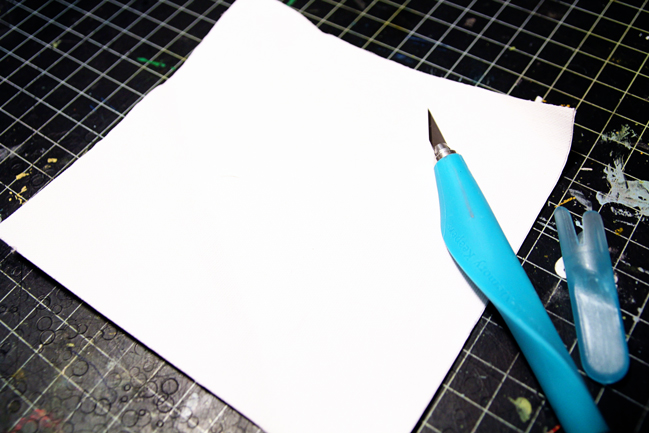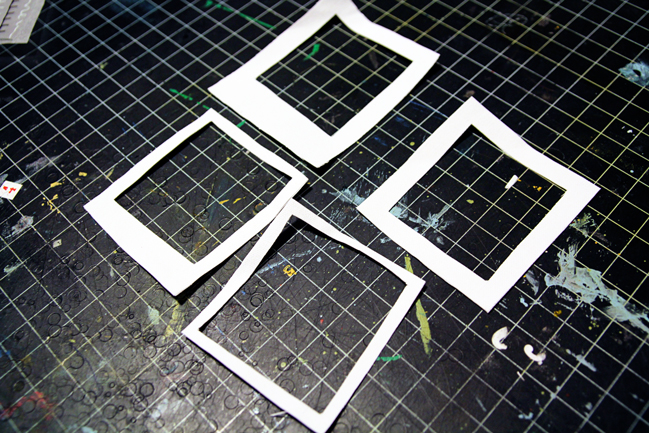 Using a craft knife or sharp pair of scissors cut frames out of adhesive backed canvas. Also if you don't have canvas you can use vellum, pattern paper, stiff fabric etc. I cut the frames freehand but you can use a template or ruler. I love the wonky style frames I get without lining and measuring.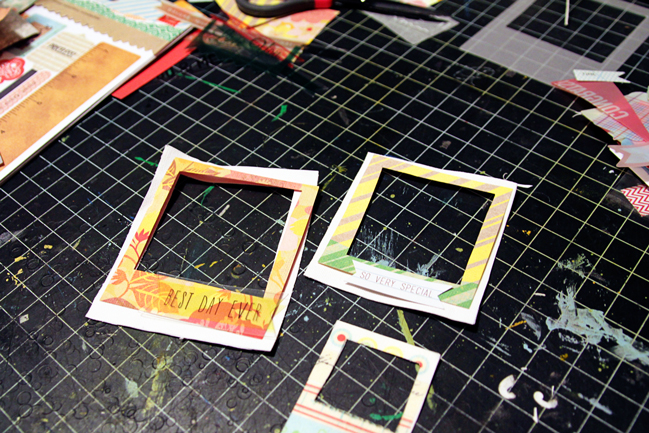 Using your knife or scissors, cut frames from patterned paper. Then layer the paper frames onto the canvas frames. This is another good way to use up your scraps from other projects. Again I cut the pattern paper freehand because I like the fun look it gives the frame, but you can use your ruler or template here too.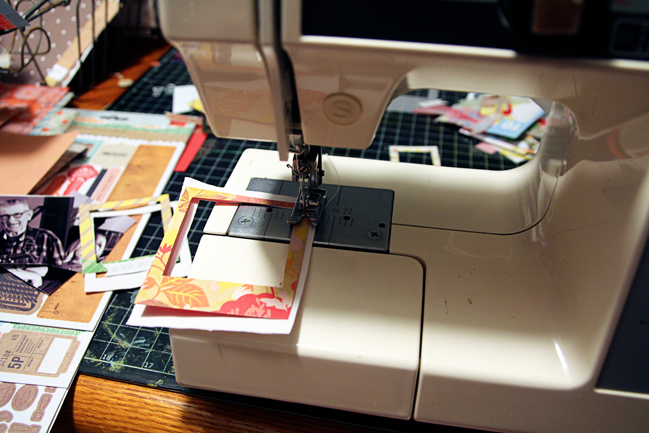 Stitch the patterned paper to the canvas frames using a sewing machine. You can always adhere the layers of your frames with adhesive if you don't want to use a sewing machine.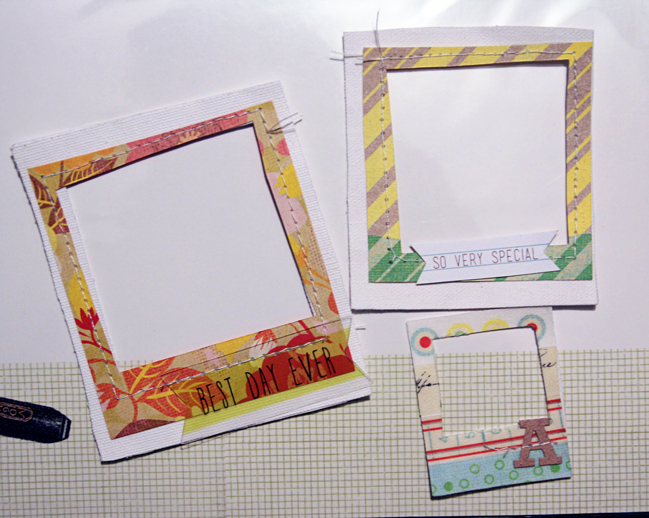 Embellish your frames. I used stickers and transparency sayings on my frames. You could also use brads, stamps, banners, border stickers, labels, alpha stickers, chipboard – whatever you have on hand really.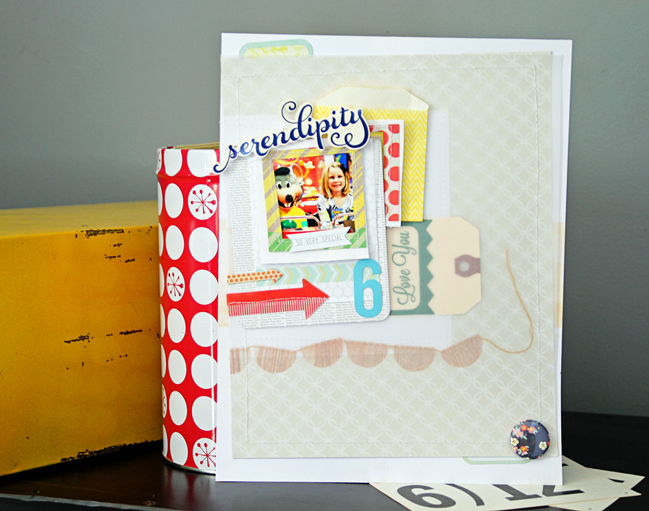 Use your embellished frames on your paper projects. Here I have used two of the frames on this layout.
Your frames don't have to be perfect! Have fun creating them and remember a little wonkiness gives your project a fun look. Frames aren't just for framing photos. You can layer your canvas frames with vellum and paper like I did on the layout in this post or you could use the frames for journaling, and much more. So, give it a go and try creating your own frames next time you scrapbook!
With three posts all about paper frames in one way or another, we wonder if this condition is a bit contagious. If you have evidence to prove a frame outbreak in the scrapping world, do be sure to leave a link so we can see your version!
| | |
| --- | --- |
| Mandy Koeppen is a 30 something mom of 3 who juggles many job titles in her everyday life from chauffeuring family accountant to zoo-keeping therapist. She lives a small town, country girl life in Michigan with her Mr. K, raising their three children Teagan, Mavrick, and Avery. When she has time, Mandy loves to get creative with paper, browse her local antique shops, raise autism awareness for sweet Mav, and have fun with family & friends. Mandy's work has been published in Creating Keepsakes, Scrapbook Trends, Scrapbooks Etc, and Somerset Memories. Mandy currently designs for Cocoa Daisy Kits. To see more of Mandy's work or to get to know her better you can visit her blog or follow her on Twitter or Instagram. | |

Read more about:
12 March 2013

Next post: Sketch to Scrapbook Page :: Making a Banner with Photos
Previous post: Using a Polaroid frame stamp on a scrapbook page