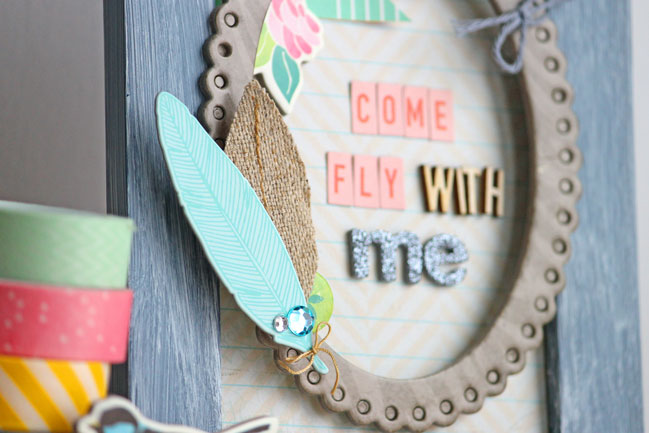 Here's one of the three ways you'll see guests bloggers sharing their ideas here throughout 2013: with five ideas posts! Each five ideas guest has chosen a product, technique, or idea she would like to share with you across a variety of looks. I hope you find them inspirational! Today I'm pleased to welcome Angie Gutshall, who has falled head over heels for the paper feather embellishments in American Crafts' Dear Lizzy Fifth & Frolic collection.
Happy New Year! Did you notice in the scrapbooking industry there are always new trends popping up each year? Well, I usually love them and start to use them like everyone else. This new trend of feathers has me pretty excited! I think this is going to be fun new trend that will carry over to 2013!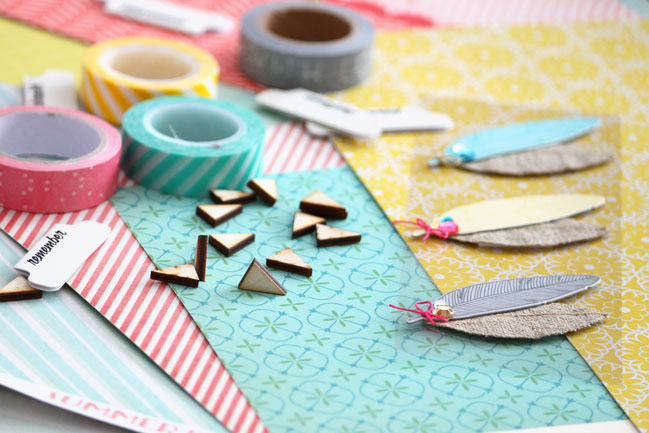 I picked these American Crafts Leaf & Feather combo to show you five different ideas of fun ways to use them. Like I said before I love trends and this is honestly one of my new favorite trends out there.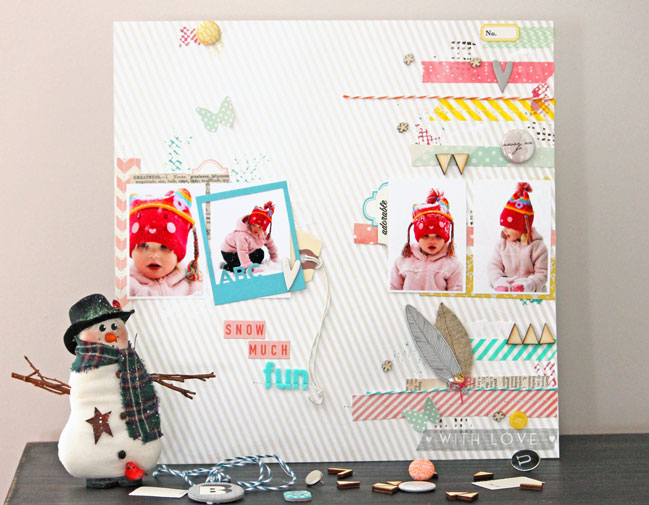 For this layout I started by adding some gesso and chalk ink with a mask. Then I used lots of washi tape and stripes of paper. Then came all the fun little embellishments I added to the stripes of color. I love how the AC feathers just add a fun pop to the layout and since all the little rhinestones are already attached it's a perfect little fit.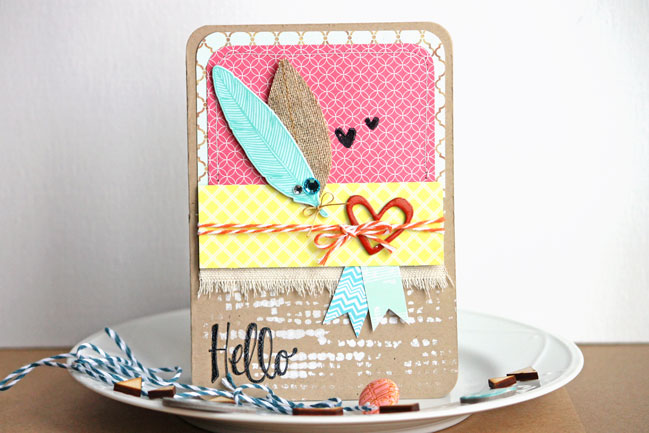 This card was a work in progress. I had to walk away a couple of times because it just needed something and I couldn't figure out what. Then I realized I need to add another piece behind the pink and also added some gesso with a mask. I then stamped the 'hello' and hearts and embossed them to make the black bolder. I then added my cute AC Leaf & Feather detail. Lastly, I sewed around the top.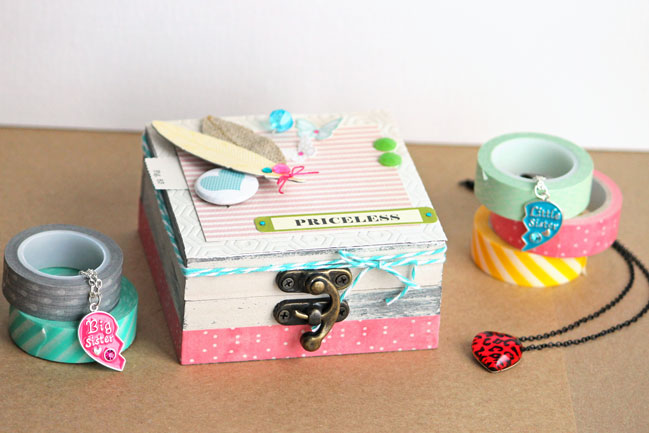 My daughter got some jewelry for Christmas and I wanted to get her a nice little box to put them. I bought this box for a dollar and didn't like the top design, so being crafty I figured I could 'doctor' it up. I took some twine and washi tape and wrapped around the bottom. I then took a piece of paper by My Mind's Eye to cover the top. I loved the cute little Jillibean Soup sticker and thought it was very fitting for jewelry. I then decorated it with the AC feather, a flair, and some butterflies.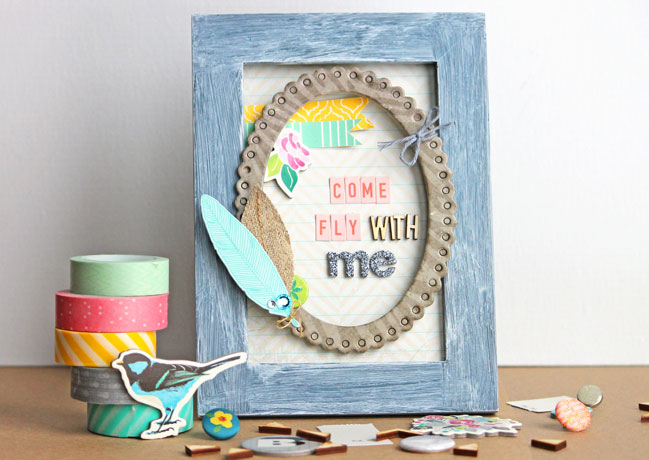 To dress up a dresser, I started with a blue frame and painted it with some gesso to give it an antique look. I liked the oval Crate Paper chipboard but it wouldn't fit behind the frame so I put it on top and love the result. I then added the papers and title behind the frame. I used the American Crafts feather to accent the oval frame. I love how it turned out.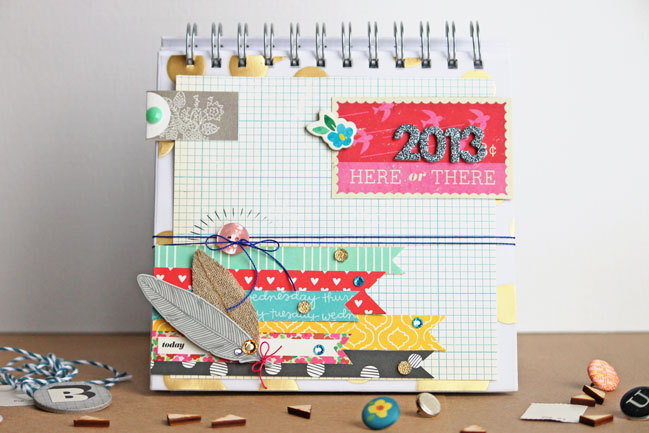 I had this little binder that I planned to create a desk calendar out of so I went to work decorating it with some fresh new papers. I started by placing some Crate Paper vellum and then added some paper pennants on the side. I then used the AC feather combo to layer over the little pennant stripes.
I hope I have inspired you to have fun feathers this coming year! I have enjoyed sharing with you my ideas of inspiration. I can't wait to see what you create! Thanks again for having me, Shimelle!
Of course you can click to order the feathers or any number of cute things from the American Crafts' Dear Lizzy Fifth & Frolic collection.
| | |
| --- | --- |
| Angie Gutshall is a stay at home mom for four children. She is married to her high school sweetheart, Brian. She lives in the country in the central part of Pennsylvania. Scrapbooking is where she captures her everyday moments on paper so her children will have something to treasure when they get older. She also loves taking pictures, baking, watching movies with her kids, and created craft projects for gifts. She shares more inspiration on her blog, My Little Blessings. | |

Read more about:
03 January 2013

Next post: Introducing a new scrapbooking line from Amy Tangerine: Yes, Please
Previous post: Sketch to Scrapbook Page :: Scrapbooking with a large photo