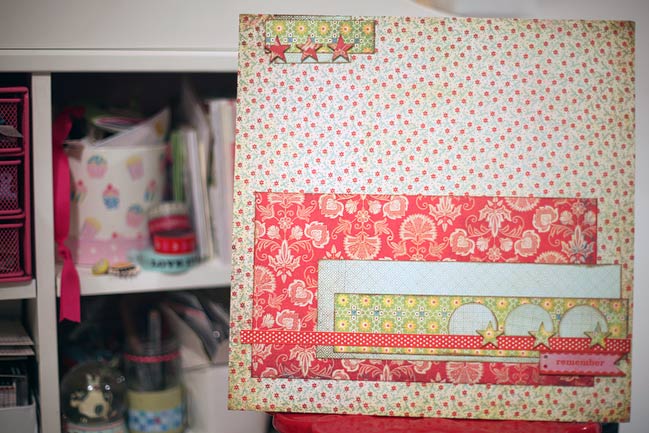 I've nearly found a place for papers and stickers and stamps to be happy in their new place without constantly stepping on a box that still needs to be unpacked. So many steps in the right direction! Now just don't ask me to find anything in the first place I look. Aside from pens and Thickers, most things take me at least two guesses, even though half my drawers and boxes are accurately labelled with their contents. But hey, I don't even know where the cutlery drawer is in the kitchen either, so apparently it just takes me a while to get my bearings.
But this I remember: scrapbook starting points! It's back, and it's on Mondays now, so you can use this starting point any time throughout the week and next Monday I'll post a new starting point and a round-up of favourites from the previous starter. This week Starting Points is brought to you by BasicGrey and their Picadilly collection. Circle and star punches also came in handy.
To follow this starting point, you will need a full sheet of pattern for the background, plus rectangles at 4.5×10.5, 3×7, 2×6.5, 1.5×2.5 and 1×3 inches, plus three circles and six stars. You can, of course, swap the stars for any other motif you like.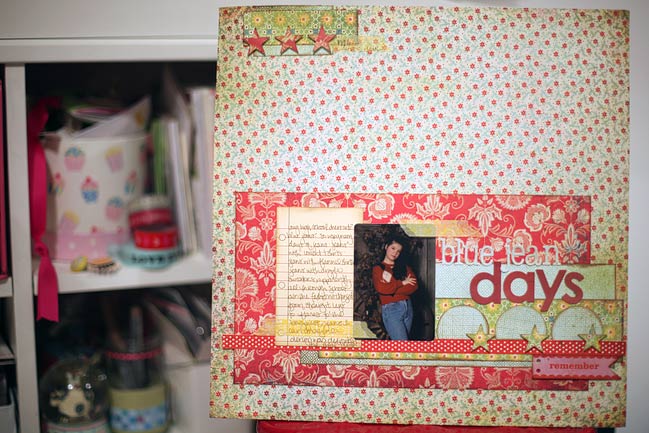 I didn't add very much to my finished page actually! A funny little wallet-size print that was one of my senior pictures from my last year of high school, some BasicGrey letter stickers and some Hambly washi tape, plus a Jenni Bowlin journaling card.
But you can finish this starting point in any style you like! What do you fancy? Give it a go with your photos and share your end result!

Read more about: scrapbook-starting-points
09 January 2012

Next post: ANFSCD January :: Getting ready to scrapbook
Previous post: BasicGrey scrapbook page and scrapbooking sketch