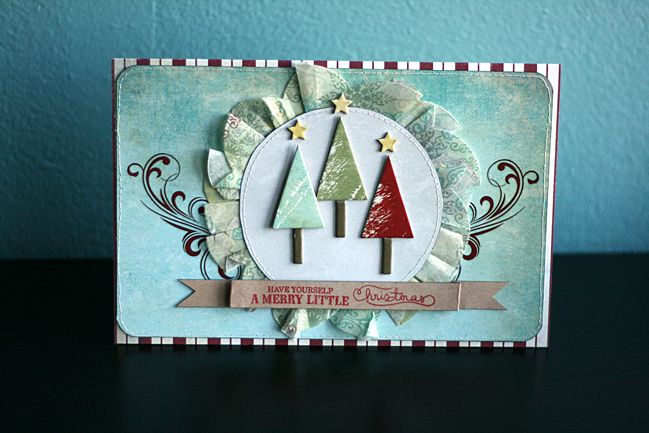 With the holidays just around the corner, I've been thinking about handmade cards. I'll be the first to admit that I don't send handmade cards to everyone on our list – it's just too much and too stressful! But I do like to include them with special greetings to family members that we're not able to see for the holidays. The time and effort are appreciated by them, so it makes every moment of the process that much more special.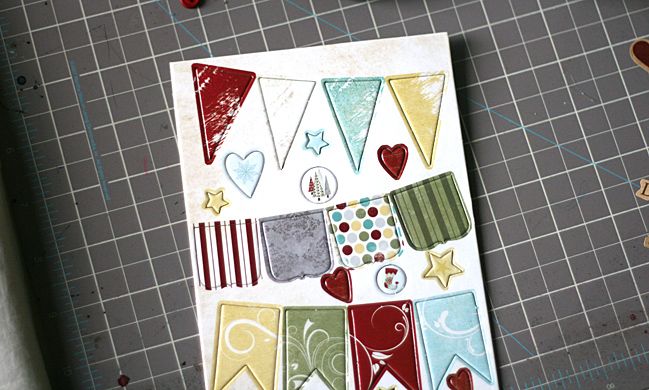 One of my favorite things to do when working with scrapbooking supplies is make something unexpected from a simple supply. Things don't have to be complicated to be beautiful! For this particular card that I assembled, I chose to look at the hugely popular banner piece a bit more closely. By simply turning it the other direction, I was able to make a set of simple, but pretty trees to be the centerpiece of this card!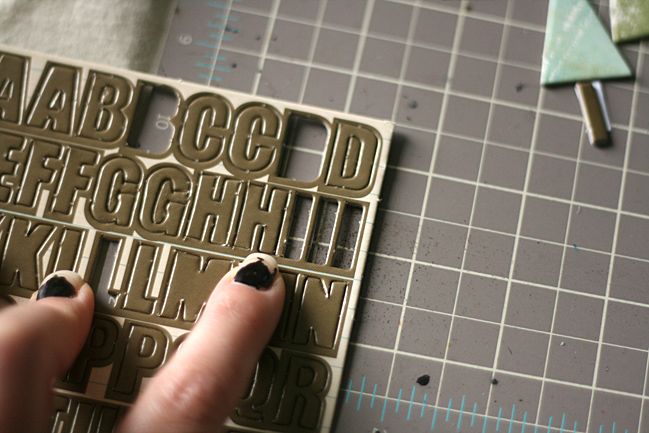 A set of chipboard letter l's became trunks…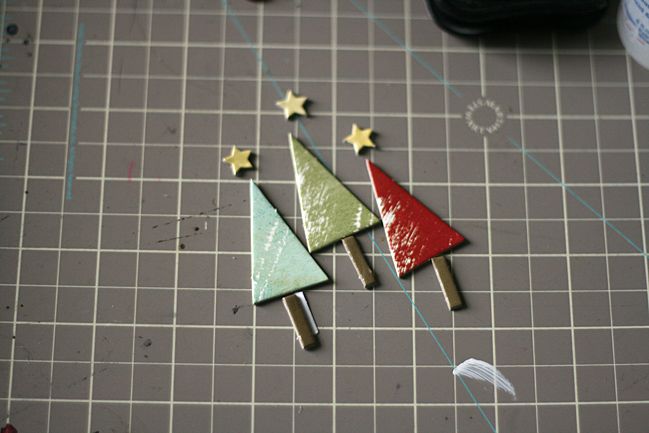 and I was all ready to create!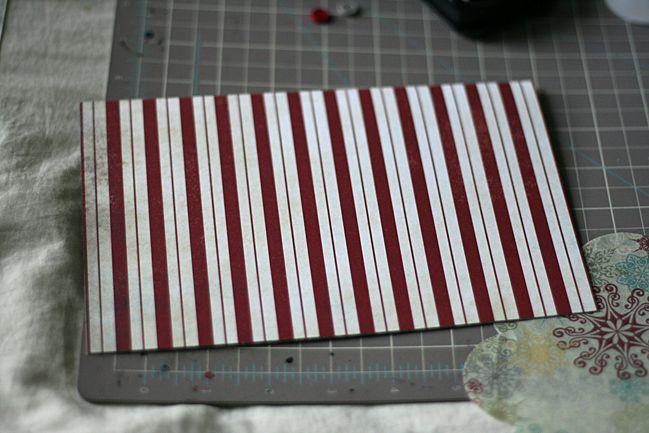 Start by cutting a sheet of patterned paper down to 8.5×11, then fold in half width-wise.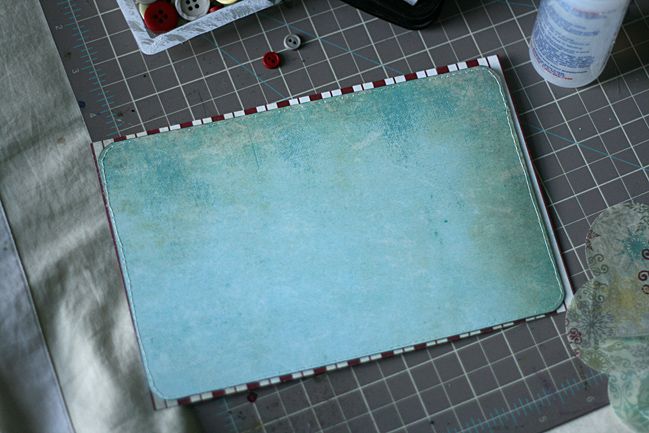 Cut a coordinating paper to 8.25"x5.25", round the corners if you'd like, stitch around the edge and ink the edges as well. Adhere to your base.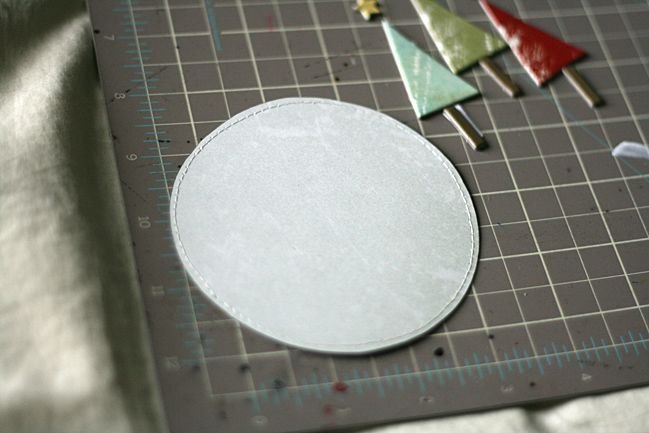 Cut a circle 3.75" wide, ink the edges and stitch.

Next I accordion folded a filter embellishment to go around the edge, but you could use anything from a doily to another sheet of coordinating patterned paper.

It took two for me to go all the way around the outside edge of my circle.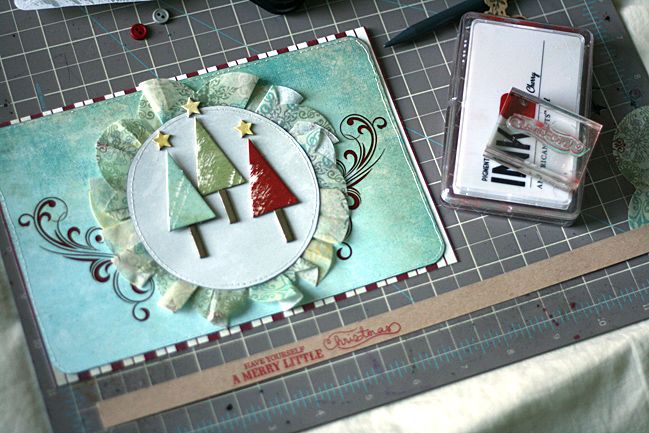 Apply rub-ons to the base of your card, and layer the circle with edging in the center. Adhere the christmas trees in the center.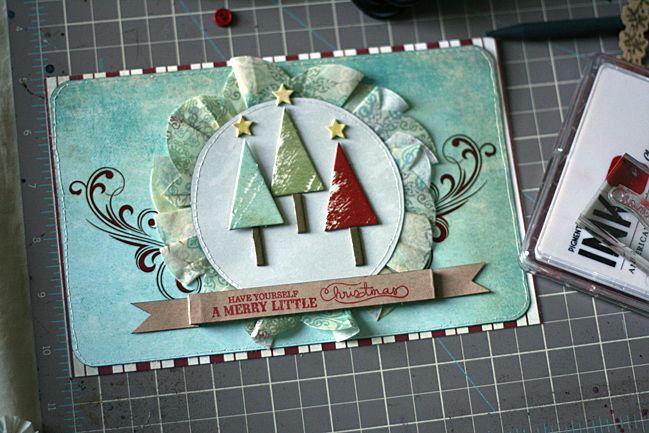 Stamp a sentiment on a strip of paper. Clip to fit outside the edges of your circle, and fold to make a banner. Ink the edges. Mount on foam squares on your card.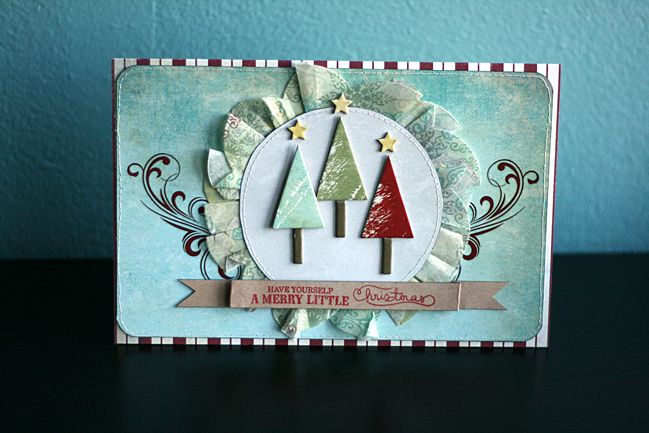 Your challenge: Take inspiration from Leah's card! Specifically in one of two ways: create a project with a circle design in the centre (of a card, a scrapbook page or another crafting project) OR create a project using your supplies in a different-than-expected way (like how Leah turned the banner upside down and added a letter to create Christmas trees). Take a picture of whatever you create and upload it to your blog or an online gallery. To enter, share a link to your project with the button below. Entries close at the end of Sunday the 20th of November. One randomly selected entry will win a $10 gift certificate to go shopping for scrapbooking supplies!
---
About Leah…
I reside in the South Florida metro area with my husband and two sons. I'm a busy mama who loves to keep life creative through sewing, crafting, scrapbooking, etc. Check out my
blog
and
etsy shop
to see more!

Read more about: online-scrapbooking-weekend
13 November 2011

Next post: Christmas Gift Wrap Tag tutorial by Mindy Miller
Previous post: Share a Crafting Link